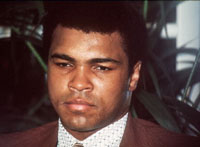 By Thomas Hauser: In the pre-dawn hours of October 30, 1974, Muhammad Ali solidified his place in boxing history by knocking out George Foreman in the eighth round of their heavyweight championship fight in Zaire. In his dressing room after the fight, the first person he hugged was Bobby Goodman.

Goodman was born in the Bronx on June 8, 1939; but his lineage traces to Russia, where Moses Golubitsky was born. Moses began the voyage to America at age eight with his parents. His father died at sea of pneumonia. His mother opened a restaurant in the living room of their home to support her family in the new world. Moses Gubitsky's name was changed to Murray Goodman.

As a teenager, Murray worked as an office boy. By the time he was 21, he was sports editor for the Hearst wire service. Then the service folded. He became a publicist for Al Schacht (The Clown Prince of Baseball) and did some PR work for a Rocky Graziano fight. Madison Square Garden hired him as a publicist. Soon, he was MSG's director of public relations.

Bobby Goodman is Murray's son. "Boxing is in my blood," Bobby says. "I was literally conceived in a training camp at Grossingers. In those days, when a fighter went to camp for a big fight, the newspaper guys went with him. My father would coordinate both camps, so I grew up in boxing."

"When I was a kid," Bobby continues, "I was in camp with Joe Louis. It was like a personal hurt for me when he lost to Ezzard Charles. I was in camps with Sugar Ray Robinson. Ray was amazing. He'd do things a boxer just can't do. The guys in that era worked hard. Their camps were all business, although I remember Rocky Marciano playing ball with me. I'd pitch; he'd catch. We had imaginary batters and he called balls and strikes. Except one day, Charlie Goldman [Marciano's trainer] saw us and shouted at me, 'Bobby Goodman; what the fuck are you doing? That ain't a little league catcher. He's the heavyweight champion of the world.'"

Goodman has equally fond memories of Marcel Cerdan. "Cerdan was the guy who hooked me on boxing," Bobby reminisces. "He was training at the Evans Hotel in Loch Sheldrake, New York. Edith Piaf was with him. She was a very pretty lady, and the papparazzi of the day were always circling around her. Cerdan was nice to me. He'd put his arm around me. Even though we didn't speak the same language, his smile was infectious. There were times when the press was with him, and he'd call me over to sit with him and his translator. I remember going to his fight against Jake LaMotta when I was ten years old. Cerdan tore a muscle in his shoulder and they had to stop it. I cried that night. LaMotta meant nothing to me; he was just a tough guy from the Bronx. Cerdan was my hero, and my hero had lost. Then he died in that plane crash in the Azores, and I was devastated. My hero had been coming back to fight a rematch against LaMotta. I was going to see him again; he was going to be champion again. But it wasn't to be. When he died, it was like a family member died. I still get teary talking about it."

Goodman boxed in Catholic Youth Organization and Police Athletic leagues between the ages of eight and twelve. "I was a street kid," he says. "But growing up on the streets then was very different from what it is now." In 1958, after two years at the University of Miami, he enrolled in the Coast Guard so he could choose his branch of the service instead of being drafted. Four years later, he was discharged and opened a bar in New Jersey. At the same time, he began writing for Ring magazine. "I had a regular column," he says. "And if I wrote too many pieces for the same issue, I'd write some of them under the name 'Robert Arthur' [short for Robert Arthur Goodman]."

Meanwhile, Murray Goodman had left Madison Square Garden and worked briefly for Yonkers Raceway. Then he became an assistant to Harry Wismer, who was president of the New York Titans (now the Jets). After that, he promoted fights in New Jersey in partnership with Lou Duva. Finally, he opened a public relations agency called Murray Goodman Associates.

"At first," Bobby recalls, "I helped my father with PR during the day and worked the bar at night. Then I left the bar to work fulltime with my father. We did a lot of PR for Bob Arum. Then Don [King] came along. By the late 1970s, Don was taking up so much of my time that I left the agency to be with him fulltime."

As an adult, Goodman was no longer a hero-worshipper of fighters. Rather, he was their friend. Muhammad Ali, Joe Frazier, Larry Holmes, and others benefited from his services and took him into their confidence. Meanwhile, more than one inebriated boxing writer awoke from a hangover to discover that Bobby had written his story and filed for him.

In 1985, Goodman left Don King Productions to become a senior vice president and head of boxing for Madison Square Garden. There, he played a crucial role in the development of future champions like Buddy McGirt, Kevin Kelley, Junior Jones, and Tracy Harris Patterson. In 1993, he said goodbye to the Garden to set up his own promotional company (Garden State Boxing) with Dan Duva as a silent partner. In 1996, he rejoined King.

Goodman is now vice president for boxing operations and public relations for Don King Productions. His primary responsibilities are to (1) oversee match-making; (2) lobby and otherwise interact with the world sanctioning organizations; and (3) coordinate what happens on site before, during, and after a fight. He's a team player. And on fight night, with chaos around him, he's calm and reliable in the eye of the hurricane,

But Goodman will be 66 on June 8th, and that leads to thoughts of retirement. "This is my last stop," he says. "I've said for a while that, when Don's done, I'm done; but I don't think I'll stay that long. Don works at his public persona. As he gets older [King is 73], he doesn't jump out of bed in the morning as easily as he used to. But Don will keep going until he dies, and I plan on retiring before then. My heart will always be in boxing. But I've been married for 42 years; I have four daughters and five grandchildren. I want to spend more time with my family and watch my grandchildren grow up. I'll always be available for consulting work. I'll come back for big fights if Don needs me. But retirement could come sooner rather than later."

As the words sink in, Goodman gets a bit teary-eyed. "Misty" is how he puts it. "I believe in boxing," he says. "I like to think that I've been good for the sport; that I've never hurt anyone or done anything to hurt boxing. A lot of the criticism of boxing today is based on ignorance, and I get angry when people who don't know what they're talking about badmouth the sport. Today's fighters are better than people say. Sure, the heavyweight division needs help. But if you took all of today's champions and weight divisions and compressed them into the way boxing was structured fifty years ago, this would be a golden era."

As for his own standing within the boxing community, Goodman notes, "I owe what I am to my father and to Don. They both gave me wonderful opportunities, and I got a great education from both of them. My father, and also my mother, were special people. My father was a great father and also my best friend. And Don is remarkable; he's a genius. I'm happy he's the man he is. Every day, I see a new side of him. Just listening to him day after day is fascinating. Don is always a step ahead of the other guys. He never ceases to amaze me. He has more guts and character than anybody I know. He puts more of himself into the fights he promotes than anyone else in boxing. Don has been very good to me and my family. Don has never broken his word to me. And Don lets me be who I am."

In sum, Bobby Goodman's life has been framed by Moses Golubitsky from Tsarist Russia and Don King from the streets of Cleveland. He has been part of the sweet science from the 1940s into the new millennium. He's a sentimentalist at heart and a quintessential "boxing guy."

"Boxing has been my life; not just not my job," he says in closing. "There's nothing I've ever wanted to do but be in boxing. I still get goosebumps when the lights go down and the ring announcer says, 'Ladies and gentlemen; for the heavyweight championship of the world.' I'm a very lucky guy. If I had to live my life all over again, I'd live it the same damn way."


Thomas Hauser can be reached by email at thauser@rcn.com.