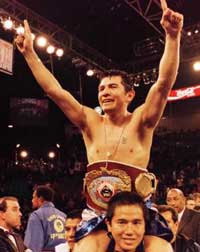 By Thomas Hauser
The high cost of drugs and lack of medical insurance for millions of Americans will be issues in the upcoming presidential campaign. But boxing has its own medical problems. If fighters are to be properly protected, the following issues must be addressed:

(1) Boxing needs national medical standards and baseline medical tests for every fighter who enters the ring. At present, each state and Native American jurisdiction has its own standards or lack thereof. That means there's less protection for fighters in some places than in others. And a fighter who is precluded by medical reasons from fighting in one state simply crosses the border to fight in another.

(2) Boxing needs a national medical data bank so that accurate information is properly shared. Often, this information is unavailable. And worse, some state commissions seem to have a "don't ask, don't tell" policy. They don't want to know about facts that might preclude a particular fight from taking place in their state.

(3) Ringside medicine is a discipline unto itself. But many ring doctors are poorly trained and know little or nothing about boxing. Some jurisdictions even license chiropractors and opthamologists as ring physicians. How about coroners?

(4) New York and Nevada are the only states that require periodic MRI testing for fighters. Other states don't, and they should.

(5) Phony medical information submitted to state athletic commissions by promoters and managers is burgeoning problem. One ring doctor recalls a fight card in Connecticut where EKGs were submitted for 12 fighters, and eight of the 12 EKGs were identical. Boxing needs strict enforcement of the criminal law in this area. Otherwise, it faces a national scandal.

(6) Some ring physicians have conflicts of interest that carry the potential to undermine their judgment. They treat the fighters they supervise as private patients and, on occasion, even work as seconds in a fighter's corner. Despite their status as regulatory officials, in jurisdictions such as California, ring doctors receive significant reimbursement from insurance companies for sewing up fighters after fights. Ring physicians should be subject to the same scrutiny as referees and judges. No ring doctor should receive any compensation in any form for the treatment of any fighter other than the payment he or she receives from a state athletic commission for working a fight.

(7) Very few aging fighters have true insight into the deterioration of their skills. Meanwhile, too many state athletic commissions simply look the other way and hope that a fighter who shouldn't fight anymore will retire on his own. Government regulators have to be more forceful in making the tough decisions regarding what's best for fighters. They have to learn to just say "no."

And while we're at it, here are six specific cases that bear watching:

(1) Bradley Rone was a professional loser. The journeyman heavyweight had lost 25 fights in a row. Then, on July 18, 2003, he collapsed in the ring after the first round of a fight against Billy Zumbrun in Cedar City, Utah, and was pronounced dead. The FBI is now reportedly conducting a manslaughter investigation based on the possibility that false medical filings contributed to Rone's death and that he did not undergo a proper pre-fight physical.

(2) Joe Mesi is believed to have suffered a subdural hematoma (bleeding on the surface of his brain) after a March 13th victory over Vassiliy Jirov in Las Vegas. Mesi's camp denies that it's so, and says that the fighter wants to enter the ring again for a million-dollar pay-day against a lesser opponent in August to be followed by a megafight against Mike Tyson at the end of 2004. Nevada, where the Mesi-Jirov contest occurred, has suspended Mesi's license and says it will not lift the suspension until appropriate documentation is received and evaluated. Mesi has indicated that he will challenge the suspension. Let's see what happens.

(3) Super-featherweight Edwin Valero compiled a spectacular record. Twelve fights and twelve first-round knockouts. Nine of those fights were in Venezuela against opponents with admittedly suspect credentials; the other three in California. Fight fans were excited. Four months ago, Valero was scheduled to fight in New York, but was denied a license when an MRI revealed evidence of past bleeding on the brain. Valero is now seeking to fight again in California.

(4) When former featherweight champion Jorge Paez (now 38 years old) applied for a license to fight in Nevada last year, his MRI showed shrinkage of the brain and areas of trauma. Rather than face suspension, Paez withdrew his request for a license in Nevada and fought instead in Arizona. How long will Arizona allow him to fight?

(5) Last year, it was revealed that former 126-pound champion Marco Antonio Barrera (pictured) underwent brain surgery in 1997 and has been fighting with small metal implants in his head ever since. Barrera's surgery was related to a congenital defect; not a fight. He has fought fifteen times since then and established himself as one of the best fighters in boxing. But the fact remains that relevant information was withheld and false statements were submitted to state athletic commissions in order to keep his career on track. Who, if anyone, will be held accountable?

(6) Former heavyweight champion Riddick Bowe was released from prison on May 17th after serving 17 months for the 1998 kidnapping of his first wife and their children. Toward the end of his ring career, Bowe had begun to slur his words. The attorneys in his criminal case sought a reduced sentence on grounds that his judgment was impaired due to chronic brain damage sustained in the ring. The 36-year-old Bowe now wants to fight again after a seven-year absence from boxing. He shouldn't be allowed to.

May 27, 2004.