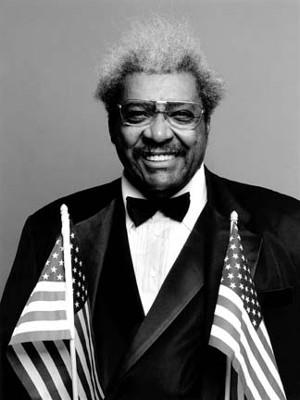 Don King: photo courtesy of Holger Keifel

By Thomas Hauser

I met Don King for the first time in autumn 1983. I'd just started researching a book entitled The Black Lights, which was my initial foray into boxing writing. Bill Cayton and Jim Jacobs (who co-managed WBC lightweight champion Edwin Rosario) invited me to lunch. I arrived at their office, and Bill told me, "Don King will be joining us."

I thought that was great. It would be a chance to interview the most powerful person in boxing. And obviously, it would be fun to chat with King over a pastrami sandwich. We went to Reuben's (a delicatessen on the corner of Madison Avenue and 38th Street). And the first thing that Don said to me was . . .

Nothing. Not a word.

I was a lawyer and writer delving into the inner workings of boxing. King was there because he'd be negotiating a contract with Bill and Jim later in the afternoon. He wanted nothing to do with me. That day, I learned that Don King can be very quiet.

Thereafter, my impressions of King were largely negative. I understood that he was one of the smartest, hardest-working, most charismatic men on the face of the earth. But in my view, he exploited fighters.

That belief was infused in the pages of The Black Lights and Muhammad Ali: His Life and Times (which I authored six years later). A comment I made in 1992 also received a fair amount of attention. Joseph Maffia (once the chief financial officer for Don King Productions) had been subpoenaed to appear before a United States Senate subcommittee that was investigating corruption in professional boxing. Maffia retained me as his attorney. Thereafter, he was questioned by Daniel Rinzel (counsel for the Senate subcommittee).

"Is Don King tied to organized crime?" Rinzel queried.

"You don't understand," I interjected. "Don King is organized crime."

And so it went. I wasn't King's favorite person (particularly after he was indicted by a federal grand jury on the basis of Maffia's testimony). But somewhere along the line (long after a jury found him "not guilty"), there was a thaw in relations between us. A day in March 2003 stands out in my mind. A documentary crew had been following Don around during the build-up to Roy Jones versus John Ruiz. He and I were standing in the lobby of Caesars Palace, talking about the fight. "Why don't you interview him," King told the producer, nodding in my direction. "That's the guy who got me indicted."

"You're surprisingly nice to him," the producer noted.

"He did his job," King said. "I respect that. Then he let it go, and I respect that too."

Later in the day, Don and I were talking in the media center. "I never thought I'd say this," he told me. "But you're all right."

Which leads me to the point at hand. I never thought I'd say this; but I think that Don King is now good for boxing.

In Sunset Boulevard, Norma Desmond (the faded star played by Gloria Swanson) harkens back to Hollywood's silent-screen era and proclaims, "We didn't need dialogue; we had faces then."

King is blessed with both a unique gift for rhetoric and a remarkably camera-friendly face. Over the years, he and Muhammad Ali have been boxing's two greatest showmen. Like Ali, Don became part of the fabric of the sport. He brought major championship bouts to the third world, nurtured some spectacular fights, and was a magnet for interest in boxing.

As a representative of the sweet science, King has met with Nelson Mandela, Mikhail Gorbachev, Leonid Brezhnev, Vladimir Putin, Pope John Paul II, Pope Benedict XVI, Tony Blair, Jacques Chirac, Silvio Berlusconi, Fidel Castro, Ferdinand Marcos, and seven presidents of the United States. Also, as he recites, "most of the people who have been president of a country in Africa, some Chinese heads of state, every president of Mexico for thirty years, that woman who's chancellor of Germany, and more senators, governors, and mayors than you can count."

He's an icon.

Only in America . . . Only in boxing.

Having said all that; an alternative view of King might begin with the poetry of Henry Wadsworth Longfellow:

There was a little girl
Who had a little curl
Right in the middle of her forehead;
When she was good
She was very good indeed
But when she was bad she was horrid.
King's detractors view him as a cross between an evil warlord and a robber baron from the late-1800s. They think that he's horrid.

Don says that he has made more money for more fighters than any promoter in history. His critics maintain that he has stolen more money from more fighters than any promoter in history. They also note the unholy alliances that he has fashioned over the years with various world sanctioning organizations and believe that his reputation for malfeasance has scared corporate sponsors away from boxing. In their view, he has hurt too many people to ever be considered good for the sport.

An in-between assessment might be that King has cleaned up his act in recent years but, overall, has done less with his enormous talent than he could and should have done to help boxing reclaim its status as a major sport.

That brings us to Don King today.

The Biblical belief in the perfectability of man is inapplicable to the business of boxing. The sport was dirty long before King got his hands on it. Within that environment, he ruled the jungle that's professional boxing for decades. He reveled in (and propagated) the idea that he controlled the sport. But by last year, Golden Boy had established itself as boxing's lead promoter (with Top Rank a close second). HBO televised seven major pay-per-view cards in 2007. Golden Boy was involved with six of them.

One of the reasons for the decline in King's power is that, whatever tactics he employed in the past, there are others now who do things in a similar way. He might have been the pioneer who showed them how. But he's hardly the only power broker who plays hardball and cuts corners when it comes to contracts today. He's not the only person who benefits from questionable alliances with television network executives. Nor is he the only promoter to have a symbiotic relationship with the world sanctioning bodies.

The larger question with regard to King in 2008 is the extent to which he's still a significant force in the business of boxing.

"Don's greatest contributions, the good and the bad, are in the past," says Jerrry Izenberg, who has covered sports for more than fifty years. "When he goes, it won't have a major impact on boxing because he's no longer a major force."

"He's a guy who was once king and now he's just part of the court," adds Larry Merchant. "Some people find him entertaining. I remember him for what he was."

King today is regarded by some in the same vein as Butch Cassidy and the Sundance Kid; two guys who robbed banks but were loveable rogues at heart.

However, it would be a mistake to think of King's current role in boxing as being reduced to that of an entertainer. The world saw what he's still capable of doing last month, when Felix Trinidad versus Roy Jones was faltering. Ticket sales were mediocre. Insiders were fearful that the fight would engender only 300,000 pay-per-view buys. Some observers drew parallels between the promoter and his fighters, noting that all three were past their prime.

Then King put on his "Only in America" jacket and went to work. Over the course of four days, he made more appearances and granted more interviews than most presidential candidates accommodate in a week. His itinerary included press conferences, luncheons, fighter workouts, and interviews at hockey and basketball games. There was a television satellite media tour, a radio satellite media tour, and sit-downs with myriad talk-show hosts ranging from Bill O'Reilly to Howard Stern. He worked his ass off to promote the fight. At times, he seemed like a force of nature. His personality, presence, and sheer physical bulk are such that it was easy to forget he's 76 years old.

Trinidad-Jones recorded 500,000 pay-per-view buys. It's unlikely that anyone other than King could have pushed the fight to that level. Like Mick Jagger, he can still produce on the big stage.

King is not an introspective man. He doesn't talk publicly about his feelings or the future; nor does he have any plans to leave boxing. "I'm more of a fighter now than I ever was," he says. "I'm like boxing itself. Boxing has been assaulted, attacked, and vilified so bad that there ain't much more you can do to it. It's remarkable that boxing is still standing. I'm like a great fighter. I won't give up."

He won't go quietly; that's for sure. When finally he departs, boxing will miss him.

So will I.


Thomas Hauser can be reached by email at thauser@rcn.com