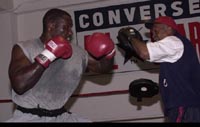 Former heavyweight champ Hasim Rahman remembers his first fight at the Baltimore Arena in 1993

By Thomas Hauser: From time to time, I recount the memories of boxing personalities regarding the first professional fight they ever saw. The tradition continues with this column.

***

Paulie Malignaggi: It was Naseem Hamed against Kevin Kelley at Madison Square Garden. I was sixteen years old and hadn't had any amateur fights yet. But I was a fan, and none of my friends wanted to go with me so I went by myself. I got to the ticket window, and the cheapest tickets they had were twenty-five dollars plus a two-dollar surcharge. All I had in my pocket was two subway tokens and twenty-five dollars. But the woman at the ticket window was nice. I was wearing an old sweatsuit, so she could see I wasn't made of money. She looked around to make sure no one was watching and then she slid me a ticket for twenty-five dollars. I sat up in the nosebleed section. Ricky Hatton was on the undercard in his second pro fight. So was Joan Guzman. Junior Jones fought Kennedy McKinney. There was some real talent that night. Then it was time for the main event. Hamed did this dance behind a screen and then he danced down a ramp into the ring. I saw what he was doing and I said to myself, "Wow! That's me." I was rooting for Kevin and Junior, and both of them lost. But I had a great time that night.

***

James "Buddy" McGirt: I was fourteen years old and had been boxing in the amateurs for two years. Louie Anatra, who was my coach, took me. The fights were at the Long Island Arena in Commack [on April 29, 1978]. Two local guys -- Paddy Dolan and Hubert Hilton -- were on the card. Paddy knocked out Dave Bolden, and Hilton stopped some guy whose name I can't remember. I'd always wanted to be a professional fighter and I'd read about Dolan and Hilton in the local paper, so I was rooting for both of them. But what I remember most was, when I walked into the arena, I was quiet for a moment. I felt a rush of adrenaline and it was energizing, but I was in awe. Somehow, I hadn't expected it to be the way it was. It was like, even though I'd never been to a pro fight before, I'd found a home.

***

Joe Mesi: It was "Boom Boom" Mancini against Livingston Bramble in Buffalo. I was ten years old. My grandfather and uncle on my father's side of the family had been pretty good boxers. Both of them won Golden Gloves championships, and my grandfather had boxed a bit as a pro. I went to the fight with my father, my grandfather, and my older brother. Boom Boom Mancini was the only name I knew in boxing other than Muhammad Ali and Larry Holmes, so I was rooting for him. What I remember most about that night was the beating he took. I understood that I was watching something brutal. Bramble turned his face into a bloody mess, and the fight was stopped in the fourteenth round. Believe me; that night, I had no idea that boxing was something I'd ever choose to do in life.

***

George Kimball: Joe Frazier against Terry Daniels in New Orleans [on January 15, 1972]. I was covering the Super Bowl between Dallas and Miami the next day and decided to go to the fight. There were smells and sounds in the arena that you just don't get on TV. Leather hitting bone doesn't sound the same on television. And at the time, I might not have even seen a fight on color-TV. Frazier had beaten Ali in his last fight, and Daniels wasn't much. He didn't belong in the ring with Joe, and Joe beat him up. What I remember most about the night is that, at one point, Frazier was pounding the shit out of him and stopped to look at the referee as if to say, "Come on, man. What's wrong with you? Stop the fight." But the referee let it go on, and Joe knocked him out. Afterward, on the way out of the arena, I ran into George Foreman. There's a lot of cynicism about George today. A lot of people think that his nice-guy persona is an act. But I've thought long and hard on it and I think that, if anything, it's the old George that was an act. Anyway, this was before George beat Joe for the title. George was in his surly unpleasant stage, which lasted a while. As we were leaving the arena, I mentioned to him that there was a point when Joe seemed to be asking the referee to stop the fight. George's eyes took on a questioning look, and he said to me, "You saw that too?"

***

Hasim Rahman: Vincent Pettway against Dan Sherry at the Baltimore Arena in 1993. I had just started boxing as an amateur, and Pettway was the biggest fighter in Baltimore. He was the franchise in the gym, and everybody from the gym got to go. I was feeling good about myself because, even though I hadn't had an amateur fight yet, Mack Lewis, who ran the gym, was saying that someday I could be heavyweight champion of the world. And Mack wasn't saying that about anyone else in the gym that I knew of. I remember walking into the arena and taking everything in. There was a lot of betting going on in the crowd. People were drinking and having a good time. There was a lot on the line because Pettway was close to a world title fight and, if he lost, the opportunity would be gone. It was an exciting fight. Pettway stopped him late and, the next year, he beat Gianfranco Rosi for the IBF junior-middleweight title. I look back on that, and now I'm on the opposite side of the spectrum. Back then, I was at the fights as a fan. Now, when I go, I'm part of the scene even if I'm not fighting.

***

Roberto Duran: It was in Panama. I was twelve years old, I think. There was a gym in the neighborhood I lived in that had fights. Each time, the kids would line up on the street before the fights to go inside and sell snow-cones. Not everyone could sell snow cones to the people at the fights. You had to be chosen, and I got there too late. The kids had already been chosen, so I went up to the roof and looked down and saw the fights.

***

Sugar Ray Leonard: I was boxing as an amateur. Dave Jacobs and Janks Morton, who were my trainers, took me. I'm pretty sure it was at the Washington Skating Rink. Johnny Gant was in the main event, and I remember thinking that the atmosphere was very different from the amateurs. Things were much more emotional and a lot of money was being bet. At the time, I didn't see myself becoming a professional fighter because I had bad hands. I was hoping to fight in the Olympics, and that would be it. But as you know, I did turn pro. And later on [in 1979], I fought Gant and knocked him out.

***

Jerry Izenberg: I'd boxed a little when I was fifteen and got the crap beaten out of me in my first two fights. Then, in my third fight, I got knocked unconscious. I remember thinking, "Oh, that's interesting. The floor is coming up to my face." The next thing I knew, there were three people standing over me. Then the three people became one. After that, the powers-that-be said they wouldn't let me fight anymore. But there was one guy in the group who was worse than me, and I told them, "I'll go quietly, but I want to fight him first." So they let me fight him; I beat the crap out of him; and then I retired as an active fighter with a record of one win and three losses. Anyway, now that I've told you about that; the first professional fight I saw was Freddie Archer, the Pride of Newark, against the Irvington Milkman, Charlie Fusari [on August 22, 1946] at Ruppert Stadium when I was sixteen years old. Freddie was my hero from the old neighborhood. I went to the fight alone and took two busses to get there. The crowd was blue-collar. Abner "Longie" Zwillman, who was a charter member of Murder Incorporated, was also in attendance. The promoter was a man from the Frankie Carbo era named Willie Gilzenberg, who needed to shave twice a day and was known as "The Beard." Gilzenberg put the main event on first because it looked like rain and he didn't want to have to give anyone their money back. The undercard fights were afterward. Fusari beat the crap out of Archer and knocked him out. But I loved it. I started going to the fights every week after that. That's where I went wrong in my life.

***

Richie Giachetti: It was a fight in Cleveland. I was eighteen, maybe nineteen, years old and worked the corner for a guy my Uncle John was training. I was the bucket boy. I'd been to amateur fights before, but this was different. The dressing room was pretty much the same. The fighter gets his hands wrapped; you sit around. My uncle had rehearsed with me what I was supposed to do. Go up the stairs. Put the bucket between the fighter's legs so he can spit into it. Hand me the water bottle. Then we went to the ring. People were hollering. It was different from anything I'd experienced before. At first, I was blinded by the lights. Then my eyes adjusted and I could see the crowd. I felt important. It was a good feeling, like I was really somebody. I liked that feeling a lot, and I knew I wanted to stay in boxing so I could have that feeling again.

***

Diego Corrales: It was Tony Lopez against Rocky Lockridge in Sacramento. I think I was eleven. My dad took me. He loved boxing. He fought as a pro under the named Ray Woods until he was hurt in a car accident. Lopez was a Sacramento guy and my father talked about him a lot, so I knew who he was. I didn't know what to expect; and when we got to the arena, I thought it was the coolest thing in the world. I remember how happy everyone seemed to be there and how excited I was by what was going on in the ring. It was an action fight. Lopez was knocked stiff early. I still don't know how he got up, but he did and came back to win. At the time, I had no idea I'd ever be a fighter. That came later, when my father brought me to the gym. Then, early in my career, I got to spar with Tony Lopez.

***

Don Chargin: My dad took me to see Jackie Jurich fight a Mexican kid named Donnie Maes [on April 15, 1941]. They were neighborhood rivals from my hometown of San Jose. In fact, Jurich was called "The Rose of San Jose." I was just a kid. The fight was in an old tin building called Foreman's Arena. It was a ramshackle place with a few rows of folding chairs at ringside and a lot of bleachers. But when I walked in, it looked like Madison Square Garden to me. My heart was pounding. 112-pound fighters seemed like giants. As far as I was concerned, every woman there looked like Betty Grable. It was a good fight [a ten-round draw]; and from that moment on, I knew I wanted to be in boxing.

***

Oscar De la Hoya: I was six years old. It was at the Olympic Auditorium. My father took me. The Olympic was famous for people throwing cups down from the balcony on the people below. The cups were filled with what looked like beer. If it was cold, it was beer. If it was warm, it was something else. I don't remember who fought. I do remember that Don King and Hector Camacho were walking through the crowd, and the whole place started booing. Then the cups started coming down and they started running.


Thomas Hauser can be reached by email at thauser@rcn.com.