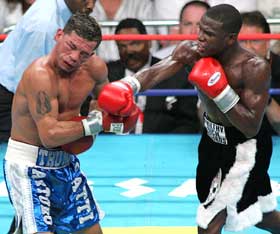 Mayweather hit Gatti at will (pic by Marty Rosengarten/Hogan Photos)

By Thomas Hauser: Cus D'Amato once said, "When two fighters meet in the ring, the fighter with the greater will prevails every time unless the other man's skills are so superior that his will is never tested."

That adage was central to the marketing of last Saturday's fight at the Atlantic City Convention Center between Floyd Mayweather Jr and Arturo Gatti.

Gatti is a warrior who excites the crowd every time out. Witness the words of Roy Jones ("Arturo Gatti has given boxing better fights than the ones they make up in movies"); promoter Lou DiBella ("Arturo Gatti is the most made-for-TV fighter I've ever seen"); and sportswriter Tim Graham ("Arturo Gatti is a breathtaking attraction who gives new meaning to the term 'plasma television'").

Gatti himself reinforces that view with comments like, "People only recognize me when I'm beat up. If my face isn't puffy, they don't believe it's me . . . The only problem I have is, when the phone rings, I start shadow-boxing . . . It's a victory for me just not to be going to the hospital after a fight . . . I came back from the dead; I dug myself out of the grave."

But talk is cheap. More often than not, Gatti backs up his words with deeds. MIcky Ward, whose "club-fight trilogy" with Arturo has become part of boxing lore, looks back on their final encounter and says, "It takes a lot out of you to go through something like that. In the seventh round, I had nothing left in me. Then he caught me in the head so hard that my brain shifted in my skull and banged the back of my head so hard my eyes didn't see straight. But we both had that will and desire to not stop and go through anything. I think it's bred in you; you can't learn it. Either you have it or you don't."

Gatti's response?

"I'll fight like that anytime I have to."

But as the build-up to Gatti-Mayweather continued, it became clear that the fight was being marketed, not just as a test of toughness, but also as a confrontation between good and evil.

Mayweather styles himself as "the guy who brought mink and chinchilla to boxing." He also has a collection of chains, pendants, watches, bracelets, and rings (most of them gold and platinum with large-carat diamonds) that rivals Don King's bling. But beyond that, as Ron Borges has written, "The only things pretty about 'Pretty Boy' Floyd are his smile and his boxing skills. He's worked overtime to make himself about as repulsive a human being as possible. He can't act even remotely like he understands the meaning of the word 'class'' except when he's in the ring."

Outside the ring, Mayweather, like Mike Tyson, has become a poster boy for bad behavior. In 2002, he plead guilty to two counts of domestic violence in Nevada. Last June, he was found guilty on two counts of misdemeanor battery for beating two women in a Las Vegas night-club. In that case, Mayweather took the stand and acknowledged he was at the club but claimed that he never saw or touched the women. At the close of the trial, which was conducted without a jury, Justice Deborah Lippis found the fighter "guilty" and told him, "Mr. Mayweather, I've seen some incredible stories in my life on this bench. But when you testified here, I was pretty shocked at some of the things you said." Lippis gave Mayweather a one-year suspended sentence, fined him $1,000, and ordered him to undergo counseling.

Another criminal charge is pending against Mayweather in Las Vegas; this one a felony indictment for allegedly beating Josie Harris, the mother of one of his four children. Harris, who initially filed a complaint, is currently refusing to cooperate with prosecutors. If convicted, Mayweather could be sentenced to five years in prison and fined $10,000. Also, last December, an arrest warrant was issued for Mayweather in Michigan after he failed to show up for trial on charges that he assaulted a bouncer in a bar. He subsequently appeared in count, pled nolo contendere, and received a suspended sentence.

In the days leading up to Gatti-Mayweather, Floyd bristled at references to his criminal record. "I don't want nobody to judge me on what I do outside the ring," he said. He also demanded to know why the media hadn't paid equal attention to Gatti's substance-abuse days, which included several drunk-driving incidents, threats against a police officer in Miami, and a charge (later dropped when the woman recanted) that Arturo sexually assaulted his girlfriend.

As for the fight itself; Gatti versus Mayweather shaped up as a mismatch. Mayweather is a complete fighter. He's techically proficient, can box and punch with blinding speed, and (when it comes to boxing) has a Spartan work ethic. Gatti was thought of as the "naturally bigger man." But Floyd is an inch taller than Arturo and made his professional debut at 130 pounds, whereas Gatti turned pro at 126. Also, in the days before the fight, Arturo's face looked weak and drawn, and he acknowledged that he was having trouble making weight.

Gatti's partisans talked about their hero's newly-developed boxing skills under trainer Buddy McGirt. But it's one thing to outbox Micky Ward, and quite another to outbox Floyd Mayweather Jr. Gatti had lost to King Solomon, Ivan Robinson (twice), Angel Manfredy, and Micky Ward. He'd been in life-and-death struggles with the likes of Wilson Rodriguez. As Roy Jones noted, "When guys like Ivan Robinson give you a problem, you know Floyd Mayweather is going to be too much."

Roger Mayweather (Floyd's trainer and uncle) summed up his camp's view when he was asked about Floyd's strategy for fighting Gatti.

"He don't need no strategy to fight Gatti," Roger answered. "Close your eyes and throw your hands, and you'll hit him in the fucking face."

That left Gatti's fans relying again on their fighter's toughness and mouthing platitudes like, "Arturo is a live underdog" and "Floyd will have to earn his victory; Arturo won't just give it to him." But the bottom line was, in boxing, the better fighter beats the more exciting fighter almost every time. And Gatti-Mayweather was the most overmatched that Arturo had been since he fought Oscar De La Hoya in 2001. Conventional wisdom was that Mayweather would carve him up and that, sometime in the middle-to-late rounds, the referee would intervene to stop the carnage. To have any chance at all of winning, Gatti would have to turn the match into a brawl.

"No point talking about boxing," said Emanuel Steward. "Floyd is too quick, too slick, and much more skilled than Arturo. Think Rocky Marciano and Jersey Joe Walcott. Marciano would have had no chance at all if he'd boxed him, so he banged away from the opening bell. If Arturo is unable to get inside and bang, the fight is over very early."

The oddsmakers were in accord, making Mayweather a 7-to-2 favorite. Floyd, who has no bigger fan than himself, thought that wasn't one-sided enough. "You can call me the bad guy; you can call me the good guy," he told the media. "But no matter what anyone says, I'm dedicated to boxing. There's no way to beat me."

If Mayweather had ended his remarks on that note, there would have been little notice. But he then went on to demean Gatti:

* "The truth is, he's not a good fighter and he's not on my level. He shouldn't even be in the ring with me."

* "Arturo Gatti is a heavy bag with legs. He's so slow it's ridiculous. When he punches, I can turn, say 'hi' to my mom, talk to the TV people, turn back, and still beat him to the punch."

* "He's a C-plus fighter. He's a street bum. I'll walk right through him. I don't have any respect for him."

* "I'm not going to let some guy beat my brains out. The name of the game is to hit and not get hit. The less you get hit, the longer you last in this sport. I'm not in this sport to see how hard I can get hit or to see how many big punches I can take. That's what he does."

* "Gatti will go and say how much he did for the sport. All he did for the sport was make the ring mat bloody. You can tell this guy's taken a lot of punishment. He's had so much plastic surgery, he's starting to look Japanese."

As for the fight, Mayweather envisioned an easy victory. "It's a walk in the park, a piece of cake," he said. "I'm going to be a technician. Then I'm going to mix it up. I'm going to box circles around him. Then I'm going to go in the pocket and punish him. I'm going to take him out. Then I'll say, 'I told ya'll so.' This fight won't go past six rounds. It might not even go three. If you want to get rich, bet the house on this one. I'll destroy Arturo Gatti."

Gatti, needless to say, was offended by Mayweather's mouth. "I've been in a lot of fights," he said prior to the bout. "But I've never been in a fight where my opponent was talking like he is. He has no class, to speak about another fighter like he does."

"He has ability," Gatti continued. "But I don't know how tough he is. He's never had to dig deep. I don't know what size his heart is, but I'm gonna shrink it. He thinks I'm a C-plus fighter. We'll see what he thinks after he's been in the ring with me. It runs in the family, that big mouth; but it also runs in the family, a glass chin. Floyd talks a big game, but he's never fought anyone who hits as hard as me. When I punch my opponents, I hurt them. People fall down when I hit them, and he's going to walk into it. The only thing he has over me is speed. We'll see what happens when speed and power go against each other."

Then Gatti sounded an almost plaintive note. "I don't know what people are watching if they don't think I'm talented," he said. "I'm recognized as a tough fighter and a gutsy fighter and a warrior. You're not going to see for a long time someone like me. But I have skills; I'm talented. I want to be recognized as a great fighter, and winning this fight will do it. Everything I've learned about boxing will come out that night. A lot of people are going to have to apologize to me after this fight."

It was an ugly fight. It's hard for people to watch a fighter they care about lose, and harder still to watch him get beaten up. When both happen, it's worse.

Mayweather was exponentially faster that Gatti. He was also younger, stronger, a better boxer, and hit harder. From the opening bell, he exposed his opponent's shortcomings and fired hard clean sharp punches through every chink in Arturo's armor.

Gatti absorbed a brutal beating. In round one, he was dropped by a left hook when he inadvisedly turned to complain to referee Earl Morton about Mayweather hitting on the break. Then things got worse. Almost every round could have been scored 10-8 for Mayweather, although there were no knockdowns after the first.

By round three, Gatti's right eye was badly swollen. Two rounds later, the left one joined it. Arturo has an inordinately high threshhold of pain, but this was too much to endure. Mayweather outlanded him 168 to 41, and most of those blows were genuine "power punches". It was total domination, target practice all night. Finally, after six rounds, the slaughter was stopped.

The fight took place ten years and a day after Roy Jones massacred Vinny Pazienza at the same site. In that bout, Pazienza set a CompuBox record that will never be broken by failing to land a punch in the fourth round. Like Gatti, Pazienza was stopped in six. The two fights were equally one-sided.

Mayweather has now established himself as a worthy contender for boxing's "pound-for-pound" title. He hasn't faced a world-class opponent in his prime since Jose Luis Castillo in 2002. But "Pretty Boy" has speed, power, and ability. And there's no reason to believe that he lacks heart.

There are some intriguing fights for Mayweather at 140 pounds. But realistically, Miguel Cotto isn't ready for him yet and Ricky Hatton probably isn't good enough to test him. Moving up to 147, there's Zab Judah, Shane Mosley, and Antonio Margarito. Let's hope that Floyd chooses to fight the best.

As for Gatti; Arturo received a reported base purse of $3,500,000 for Saturday night's fight. He's now 33 years old and carrying the accumulated weight of thousands of blows to his head. After losing to Mayweather, he said he planned to fight again at 147 pounds. Perhaps he should talk first with Jesse James Leija.

Leija retired earlier this year after being knocked out by Gatti in five rounds. Like Arturo, he was a warrior, who went in tough against Oscar De La Hoya, Shane Mosley, Azumah Nelson, and Kostya Tszyu in their prime.

"When I saw Arturo Gatti and Micky Ward," Leija noted earlier this year, "I said they were crazy. They have huge hearts to take that type of punishment. You look and you're awed by it. But those types of fights come back to haunt you. They slow you down and you're not as sharp as you once were. You take punishment to give punishment. Once you get hit a lot, you get used to it and that's never good. And it's not good for your health. Micky is still having trouble from those wars with Gatti and it will probably affect him for the rest of his life."

Pay attention, Arturo.


Thomas Hauser can be reached by email at thauser@rcn.com.