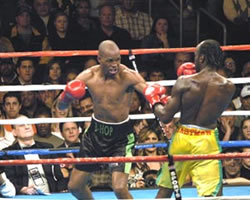 Hopkins outclasses Eastman (pic by Harry Rosenbluth)

By Thomas Hauser

These are heady times for Bernard Hopkins. Last September, he was paid $10,000,000 for knocking out Oscar De La Hoya. He's the undisputed middleweight champion of the world. On May 6th, he will be honored by the Boxing Writers Association of America as the 2004 "Manager of the Year." And most remarkably, at age forty, he's considered "pound-for-pound" the best fighter in the world.

When is the last time a fighter was rated number-one pound-for-pound at age forty? Never! Roy Jones lost the designation at age thirty-five. Pernell Whitaker (Jones's predecessor) relinquished it at age thirty. Sugar Ray Robinson had one win in the five fights just prior to his fortieth birthday.

"But I'm still here," Hopkins says proudly. "I'm forty, but I'm a young forty. I'm on that Jerry Rice level; that Barry Bonds level."

In recent years, Hopkins has assumed an aura of invincibility. He gives the impression that he's made of granite; a bit worn from erosion at the edges, but still granite. Last Saturday night (February 19th), he made the twentieth defense of his championship reign against Howard Eastman; a 34-year-old Guyanan now living in England.

Eastman talked a good fight before the fact, saying he'd knock Hopkins out in five rounds. But few people took him seriously. Bernard has never been knocked out. And as Patrick Kehoe noted, "Even British boxing insiders admit that Eastman will have to fight the perfect fight to have a chance. Not a happy prospect, having to fight your absolute best fight just to make a contest out of it."

Meanwhile, Hopkins had his own take on things. "He's a B-minus fighter," Bernard said of his opponent. "Eastman says he'll knock me out in round five, but that's just the hype talking. What happens in rounds six, seven, and eight? It's a twelve-round fight. I look at him and see a guy who has scar tissue and cuts around his eyes. That tells me he doesn't move too good up top, and it's too late for him to learn now. I'm the better fighter, the better thinker, the better puncher, the sharper puncher, and the quicker fighter. I'm going to go in there and remove any thoughts from Eastman's mind that he can win the fight, so that in his mind he's only trying to survive. I will force my will and demeanor upon him. I plan to counter him mentally and physically. I'm a good predictor of fights, and I predict I'll be sending him back to England with ice packs on his eyes."

Hopkins also spent a lot of time talking about the fact that this would be his twentieth defense in a middleweight championship reign that has lasted for ten years.

"Twenty title defenses," Bernard proclaimed at the final pre-fight press conference. "I just want you all to spend ten seconds thinking about this. Twenty defenses in today's world, when all the distractions are at your beck and call. Twenty defenses. That's very rare, unique, and extraordinary. This is very very special to me because history can never be forgotten. This will follow me to my grave. It will be a trivia question in fifty years. 'Who made twenty successful defenses of the middleweight title?'"

The fight took place at the Staples Center and was the first middleweight championship contest in Los Angeles since a fifteen-round draw between Sugar Ray Robinson and Gene Fullmer 44 years ago. Both men started slowly. Through three rounds, Hopkins landed only 17 punches and Eastman 15. That led to boos from the crowd. But as the bout wore on, the judges' scorecards took on the look of a typical Hopkins fight, with Bernard dominating the middle and late stanzas and controlling the pace of the action. Most significantly, Hopkins took away Eastman's jab. The challenger connected on only 16 of 260 attempts, a meager six percent. All totalled, Bernard outlanded his foe 148 to 82. And that's not counting illegal blows to the hips and thighs that escaped the notice of referee Raul Caiz Jr.

The judges' scores were 119-110, 117-111, and 116-112. This observer favored Hopkins 117-112. As for the boos, Bernard said afterward, "They want to see a Gatti-Ward sort of thing, but I don't fight like that." Then he added, "But I can turn it on when I want to."

That's Hopkins. He does things for himself and no one else. He doesn't suffer from stress. He's a carrier. Bernard has made a lot of enemies over the years by standing up for what's right. And he has made some enemies by standing up for what's wrong too; most notably by discarding old allies in an ugly way once they'd outlived their usefulness to him. Some observers liken him to Old Man River for the way he just keeps rolling along. But Old Man River "don't say nuthin'," and Hopkins speaks his mind.

"There are a lot of people that wish Bernard Hopkins would get on a plane and that plane don't land safely," Bernard acknowledged recently. That followed other bon mots like, "The boxing business is just as bad as the drug business. There's a lot of people in boxing who act worse than drug dealers, and I'll name them for you."

Given Hopkins's warm cuddly personality, some detractors say that the reason he's up and doing roadwork at 5:30 each morning is that all the bad things he's done keep him from sleeping anyway. But not even his most severe critics question Bernard's consummate professionalism as a fighter.

Hopkins always pays the price in training. "I can't afford at this stage in my career to cut corners," he says. "It's something I've never done. I approach each fight like it's my last fight and I have to make a statement."

Also, in the ring, Hopkins does what has to be done to win fights. He's hard to hit cleanly. He's a patient fighter, who bides his time and takes a little piece here and a little piece there, until his opponent can't see the right hand coming anymore because his left eye is swollen and it's hard to keep his hands up because his ribs ache.

For a guy who doesn't take many risks inside the squared circle, Hopkins dishes out a lot of punishment. And he's a smart fighter. "Bernard is like a computer," says his longtime trainer Bouie Fisher. "Everything is in his brain. When he has to alter his game plan, he Google-searches his computer, which is his knowledge of boxing, to find the solution he needs to be successful."

Where does Hopkins belong in the pantheon of great middleweights?

Rating fighters across generations is a tricky business. Sugar Ray Robinson was the greatest fighter of all time, but he might not have been the greatest middleweight ever. Robinson as a welterweight was close to perfection. Robinson as a middleweight was beatable. Marvin Hagler and Carlos Monzon would belong in a fantasy middleweight tournament with Sugar Ray. And so would Roy Jones, who stopped at 160 pounds long enough to defeat Hopkins convincingly for the IBF crown.

Then there are fighters from distant eras. Stanley Ketchel was great in his time. Harry Greb held the middleweight championship for three years and was the only man to defeat Gene Tunney. Mickey Walker enjoyed a storied five-year reign. Put those seven men in a middleweight tournament with Hopkins and no one would complain.

Everyone has an occasional bad day at the office. If a world champion has one, he loses his job. Hopkins has now joined Joe Louis (25), Dariusz Michalczewski (23), Ricardo Lopez (21), and Sven Ottke (21) as one of only five fighters in history to defend the same title twenty times or more. He's also one of four fighters to successfully defend a legitimate world championship at age forty or older. Bob Fitzsimmons, Archie Moore, and George Foreman were the others.

Hopkins envisions having two big-money pay-per-view fights this year; one in late-summer and one in late-autumn. Realistically, that leaves him with three viable opponents.

First, Bernard has stated a desire to fight Glencoffe Johnson for the 175-pound throne. "I'm a boxing history fanatic," Hopkins said last week. "I want boxing history to follow me to my grave. I want to do what Ray Robinson couldn't do and go right from middleweight and win the light-heavyweight title."

Hopkins would be a clear favorite over the 36-year-old Johnson, who he knocked out eight years ago. But Johnson has said that his first order of business is a rematch against Antonio Tarver. Let's see how anxious Bernard is to fight Tarver should Antonio beat Johnson the second time around.

Alternatively, Hopkins could make a title defense against the winner of the May 14th bout between Felix Trinidad and Winky Wright. But Don King controls Trinidad and will have options on Wright should Winky emerge victorious. Also, King and Hopkins are currently engaged in an ugly legal arbitration. Their battle could be settled by making a fight between Hopkins and the winner of Trinidad-Wright with appropriate financial incentives thrown in. But that's speculative and contingent right now.

The third possibility, of course, is Hopkins versus Jermain Taylor. Taylor has been touted as the heir apparent to the middleweight throne. That and two dollars will get you on the subway in New York. But Jermain has the physical tools to make things interesting against Hopkins.

To beat Bernard, a fighter has to press the action, set a fast pace, and tire him out. That's easier said than done, but it has to be done. Taylor is tall with a good jab and power in both hands. He's also young, which would work for him in terms of stamina and against him when Hopkins starts playing with his mind. Unlike the other potential big-money opponents, Taylor is available without strings now.

Hopkins rarely goes in tougher than he has to. So of the three, most likely he'll opt for the opponent he regards as the most beatable foe. But when the chips are down, Bernard will be a formidable adversary for whomever is standing across the ring. At his core, he's a great fighter. And his essence is best described in words written by William Ernest Henley more than a century ago:

INVICTUS

Out of the night that covers me,
Black as the Pit from pole to pole,
I thank whatever gods may be
For my unconquerable soul.

In the fell clutch of circumstance
I have not winced nor cried aloud.
Under the bludgeonings of chance,
My head is bloody but unbowed.

Beyond this place of wrath and tears,
Looms but the horror of the shade.
And yet the menace of the years
Finds, and shall find me, unafraid.

It matters not how strait the gate,
How charged with punishments the scroll.
I am the master of my fate;
I am the captain of my soul.