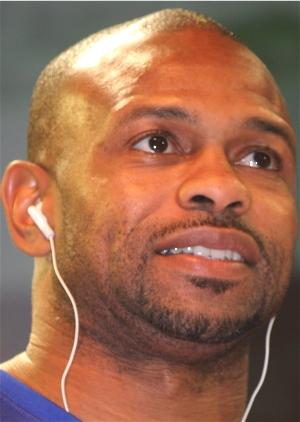 Roy Jones Junior

By Thomas Hauser

This is a column I'd rather not write. But I chronicle the contemporary boxing scene, and I'd be less than honest if I didn't write it.

Roy Jones is one of my favorite people, in or out of boxing. When he was young, he was a great fighter. And I've always been impressed by his generosity of spirit. Roy might blow off production meetings and promotional press conferences. But time and again, I've seen him get on a plane and fly across the country to speak with students at inspirational forums or attend charitable ventures.

Roy's generosity was recently on display when he flew to New York at his own expense for the celebration of what would have been Arthur Curry's fiftieth birthday. Artie's friends and co-workers have established the Arthur Curry Scholarship Program at St. Francis College in Brooklyn. Roy was the keynote speaker at the formal announcement of the program. His words to the students and other guests were uplifting and mesmerizing.

That brings us to the matter at hand.

Seventeen years ago, Roy Jones fought Bernard Hopkins for the IBF middleweight championship. Roy was 21-and-0 with 20 knockouts and clearly a superstar in the making. Bernard was 22-and-1 with 16 KOs; good but not yet considered great. Jones hurt his hand early in the fight, but won eight of twelve rounds on each judge's scorecard.

Thereafter, both men journeyed to ring greatness. Jones made James Toney look like a novice, dominated the light-heavyweight division for years, and outclassed John Ruiz to win the WBA heavyweight crown. Bernard established hegemony over the middleweight ranks after Roy moved up in weight.

Hopkins is now 45 years old. Jones is 41.

For seventeen years, the loss to Roy has stuck in Bernard's craw like broken glass. Jones is the only man to have decisively beaten him. When Roy was at his peak and dominating the light-heavyweight division, Hopkins said little about moving up in weight to challenge him. But as Roy's skills deteriorated, Bernard grew bolder. With increasing frequency, he suggested that a rematch was in order. On several occasions, they seemed close to finalizing a deal. Each time, it fell apart.

Ten days before Jones fought Joe Calzaghe, Roy told the media, "Bernard Hopkins can talk about whoever he's going to fight next. I couldn't care less. I already beat Bernard Hopkins, so why would I want to fight him again? He can do all he wants to try and tie himself to my career, but I'm not tied to his."

On November 8, 2008, Calzaghe exposed Roy as a once-great fighter who had become a shell of his former self.

Three days later, Hopkins declared, "I don't want to fight Roy; not after Saturday night. What's the point? The things that he was able to do because he was Superman; he can't do them anymore. Physically, he looked old. His face was shrunken. He didn't look strong. It wouldn't be right."

But Naazim Richardson (who trains Hopkins) sounded a prescient note, saying, "If Roy calls Bernard to fight and Bernard is seventy-five years old, Bernard will take his teeth out of the jar and go fight. If I was advising Roy, I'd say, 'You don't need that fight. Let it be. Leave it as it is and the history books will say you beat Bernard Hopkins.' But I got a feeling that Roy is like someone who robs the junkyard when the dog is asleep. Now you tell him that the dog is awake, and he's foolish enough to go back again."

Hopkins-Jones II is now scheduled for April 3rd at Mandalay Bay in Las Vegas. Square Ring is a promotional partner, but Golden Boy (Bernard's promoter) is controlling the venture.

Within the boxing community, there's more dread than interest in the fight. Over the past seven years, Jones has posted five wins against five losses with three "KOs by." In his most recent outing, he was knocked out in the first round by Danny Green.

Like Jones, Hopkins has suffered defeat. His record over the past five years is 4-and-3, with losses to Jermain Taylor (twice) and Joe Calzaghe. But each loss was by a razor-thin margin and he has never been knocked out.

HBO (which has a synergistic relationship with Golden Boy) considers Jones so far over the hill that it refused to produce the fight as a World Championship Boxing or pay-per-view telecast. Instead, it will quietly distribute the show without HBO branding on pay-per-view. Larry Merchant speaks for many at the network when he says, "It's a free country. They can fight if they want to. And I don't have to watch it if I don't want to. I'd rather not see it."

Golden Boy has now hired an independent production company.

Adding insult to expected injury, it's possible that Jones will come out of the venture making no money at all.

Sources say that the bout contracts call for promotional expenses (e.g. the cost of television production, distribution fees, and publicity costs such as the pre-fight press tour) to be paid off the top. Golden Boy and Hopkins will receive the next US$3,500,000. In theory, Jones and Square Ring will get the following $3,500,000, with a fifty-fifty split thereafter.

The problem with this math in terms of Jones's financial wellbeing is that the fight is unlikely to generate US$7,000,000 in profits. It might not even generate $3,500,000.

Golden Boy has a "four-wall" deal with Mandalay Bay. The site has guaranteed a relatively small number of ticket buys. April 3rd is Easter Eve and, more significantly, the same night as the semi-finals of the NCAA men's championship basketball tournament (which could kill pay-per-view buys). Golden Boy CEO Richard Schaefer has made a point of telling the media that the main event won't begin until after the basketball games are over. That's another way of saying that the undercard won't be worth watching.

At the February 9th kick-off press conference in New York, Schaefer said that he expected the fight to generate between 300,000 and 350,000 buys. Many industry analysts consider that number to be highly optimistic.

Significantly, at the same press conference, John Wirt (who represents Jones and Square Ring) said that the issue of drug testing "never came up" during contract negotiations. So much for Golden Boy's commitment to that issue.

During the initial pre-fight build-up, Oscar De La Hoya declared, "As a fan, I'm excited that the fight is finally happening."

As a promoter, Oscar might be excited. As a fan, he should be disgusted.

I've been wrong before. I was one of those guys who thought that Evander Holyfield would be destroyed by Mike Tyson the first time they fought.

Also, the attribute in an opponent that gives Hopkins the most trouble is speed (think Jermain Taylor and Joe Calzaghe). Jones's hands are still fast, although not as fast as they once were.

That said; I'm dismayed by the thought of Hopkins-Jones II. My mind keeps drifting back to a moment in time thirteen years ago.

I'd been traveling around the country with Muhammad Ali, speaking to students about tolerance and understanding. On February 26, 1997, our travels took us to Pensacola, Florida. That afternoon, we visited the Square Ring Gym, where Roy was training.

Ali was suffering noticeably from Parkinson's syndrome by then, but he was still physically strong. Roy invited him into the ring. Muhammad obliged. They engaged in a mock sparring session.

That night, over dinner, Roy told me, "I feel better about Ali now. When we got in the ring, I could see right away that he was looking for the flaw in my jab. He found it. And he signaled to me by doing the same thing with his jab that I was doing."

"And?"

"I know it's there," Roy said. "But I'm so fast, I can get away with it."

Roy isn't that fast anymore. Everything changed for him when his reflexes became a split second slower. He was never a technically sound fighter in the traditional sense. He was great because of his preternatural physical gifts, including the ability to see things as, or even before, they unfolded and react instantaneously to them. Now that his athleticism is diminished, he's no longer "Roy Jones" in the ring and hasn't been for a long time.

Hopkins knows that he fought the wrong fight the first time around against Roy. Instead of trying to box, he should have mauled and brawled. Now he can do either.

And to make matters worse, the bout contracts provide for a bonus to a fighter scoring a knockout and penalize a fighter who's knocked out. That brings back memories of the 2003 encounter between Hopkins and William Joppy. Joppy was horribly beaten up that night to the point of being disfigured. The bout should have been stopped. But his corner (and the referee) let it go the full twelve-round distance; possibly because of a US$50,000 knockout side bet.

Hopkins-Jones II has the look of Larry Holmes against Muhammad Ali. Roy knows how to beat Bernard, but his body can no longer do what has to be done. His reflexes and chin are likely to betray him.

How apt is the parallel between Jones and Ali?

Larry Holmes sees it.

"I'm not a doctor," the former heavyweight champion says. "I'm just Larry Holmes. But I'll tell it to you straight. Roy Jones shouldn't fight no more. People told me to stop fighting before I did, and it took a while for me to listen to them. But I wasn't taking punches upside the head and getting beat up like Roy is now."

"Roy Jones can't do his thing in the ring anymore," Holmes continues. "He's getting hit and he's getting hurt. Everyone but Roy sees it. It's like Ali. When Ali was young, he almost never got hit. If Ali had quit at the right time, he'd be healthy and talking well now. But he fought too long; he started getting hit in the head a lot; and look at him now. So I'd say to Roy, 'You did your thing. You were great. You proved yourself. But you can't keep getting hit in the head and not wind up with problems of a bad kind. Don't be stupid. Don't fuck up your life. Get real with yourself. There's lots of things you can do to feel good about yourself besides being a fighter."

Medical experts are in accord.

Flip Homansky once served as a commissioner and chief ringside physician for the Nevada State Athletic Commission. He's one of the most respected and knowledgeable voices in the United States with regard to the medical aspects of boxing.

"I prefer to not get involved with boxing matters anymore," Homansky says. "I haven't commented publicly on a fight since I left the commission. But this fight troubles me so much that I will."

"I believe that, if it's at all possible, regulators should act before a serious injury occurs," Homansky continues. "Having worked with fighters for many years, I can tell you that there's no magic bullet to use in determining whether or not a fighter should be licensed. CT-scans, PET-scans, and MRIs can be helpful. But too often, testing doesn't tell you what you need to know until it's too late. The key is having all of the available data on a fighter, including his past performances, reviewed by good doctors who understand boxing. If you do that with Roy Jones, you start with the fact that, when Roy was young, he never got hit; and now he can't do anything but get hit. Then you compare how Roy responded to blows when he was young and how he responds now. Something in Roy's brain no longer works like it should. Common sense tells you that this fight shouldn't happen. It's a farce, and it's a farce that endangers Roy's wellbeing beyond the normal risks that a fighter takes."

Margaret Goodman (who succeeded Homansky as chief ringside physician for the Nevada State Athletic Commission) concurs, saying, "Out of all the fighters I worked with when I was with the commission, the one I felt the most privileged to work with was Roy. This makes me so sad. It's not whether or not Roy can pass the medical tests. I'm sure he can. All that will mean is that they're giving him the wrong tests. This isn't just a medical decision. It's a boxing decision. Roy's ability to avoid punches and handle punches when they land has deteriorated to the point where this fight shouldn't be allowed to happen. Roy is a fighter at risk. Red warning lights are flashing. Roy will take punishment in training and he'll take more punishment in the fight. To think that this could happen in Nevada, which once prided itself on having the highest medical standards in the country for boxing, is a travesty and an embarrassment."

Sometimes, a once-great fighter with courage and heart has to be protected from himself. The ultimate responsibility for saying "no" to Hopkins-Jones II rests with the Nevada State Athletic Commission. The NSAC should have refused to grant Muhammad Ali a license when he wanted to fight Larry Holmes. But greed triumphed over sound medical judgment in the decision-making process. The whole world now sees the results.

Eight years ago, the Nevada State Athletic Commission acted courageously and on principle when it denied Mike Tyson a license to fight Lennox Lewis. Lewis-Tyson wound up in Memphis. Las Vegas survived. Now the NSAC should again act on principle and refuse to allow Hopkins-Jones II. But the assumption is that the promotion wouldn't have reached the point it's at now unless Golden Boy had been assured by commission personnel that Jones would be licensed.

Roy Jones was a special fighter. He's still a special person. I hate to see him put himself in harm's way like this. Hopkins-Jones II is bad for Roy and bad for boxing.

Thirteen years ago, after sparring with Roy, Muhammad Ali said, "He reminds me of me when I was young."

Now Roy reminds people of Ali as an aging fighter. It would be tragic if he were to remind people of Ali outside the ring when he gets old.


Thomas Hauser can be reached by e-mail at thauser@rcn.com. His most recent book ("An Unforgiving Sport") was published by the University of Arkansas Press.