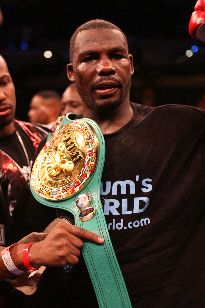 Still the champ - Rahman (pic Tom Hogan)

By Thomas Hauser
"Boxing," Jon Saraceno once wrote, "remains in a perpetual eight-count time warp." To prove that theory, one need look no further than today's heavyweight muddle.

There was a time when a heavyweight championship bout was a seismic event in the world of sports. Now, with four "champions," few people know when a title fight is taking place, let alone care. It was hoped that the March 18th World Boxing Council title match between Hasim Rahman and James Toney would bring some clarity to the division.

No such luck.

Five years ago, Rahman was THE heavyweight champion of the world by virtue of a fifth-round knockout of Lennox Lewis. After beating Lewis, he had the opportunity to fight Mike Tyson with Cedric Kushner (who had brought him to the top) as his promoter. Hasim would have made more money for that one fight than he has made in his entire 48-bout career. But he chose to jettison Kushner in favor of Don King and a duffel bag filled with cash. In his next outing, fighting for King, he lost a rematch against Lewis. "I've learned from the things I've done wrong in my life," Hasim acknowledged recently.

Rahman is now one of four heavyweight beltholders, but his latest bauble was only partially earned in the ring. Last August, he won a desultory twelve-round decision over Monte Barrett to become the "interim" WBC champion. Then Vitali Klitschko retired and Hasim was given the crown by fiat of the sanctioning body's executive board. Much of the maneuvering critical to this outcome was orchestrated by King. But once Rahman was enthroned, he jumped ship again and signed with Bob Arum. That earned King's wrath and led to some pointed comments from DK about fighters who are "traitors" and abandon the promoter who got them to the top. How quickly one forgets duffel bags filled with cash. There will be more from King on the subject of loyalty later in this article.

Meanwhile, Dan Goossen has spent the past three-and-a-half years rebuilding James "Lights Out" Toney as a contender and an attraction. Toney has answered the bell for round one 76 times in his career, which is something that few of today's elite fighters can say. He began as a middleweight; knocked out Michael Nunn for the IBF crown; went up in weight to dethrone Iran Barkley; and reigned at 168 pounds until Roy Jones brought him down.

In his latest incarnation, the 5-foot-9-inch Toney is a heavyweight. He's abrasive, uttering thoughts like, "Wherever I happen to be is the fight capitol of the world." And he's not above telling the media, "You all don't give me respect, so I'm going to take it. And when I do, I'm going to spit it back in your face. I don't care if you like me or not because it don't make no damn difference to me." But give Toney credit. Unlike many of today's fighters, he means it when he says, "I'll fight anyone, anywhere, anytime. If you're bigger and badder than me, let me see. Prove it to me. Fight me."

Toney loves to fight. "Sometimes I stand in front of the mirror and throw punches and pretend I'm fighting Ezzard Charles, Jersey Joe Walcott, Archie Moore, and Rocky Marciano," he says. "I would have loved to have fought in the old days when the best weren't afraid to fight the best again and again. A lot of fighters today are about flash and pizazz. I'm about knowing how to fight. Smash-mouth boxing is what I do best. I'm not afraid to get hit."

In the ring, Toney fights like a pit-bull and gives the impression of being impervious to pain. He hasn't lost a fight since 1997. Last year, he won the WBA heavyweight title with a twelve-round decision over John Ruiz. Then he tested positive for Nandrolone (an illegal steroid) and the verdict was changed to "no decision." More significantly, James was stripped of his WBA belt and Ruiz was reinstated as champion.

In order to get the Ruiz fight, Dan Goossen had been forced to cede a piece of his promotional interest in Toney to Don King. Hence, King had a strong rooting interest in the outcome of Rahman-Toney. And James had the potential to liven things up in the heavyweight division.

The lead promoter for Rahman-Toney was Bob Arum, who's about to celebrate his fortieth anniversary in boxing (the first fight that he promoted was Muhammad Ali versus George Chuvalo on March 29, 1966). Unless one counts last summer's abortive match-up between Rahman and Vitali Klitschko, this was Arum's first foray into the heavyweight division since the glory days of Butterbean.

The promotion received a boost of sorts in late-January when Rahman and Toney got into a shoving match at the WBC's "Night of Champions" in Cancun, Mexico. "He scratched me on my lip like a little bitch," Toney reported. "He's a fucking pussy." Among the other bon mots that James offered afterward were:

* "The only reason Rahman is heavyweight champion is because Don King put him there."

* "I'll stand in the pocket, deal out punishment, and he won't be able to hit me. I'll make it look easy. Rahman has never seen anything like James Toney. No one has."

* "Everyone is saying Hasim Rahman is bigger than me and stronger than me. Man, you can be big all you want to. He's lacking in the one area which really counts. That's the heart. If you chip at a rock long enough, it falls apart."

Rahman, of course, responded in kind:

* "I don't like James. I don't like fighters who target everybody. If you've got a problem with somebody, I can respect that. If you don't like me for whatever reason, that's fine. But don't go off on everybody. This man goes off on everybody. James Toney's not smart enough to make me angry. I'm not mad to the point where I'm going to go in there and do something foolish. I just don't like him. He talks too much and he needs to be shut up. I'm going to humble him."

* "I'm going to do whatever I feel like doing. The worst thing Toney can do is stand in front of me. I'm not going to miss all night. I'm going to beat him on the inside and I'm going to beat him on the outside. My power will be a big factor in this fight."

* "I don't see any problem. I'm not being cocky. I'm not being over-confident. I'm just going to expose James for the fraud that he is. He don't belong in the ring with me. I'm going to bloody him up, swell him up, and punish him. I'm going to make him find a way out of there. He can go out on his own volition or he can get carried out. This will be his last championship fight. You can stick a fork in him; he's done."

Meanwhile, Toney was a 9-to-5 betting favorite and his camp was confident. James had beaten Evander Holyfield and John Ruiz. Rahman had lost to both of them. And Rahman seemed weary from his sojourn through the sweet science.

"Let's be honest," said Toney's trainer, Freddie Roach. "Rahman looked good for one fight in his life. He knocked out Lennox Lewis. What has he done since? Who has he beaten? He's lost every big fight he's had since then. Rahman is big and he has a good jab and a strong right hand, but James will deal with that. James doesn't get hit with right hands. He's the best defensive fighter out there. Heavyweights can't hit him."

"James stands behind his talk in the ring," added Dan Goossen. "And Rahman doesn't."

Then came the weigh-in and Toney's partisans were a bit shaken.

Weight has been a problem for James throughout his ring career. In high school, he played football at two hundred pounds. Then he slimmed down to 160. The night he knocked out Michael Nunn to claim the middleweight crown, he weighed in at 157 (his lightest fighting weight ever). But over time, when it comes to food, James's discipline has eroded. Whether he was fighting as a super-middleweight, light-heavyweight, or cruiserweight, he had trouble making weight. "When I left the cruiserweight division," James proclaimed recently, "I said, 'Hallelujah!' I'm at my natural body weight now. I feel good. This is the way I am."

Most fat people would get annoyed if they were asked constantly about their weight. James is no exception. "If I'm always fat and out of shape," he said in response to a question posed during a pre-fight media conference call, "why I'm beating all these top heavyweights? At my weight right now, I'm fighting better. I'm feeling a lot better. The difference between me and everybody else is I can fight. The weight doesn't matter. The same reporters that are writing about me, they can't talk. Look at themselves in the mirror. People are making fun of my weight, calling me a human bowling ball. A bowling ball knocks things down."

Still, the questions remained. And in private, James admitted, "I looked at myself in the mirror in Cancun; 275 pounds. It was like, 'Damn; I think I'm having a baby.' When I play, I play; when I train, I train. I have fun both ways." Then he'd added, "People say I look like a Buddha, but this Buddha will kick your ass."

Rahman-Toney was James's first fight in Atlantic City since he defended his 168-pound title against Doug De Witt thirteen years ago. This time, he weighed in at 237 pounds; the fifth fight in a row in which he upped his own personal fight-weight high. Rolls of fat jiggled around his waist as he stepped on the scale. One scribe suggested that his weight be announced in kilograms so it wouldn't sound as bad.

Then Rahman stepped forward. In the past, conditioning has also been an issue for Hasim. He has weighed in as high as 259 pounds. Now he seemed to be in the best shape of his life; 238 pounds. Visually, the fight was a mismatch.

"The good thing about being a heavyweight," George Foreman once said, "is that weigh-ins don't matter. The scales are just a tradition."

But that's not entirely true. A heavyweight weigh-in is often a good indication of how diligently a fighter has trained. That was clear when Buster Douglas came in at a blubbery 246 pounds to face Evander Holyfield and Kirk Johnson tipped the scales at 260 pounds for his confrontation with Vitali Klitschko.

James Toney was a 37-year-old fighter with an increasingly fragile body carrying the wear and tear of 76 professional fights. Coming in at 237 pounds, he wasn't giving himself the best chance possible to win.

"Look at him," said Rahman. "He's fat and soft. He's still a middleweight; all his weight is around his middle. The only stretching exercises James has done are at meals when he stretched his stomach."

Muscles don't show a fighter's heart and will to win. But the fact remained that Rahman was sculpted and had never looked better. It seemed as though his physical assets, including his conditioning, might simply be too much for James to overcome.

On Saturday night, the Toney camp arrived at Boardwalk Hall two hours before fight time. James was wearing a dark-blue warm-up suit with white trim. There was a chill in his dressing room. James bent over and adjusted a portable heater on the floor to "high." A ring doctor came in, checked his blood pressure, and asked a series of pro forma questions.

"Have you had any injuries in the past three months?"

"No."

"Are you on any medications?"

"No."

"Have you been suspended for medical reasons?"

"I had that steroid thing, but that's all."

The doctor left. James stood up, took off his warm-up jacket, and began a series of stretching exercises. At one point, he bent over to touch his toes but came up about six inches short.

Most fighters get tense and irritable as a fight approaches. Toney's mood improves as fight-time nears. One day earlier, he had gone to the airport to pick up his sister. His mood was jovial as he'd laughed and talked animatedly with passengers in the baggage claim area. Now, in the nervous hours before fight-time, James seemed like a kid looking forward to playing in a pick-up football game.

"This is the best sport it the world," he told the room at large. A stream of consciousness followed. "Ain't nothing like boxing . . . I feel good. I'm ready to pop off . . . Outside the ring, I get excited. In the ring, I'm calm. If you get excited, you make mistakes. The ring is a calm place . . . Great fighters don't need a plan before a fight starts. They do what they have to do and adjust as the fight goes on. My plan is that I'm James Toney . . . I live for this shit. I was born to do this . . . They love me in Detroit. They love me in New York. They love me in Las Vegas."

James stood up, waved his arms, and shouted, "Pterodactyl! Caw! Caw ! Caw!"

Then the lights went out. There was silence followed by a cheerful voice: "That's why they call me James 'Lights Out' Toney."

A maintenance man was summoned. "You got a heater, two 500-watt TV lamps, all the other lights; and everything's running from the same circuit," the group was told.

The room was starting to get cold again. The only light still working was in the adjacent bathroom. James put his warm-up jacket back on and announced, "I want this belt; I'm gonna get it. That make-believe thug can't beat me. It's kill or die."

A technician came in, ran the cord from one of the TV lights to a different outlet, and put duct tape over the cord so no one would trip over it. Twelve minutes after they went out, the lights came back on.

At nine o'clock, James sat on a chair in a corner of the room and turned his attention to an undercard fight on the television monitor. Fifteen minutes later, Don King entered the room. An unlit cigar was in his mouth.

"There he is," King boomed. "James 'Lights Out' Toney is getting ready to kick some ass. It's ass-kicking time."

Suddenly, the room seemed very small.

"Friends, Americans, countrymen; we're going to bury that motherfucker Hasim Rahman tonight. There will be no mercy. James 'Lights Out' Toney will put the lights out all over Rahmanville."
Freddie Roach began taping James's hands. Larry Hazzard (chairman of the New Jersey Board of Athletic Control) came in with referee Eddie Cotton and WBC supervisor Rex Walker. Cotton gave the prefight instructions. Once they had left, King resumed his oration.

"William Cullen Bryant told us, 'The truth crushed to earth will rise again.' The shield of righteousness and the sword of truth are in James Toney's hands, and he shall smite Hasim Rahman. Ain't no room for traitors. Kick that motherfucking traitor's ass. James Toney and the Lord, working together, shall smite that ugly motherfucker down."

At 9:35, the taping was done. James shadow-boxed for several minutes; then put his protective cup and trunks on.

"How do you like your cabbage?" King roared. "Raw, raw, raw. How do you like your sugar? Sweet, sweet, sweet. How do you like Rahman? Dead, dead, dead."

James took off his T-shirt. Roach rubbed baby oil on the fighter's back, shoulders, chest, and arms. More shadow-boxing. At ten o'clock, James gloved up. Then he and Roach began working the pads.

"Nice," the trainer told him. "Beautiful . . . That's it; take him to school . . . He's got a slow jab; you'll see it coming. Beat it over the top all night long."

The pad-work increased in intensity with James's punches coming faster and harder.

"How long? Not long," King cried out. "Truth and justice shall prevail tonight."


Then it was time. James left for the ring. The rest of his team followed. As the room emptied out, King sat still with an American flag in his hand. "This is a tough game," he said softly. Then he yawned.

It was a good fight. Rahman came out hard, going to the body often and setting a fast pace. He wasn't really using his reach. Rather, he was fighting on the inside (Toney's fight) to beat James. A high work rate was at the core of his plan. He was intent on outhustling and outmuscling his foe, relying on superior conditioning and strength to win.

It was trench warfare in the early rounds. After the third stanza, the crowd gave both men a standing ovation. Then Rahman began working his jab more effectively. In round five, he suffered a cut above his left eye from an accidental head butt, but it didn't change the flow of the fight. James's balance seemed to be off, possibly because of the excess weight he was carrying. At times, his balance problems made it look as though Rahman was moving him with punches when that wasn't the case.

The pace slowed late in the fight, with both men pounding away at anything they could hit. Fighting off the ropes, Toney landed the cleaner shots. But Rahman kept the pressure on and took the blows when James hit him flush. Overall, Hasim had a 279 to 263 edge in punches landed. Toney led 215 to 159 in power punches.

Judges Tom Kaczmarek and Nobuaki Uratani scored the bout even at 114-114. John Stewart had it 117-111 for Rahman. Interestingly, Hasim won the last round on all three cards to salvage his title with the draw. James was presumed to be the tougher of the two fighters mentally. But Rahman was the one who gutted it out in the final three minutes, which was the last thing that many insiders thought he would do.

It was a good fight between two good heavyweights, but one that did nothing to bring clarity to the heavyweight division or advance the cause of crowning a unified champion. HBO had hoped that Rahman-Toney would give it a number-one heavyweight to match against the winner of the April 22nd fight between Chris Byrd and Wladimir Klitschko. Instead, they're left with a beltholder who has yet to win a full-blown WBC title fight in his current reign. The network isn't about to change its slogan from "building legends one round at a time" to "HBO: Home of the Heavyweights."

After the fight, Toney returned to his dressing room. Freddie Roach followed. Fighter and trainer embraced.

"Sorry, Freddie," James said.

"You got nothing to be sorry about. You won that fight. Sometimes, when a guy is countering off the ropes, the judges don't understand what's going on."

James went in the bathroom, took a shower, and returned. "Anybody got cold water?" he asked.

Someone handed him a bottle of cold water. A cell-phone was placed in his hand. Floyd Mayweather Jr was on the line.

"How you doin', James?"

"I'm fine, man. How are you?

"Real good," Mayweather told him.

"What are you gonna do to Zab Judah?"

"Kill him. Murder in the first degree."

James handed the phone to a member of his team and began to dress. A white shirt, charcoal-gray suit, black shoes. Then he sat down in a chair and smiled as his wife, Angie, knotted his blue-and-gold tie.

"I tired down the end," he told her. "But all the cleaner harder shots were mine. Don't matter what the judges say. I'm still the best heavyweight in the world." James stood up. "Now that I'm in a suit, I feel good."

Thomas Hauser can be reached by email at thauser@rcn.com.