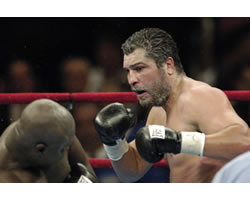 Ruiz looks for an opening against Toney (pic Neil Abramson)

By Thomas Hauser: On March 29th, Don King appeared at the kick-off press conference for the April 30th WBA heavyweight title fight between John Ruiz and James Toney with Bello Nock at his side.

Nock is a clown with a pompadour of strawberry-blond hair that rises eight inches into the air. He's also star of this year's Ringling Brothers, Barnum & Bailey Circus, which had just opened at Madison Square Garden. That led to some uncharitable whispers regarding two clowns standing side-by-side with their hair reaching toward the heavens. But the overriding theme of the moment was, "Get the microphones ready. Don King, James Toney, and Norman Stone are coming to town."

Toney is a trash-talker. At the kick-off press conference, he told the assembled media, "The heavyweight division is garbage now. I'm coming in to clean up the garbage. Playtime is over with. Just let the bell ring, and I'll take care of him. We can do it the easy way or we can do it the hard way. And trust me; Ruiz don't want to do it the hard way. I got knockouts all the way from middleweight to heavyweight. I'm so powerful, I'm like a goddamn elephant. As soon as I hit him flush, he goes."

Asked for more, the bombastic Mr. T declared, "Fans come to see blood and guts, and that's what I give them. I'm a fighter. I hunt people down and destroy them. Trust me; when the bell rings, John Ruiz's last day as champion will come to a screeching halt. He's boring, so he's gotta go. I'm gonna knock Ruiz out; I promise. You'll never see this guy again, and you can all consider it a personal favor from James Toney."

There was a time when Toney seemed destined for greatness. He knocked out Michael Nunn for the IBF middleweight title in 1991 and successfully defended it six times. Next, he moved up in weight and KO'd Iran Barkley for the IBF super-middleweight crown. By late 1994, James was undefeated in 46 fights and near the top of most "pound-for-pound" lists. Then he fought Roy Jones and lost in a bout that Jones dominated from beginning to end.

Ruiz-Toney was James's chance to return to center stage. In the past decade, he'd had only one fight that the public cared about; an October 2003 demolition of Evander Holyfield. Injuries had kept him on the shelf for all but one fight (a desultory 12-round decision over Rydell Booker) since then.

Toney fights like a pit bull. He's tough, skilled, and takes a good punch. He's at his best on the inside, which was where everyone except Jones had wound up fighting Ruiz. And he's a counter-puncher who, like Bernard Hopkins, breaks people down and beats them up.

"I don't care about styles," Toney said when asked about Ruiz's grab-and-hold modus operandi. "Styles mean nothing to me. I've had 74 pro fights. I've seen every style in the world. Whatever he wants to do, I don't care. But I don't see him fighting me any different from the way he fights everyone else. He fights like he's retarded; hug and hold. And for me, it will be uppercut city. He'll have a bad case of whiplash when I'm done. I'll eat him up like Pac-Man all night."

The odds-makers made Toney an 8-to-5 favorite. But Ruiz supporters noted that their man had been the underdog in five of seven previous title fights and lost only two of them. As far as they were concerned, Toney's victory over Holyfield was unimpressive in light of Evander's deterioration in recent years. And James's other signature triumph (his 2003 "Fight of the Year" struggle with Vassiliy Jirov) had lost its shine in the wake of Jirov's one-punch demolition at the hands of Michael Moorer. In other words, Toney had never beaten a quality fighter in his prime at more than 168 pounds.

Moreover, Toney is 36 years old (three years older than Ruiz) and had been through surgeries accompanied by long layoffs for a torn biceps and torn Achilles tendon during the previous year. Ruiz's style of holding, grabbing, wrestling, and mauling was expected to test James's fragile limbs. And while Toney is hard to hit cleanly, Ruiz doesn't hit cleanly. That's not his style. Every now and then, he might land a sneaky right hand flush, but that's about all. He does his damage by attrition, slowly wearing opponents down.

Then there was the matter of weight. Toney's suits are generously cut. But as the fight approached, he looked the way a boxer is supposed to look on the first day of training camp, not the last. Freddie Roach (James's trainer) said that his 5-foot-10-inch charge reported to camp at 260 pounds. Toney himself acknowledged, "I only had five weeks to prepare for this fight. I'm not in my best shape."

Ultimately, Toney weighed in at 233 pounds (to Ruiz's 241). Discount three pounds for the sweatsuit that James was wearing and he weighed 73 pounds more than the 157 he registered when he knocked out Michael Nunn fourteen years ago. And James hasn't gotten any taller since then.

Thus, the general view prior to the fight was, Ruiz does more with less, and Toney does less with more. James knew exactly what to expect from Ruiz. If he hadn't prepared properly and went on to lose, he'd have only himself to blame.

But another thought was circulating as well.

Ruiz is the Rodney Dangerfield of boxing. He don't get no respect. The criticism starts with his personality. John plods onward through life with the appearance of total calm. That's disconcerting to some, who see dollars in fighters with a more Tysonesque persona.

"Everyone has a little crazy in them," Ruiz once said. "Boxing is one way to express it." But when asked about the meanness that a boxer is required to summon up in a fight, there was no reference to making opponents cry like a woman or pushing the bone of their nose into their brain. Instead, Ruiz said simply, "You can't be thinking about butterflies and rainbows when some guy is coming to kill you."

Then there's the matter of the way Ruiz fights; what Larry Merchant calls "the Greco-Roman style of boxing."

"It's not the prettiest style in the world," Ruiz acknowledged. "My main thing is to go out there and win. That's what boxing is. It's not about looking pretty."

Regardless, Ruiz's style makes for boring fights.

And most significantly, each time in the past that Ruiz neared public acceptance, he'd lost big. The first disaster came on a 1996 HBO card styled "Night of the Young Heavyweights" when he was obliterated by David Tua in ninteen seconds. Over the next seven years, he fought his way back to take the WBA title from Evander Holyfield and successfully defend it against Kirk Johnson. Then, just when Ruiz was gaining credibility with the public, he was totally outclassed by Roy Jones.

Subsequent to the Jones debacle, Ruiz defeated Hasim Rahman, Fres Oquendo, and Andrew Golota. "I'm fighting top fighters and having tough fights and coming out winning, but they don't want to give me credit for it," he complained before the Toney fight. "I'm fighting guys that they predicted to be the next heavyweight champion. I beat them, and then they just change their whole outlook on what they were thinking about the other guy."

Now, there was a feeling among the boxing establishment to the effect of, "Well, if John wins this one, we'll give him his due."

"The more I watch John Ruiz, the more impressed I am," IBF heavyweight champion Chris Byrd noted. "He finds ways to make you fight his fight. I have no idea how that happens, but he draws these guys in. Just about the time you think he's going to start beating on you, he'll take a step back and start boxing. Then when you start boxing he says, 'Okay, time to get rough again.' You're off balance and uncomfortable and, next thing you know, he's hurt the guy."

"He's better than people think," Freddie Roach acknowledged. "It's weird, the way people look at him. All these other guys -- Holyfield, Rahman, Golota, Johnson -- they were supposed to beat him, but none of them did. Don't you think he had something to do with that? He's beaten some quality guys and he hasn't made the mistake of changing his style to please the public. I don't go by style. I go by whether you win your fights."

And Robert Cassidy Jr wrote, "Here's the positive spin. Ruiz doesn't have Mao Zedong tattooed on his body. He has his children's names embroidered across his boxing trunks. His name hasn't shown up in the police blotter. Instead, he has started a charity that benefits the homeless. If you can't appreciate what he does in the ring, appreciate who he is outside of it. Do that and you just might start rooting for him."

And there was one more subplot. Ruiz is trained and managed by Norman Stone. A lot of people in boxing feel ambivalent about "Stoney." On the one hand, it would be nice if more managers were as loyal and fought as hard for their fighters as he does. But on the other hand, Norman can be a pain in the ass; and that's putting it politely.

Stone got into a fist-fight with Alton Merkerson (Roy Jones's trainer) at the weigh-in for their 2003 fight in Las Vegas. He was ejected from the corner midway through Ruiz's most recent bout (against Andrew Golota at Madison Square Garden). From time to time, his name appears on police blotters in his home state of Massachusetts. Stone sees demons and conspiracy theories everywhere.

James Toney carries a lot of turmoil inside. It's always bubbling near the surface, sometimes shooting out of him in machine-gun-like bursts. The difference between Toney and Stoney is that James can control himself but at times chooses not to. Norman, on the other hand, can't always control himself.

Their first confrontation came at the March 29th kick-off press conference.

"Toney's a phony," Stone shouted.

"So's your mother," James countered.

"Shut the fuck up."

"I don't play," Toney warned.

"Go play with yourself."

"Like with your mom last night?"

At that point, the two men had to be separated. It wouldn't be the last time. And the bottom line was, on top of everything else that the New York State Athletic Commission and Madison Square Garden had to worry about on fight night, they were concerned with potentially incendiary behavior by Toney and Stone.

At five o'clock on the night of the fight, Ron Scott Stevens (chairman of the New York State Athletic Commission) met as is his custom with the NYSAC personnel who would be working that evening. The inspectors assigned to the Toney and Ruiz corners had been carefully chosen. George Ward (a prison guard at Rikers Island for 21 years) would be with Toney. Felix Figueroa (a manager for the United States Postal Service at the Ansonia Station in Manhattan) got the nod for Ruiz. That seemed appropriate, given Stone's tendency to "go postal" under certain circumstances.

Ward and Figueroa would shadow their charges from the moment they entered Madison Square Garden until they left the arena. "You're not security," Stevens told them. "I don't want you getting in the middle of a fight. But by your presence, the way you position yourself and carry yourself, you can forestall a bad situation. Boxing should be conducted in a sportsmanlike manner. Let's try to maintain that standard tonight."

Four hours later, Stevens revisited the issue when he went to the fighters' respective dressing rooms with referee Steve Smoger. In the past, Smoger had worked four Toney bouts and two Ruiz fights, so he knew what to expect from the combatants.

There was a brief discussion in Ruiz's quarters about whether or not John should be required to trim his beard. Stone objected, and it was agreed that it was too late in the day to fairly impose that requirement.

"All right; let's move on," Stevens said. "Mr. Smoger will be the referee for the fight. He'll give you the pre-fight instructions."

The pro forma instructions followed. Then Smoger turned to Stone. "The facts indicate," he began, "that in your last time in New York, you were ejected from ringside, fined, and suspended. And the language you used was atrocious. I don't --"

"You're prejudiced," Stone interrupted.

"Norman --"

"You're picking on me," Stone snapped. "You're prejudiced. The fight's off. We're not fighting."

"I'm not picking on you. What I saw and heard that night --"

"You heard shit," Stone shouted. "You couldn't have heard what I said because you weren't the referee. You're fucking prejudiced."

Tony Cardinale (Ruiz's lawyer) reached out and put a steadying hand on Stone's shoulder.

"Norman; this is preventative," Smoger said. "I'm asking you to not jeopardize the evening by a repeat of last time. We don't want the fight to end on a disqualification. This is not a pick on. This is preventative. I have to state the facts. Maintain yourself."

"Fuck you. I'm suing."

Next, Stevens and Smoger went to Toney's dressing room. After the ritual instructions, Smoger gave Toney a similar warning. "I want you to behave. Don't ignite. Don't incite."

"There won't be a problem. I give you my word, man-to-man," Toney promised.

There was no music in Toney's dressing room. James chatted amiably with the people around him. He seemed calm and relaxed, like a man who was looking forward to the hour to come. As the moment of truth drew closer, he gloved up, shadow-boxed, and hit the pads with Freddie Roach. Finally, Roach told him, "You're ready, son."

It was an interesting fight. Toney was the aggressor for most of the night, moving forward and getting off first. Both men fought cleanly, although Ruiz skirted the rules with rabbit punches from time to time. Toney's money punch was an overhand right that landed all evening. And his elusiveness on the inside was particularly frustrating for Ruiz. At times, John looked like a man trying to punch sand in a hurricane.

Toney won the fight on the inside with basic geometry and physics. His arms were shorter than his opponent's and his hands were faster. Each time Ruiz landed a clean shot, he seemed to wait for a receipt, and James gave him one.

John's best round was the sixth, when he backed Toney up and landed some significant blows. At that point, James appeared to be tiring and the Ruiz blueprint for the next six rounds was obvious. Press the action and make Toney fight three minutes of every round. But that plan, if it existed, went out the window in the opening seconds of round seven. Toney came out with a left-right-shove combination, the shove coming while he was standing on Ruiz's foot, and John went down. Smoger, who otherwise did an outstanding job, mistakenly called the incident a knockdown.

At that point, Ruiz's spirit seemed broken. Thereafter, Toney was able to fight when he wanted to fight; and when he wanted to rest, he let Ruiz hold him. The judges scored it 116-111, 116-111, 115-112 in James's favor. This observer had it 116-112. Overall, Toney outlanded Ruiz 195 to 139.

After the fight, Ruiz announced in his locker room that he was retiring. "I did all I could to lift up the sport of boxing," he said. "I extended my hand to everybody. I didn't say anything bad about anybody. And all they did was say bad about me. I'm a nice guy. They want assholes up there. Now they got one. All the criticism and negativity in the last few fights have taken their toll. My heart isn't in it anymore. I always treated everybody with respect, but they didn't treat me the same way. It hurts me to walk away like this. I grew up in boxing; I've been fighting since I was seven. It's sad for me to put it this way, but boxing was the sport I loved. Now it's the sport I hate. It's time for me to move on with the rest of my life."

Ruiz may, or may not, stand by that pledge. But it's not in the best economic interests of boxing's powers-that-be for him to win a title again. Thus, it's unlikely that John will be the challenger for anyone's optional defense, and the sanctioning bodies won't make him a "mandatory" without Don King pushing for him (which is unlikely since King now has more marketable commodities). Moreover, contenders like Calvin Brock won't want to fight Ruiz because he might beat them. So what's left for him to do? Fight guys like Ray Austin and Larry Donald? After his loss to David Tua, Ruiz had reason to take the long road back. He was only 24 years old. He's not young anymore.

Meanwhile, James Toney isn't exactly a breath of fresh air for boxing. A gust of wind is more like it. But he's a provocateur and a compelling presence whose victory injects some life into the moribund heavyweight division.

"I'm a violent person," Toney said last week. "The best thing about being a fighter is knocking somebody straight on his ass, out cold, blood everywhere, Fans come to see a fight, blood and guts, and that's what I give them."

This from a man who once approached the seven-year-old son of one of his sparring partners in the gym and announced, "Watch this; I'm going to kill your daddy." Of course, in the next breath, James might say (as he did minutes after trading insults with Norman Stone), "I love Jackie Gleason. He's one of my favorites."

Toney, Vitali Klitschko. Chris Byrd, and Lamon Brewster are now boxing's "Fab Four." The problem is, with each of them wearing a different belt, they're not so fabulous.

Boxing should get its act together and hold a tournament to crown a legitimate heavyweight king. If it does, the most marketable heavyweight will be the one who emerges from the process. But as HBO Sports president Ross Greenburg acknowledged last month, "It's going to be up to the promoters, fighters, and managers to huddle and determine if identifying a unified champion is in their interests. It's in the public's interest and obviously it would be in our interest. But whether they can put aside all of their separate interests and come together to get it done is a different story. We just don't know."

In the dressing room immediately after Toney's victory over Ruiz, Freddie Roach shared his thoughts regarding James's most likely future opponents.

On Chris Byrd: "James and Chris used to spar together. James always seemed to have his number; and since then, Chris has slowed down a bit."

On the winner of Lamon Brewster versus Andrew Golota: "Lamon is one of my favorite people in boxing. I like Lamon a lot. But James and Lamon used to spar together, and James always dominated. James walks through Lamon. And Andrew is too slow for James. It might take a while, but James would chop Andrew down easily."

On Hasim Rahman: "Rock runs hot and cold. If the real Rock showed up, that would be a good fight."

On Vitali Klitschko: "Vitali would pose problems because of his size. But at the end of the day, James would probably be a bit too slick for him."

And then there's Mike Tyson, who Roach trained for two fights: "James knocks Mike out in four or five rounds. Mike is still dangerous early. But James is a good defensive fighter, and he has the greatest chin I've ever seen. Businesswise, that would probably be the best fight for James."

Then Roach smiled. "Middleweights are better fighters than heavyweights," he said.

James Toney is no longer a middleweight. But if he got in shape, he could be cruiserweight champion of the world.

Probably, he figures that being heavyweight champion is better.


Thomas Hauser can be reached by email at thauser@rcn.com. His most recent book -- "Chaos, Corruption, Courage, and Glory: A Year In Boxing" -- is currently in bookstores and can also be purchased through Amazon.com.