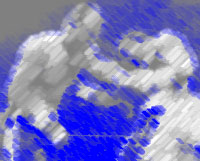 By Thomas Hauser:
It has often been said that boxing is show business with blood. Jay Larkin's career has had its share of both.

Larkin is known in the sweet science as the driving force behind Showtime boxing. However, in recent months, his job description has been altered. He's now responsible, among other things, for putting together three Showtime entertainment specials each year.

Theater was Larkin's first professional love. His education includes stints at the Boston Conservatory of Music; the UCLA School of Theater, Film and Television; and a degree in theater and directing from C.W. Post. He was also a successful actor on Broadway, television, and national tours.

Larkin began work at Showtime in 1984 as a junior publicist for a series called Broadway on Showtime. "I stayed a publicist for about an hour-and-a-half," he remembers. "Then they put me in programming."

It was a good fit. At the time, entertainment specials were an important Showtime offering. Frank Sinatra, Paul McCartney, Paul Simon, The Rolling Stones, Diana Ross, Bob Hope, George Burns, Drew Carey, Jim Carry, Ellen DeGeneris, and Tim Allen would all be featured on the cable network. And Larkin knew all aspects of the business. He could balance a budget and, the next day, walk on stage and know right away whether the lighting was right.

In the early-1990s, Showtime eliminated entertainment specials from its programming. Now they're back, causing Larkin to reflect on his experiences with some of the major entertainment icons of our time. Here, in his own words, are what it was like to work with Jackie Gleason, Paul McCartney, and Frank Sinatra.


JACKIE GLEASON

"Jackie Gleason was a hero of mine. There's a reason they called him 'The Great One.' It's unbelieveable how deep his talent ran as a comedian and a serious actor."

"In the mid-1980s, Showtime stumbled upon a project that became known as The Honeymooners: The Lost Episodes. The episodes were televised on Showtime, and we created the largest marketing-PR campaign in the history of the network. As part of that, we contacted the four original stars. Art Carney wanted nothing to do with the project. Audrey Meadows and Joyce Randolph were delighted with the series and did everything we asked of them and more. But the key to it all was Gleason. We asked if he'd become involved, and he told us, 'You've got me for one day. In that one day, I'll do whatever you want as long as they come to me and I don't have to go to them. Then lose my number and forget you ever knew me.'"

"Gleason chose the site for the interviews. He wanted to do them at 21 [a midtown-Manhattan restaurant]. The outpouring of media interest was staggering. I'd never seen anything like it before, and I've never seen anything like it since. For the first time in years, Jackie Gleason was going to talk about The Honeymooners. We had the three national morning shows with their cameras in separate rooms at 21. There was an army of print reporters. Local television stations, long-lead magazines; you name them and they were there."

"Gleason was true to his word. He did every interview we put in front of him. And all day long, whatever he did, he drank Cutty Sark and water from a large tumbler. To this day, whenever I see a bottle of Cutty Sark, I think of Gleason. His wife was with him. She was a former June Taylor dancer and never left his side. As the day went on, he put away a significant amount of booze. Meanwhile, she kept making sure that the drinks were more and more watered down until, by the end of the day, he was drinking little more than colored water."

"Gleason was a real pro. He was on from eight in the morning until eight at night and met our every expectation. Finally, it was over. Several of us walked Gleason to the elevator. He was standing there, leaning with his back against the elevator door for support. The elevator came; the door opened. Gleason fell backward onto the elevator floor; the door closed behind him. And that was the last time I saw Jackie Gleason."


PAUL McCARTNEY

"I was in London for a pay-per-view telecast of a benefit concert called Music for Montserrat [a Mediterranean Island that had been devastated by a volcano]. The talent was incredible. Paul McCartney, Elton John, Phil Collins, Eric Clapton, Sting."

"On the day of the show, I was sitting in the Albert Hall with [Showtime vice president] Marina Capurro. The place was empty. We were the only ones there. Paul McCartney came in and walked across the stage. He was completely alone, carrying a guitar. Then he sat down on the edge of the stage and, with nobody but us listening, sang Yesterday. It was like seeing the Grand Canyon for the first time. You know it exists; but when you finally see it, it exceeds your imagination."

"Later that day, I was in the lobby, talking with some of our staff, when I heard Jock McLean behind me. Jock had toured with the Beatles in the 1960s, setting up their equipment. In London, he was our executive in charge of the show. Anyway, I heard Jock say, 'Paulie, come here; I want you to meet the boss.' Then Jock tapped me on the shoulder. I turned around. And there, with his hand extended to shake hands with me, was Paul McCartney. He said, 'Hi; I'm Paul.' And I turned into Ralph Kramden. I couldn't speak. I opened my mouth, and all that came out was something like 'hummada-hummada-hummada-hummada.' Paul looked at me with a big smile and said, 'I've heard how witty you can be.'"


FRANK SINATRA

"I've always been a Sinatra addict; the music, not the man. His music is as good as it gets."

"In the mid-1980s, I was the network executive in charge of a Frank Sinatra special with Liza Minelli and Sammy Davis Jr. We were on-site in Detroit for about a week. Minelli and Davis were cooperative and nice; extemely gracious to our entire staff. And Frank was Frank. No one was even allowed to talk to Sinatra. That was the rule. If you wanted to communicate with Frank, you did it through his friend, Jilly Rizzo."

"On the day of the taping, Sinatra was standing onstage next to Jilly and we had to do a sound-check. So I walked over to them and said, 'Excuse me, Jilly. Would you please ask Mr. Sinatra whether he'd like to do his sound-check now or if I should just go fuck myself.' Jilly then turned to his left and said, 'Frank; the kid wants to know; would you like to do your sound-check now or should he just go fuck himself.' Sinatra didn't acknowledge my presence. He just looked at Jilly and said. 'Tell the kid to go fuck himself.' That was Sinatra."

*

Larkin's current Showtime project is Laugh Whore; a one-man comedy show starring Mario Cantone. Laugh Whore is playing in a limited-engagement run at the Cort Theatre, 138 West 48th Street, in Manhattan. Tickets can be purchased by calling 212-239-6200. Laugh Whore will air on Showtime in February 2005.