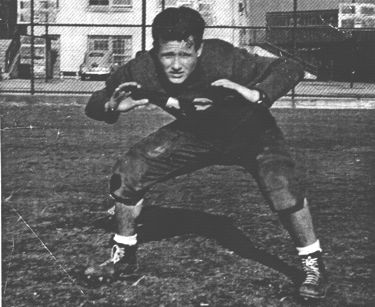 Larry Merchant, 1947

By Thomas Hauser
This Saturday is a time of celebration. Larry Merchant, the heart and soul of HBO Boxing, will turn 75. Merchant was born in New York on February 11, 1931. He's best known to sports fans for his association with the sweet science. But his first love was football, and he was pretty good on the gridiron.

In autumn 1947, Merchant was a 16-year-old senior at Lafayette High School, located in a working-class neighborhood near Coney Island in Brooklyn.

"We had a first-year coach named Harry Ostro," Merchant recalls. "He's still alive. He's in his nineties and lives in Georgia. Harry, which is what I call him now, played football at NYU and had been a captain in the airborne during World War II. He was a rugged barrel-chested guy; a prototypical coach, who believed in the homilies of the game. A winner never quits, and a quitter never wins. When the going gets tough, the tough get going. Vince Lombardi with a heart, is how I think of him. Harry led a lot of teenagers, myself included, from adolescence toward adulthood. He was an inspirational figure."

Lafayette football had a losing tradition. Ostro encouraged student-body support and built neighborhood pride in the team. He installed a single-wing offense and led the program to higher ground.

Merchant, at 5-feet-7-inches, 155 pounds, was one of the mainstays of Ostro's first team. "I was fast," Larry says. "But our best player was Hal Seidenberg, who played tailback and later was a star running back at Cornell. I was the fullback, which meant I was mostly a blocking back. I ran the ball occasionally but not often. And I started on defense at what you'd call cornerback today. I was a good tackler and very good at analyzing plays as they unfolded. I had a nack for figuring out angles and where the ball was going."

The final game of the 1947 season was against Manual High School, a powerhouse from the Red Hook section of Brooklyn. Lafayette was undefeated. The game was at Ebbets Field, which was also where the Brooklyn Dodgers played. That afternoon, Merchant experienced the glory that 16-year-old boys dream of.

"Our left tackle, Vinnie Gargano, came back to the huddle and said we should run a play off the weak side," Larry remembers. "It was Play 42. That meant the position 4 back, who was Seidenberg, would run the ball through the number 2 hole, which was on the left side of the line between the tackle and end. But Seidenberg was winded so he said, 'Let Larry run it.'"

Merchant had never carried the ball on that play before; not in a game and not in practice. Ordinarily, his asssignment on Play 42 was to block the defensive end. But this time, Lafayette ran it from the fullback position instead of tailback.

"The center snapped the ball to me instead of Seidenberg," Merchant recalls. "I don't think Seidenberg even blocked on the play. He just stood there, taking a rest, but the defense was keying on him. I took the snap, ran left, cut upfield, and cut left again to the sideline. Nobody put a hand on me, and I outran everyone for a 62-yard touchdown."

Jackie Robinson had just finished his rookie season in the major leagues. That year, he had played first base for the Dodgers. The way the gridiron at Ebbets Field was laid out, one endzone ran parallel to the wall in leftfield and the other was set against the first-base line.

"When I got to the endzone," Merchant recalls, "my first thought was, 'I've just scored a touchdown in Ebbets Field, and I'm standing where Jackie Robinson plays."

The final score was 19-19, which preserved the first undefeated season in Lafayette history. It was the only touchdown of Larry's high school career.

Merchant graduated from Lafayette in January 1948 at age sixteen and enrolled at The University of Oklahoma. "How I got there is one of those mysteries of life," he says. "The Rodgers and Hammerstein musical Oklahoma had put the name in the air. Oklahoma had just come east to play the last of the great Army teams. I was a mid-year high-school graduate, and Oklahoma took mid-year graduates."

Oklahoma was quite a switch from Brooklyn. The state was seeking to erase its "dust bowl" image from the Great Depression. Indeed, John Steinbeck's monumental novel, The Grapes of Wrath, had been banned by several Oklahoma school districts. Meanwhile, Bud Wilkinson had just completed his first year as head coach of the Sooners with a 7-2-1 record. Ultimately, Wilkinson would become one of the most celebrated college coaches of all time. His teams captured national championships in 1950, 1955, and 1956, and amassed a 145-29-4 record prior to his retirement in 1963. The centerpiece of his reign was an 47-game winning streak in the mid-1950s, an NCAA record that still stands.

"Wilkinson was like a god to a lot of people," Merchant says. "And it's easy to understand why. He was tall, extremely handsome, articulate, smart. And he won almost all the time."

Merchant tried out for the Oklahoma football team in 1948 as a spring-practice walk-on. "A lot of the players were World War II veterans in college on the GI Bill," he recalls. "I was a 17-year-old freshman, and they were men, quite a few of whom went on to play in the pros. When spring practice started, there were maybe 120 players. After five weeks, the number was down to around sixty. A lot of guys just couldn't take it and quit. I was dogged and stayed with it."

Darrell Royal, who later coached the Texas Longhorns to three national titles, played quarterback and halfback for the Sooners during Merchant's years at Oklahoma. Royal later recalled his peer as a tough little SOB and told Dan Jenkins of Sports Illustrated, "Larry would go after you."

Bud Wilkinson had a creed. If a player was willing to work hard every day in practice, he got a uniform. So in autumn 1948, Merchant was on Oklahoma's freshman team as a halfback and defensive back. That same year, the varsity went 10-and-1 and beat North Carolina in the Sugar Bowl. Larry was in the stands, watching, as the finale unfolded.

Merchant's sophomore season, he made the varsity. "I didn't get in a game," he remembers. "But one afternoon, Wilkinson called me into his office and told me, 'You're going to play a lot of football for Oklahoma.' That was one of the great moments in my life."

Then everything changed.

"Not long after that," Merchant says, "we were getting ready to play Nebraska. I was on the scout team in practice, blocking on a sweep to the right. My shoulder hit the defensive end's knee, and I suffered a complete separation of the shoulder."

Sports medicine was very different in 1949 than it is today. Merchant's gridiron career was over. He never played football again.

Oklahoma went 11-0 that season and capped an undefeated campaign with a 35-0 rout of LSU in the Sugar Bowl. Merchant watched the bowl game in street clothes from the Sooner bench. "I spent most of the afternoon oogling the Kilgore Rangerettes, who were a precursor of today's Dallas Cowboys cheerleaders," he acknowledges. He also had dinner with one of the Rangerettes after the game.

And there's one final memory of the trip.

"Coming back on the train," Merchant remembers, I was reading Moby Dick. Wilkinson sat down next to me and asked what I was reading. He had a masters degree in English from Syracuse and knew his stuff. I told him and said, 'I'm having a problem; I can't understand the symbolism and imagery,' which was what we were discussing in English class. And Wilkinson told me in a very nice way, 'Don't worry; it's a great book. Just read it for a good story.'"

The following year, the Sooners rode a 31-game winning streak into their third consecutive Sugar Bowl, where they lost 13-7 to a Kentucky team coached by Bear Bryant. By then, Merchant was sports editor for the school newspaper and watched from the press box. He graduated in August 1951, having risen to the position of editor-in-chief. Then he returned to Brooklyn, where he served on a parttime basis for three seasons as backfield coach for the Lafayette football team. Among other things, he instituted the split-T offense that he'd learned from Bud Wilkinson. "No one could stop us," he remembers. "We ran roughshod over the competition."

Thereafter, Merchant thought seriously about a career in coaching. "I'd been involved with a lot of successful teams," he says. "We were undefeated during my senior year of high school and also for two of the three years that I was the backfield coach at Lafayette. During my time at Oklahoma, the team lost only a few games. Harry Ostro and Bud Wilkinson were men I looked up to. I liked working with players and loved the chess-board aspect of the game."

"One memory from coaching stands out in my mind," Merchant continues. "The final game of my last season as backfield coach at Lafayette, we were playing Erasmus. Both teams were unbeaten, and whichever team won would be recognized as the best high school football team in New York. Our quarterback was marching the team down the field. I was standing on the sideline next to the line coach. Before each play, I muttered to myself the play that I hoped the quarterback would call. This was before coaches sent in plays through substitutions, and the kid called virtually every play I muttered. The line coach even asked me, 'Are you calling the plays?' That's how eerie it was, and it was a transcendent moment for me. I realized that I had taught that kid how to play quarterback. The only reason I didn't go into coaching as a career was, at the high school level, coaches also had to teach regular classes, and I didn't want to do that."

Later, as a journalist, Merchant wrote extensively about football. In 1977, he served as producer of NBC's Sunday-afternoon NFL studio program. But in recent years, his enthusiasm for the game has waned.

"I'm fascinated by the business side of football," he says. "And I'm amazed at how good the players are today. They're big and fast, far beyond anything in my day. But I don't watch football much anymore. USC against Texas, yes. The SuperBowl, absolutely. But for the most part, football bores me. And I'm appalled by the heightened brutality of the game, which is much worse now than when I played. Football is the most brutal sport I know. In terms of the battering that the body takes, it's far worse than boxing. And the injuries that football players sustain stay with them for their entire life. It's a killer game."

Then Merchant's voice softens. "I loved playing football," he says. "I loved the camaraderie and the competition. I always went all out. I liked going to practice every day. I'm glad I had the experience of playing football. There was a time when it was an important part of my life."

Thomas Hauser can be reached by email at thauser@rcn.com.