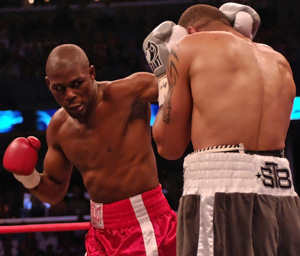 Taylor v Wright (pic Neil Abramson)

By Thomas Hauser
Fights that shape a fighter's legacy are rare in boxing.

Earlier this month, four elite fighters stepped into the ring in two fights on back-to-back weekends. On June 10th, Bernard Hopkins moved up in weight to challenge Antonio Tarver for the right to be called the best light-heavyweight in the world. Eight days later, Jermain Taylor defended his middleweight championship against Winky Wright. Each fighter understood going in that his bout had the potential to impact heavily upon his legacy.

Boxers train to hurt each other, and nobody trains more diligently than Bernard Hopkins. Former welterweight great Carmen Basilio once said, "You get up and run in the morning; you go to the gym in the afternoon; and you work your ass off. You train the same way for any fight whether you expect it to be a war or not. If you don't pay the price before the fight, you pay the price in the fight and you get your ass kicked."

Hopkins embodies Basilio's warning. He's always prepared and his readiness for battle is reflected in the twenty successful championship defenses that he achieved between 1993 and 2005. Last July, he lost his title on a close decision to Jermain Taylor. Six months later, they met again and the result was the same.

The losses to Taylor stuck in Hopkins's craw like a razor blade. He complained incessantly about the decisions and voiced his hopes for the future with the rant, "I'll sit back and watch the middleweight division go into chaos and limbo. Soon, the powers that be will beg and plead for Bernard Hopkins to come back and clean up the mess. Confusion will lurk in the division." He also claimed, "My popularity has skyrocketed. Since December 3rd [the date of his second loss to Taylor], I can't go out because I get swarming attention by fans."

That seemed like fantasy. It's hard to imagine swarms of idolaters lining up outside Hopkins's home each morning and besieging him in shopping malls. A few autograph seekers; sure. But in truth, the guy who gets stopped by wellwishers all the time is Jermain Taylor. The fighter who's beloved in his hometown of Little Rock, Arkansas, is Taylor. The last time Bernard fought in his native Philadelphia, there were empty seats galore despite the presence of Hasim Rahman versus David Tua on the undercard. It seemed as though Hopkins envied Taylor, was jealous of the things that Taylor had, and maybe even wished he were Taylor; young, handsome, and the middleweight champion of the world.

"I don't want to hear about me being on a two-fight losing streak," Bernard declared. "What losing streak? To me, I'm the middleweight champion with twenty-two straight defenses. Yes, the record book is going to have an 'L' next to my name for the two fights with Taylor. I'm not delusional about that. But in my heart of hearts, I'm still the undisputed middleweight champion." Then he proclaimed, "The system has been trying to get rid of Bernard Hopkins for quite some time. They just couldn't do it until recently. They have their poster boy, who they need to carry the torch because he is obedient and will play by their rules."

That earned a riposte from Lou DiBella (Taylor's promoter), who opined, "Bernard Hopkins is one of the great middleweights in history and one of the worst, most unsportsmanlike losers in history."

Taylor, for his part, said simply, "People say you shouldn't worry about what other people say. But when a person is talking about you, you hear it. Some of the things Bernard said are still on my mind. If we see each other now, we might shake hands and smile. But I'm not going out to dinner with him."

Meanwhile, Antonio Tarver had made a name for himself as the man who knocked out Roy Jones. For someone who loves money, cares about his legacy, and hungers for the acknowledgement of his greatness, fighting Tarver was the next logical move for Hopkins.

As soon as Hopkins-Tarver was signed, Bernard brought in conditioning guru Mackie Shilstone, who had worked with Michael Spinks and Roy Jones before they fought Larry Holmes and John Ruiz respectively. Tarver turned to the lesser-known Dudley Pierce. Then, as expected, the war of words began.

From Tarver:

* " I'm in the business of destroying legends. I'm a legend killer. I came along and did what Bernard wanted to do and couldn't do. I beat Roy Jones, and not just once. Bernard Hopkins picked the wrong guy."

* "This guy doesn't know what he's gotten himself into. He's biting off more than he can chew. He's got all these big dreams, but he should have gone somewhere else to fulfill them. I'm not going to be a statistic on the wrong side of Bernard Hopkins's record."

* "Nobody has ever really punished this guy. Nobody has ever knocked him out. Nobody has beaten him up. I want to be the guy who does that. I'm going to hit this guy more than he's ever been hit. I'm going to put the pressure on early, hurt him to the body. I'm gonna find that opening; and when I hit him, he ain't never felt anything like that before. You will see on June 10th what you've never seen before in Bernard Hopkins's career. You'll see him outmanned, out-gunned, out-strengthed, outboxed, outclassed, and straight flat-out knocked out."

* "For Bernard Hopkins at any stage in his career to feel that he could come and take anything from me is absurd. I'm expecting a career-defining moment. When I finish with him, he'll be stumbling out of boxing like a lot of old guys with three straight losses on his record."

Hopkins, of course, responded in kind:

* "I want Tarver to think he can steamroll me like I'm some little rag doll. Every second, every minute, every round, I'm going to make his lazy ass work. Tarver is going to get his ass kicked. People are going to be shocked at how easily I physically handle Tarver."

* "Styles make fights, and my style will give Tarver fits. Two areas I know I'm going to have an advantage in are speed and accuracy. It's going to come down to talent, who's the better fighter. If you're judging this fight on who's bigger, then you're a fool."

* "Anybody can talk a good game. A man's record reflects his credibility. I know how to play the fox, and I know how to play the hound. I'm a planner; I always have a plan."

* "Tarver is a one-hit wonder, like one of those music stars that has one hit and never does it again. Take away that one hit [the knockout of Roy Jones] and there's nothing there. This fight is about Bernard Hopkins; it's not about Tarver. Tarver is a champion. I'm a legend."

A testy exchange that ended the fighters' June 6th press conference in New York summed up the feelings between them.

"That's nerves," mocked Hopkins when Tarver objected to Bernard interrupting his remarks and left the podium. "He can't walk the yard. I seen guys like that in prison take it up the ass all day."

"You don't know me," Tarver responded. "But you're gonna find out."

Strategically, it was thought that Tarver, a southpaw, would spend much of the fight trying to set Hopkins up for a big left hand. If Antonio is allowed to dictate the pace of a fight, he's effective. But when pressed, he becomes less effective and he tends to tire late.

Where common opponents were concerned, Antonio had split two competitive fights with Glencoffe Johnson in the previous eighteen months. Hopkins destroyed Johnson in 1997 on an eleventh-round stoppage. And of course, there was Roy Jones, who lost two of three to Tarver recently and decisioned Hopkins thirteen years ago. But the versions of Jones that each man had fought were as dissimilar as the Cassius Clay who fought Sonny Liston in Miami Beach and the Muhammad Ali who fought Jimmy Young in Landover, Maryland.

Hopkins said that this would be the last fight of his career, and It seemed to many that Hopkins-Tarver would come down to conditioning. Bernard is 41 years old. However, in the world of "before" and "after," when Mackie Shilstone got his hands on him, Hopkins was already "after." Meanwhile, at age 37, Tarver was no spring chicken; and unlike Hopkins, he was soft.

"Hunger is the fighter's friend," Jimmy Cannon once wrote. "Success and plenty are his enemies."

After beating Roy Jones on October 1st of last year, Antonio had lived the good life. He'd starred with Sylvester Stallone in the filming of Rocky Balboa, which will be released later this year. He exercised very little, while eating and drinking a lot. His weight, by some accounts, ballooned to over 220 pounds.

Boxing is not a part-time job. A fighter can't abuse his body for six months and then get in shape to fight an elite opponent in six weeks. "When you put on that extra twenty-five pounds," Hopkins observed, "and you're doing all these extra things, going to the sauna, taking water pills, sauna jackets, eating like a rabbit, working in the gym; that's straining your body. Strain kills."

And for Tarver, it wasn't twenty-five pounds. It was closer to fifty. Thus, at the final pre-fight press conference, Naazim Richardson (Hopkins's trainer) prophesied, "This fight will come down to lifestyles," And to make his point, Naazim added, "Bernard fought Felix Trinidad on a Saturday night. He was back in the gym on Tuesday."

Fight headquarters for Hopkins-Tarver was The Borgata in Atlantic City, but the bout was contested at Boardwalk Hall. Antonio was a 3-to-1 betting favorite, which was nuts. Both men weighed in the day before the fight at 174 pounds. When they stepped into the ring, Tarver was 187 and Hopkins 182. Antonio was a half-inch taller.

The crowd was ardently pro-Hopkins. Before the bout, ring announcer Michael Buffer introduced the fighters and "the man in charge of the action, [referee] Benjy Esteves."

Buffer was wrong. Esteves wasn't in charge of the action. Hopkins was. Both fighters had talked the talk; but when the bell rang, only Bernard walked it. He took control early and fought the fight he had hoped to fight against Jermain Taylor. He broke Tarver down physically and mentally, which he'd been unable to do to Taylor either time.

Tarver moved forward for most of the night, but it was Hopkins who initiated the exchanges, getting off first almost every time. And for the most part, they weren't even exchanges because one guy was landing all the effective punches. Bernard scored with righthand leads whenever Antonio stood still in front of him. Tarver's jab was useless. He just pawed with it from time to time.

In round five, Antonio missed with a sloppy left uppercut from the outside and Hopkins whacked him with a hard counter right. Tarver's glove appeared to touch the canvas when he steadied himself. That cost him a point but also gave him much needed time to recover. Thereafter, he was tentative to the point of seeming to be intimidated. The last few rounds, instead of fighting to the finish, he was fighting to survive.

All three judges scored the bout 118-109. One could make a case for Tarver winning the fourth and eighth rounds, but that's being generous. This observer scored it a 120-107 shutout.

After the bout, Tarver said simply, "The better man won tonight. I didn't have an answer for the righthand. I just didn't have the pop, the quickness, the speed."

He could have added that, in order to execute, a fighter has to be in good shape. And most likely, he wasn't.

Then the scene shifted to Memphis, where Jermain Taylor and Ronald "Winky" Wright were facing off to determine who was the best middleweight in the world.

Taylor had 25 wins with seventeen knockouts in 25 fights. In his entire career, he had fought only one fighter with a losing record and one with an even ledger. His seven fights in 2004-2005 were against opponents with a composite record of 224 wins, 17 losses, and 8 draws. By contrast, Bernard Hopkins fought nine fighters with losing records and five who were at the .500 mark. Bernard Hopkins at age 27 (which Taylor is now) was fighting Randy Smith, Anibal Miranda, and Eric Rhinehart. Taylor, at age 27, was fighting Hopkins.

Wright was listed second or third in most "pound-for-pound" rankings. His record stood at 50 wins against 3 losses, and he hadn't been defeated since 1999. In his previous four fights, he'd beaten Sam Soliman, Felix Trinidad, and Shane Mosley (twice).

Winky is a craftsman who frustrates opponents so they break down and lose their poise. "I'm not a big talker," he says. "Talking ain't fighting. I'm a professional boxer. Boxing is about hitting and not getting hit, and I do a good job of that."

"Who's the toughest opponent you ever fought?" he was asked.

"They're all tough," Winky replied.

Taylor-Wright was an important fight with implications that went beyond determining who was the better fighter. Jermain is immensely likeable with an enthusiasm for life. Given his personal qualities and the fact that he'd beaten Bernard Hopkins twice, there was a belief that, if he got past Winky, he'd be in line to succeed Oscar De La Hoya as the next face of boxing. With that in mind, rather than put the fight on pay-per-view, HBO paid a $6,000,000 license fee for domestic television rights to expose Taylor to a regular HBO audience and build him as an attraction.

Wright was an 11-to-10 favorite in the early betting. That mirrored the view in the Taylor camp that Jermain wasn't getting as much credit as he deserved for his two victories over Hopkins. Then Bernard outclassed Tarver and the odds shifted. It's rare that a fighter's stock soars without his throwing a punch, but that's what happened to Taylor.

"When I saw Bernard on Saturday night," Jermain observed three days later, "it was like, 'Man, I must be really good because I beat this guy twice and he just destroyed Tarver.'"

As for his upcoming bout, Taylor said, "I'm the middleweight champ of the world. Now they say Winky Wright is the best out there, so I'm going to prove myself again. I'm number one. It's not arrogance; it's not being conceited. I just know that I worked hard and I achieved my goal. I live down the street. There's no way someone is going to come in my house and beat me up. I have to hold onto these belts. I can't call myself a champion and lose these belts at home or anywhere else."

But Wright was equally confident. "I'm not one of those people who talks a lot and brags," he said at the final pre-fight press conference. "I show my skills in the ring. Shane had his speed; Tito had his power; Jermain brings youth and strength. Jermain is the champion. I want to be the champion. They say he's bigger than me, but Tarver was bigger than Hopkins."

Dan Birmingham (Wright's trainer) was more expansive. "This will be a much tougher fight than Trinidad," he acknowledged. "Jermain is quicker, stronger, and younger than Tito. He has been fighting regularly. But I expect Winky to control the fight. Angles, feints, timing; you'll see it all. Winky will be Winky. People call him a defensive fighter, but he throws more punches than almost any other fighter and hits you with the jab every five to ten seconds. Winky has more knockouts than Jermain has fights."

Then Birmingham was asked about the belief in Taylor's camp that Jermain could take away Winky's jab and possibly even out-jab him.

"That's a dream," he answered. "Winky's jab is based on a mastery of distance and timing. Nobody takes the jab from Winky and nobody ever wins a war of jabs with Winky. So if that's Plan A, they'd better go to Plan B quickly."

Still, the feeling among Taylor partisans was that Winky was in for an unpleasant surprise. Wright's big wins were against Shane Mosley and Felix Trinidad. Mosley was a great fighter in the 135-to-147-pound range. But he shouldn't have been fighting at 154; and when he met Wright, he was on the downward slide. As for Trinidad; Bernard Hopkins didn't just outpoint Tito like Winky did; he beat him up. And Jermain beat Hopkins. Also, Wright had never turned the tide against a quality opponent with one punch and had only one knockout in his previous twelve fights. So how was he going to hurt Jermain?

"I'm bigger than Winky," Jermain said. "I'm stronger than Winky. A lot of my improvement these past few months isn't anything I've been taught. I've just grown into it out of confidence. I'm more relaxed now. I won't use as much nervous energy against Winky as I did against Hopkins and that will make me stronger. I just don't see Winky giving me any problems."

But there was one potential problem, and it was a big one. Taylor's first amateur boxing coach was Ozell Nelson, who had served as a surrogate father to Jermain since the fighter was twelve years old. When Taylor turned pro after the 2000 Olympics, Pat Burns was brought in to run the show.

Burns, a former Miami cop, is a hands-on guy who runs a tight ship and likes to control every aspect of training camp because, in his mind, that way the job will be done right. After each Taylor-Hopkins fight, there was sniping that he wasn't a top-of-the-line trainer. Never mind that he'd overseen Jermain's transformation from a raw amateur to the middleweight championship. To deal with the issue, Burns invited Bouie Fisher (Bernard Hopkins's former trainer) to training camp for Taylor-Wright. Burns and Fisher respect each other. Bouie had studied Jermain in depth prior to the first Hopkins-Taylor bout, and the two men thought they'd work well together.

But a second, more corrosive factor was at work. Burns and Ozell Nelson weren't getting along. Ozell felt that Pat wasn't listening to him even though he knew Jermain well and had worked with him for fifteen years.

Taylor owed much of his success as a fighter to Burns; but in his mind, Nelson had saved his life. Jermain had grown up without a father. Now there was tension between the two strong male figures in his world. "Can't everyone just get along?" he asked plaintively. The answer was "no."

Before Burns could finalize a deal with Bouie Fisher, Emanuel Steward was added to Team Taylor and word of his hiring was leaked to the media. Burns learned of the move when he received a telephone call from a reporter. There was a school of thought that he would blow sky high. Perhaps that's what Nelson and several others wanted, but Pat didn't bite. Instead, he said that he remained loyal to Jermain and would do everything he could within the framework Taylor wanted to help Jermain beat Winky Wright. That meant training at the Kronk Gym in Detroit. Burns had his plane ticket and was planning to fly to the Motor City on Sunday, April 30th. But on April 29th, he received a telephone call from Ozell telling him that Jermain didn't want him in camp because his presence would be a distraction.

Four days later, on May 3rd, Burns's removal was the subject of another leak to the media. When questioned about it, he took the high road. "Fighters change promoters and managers all the time, trainers too," he said. "The public cares about the fighter; not the trainer, manager, or promoter. This is obviously a big disappointment for me, but I wish Jermain everything good."

In the aftermath of Burns's firing, several versions of events surfaced. The first link between Nelson and Steward was forged by Norman Horton (Taylor's publicist, who had become an in-camp facilitator). "Ozell got my telephone number from Norm Horton," Steward later acknowledged.

Emanuel's recitation of events proceeds as follows: "Ozell asked me to become involved, and I told him that I was not interested in training Jermain. Ozell then asked if I would consider working as an adviser. But if I did that, I wouldn't have been able to work Jermain's fights on HBO, so I gave him some other names like Tommy Brooks and Ronnie Shields. Then Ozell called me again and said, 'If you come in as an advisor, we'll pay you enough to make it worth your while.' I told him, 'All right; but Pat has to be the "A" trainer and I won't work the corner. I'll just come by the gym from time to time to offer advice. And what happened after that was, on the day before they were coming to Detroit, Ozell called and said, 'I'm talking to Jermain. He just had a long discussion with Pat, and it's Jermain's decision that there would be too much tension and it would put too much stress on him for both you and Pat to be in camp. Pat is such a strong personality that it just won't work. He won't be receptive to even being advised. So we'll pay Pat his full money, but Jermain doesn't want him there and he wants you to do more. Nobody had said before that they were going to fire Pat. That was a surprise to me."

Steward's view is supplemented by Horton, who says, "This was Ozell's call. Ozell was the one who had Jermain's ear. The idea was, nobody wants drama; nobody wants distraction; nobody wants negativity; so let's do what we have to do now. Ozell felt disrespected by Pat. And when it came to a choice between Ozell and Pat, there was no way that Pat could win. Pat thought he was the man, and he wasn't. Ozell was. Now Ozell is spreading his wings."

But there's a school of thought that Steward wasn't as reluctant to become involved with Taylor as his public statements indicate. One source in the Taylor camp says that, unbeknownst to Burns, Jermain and Emanuel met and discussed working together as early as the beginning of this year.

Jermain had grown up watching Steward on television. Like most people in boxing, he respected Emanuel's skills as a trainer. His confidence in Burns was being undermined by naysayers. He was flattered that Steward was interested in training him. And the message being transmitted to him was (a) you need a better trainer; (b) when Pat disrespects Ozell, he's disrespecting you; and (c) you're in the big leagues now. Pat doesn't know how it's done in the big leagues, and Emanuel does.

Also, there was Steward's evaluation of Jermain's skills. "Even though Jermain has had twenty-five professional fights," Emanuel opined, "he's still a raw fighter. The fact that he has done so many things wrong and got to where he is now tells me how good he can be. He just hasn't been developed properly. In the Hopkins fights, Jermain was jab, jab, righthand. And when Bernard made his move, Jermain had no defense. Bernard throws his right hand and ducks in with his head. All Jermain had to do was roll his shoulder to avoid the punch and come back with an uppercut. If a guy only has one punch, you take it away from him. But the way those fights went, if Bernard hadn't been so cautious, especially in the first fight, he might have knocked out Jermain."

Lou DiBella was aware of the rumblings and chose to stay uninvolved on the theory that the trainer controversy didn't fall within his duties as Taylor's promoter. It's unclear what role Al Haymon (Jermain's business advisor) played. But if Emanuel had any reservations at all about coming onboard, one can be forgiven for thinking that they were based on the concern that Winky Wright was a poor choice as the opponent for his own debut in Jermain's corner. He acknowledges that he never once talked with Pat Burns about their working together to help train Jermain. And there's a school of thought that the new Team Taylor never intended to have Burns in camp despite ordering Kronk T-shirts with his name on them.

Taylor seemed comfortable with the change in trainers. "Pat Burns did a great job to get me to where I am now," he said during a June 7th conference call. "I have nothing bad to say about him, but I feel like I'm a better fighter with Emanuel. Emanuel is a teacher who brings out all the skills that you have and makes you use those skills. I'm going to be using a lot of my skills in this fight, something I kind of got away from. It won't be all about strength."

Meanwhile, the press releases coming out of camp extolled the benefits of training at the Kronk Gym. This overlooked the fact that Lennox Lewis didn't train at Kronk with Steward, and Wladimir Klitschko (Steward's current heavyweight) doesn't train at Kronk. Emanuel was asked when he last trained for a big fight at Kronk and thought for a moment. "Leonard-Hearns II," he said. That was seventeen years ago.

Emanuel Steward is an excellent trainer. He fits into that small group of men who have a reputation for being able to teach and strategize before a fight and then motivate and counsel adjustments in the heat of battle. As Bum Phillips once said of Alabama football coach Paul "Bear" Bryant, "He can take his and beat yours; and then he can take yours and beat his."

But Burns's alleged deficiencies as a trainer didn't bother people when Taylor was 5-and-0 and a longshot for greatness. They only became a supervening issue after Jermain had beaten Hopkins twice and there was a lot of money to be made off him; particularly if Pat's salary became available for future distribution. And as Jermain himself said, "Nobody looks good fighting Bernard Hopkins. He makes guys look ugly. He made Roy Jones look ugly, and that was when Roy was beautiful. Even Bernard Hopkins wouldn't look good against Bernard Hopkins."

Freddie Roach spoke for many of his brethren when he observed, "Trainers get fired all the time. I've had it happen to me once or twice. But most trainers don't get fired after wins, and I've never heard of a trainer getting fired after two wins over a fighter like Bernard Hopkins."

Dan Birmingham also weighed in. Birmingham is the only trainer that Winky Wright has had in nineteen years as an amateur or a pro. "I feel sorry for Pat," Dan said. "To do all that work, to feel that you're close to your fighter, to get to this type of fight, and then to be let go; that would hurt me very badly, and I'm sure it hurt Pat. He deserved better, but Jermain will be okay in the corner because Emanuel will be there." Then Birmingham added, "Jermain won't be okay during the three minutes of each round when Winky has him."

The bottom line is that boxing is not a business that lends itself to life-long loyalty. It's a hurting business and a lot of the hurting takes place outside the ring. Also, life can be hard. Sometimes, even though one spouse still loves the other, it's right for the other to get a divorce.

In the ring, fighters have to be selfish; and that carries over outside the ring in certain ways. When a fighter is getting ready for a fight, it has to be "all about me."

Pat Burns spent a year in the hospital after being hit by shrapnel in Vietnam, so he puts things in perspective. His greatest disappointment might be that, after the ax fell, Jermain never called him. It's possible that it simply wasn't in Jermain's make-up to make that call. In the ring, he's a fighter. Outside the ring, he avoids confrontations. And keep in mind; his father walked out on the family when Jermain was five. His grandmother (to whom he was devoted) was stabbed to death by her own son when Jermain was nineteen. In Jermain's world, people leave without saying good-bye.

But as the countdown to Taylor-Wright continued, one had to think of something that Emanuel Steward said years ago: "In a real tough fight, when things are going crazy, you'll see a fighter come back to his corner and look directly to his trainer for help."

Steward is a superb cornerman. But if things started to go crazy for Jermain against Winky Wright, Pat Burns wouldn't be there.

* * *
At 7:45 on the night of Saturday, June 17th, Jermain Taylor entered his dressing room at the FedEx Forum. Emanuel Steward, cutman Ray Rodgers, Little Rock police officer Dennis Moore, sparring partner Andy Lee, and Jermain's five-year-old son were with him. Ozell Nelson and Norman Horton were already there.

Larry Merchant came in for a brief pre-fight interview. Then Jermain got on the "unofficial" HBO scale, which registered 170 pounds; ten pounds over the previous day's weigh-in. Winky Wright, he was told, weighed 166.

After he'd been weighed, Jermain sat on a folding metal chair with his back to the wall and put his feet up on a chair in front of him. "Tonight, you become a superstar," he was told.

Jermain didn't answer. Instead, he sat with his eyes open and stared straight ahead.

Emanuel Steward was talking on his cell phone. Ozell Nelson was going through his gym bag. Jermain sat unattended and a look of concern crossed his face. His partisans expected a dominant performance. But his eyes were saying, "It's not that easy. Winky Wright is good, and boxing is hard."

WBC supervisors Rex Walker and Joe Dwyer came in with referee Frank Garza and Janet Huckabee (the wife of Arkansas governor Mike Huckabee). They were followed by Lou DiBella and Al Haymon. The visitors wished Jermain well. Then he was alone with his thoughts again. At 8:20, he took off his warm-up jacket, lay down on the rubdown table, and closed his eyes. Five minutes later, Walker returned, announced, 'You might need these tonight," and handed Emanuel a pair of boxing gloves.

Steward took the gloves and worked his fists into them to make sure the contour was right. "I always get nervous before a fight," he said. "Jermain is a big middleweight and Jermain is a physical middleweight, and Winky isn't used to either of those things. But there's so many things to cover in a fight like this and you can't make mistakes. It's one fight. No time outs, no substitutions, no four out of seven where you lose and come back to play again two nights later."

"Jermain and I did our talking in private in the room today," Emanuel continued. "Winky is consistent. He has perfect timing on his jab and his defense is excellent. But he's 34 years old with 53 fights and his legs aren't what they used to be. There's a lot of wear and tear on him. Plus Jermain's jab is faster and more powerful than Winky's. Winky's jab is a point-getting jab. Jermain's jab will hurt you. I told Jermain that we're making a movie, and the movie is going to run over and over for all time, and he can never go back and change it."

At 8:45, Steward went to the Wright dressing room to watch Winky's hands being taped. Jermain took several sips of orange juice from a plastic container. Then he turned his attention to a television monitor by the door and began watching HBO's rebroadcast of the previous week's fight between Hopkins and Tarver.

At nine o'clock, Steward returned and began taping Jermain's fists. Emanuel worked quickly. It was a task he'd performed thousands of times. When the taping was done, Jermain took another sip of orange juice. At 9:20, he shadow-boxed for a live HBO camera shot; his first exercise of the night. Then he put on his trucks, gloved up, and began to pace.

At 9:30, it was time to hit the pads. Steward stood in front of him, issuing instructions.

"Jab. Right hand. Hook behind it. Double the jab. Fast one-two. Do it again. Uppercut behind it. That's it. One-two. Do it again faster. Slip the jab. Explode! Right uppercut. That's it."

After three minutes, they stopped. Jermain shadow-boxed for thirty seconds; then hit the pads with Steward for another forty-five.

"Make him use his legs. His legs are gone. One-two. Hook. Keep it short. Uppercut behind it. Good. Left uppercut. Shoot it up."

Then it was time.

There were probably some Winky Wright fans in the FedEx Forum other than Winky's cornermen, but it wasn't apparent from the ring-walks and fighter introductions. Wright was greeted by boos and Taylor with an ear-splitting roar of approval.

There had been reports that Winky had been living high in recent months and might have "lifestyle" issues like Tarver. If so, it didn't show in his performance. In the early rounds, he advanced behind his jab. Jermain gave ground, hoping to counter off the ropes, but the strategy didn't work and he was most effective in the center of the ring. When Taylor had his back to the ropes, Winky piled up points.

It was a fast-paced action fight. Wright was the more consistent boxer. He landed more often and caught many of Taylor's punches on his gloves, but Jermain's blows were harder. Winky's face started to swell in round four, but the damage was manageable. In round nine after a clash of heads, Taylor's left eye, which had taken considerable punishment, began to close and he could no longer see the right hands coming.

After eleven rounds, the contest was up for grabs with a one-point differential on each judge's scorecard. In the sixty-second break, Dan Birmingham told his fighter, "If we win this next round, we've got the fight. You've got to fight with your fucking heart." Emanuel Steward offered similar counsel. "You've got to get out and win this last round," he told Jermain. "Let your punches go."

Then, inexplicably, Wright took the twelfth round off. Rather than "fight with his fucking heart," he did his best to avoid contact. Taylor didn't do much more, but at least he was moving forward and he flurried to end the round.

This observer scored the bout 115-114 for Taylor. The judges called it a draw; 115-113 for Taylor (Chuck Giampa), 115-113 for Wright (Ray Hawkins), and 114-114 (Melvina Lathan). The fighters were even in power punches. Wright had a substantial edge in jabs landed (103 to 41). Had Winky won the last round on Lathan's scorecard, he would have won the fight.

After the decision was announced, Wright threw a temper tantrum and refused to be interviewed in the ring or attend the post-fight press conference. "Twelfth round, he didn't do nothing," Winky groused in his dressing room. "If I didn't do nothing, he didn't do nothing, so how did he win?" Wright also said that he didn't want a rematch.

"If I was him, I would have kept fighting," Taylor offered while still in the ring. "He should have fought all twelve rounds. That's what I did. That's the difference between us."

And there was another difference. "I'd love to fight this man again," Jermain said.

Then Taylor returned to his dressing room and sat on the same folding metal chair he'd sat on ninety minutes earlier. "It wasn't like in the gym," he said. "That motherfucker's jab is fast and hard too."

Cutman Ray Rodgers handed Jermain an ice pack and the fighter pressed it against the swelling around his left eye.

"Damn; they make me earn my money. That little bastard is so fast."

"Are you okay?" Jermain's wife, Erica, asked.

"I feel good; ain't nothing hurting. But there's always some shit with me. The last few rounds, I couldn't see much out of my left eye."

Jermain rose and went into the bathroom to take a shower. In a corner of the room, Emanuel sat and discussed the fight.

"That's the best Winky ever fought," Steward said. "He surprised me with the pace he set and fighting as aggressively as he did. And his technical stuff was much better than Jermain's. It was a fight that could have gone either way. When it was over, I didn't know what was going to happen."

Suddenly, a loud "DAMN" echoed through the dressing room and Jermain emerged from the shower, laughing.

"I just saw my face in the mirror. Do you see how ugly I look?"

* * *

So --

The question now is, "How did Hopkins-Tarver and Taylor-Wright impact upon the legacy of each fighter?"

Clearly, Hopkins rose in stature. Forget the nonsense about Bernard trying to do something that Sugar Ray Robinson couldn't do by capturing the light-heavyweight crown. Robinson was a welterweight who put on pounds to fight at middleweight. Hopkins, by contrast, started as a light-heavyweight and went down to 160 before returning to 175. Also, Roy Jones, Dick Tiger, and Bob Fitzsimmons were legitimate middleweight and light-heavyweight champions, so that achievement in and of itself is nothing new. Hopkins's legacy is in his consistency and longevity capped by a marvelous performance at age 41 that stands on its own.

At the post-fight press conference after Hopkins-Tarver, assistant trainer John David Jackson asked rhetorically, "What can you say about Bernard Hopkins that he hasn't said about himself?" So let's give Bernard the final word on his legacy.

"For me to say where I belong in history is taking away what history is about," Hopkins noted in a May 31st conference call. "History is about people knowing and analyzing over the years when you're done, putting you in a place in history where they feel that you belong. For me to say that I belong here or I belong there or I'm better than this guy and I'm better than that guy; it would be disrespecting the eras that passed. How many athletes are blessed to accomplish things in their life where writers will even consider having a conversation of, 'What do you think you would have done if you'd fought Sugar Ray Robinson?' What I've accomplished is, I've sealed my legacy to the point where I'm respected enough to go down in history as one of those types of great athletes."

At 12:47 AM on Sunday, June 11th, Hopkins announced his retirement from boxing. "I'm done," he said. "There's nothing else to do." But in the last fight of his career, he got what he wanted; the great victory and the cheering crowd.

Fate was less kind to Antonio Tarver. He had to beat Hopkins convincingly in order to rise in history's rankings. Instead, he was dominated by a 41-year-old man and is now in danger of being labeled a one-trick pony. Against Hopkins, "The Magic Man" was less substance than illusion. The luster has come off his two victories over Roy Jones.

Winky Wright acquitted himself well against Jermain Taylor, fighting the fight that Hopkins had talked about fighting last year but didn't. However, he came up short in the final round. Wright needs a few more big wins to solidify his legacy as a great fighter. And the more Taylor accomplishes in the future, the better their draw will look on Winky's record.

At age 27, Jermain Taylor is the youngster in the group. Where his legacy is concerned, the draw with Wright is a building block to put on top of two victories over Bernard Hopkins. It should also be noted here that, just as the outcome of Hopkins-Tarver engendered increased respect for Jermain, the outcome of Taylor-Wright forced a re-evaluation of the job that Pat Burns did with his fighter. If Jermain had looked spectacular against Winky, the story-line would have been, "Look at how much better he is with Emanuel as his trainer." Instead, it became, "Six weeks isn't enough to change a fighter."

The legendary Ray Arcel once said, "If you're a trainer, you're only as good as the fighter you work with. I've worked with this fighter and that fighter. I've helped some of them; but when a fighter gets in the ring, I can't fight for him."

Emanuel Steward is an excellent trainer. There's no doubt of that. But Taylor's two victories over Bernard Hopkins speak to the fact that Pat Burns did a pretty good job.

Team Taylor is leaning toward a "non-Godzilla" opponent for this autumn; the type of guy that Bernard Hopkins fought in amassing twenty consecutive title defenses. In that regard, Sam Soliman has been prominently mentioned. Alternatively, there's big money to be made against Fernando Vargas should he get by Shane Mosley on July 15th. And a lucrative rematch against Wright is possible. But Jermain might not stay at middleweight much longer. "His best fighting weight now is 164 pounds," Emanuel Steward said after Taylor-Wright. "Below that, he's sacrificing. Within a year, I expect him to move up to 167."

Taylor against Joe Calzaghe for the super-middleweight crown would be worth a fortune.

Meanwhile, let it be said that Jermain Taylor doesn't complain about coming in flat. He doesn't whine about referees or judges. When he's hurt, he punches back. When he's backed up, he punches back. When he's in danger, he punches back. He's a warrior who, when challenged in the ring, walks through the fire with courage, tenacity, and heart.

Thomas Hauser can be reached by email at thauser@rcn.com.