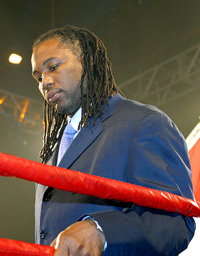 In the ring but dressed for business, not boxing (pic by Mr Will)

By Thomas Hauser:
Lennox Lewis is happy. There's a look of joy on his face. The former heavyweight champion is in a conference room at the Trump International Hotel in Manhattan, playing with his 9-month-old son, Landon.

"Fatherhood is everything I thought it would be and more," says Lewis. "One day, I'm watching Landon learn to lift himself up and stand on his own. Then he's walking. And now, the beginnings of language. Every moment is precious to me."

Landon is exuberant and cute. Clearly, he has bonded with his father. His favorite word is "da-da" and one of his favorite pastimes is pulling on his father's dreadlocks.

"I'm looking forward to the responsibilities of fatherhood," Lennox said last summer, shortly after Landon was born. "Landon comes into the world completely vulnerable with no ability to make choices. I'm one of the two people most responsible for shaping his life, and I'm looking forward to protecting him and making the early decisions that guide him. I want to teach Landon how to give. I want to give him a base so he knows the difference between right and wrong because values are the key to life. I want him to understand the human condition. I want him to know about soup kitchens and homeless shelters and to have a social conscience."

Lennox's partner in that endeavor is his fiancee, Violet Chang. "V" was born in Jamaica, but grew up in the Bronx (one of five boroughs in New York City). She's in her late twenties; a college graduate and former beauty-pageant winner; charming, articulate, willing to voice her opinions, and smart. She and Lennox are well-matched and well-suited for the demands of parenthood.

Unlike many world-class athletes, Lennox left religion out of his public dialogue. But fatherhood requires constant examination of the world that Landon is growing up in. And Lewis has given considerable thought to religious values.

"Religion is a touchy subject," he says. "And I try not to throw stones. But I see people who claim to be very religious and talk a great deal about religion but don't seem to live by it. My belief is that God lives. He's part of us and the world around us."

"I think that religion is part of our core," Lennox continues. "I believe in Jesus. But I also believe that, in God's eyes, all people are of the same denomination. I hope for an afterlife, and I have faith in an afterlife. But I believe that our destiny is determined by how we live our lives; not by what religion we are. These thoughts are personal to me. I can't speak for anyone else. But I believe that religion is just a vehicle to get to our spirituality and give us guidance by whatever book we choose to live by."

As Lennox moves from active fighter to elder statesman, he's also giving considerable thought to the twin demons of bigotry and prejudice.

"I don't think it's human nature to be prejudiced," he says. "Look at young children. They play with each other and don't care about class, color, or religion. But too often, people take on the fears and prejudices of the people they grow up with. Instead of thinking for themselves, they follow blindly down the road of misunderstanding and fear."

How can society teach tolerance and understanding?

"One person at a time," Lennox answers. "You start at a young age. Kids are a blank slate; they sponge up everything. So you have dialogue; you communicate. And you teach by modeling the behavior that you want children to learn. My friends are all different. They're black, white, Indian, Chinese. I don't hang around people who are prejudiced. We're all on the same earth, and we have to learn to live together."

"We're all guilty at times of the tendency to assume things that might not be true," Lennox elaborates. "It used to be that I'd hear a white South African accent and immediately think, 'The oppressor.' But when you get to know someone on a personal level, you realize that he or she might not be like that at all. I get stopped sometimes just for driving a nice car. In Brooklyn, not long ago, the police took me out of my car and frisked me. People started gathering around, asking for my autograph, and then one of the cops realized who I was. After that, the police were apologetic. They said, 'Well, your car has Florida license plates and there have been a lot of reports of cars being stolen in Florida and brought up to New York.' But I've heard that one before."

"It's the way things are," Lennox says with a shrug. Then he smiles. "People have preconceptions. Last year, I was waiting at the airport for my limo and a little old lady, she was about eighty, asked me to put her bags in the trunk of her car."

What did he do?

"She was polite." Lennox recalls. "She seemed nice enough. I've gone into stores myself and approached someone for help, and it turned out that the person didn't work in the store. So I put her bags in the car."

Lewis today looks healthy and strong, albeit thirty pounds over his fighting weight. The high point of his career in terms of public esteem was his 2002 demolition of Mike Tyson. Everything he did in boxing after that was simply an end game. He fought once more, stopping Vitali Klitschko on cuts in June 2003. Then he retired from ring combat, in effect folding up his chess board and saying, "Game's over; I won."

Rumors of a comeback have surfaced periodically since then; most recently in a January 2005 article that quoted Lewis as saying he had agreed to a Klitschko rematch.

"That was bizarre," Lennox says. "But you have to know the full story. I was in Jamaica and saw this guy on my land with a camera. So I stopped him and asked what he was doing, and he said he was on vacation and heard I lived there and just wanted some pictures for the fun of it. He showed me the pictures he'd taken. I asked him to erase two and said he could keep the others. Then he asked if I was going to fight again. And I was playing with him. This wasn't an interview. This was some guy I'd found running around my property. So I told him, 'Yeah; they've offered me forty million dollars to fight Klitschko again. We're finishing up some secret negotiations. I still have to get in shape, but we'll fight before the end of the year.' And the next thing I know, it's in the Sunday Mirror and people all over the world are writing that I'm making a comeback. How could they write it without anyone contacting me for a confirmation?"

There will be no comeback.

"I fought Vitali Klitschko in real life and Wladimir Klitschko in Ocean's Eleven," Lennox notes. "That's enough. I've tried to make responsible decisions in my life, and retirement is one of them. It was time. I felt the winds changing. You spend a life in boxing, trying to make as much money as possible. And then, when you want to leave the game and you're on the way out, they push more money at you than you've seen before. But money isn't what drives me."

"I think Vitali and his brother are great people," Lennox says of the two men who, at various times, have been talked about as his successor. "Obviously, we had that boxing thing going on between us, but I like them both. As for who's the best heavyweight in the world right now, someone will have to prove himself. And that can only be done in the ring. It can't be decreed by HBO or Don King. No one is given greatness in boxing. You have to earn it and prove it again and again and again."

It's an unfortunate fact of life in boxing that too many fighters are beaten in the last round. They end their careers with no money and in declining health. In the final analysis, Lennox Lewis's greatest triumph might be that he retired as heavyweight champion of the world drenched in Vitali Klitschko's blood rather than his own.

Still, the mind plays funny games.

"I had a dream the other night," Lennox confides in closing. "In my dream, I was offered a hundred million dollars to fight Vitali Klitschko. Everyone was saying, 'A hundred million dollars; you've got to take it. A hundred million dollars! No one has ever made anything close to that before.' Finally, I agreed to the fight. There was a huge build-up. The whole world was watching. 'Is Lennox too old? Has he laid off too long?' The drama was incredible."

Lennox's face grows more animated.

"The fight began. I was fighting a good technical fight, but Vitali was strong in the early rounds. He was hard to hit, very awkward. It was a difficult fight. Then, in the sixth or seventh round, Vitali hit the wall, the dreaded stamina problem, and the tables turned."

How did it end?

"I don't remember," Lennox acknowledges. "I know I won, but I'm not sure if it was by decision or a knockout." Then he smiles. "But it was only a dream."


Thomas Hauser can be reached by email at thauser@rcn.com. His most recent book -- Chaos, Corruption, Courage, and Glory: A Year In Boxing -- will be published this month by Sport Classic Books.