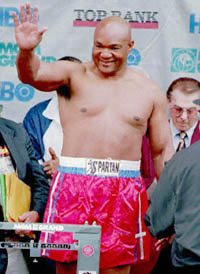 Goerge Foreman reconized Oscar De La Hoya's PPV potential very early

By Thomas Hauser: One day in 1993, Mark Taffet found himself sitting on a train beside George Foreman. The occasion was a press tour to publicize Foreman's upcoming fight against Tommy Morrison.

"This pay-per-view business is going to be enormous," Foreman told Taffet. "I wish I was ten years younger. And do you know who the beneficiary is going to be? That kid sitting two rows in front of us."

"That kid" was a 20-year-old junior-lightweight with seven pro fights under his belt who was fighting on the undercard of Foreman-Morrison. Oscar De La Hoya. Since then, De La Hoya has generated hundreds of millions of dollars in pay-per-view buys. So have Mike Tyson (the biggest must-see attraction of the 1990s) and Evander Holyfield (who stamped his heart and soul on the sport of boxing). But Taffet has made his own unique contribution to pay-per-view as HBO's resident expert on the subject. That much is clear from the thoughts of those who know his side of the business best:

Seth Abraham: "Many boxing people turn themselves into business men. Mark is a business man who turned himself into a boxing person. He's a fan, but he brings a sharp business perspective to everything he does. His skills in evaluating a fight as a business proposition are unique."

Ross Greenburg: "Superstars today want pay-per-view fights because that's where the mega-paydays are. Mark has an exhaustive knowledge of how to work the pay-per-view-MSO [multisystem cable operator] world. He understands the intricacies of how to market and sell each event, and that has allowed us to fortify our entire boxing program."

Lou DiBella: "I have a lot of respect for Mark. He's a good negotiator; he was there at the beginning; and he knows as much about pay-per-view as anybody in boxing."

Jay Larkin: "Mark knows his business. It's as simple as that. People look at boxing from the outside and think how much fun it is and how easy it must be to make big fights and sell pay-per-view. They have no idea how complicated and byzantine it really is. There's no one, and I mean no one, who's more fluent in the ins and outs of pay-per-view than Mark Taffet."

Taffet was born in New Jersey in 1957 and grew up in a lower-middle-class neighborhood financed by the GI mortgage bill. There were 450 houses, each one identical on the outside except for the color of the shutters. His father owned a succession of diners in Newark but never more than one at a time.

"They were family-run restaurants," Taffet reminisces. "My mother worked the cash register. I was taught to cook Jewish food in the kitchen by a Puerto Rican chef named Luis. Matzoh balls, kugel, brisket; you name it, and Luis taught me. My father used to say that, in the restaurant business, you do all of your business in three one-and-a-half hour spurts. That's when you make or break your business. The rest is planning. Sort of like pay-per-view."

The first pro fight that Taffet saw in person was Jerry Quarry against Ken Norton at Madison Square Garden in 1975. "I wasn't a big fight fan," he says. "But I was a fan of big fights. The Garden was showing Muhammad Ali against Chuck Wepner on closed-circuit television and put a live card on before it. I took the train in from New Jersey and had some slices of pizza at Little Nick's. I was sitting way up in the cheap seats, but the first impression I had was of serious drama. I'd never seen such singular focus before. The arena was dark. All I saw were the lights shining down on the ring canvas. I also remember that Quarry's wife, who was a strikingly attractive blonde woman, was sitting in the first row by his corner. She was wearing a long white satin or silk dress. And by the end of the fight, which Quarry lost, her dress was splattered with blood."

Taffet graduated from Rutgers in 1979 and, two years later, earned an MBA from Wharton. Then he went to work for General Foods. "I was the finance person for the Birds Eye frozen foods division," he remembers. "Our job was to develop and introduce new products. I spent a lot of time in supermarket aisles watching what women did and asking them why. But there came a time when I realized that I didn't have a passion for the product. I didn't love frozen foods."

In 1983, Taffet received a telephone call from a friend who had left Birds Eye to work for a company called Home Box Office. Was he interested in changing jobs? It seemed like a good fit, so he moved to HBO as a finance manager. "In finance," he recalls, "you supported one area of the company. Mine was sales and marketing. I developed financial models regarding what the cost for each new subscriber would be. Then I started getting calls to work on financial models in other areas of the company."

Taffet's introduction to sports came when HBO Sports president Seth Abraham needed someone with financial expertise to explore the possibility of making an offer for National Football League rights. Taffet was the guy, and Abraham was impressed with his work. At the same time, HBO's multi-fight contract with Mike Tyson was expiring and Abraham asked Taffet for help on that too.

Meanwhile, there was a fledgling business in a handful of cities called "pay-per-view." And the revenues it was generating were substantial in light of the small number of addressable homes. Taffet's next assignment was to prepare a business model for the entity that would ultimately become TVKO (the forerunner of HBO Pay Per-View). Once TVKO was formed, its first two employees were Taffet and Lou DiBella (who Abraham brought in from HBO's legal department). TVKO would revolutionize the way that boxing is televised.

Taffet is now HBO's senior vice president for sports operations and pay-per-view. Part of his job involves being the advocate within the company for HBO Sports vis-a-vis other areas of programming and marketing. The rest of his duties center on pay-per-view.

Boxing is the only major sport whose showcase events are unavailable to the viewing public unless they're willing to pay $44.95 to watch them. That's one of the reasons it's no longer really a major sport. But pay-per-view is an improvement over what came before. For years, fights fans who wanted to see big fights had to leave home, travel to a theater, and watch the fight on a small screen without being able to hear what the announcers were saying. Compared to that, pay-per-view is a bargain.

HBO enters into two types of pay-per-view transactions with promoters. In some instances, there are "distribution" deals, where the network produces and distributes a show in exchange for a negotiated percentage of receipts. The other type is a "guarantee" deal, where the network puts up a fixed sum (in most instances, to cover the fighters' purses) and hopes to recoup that amount plus a profit out of its share of receipts.

Taffet has a low-key approach to his job and generally keeps a low profile. "All of the major promoters talk with us on an almost-daily basis," he says. "The most difficult thing for us is navigating the schedule. HBO can do six to twelve pay-per-view shows a year. In 2004, we did nine. Probably, we'll do ten this year. Obviously, the big blockbuster fights are on pay-per-view. And there are times when we do a small niche-oriented fight to accommodate a promoter because he has a contractual commitment to a fighter and we simply don't have an available date on HBO Championship Boxing or Boxing After Dark."

As for what HBO buys and how much it pays, the network has the experience and history of more than a hundred pay-per-view fights to create financial models. There are times when it makes mistakes. Its worst blunder was Holyfield-Holmes in 1992, and it lost money on Vitali Klitschko against Danny Williams last year. "The lesson in that," says Taffet, "is no matter how sophisticated we get, what we do is still part science and part art. But we've had a ninety-eight percent success rate over the past thirteen years and hope we can be as good over the next thirteen."

One of Taffet's greatest strengths is his ability to reduce the storyline for a fight to a one-sentence message and get the media to repeat it. The core of his philosophy regarding pay-per-view is, "We're sellers, not buyers."

"If you buy a product from a promoter," Taffet elaborates, "you're separating your interests from his and losing the benefit of the promoter's entrepreneurial skills. The moment we sign a deal with a promoter, it's no longer an adversarial negotiation. From that point on, we're partners on the fight. We spend months working together to build the fight. There's naming the fight. There's choosing a visual image for marketing. Do we show one fighter as taller or more menacing than the other? Should they be standing side-by-side on the poster or should one of them be in the background? It's all part of the story that we're transmitting to the consumer. I love the story-telling involved in a pay-per-view fight; things that reach out and grab people's hearts. The history, the legacy, the traditions, the characters involved. And I've learned so much from working with promoters. Dan Duva taught me a lot of what I know today. Bob Arum understands the mechanics and nuances of the business better than anyone. Don King is the most difficult person in the world to make a deal with, but he's great to have on your side once the deal is done. Don is the most creative energetic person I've ever known."

A whimsical look crosses Taffet's face. "There's one moment with Don that I remember with particular fondness," he says. "We were at the Hyatt-Regency Hotel in Chicago as part of a ten-city press tour for Holyfield-Lewis II. The press conference was scheduled for eleven o'clock. No Don. Eleven-thirty. No Don. So I went up to his suite and knocked on the door. Don's personal assistant, who was a physically-imposing man named Isadore Bolton, let me in. Isadore told me to wait, so I waited in the living room for another thirty minutes while Don was in the bedroom putting on his tuxedo and jewelry. Then, from down the corridor, I heard a voice call out, 'Isadore, the comb.'"

"I think I believe what I saw next, but I'm not sure," Taffet acknowledges. "Isadore opened a leather attache case and took out a dark suede pillow with a silver comb on top of it. Then, with great ceremony, he carried the pillow and comb down the corridor to Don's bedroom. My only regret is that I didn't go with him. If I had, I would have seen what has to be one of boxing's greatest rituals."

Thomas Hauser can be reached by email at thauser@rcn.com.