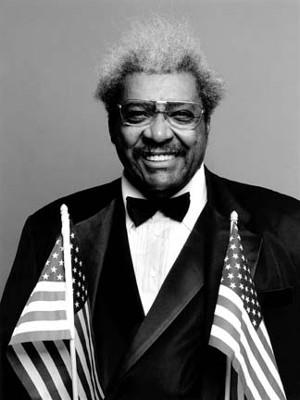 Don King: photo by Holger Keifel

By Thomas Hauser

I have a great mother. She got married at nineteen, and I was a wedding night baby. She isn't young anymore, but she's still young at heart.

My mother is a loyal Democrat and a cut-throat bridge player. At 81, she takes a weekly class in global politics at NYU. She's inquisitive and likes life-broadening experiences. She thought it would be fun to meet Don King.

"She'll have a great time," Lou DiBella told me. "Everyone I know who wants to meet Don King walks away loving him. He charmed my mother completely."

"Tell your mother to be careful," Jay Larkin cautioned. "If you listen to Don long enough, you drink the Kool-Aid."

The meeting was arranged for October 3rd at the final pre-fight press conference for King's "Faith, Hope, and Glory" card at Madison Square Garden. Samuel Peter would be defending his interim WBC heavyweight crown against Jameel McCline. That seemed like a wise choice, since it spared my mother the ordeal of listening to Ricardo Mayorga and James Toney calling their opponents "maricon" and "pussy bitch". Of course, Andrew Golota would be at the press conference preparatory to fighting Kevin McBride on the undercard.

We arrived at the Garden at 11:30. My mother was wearing an "01-20-09" button in anticipation of the day that George Bush leaves office. We stopped at the security checkpoint and a guard addressed her.

"Hello, young lady."

After passing through security, we went upstairs and Joe Dwyer came over to say hello.

"Tom, I didn't know you were bringing your sister."

"I'm starting to like boxing people," my mother said.

My mother's previous experience with "boxing people" had been limited to Muhammad Ali. They met on several occasions; the first time at my apartment.

"You're much bigger than I thought," my mother told him.

"Did you call me a nigger?" Ali demanded.

"No. I said you're bigger than I thought."

Ali smacked his fist into the palm of his hand and advanced in menacing fashion. "It's not right to call someone a nigger. I'm gonna whup you bad."

Then his face broke into a smile that lit up the room.

"What a nice man," my mother told me afterward. "So warm and friendly, and handsome too."

Now she was about to meet another boxing icon. Don King, to quote Seth Abraham, "is formidable even in his sleep." Did anyone at the press conference have advice for my mother as to how to handle the situation?

"Put cotton in your ears," George Kimball counseled.

"Watch your wallet," Chris DiBlasio warned.

"Be ready for words you never heard before, and a lot of them," Buddy McGirt cautioned.

"Take your jewelry off before you shake hands with him," Ivaylo Gotzev suggested.

"You can't believe what he's saying," Lou Duva said. "And sometimes you can't even believe that he's saying what he's saying."

After checking out the room, Duva sat down next to my mother. Ten minutes of Lou goes a long way. My mother had him for the next two-and-a-half hours. "I don't fall in love with broads anymore," the 85-year-old trainer told her. "I fall in love with fighters."

My mother leaned over and whispered to me, "These people are like something out of Guys and Dolls."

Thereafter, I introduced her to some of the fighters. She was particularly taken with Jameel McCline. "I think he's sweet," she told me. She also liked Kevin McBride, who described for her what it was like to knock out Mike Tyson.

I didn't introduce her to Andrew Golota, but explained the circumstances surrounding the riot that occurred when he fought Riddick Bowe at Madison Square Garden eleven years ago. That, of course, led to concern on my mother's part that I might be injured in a riot following Golota-McBride.

"Don't worry," I assured her. "Tickets sales are lousy. There won't be enough people there for a riot."

Then a high-pitched voice and booming laugh resounded throughout the room. Don King entered, waving multiple flags, wearing his red-white-and-blue "Only in America" jacket with rhinestones glistening beneath the television lights.

Don came over and said hello to my mother. She stared at the bling cascading down his chest.

"Is that jewelry real?" she queried.

"Oh, these are just a few doo-dads and baubles," he told her.

They chatted briefly, after which Don moved on to work the rest of the room. "He's larger than life," my mother observed.

The press conference began at one o'clock. King advised the assembled media, "We don't need no hyperbole; just the facts. And the facts are that this will be of the most exciting nights in boxing history with something for every ethnic group."

That included fighters from Nigeria (Peter), Poland (Golota), Ireland (McBride), Australia (Kali Meehan), Puerto Rico (Jose Rivera and Daniel Santos), the Dominican Republic (Elio Rojas), and the United States (McCline and DaVarryl Williamson).

My mother sat though a parade of fighters, managers, trainers, advisers, government regulators, and Nigerian diplomats. King quoted William Shakespeare and John Donne and likened Golota to Winston Churchill. There was even a rabbi.

"Why is a rabbi talking at a boxing press conference?" my mother asked.

"Because he bought two hundred tickets," I said.

When it was McCline's turn to speak, Jameel glowered at Peter and declared, "I'm a fucking beast."

"I still think he's sweet," my mother told me.

At one point in the proceedings, King introduced my mother (referring to her as "young" and "beautiful") and asked her to take a bow. She blew a kiss in his direction, which prompted him to say, "I love you, too."

Still, after ninety minutes of listening to DK and company, my mother was getting bored. By 2:30, she had pretty much had it. When it was time to pose the fighters for the traditional staredown, McCline was nowhere to be found.

"He was smart and went home," my mother said.

Eventually, Jameel was located; the final photos were taken; and the festivities ended.

"So?" I asked my mother as we left. "What did you think of it all."

"I'm not sure, " she answered. "I had fun, but something is bothering me. I can't exactly put my finger on it. But I feel sad and can't explain why."

"Give it some thought."

"I guess it's that, when we were sitting there, I was thinking back to when I was young. Joe Louis was a great hero. I remember how excited everyone was when he beat the Nazi. Then I got older and Rocky Marciano was heavyweight champion of the world. Muhammad Ali was special. And even with the champions who weren't great, people knew who they were."

Now my mother was on a roll.

"What I heard today," she said, "is that there are four heavyweight champions, and Samuel Peter is another kind of heavyweight champion, and it doesn't make sense. If that's the way boxing is, no one will care."

Sometimes mothers are very smart.

By the way; now my mother wants to meet Mike Tyson.


Thomas Hauser can be reached by email at thauser@rcn.com