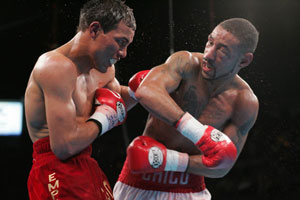 Corrales delivers a straight right hand to Castillo's chin (pic Tom Casino)

By Thomas Hauser: Sanitized vice is always on display in Las Vegas. The unsanitized kind takes place behind closed doors. The city works hard to create an environment in which each of its 37,000,000 annual visitors feels welcome. But there's a world beyond what the common tourist sees, where rank and privilege are defined by how much money a player risks and sheer power.

Within a span of nine days earlier this month, the biggest players and power brokers in boxing came together in Las Vegas. When they departed, the dream match-ups that they were talking about were largely devoid of heavyweights. Rather, they involved names like Barrera, Morales, Pacqiao, Marquez, Corrales, Mayweather, Tszyu, Judah, De La Hoya, Hopkins, Taylor, and Wright.

The festivities began on May 6th with the eightieth annual Boxing Writers Association of America awards banquet. The BWAA is a once-moribund organization that is showing signs of life under the leadership of Bernard Fernandez. For the first time ever, it had moved its showcase event away from the east coast. Mandalay Bay (the host site) did what it did does best. The dinner sold out. Power brokers mingled with high rollers and champions. Excitement was in the air.

One night later, the scene shifed to the Mandalay Bay Events Center for the lightweight title-unification fight between Jose Luis Castillo and Diego Corrales.

Castillo and Corrales came into the bout as the two best lightweights in the world. Castillo is a skilled durable fighter who, outside of two defeats at the hands of Floyd Mayweather Jr, hadn't lost since 1998. Corrales was stopped on cuts by Joel Casamayor in 2003. Since then, he'd won a return bout against Casamayor and knocked out the previously-undefeated Acelino Freitas. His only other loss was a tenth-round stoppage at the hands of Mayweather in 2001.

The consensus belief was that Corrales hit harder than Castillo but Castillo took a better punch. That was based on the fact that Corrales had been down eight times in his career (five of them against Mayweather) while Casatillo had never been on the canvas.

Corrales is likeable and articulate. "I'm a happy guy, a free spirit," he noted shortly before the fight. "The best thing about being a fighter is the people you meet." Showing a sensitive side, Corrales talked about not bringing his four children to his fights. "I don't want them to be afraid for me," he explained. "And I don't want them to see that very aggressive hurting side of me either."

Still, there's an ugly incident on Corrales's resume that he can't fully shake. In 2001, he pled guilty to felony spousal abuse and spent fourteen months in prison for beating his pregnant wife. Now divorced and remarried, he says simply, "It wasn't all my fault. Two people have to play a part in that. But I played my part and I bear my responsibility."

In the days leading up to the fight, Corrales was respectful of Castillo. "Everything about Castillo impresses me," he said. "He's a consistent true champion who always finds a way to win." But Diego was unfazed by the fact that many people were picking Castillo to win because they thought that Jose Luis had a better chin.

"If they believe that, then that's okay," Corrales said. "My chin has stood up against some of the best. I respect his power, but I'm not concerned about getting knocked down because I know I'll get up. We'll see exactly what happens in a week."

What happened was emblazoned into boxing lore before either man left the ring.

This observer's notes from ringside tell the tale of the first nine rounds.

Round 1: Trench warfare; a good action round.

Round 2: Both fighters landing to the head and body with vicious hooks. Corrales chosing to fight on the inside rather than use his longer reach.

Round 3: Non-stop action. Tony Weeks doing a good job of letting the fighters fight.

Round 4: Corrales's punches seem to have the greater impact, but Castillo is landing more consistently with solid blows. This is a "Fight of the Year" candidate.

Round 5: A breath-taking fight; brutal pace, round after round. Whatever these guys are getting paid, it isn't enough.

Round 6: Castillo still more consistent; Corrales beginning to show signs of being broken down.

Round 7: Corrales's left eye is hideously swollen. He's fighting a wonderfully courageous fight; both men are. Castillo wobbled by a left hook at the bell ending the round. This type of fight can ruin both fighters.

Round 8: Corrales can no longer see the right hands coming. They're trading hooks with abandon. Horrific head blows.

Round 9: Rocking each other with right hands. A lot of these rounds could be scored 11-10. This has turned into a historic fight.

Then came round ten. Twenty-five seconds into the stanza, Castillo decked Corrales with a left hook. "That's the one that really hurt me," Diego said afterward. "That's the one that did the damage. I went low because I thought he was going to throw a left hook up high, but he came low and caught me. It was a shot I never saw. I rolled right into it."

Corrales's mouthpiece was knocked out by the blow. Twenty-three seconds after he hit the canvas, it was back in and the action resumed. Another left hook put him down again.

At that point, Corrales looked like a thoroughly beaten fighter. He also looked like a man who was thinking about quitting and just didn't want to do it on the canvas. He removed his mouthpiece and got to his feet very slowly. "The first time it came out, it came out by itself," he later acknowledged. "The second time, I took it out to breath but I didn't drop it on purpose."

Referee Tony Weeks deducted a point from Corrales for intentionally spitting out the mouthpiece and led him to his corner. If Diego expected sympathy from trainer Joe Goossen while Goossen reinserted the mouthpiece, he didn't get it.

"You gotta fucking get inside on him now," Goossen ordered.

The action resumed 28 seconds after the knockdown.

Then everything changed. "Castillo dropped his left hand to throw a right," Corrales said later, "and my right hand got there first. That set the whole thing off."

Corrales's right was followed by a left hook . . . Another right . . . And suddenly, Castillo was back against the ropes, taking punches, glassy-eyed, his head wobbling like it was on a bobble-head doll.

At 2:06 of the round, Weeks leapt between the fighters and stopped the carnage. Judges Lou Moret (87-84) and Daniel Van De Weile (86-85) had Corrales ahead after nine rounds. Paul Smith and this observer had Castillo leading 87-84. It was a great fight, but two controversies were spawned by the final round.

Both controversies related to Tony Weeks. The lesser dispute concerned his stoppage of the fight. He could have called a knockdown against Castillo (the ropes were holding him up), given him an eight-count, and then decided whether or not the fighter was fit to continue.

Weeks explained his action, saying, "Castillo was naked. He was being hit with bombs. He went limp. He was unable to defend himself. He was out on his feet."

Certainly, the stoppage was within the bounds of discretion; and there's no doubt that Weeks intervened at the right time. Also, had he given Castillo an eight-count to assess the fighter's condition, he might have reached the same conclusion. Were that the case, it would have been a more satisfying and equitable process. Castillo said as much when he declared, "The referee gave him a lot of chances. He didn't give as many to me. I'm not saying I wasn't hurt, but I still had a chance. I don't know why the referee didn't let me continue. He let him get up from two knockdowns. He didn't let me get up from one."

The second controversy, of course, concerns Corrales's mouthpiece. As noted, Diego conceded that he removed it on purpose after the second knockdown (to catch his breath). Without the extra time that gave him to recover, he might not have survived.

In boxing, a fighter who loses his mouthpiece, intentionally or otherwise, is required to fight without it until there's a lull in the action. A knockdown is not a lull in the action. Nor is there a rule that reads, "A fighter who has been knocked down may signal the referee by spitting out his mouthpiece that he would like an extra fifteen seconds to recover in exchange for a one or two-point deduction."

There are no optional time-outs in boxing, but Weeks let Corrales call one.

In the aftermath of the fight, Bob Arum (Castillo's promoter) was an almost-sympathetic figure at ringside. "The stoppage was at the referee's discretion," said Arum. "I can't argue with that. But I never heard of a rule that, when you're knocked down and throw your mouthpiece away, the action stops. That's crazy. You make him fight without the mouthpiece. He pulled it out and threw it away to get more time. Either you disqualify him or you make him fight without the mouthpiece. But this is boxing, so they'll find a way to rationalize it."

Arum was right. Clearly, a fighter who deliberately removes his mouthpiece should be penalized one or two points. But more important, whether or not the action is intentional, the flow of a fight should not be interrupted at a crucial time. Yes, fighters are at greater risk of injury without a mouthpiece. But it's dangerous to fight, period, and a foul should not be allowed to benefit the transgressor.

The loophole in the rules has to be closed. One solution would be for the referee himself to reinsert the mouthpiece. There was a time when it was considered essential to rinse a fighter's mouthpiece because resin was sprinked on the ring canvas. But resin is no longer used. As for the objection that the referee might not know how to insert a particular kind of mouthpiece; that can be covered during the instructions in the dressing room prior each fight.

Meanwhile, no rules interpretation could ease Castillo's pain in losing. After the fight, Margaret Goodman (chief ringside physician for the Nevada State Athletic Commission) examined the fighter in his dressing room.

"Does your head hurt?" she asked.

"No," Castillo told her. "But my heart hurts a lot."

One bad beating can change a fighter forever.

After Castillo-Corrales, the drama moved up the strip from Mandalay Bay to the MGM Grand. There, as everyone awaited Felix Trinidad versus Winky Wright, boxing's players jostled for position like NBA power forwards.

Castillo-Corrales had been promoted by Top Rank in association with Gary Shaw Productions and was televised by Showtime. Trinidad-Wright was primarily a Don King venture backed by HBO. But the timing of Castillo-Corrales worked to Showtime's advantage. Because it took place one day after the BWAA dinner, more writers were on hand to witness it than would otherwise have been the case. Also, most of these writers were staying in Las Vegas for Trinidad-Wright. They had a lot of free time early in the week, and much of it was spent talking among themselves, with other boxing aficionados who had seen the fight, and with Corrales (who was readily accessible in the media center).

"After the fight, I slept a lot," Corrales said. "It took a while to realize what a big deal it was."

"Have you watched the tape?" he was asked.

"Yes."

"What did you think?"

"Ow! It was hard to watch because I knew what I was feeling. I kept saying to myself, 'Yeah; I remember that shot; that one really hurt.' When I watched the tape, I was reliving each punch as if I was getting hit all over again. Emotionally, I feel so good," Diego continued. "Emotionally, I could go back to the gym tomorrow. Physically is something else. But I've been waiting for this. I always wanted to match my personal will against someone else's and see how far I could will myself, how far I could go."

Then Corrales added an interesting thought. "If I could change one thing in boxing," he said, "it would be to bring fifteen-round championship fights back again. Three more rounds makes a huge difference. Fifteen rounds would let the cream rise to the top."

Meanwhile, boxing's heavyweights had come into play. On Monday, May 9th, it was announced that the WBC had authorized an "interim heavyweight championship" fight between Hasim Rahman and Monte Barrett. The following day, word circulated through the media center than James Toney had tested positive for Nandrolone (an illegal steroid) after beating John Ruiz for the WBA title in New York. The outcome of Ruiz-Toney was changed to "no decision" and James was suspended for ninety days. More significantly, he was stripped of his WBA belt and Ruiz was reinstated as champion.

This is the third time that Ruiz has claimed the WBA crown and the second time in a row that he has done so without winning a title fight. His prior ascension came by virtue of winning a "title elimination bout" before Roy Jones relinquished the throne.

"To all of the assholes who want me out of the game," Ruiz said graciously, "I'm back."

The Toney debacle showed once again the arbitrary and capricious nature of regulating boxing state-by-state instead of having one national standard. If Ruiz-Toney had been contested in one of the dozens of states that don't require steroid testing, James would still be champion.

The WBC's ruling with regard to Rahman-Barrett was equally significant. Don King has spent millions of dollars in an effort to lock up the heavyweight division, and the WBC edict was part of his plan. Vitali Klitschko (the WBC champion) is promoted by K2 Promotions. Rahman is promoted by King, who controls the other three belts. As the mandatory challenger for Klitschko's crown, Hasim was entitled to 25 percent of any purse bid for the fight. But the Klitschko camp gave him a 65-35 split in exchange for a rematch clause. Then Klitschko was injured and Klitschko-Rahman was postponed. Under WBC rules, an "interim champion" is entitled to 45 percent of any purse bid, and no rematch clause is required. Klitschko might balk at fighting Rahman for a 55-45 split.

"And the new interim WBC heavyweight champion" doesn't have much of a ring to it. But the bottom line is, boxing will soon have six heavyweight champions: Vitali Klitschko (WBC), Hasim Rahman or Monte Barrett (interim WBC), John Ruiz (WBA), Chris Byrd (IBF), Lamon Brewster or Andrew Golota (WBO), and James Toney (champion in exile).

And of course, there's Mike Tyson. Iron Mike engendered disappointing pay-per-view numbers in his July 2004 fight against Danny Williams. And his upcoming bout against Kevin McBride is a mismatch. To put that outing in context; McBride has been knocked out four times, most ignominiously by Michael Murray. Murray lost 17 of his final 18 fights before retiring in 2001. His sole victory during that stretch was his knockout of McBride.

The folks at HBO aren't happy campers right now as far as the heavyweight division is concerned. At times, they must wish that John Ruiz would vanish into the federal witness protection program.

Earlier this year, HBO Sports president Ross Greenburg declared, "It's going to be up to the promoters, fighters, and managers to huddle and determine if identifying a unified champion is in their interests. It's in the public's interest and obviously it would be in our interest, but whether they can put aside all of their separate interests and come together to get it done is a different story. We just don't know."

Last week in Las Vegas, Greenburg bemoaned the ongoing heavyweight muddle with the observation, "When you have an elimination tournament, fans want to see the semi-finals and finals. But it feels like we're stuck in a never-ending quarter-final void."

Thus, there was speculation that HBO might reenter the Tyson sweepstakes. Assume that Iron Mike gets by McBride. HBO could then televise a doubleheader this autumn featuring Tyson and Vitali Klitschko against mediocre opponents. The winners could fight in early 2006.

Klitschko-Tyson might be the richest fight that the heavyweight division has to offer. And neither fighter would need Don King to make it. Would Klitschko be stripped of his WBC title? Probably. But HBO offered incentives for Antonio Tarver and Glencoffe Johnson to give up their belts and fight each other at 175 pounds. Under the right circumstances, it could do the same for Klitschko and tell King, "Come back to us when you've got one alphabet-soup champion, not four."

Klitschko-Tyson isn't on the drawing board at HBO right now. And an attorney for Shelly Finkel (who acts as an adviser to both Klitschko and Tyson) said on May 18th that (a) Finkel is not planning a fight between them and (b) rumors to the contrary are "false" and "immensely damaging" to Finkel's reputation.

Still, when asked about Tyson last week, the men who make the decisions for HBO Boxing left the door ajar.

Ross Greenburg: "I never say 'never' when it comes to Mike Tyson."

Mark Taffet: "The first rule of thumb when discussing Mike Tyson is never say 'never.'"

Kery Davis: "I'd never say 'never' when it comes to Mike."

Meanwhile, as May 14th approached, Don King was concerned with middleweights; and more specifically, with Felix Trinidad.

Some fighters are simply more exciting than others by virtue of personality and the way they fight. Trinidad is one of them. His good looks and smile light up an arena.

After losing to Bernard Hopkins in 2001, Trinidad fought once more before going into a 29-month "retirement." Last October, he returned and faced Ricardo Mayorga at Madison Square Garden. "It was one of the most exciting times of my life," Tito recalled at the kick-off press conference for Trinidad-Wright. "Just to hear the fans chanting 'Tito, Tito,' when I stepped into the ring. The only way I knew how to pay them back was to give them every single round and give the best performance that I could ever put together."

He did just that, knocking out Mayorga in the eighth round of an exciting brutal fight.

Trinidad is an exciting fighter and he goes in tough. His mantra is, "I want to fight the best guys out there that are willing to fight me." His roster of opponents includes Pernell Whitaker, Oscar De La Hoya, David Reid, Fernando Vargas, and Hopkins. And he's one of the few elite fighters in the world who gives the impression that boxing is still a game to him.

Wright is a 33-year-old southpaw who made his way to the top as a bluecollar fighter with no glitz and no big-name promoter behind him. Like Hopkins, he wanted to make his mark against Trinidad.

" A lot of people get to this point and then they get scared," Wright said in the days leading up to the fight. "Get scared for what? This is exactly what I've been fighting for all these years; to have all the writers asking me questions instead of De La Hoya. It's so sweet, it's ridiculous. They couldn't write a movie script better than this. This is exactly what I want."

"I don't care who he is," Wright declared. "When we step into the ring, he's just another opponent. I'm not good at staredowns, but I can fight. I know what Tito can do. Tito's got a lot of punches; he punches hard; and he always comes in shape. Against Mayorga, he looked marvelous, but Mayorga was tailor-made for Tito. Mayorga can't box; he was just a blown-up welterweight. I'm not worried about Tito. Look what happened when he fought Hopkins. Tito may be stronger than me, but he's one-dimensional. I have better skills. Styles make fights, and I'm the wrong style for Tito."

Asked to elaborate, Wright continued, "I can move, slide, box, jab, fight inside, fight outside. I have a lot of different weapons and styles and can adapt to the situation. The only thing Tito can do is punch, but boxing isn't about one big shot. A big punch doesn't help if you can't land it. I may not have a knockout punch, but I punch hard and Tito's going to feel it. When he throws punches, I'll be throwing punches back. I hit hard enough to hurt you, and that chin of his ain't the greatest. I'll mess up his rhythm and take him out of what he wants to do. I'll beat him with my jab. I'll beat him with my defense. I'll hurt him to the body and go upside his head. And when he realizes that he can't do what he wants to do, frustration will set in. I don't have to knock out Tito to win the fight. My strategy is simple; to win the fight round by round. I'm a better fighter than he is, and I'm going to beat him up for twelve rounds. I'm definitely thinking it will go the distance, but I'm winning this fight. I close my eyes and I can see so many ways this fight may go, but every one of them ends with me winning."

"I've watched and broken down tapes of many of Tito's fights," added Dan Birmingham (Wright's trainer). "All you have to do is study the first six rounds of De La Hoya-Trinidad and the last six rounds of Hopkins-Trinidad to get a blueprint on how to defeat Tito. Winky handles pressure well. He thinks this is all fun and games. And he's unlike any fighter Trinidad has ever faced. Winky times you; he boxes you; he makes you miss. He's not a knockout puncher, but he hits hard enough that you're not going to walk right in on him without worrying. The jab and straight left will be his bread and butter all night."

The fighters weighed in one day before the fight. Each man tipped the scales at 160 pounds. Trinidad was a 5-to-3 favorite. Wright looked stronger and more muscular.

Then came the moment of truth.

Trinidad has two weaknesses as a fighter. His aggressive puncher's stance makes it difficult for him to implement quick defensive adjustments. And on the inside, he sometimes waits too long before punching. Wright took advantage of both flaws.

Winky began the fight as the aggressor behind a stiff right jab and occasional straight lefts. For the most part, he caught Trinidad's punches on his arms and gloves. And for twelve rounds, that's the way it was.

Wright put on a clinic, getting off first consistently and never letting Tito set himself to punch. The only blow that Trinidad was able to land with regularity was a hook to the hip that finally cost him a one-point deduction in round nine. Meanwhile, Wright was masterful. His jab was a stinging punch in the face (bang ! bang! rather than pop-pop). His straight left remained on target. In the late rounds, he mixed in some hard hooks to the body.

Trinidad never did anything differently to change the flow of the fight because he couldn't. Wright never did anything differently because he didn't have to. Winky landed 262 punches to Tito's 58. Those are staggering numbers and accurately reflect Wright's total dominance.

The judges's scores were 120-107, 119-108, and 119-108. This observer gave Trinidad the twelfth round. Wright could have won that one too, but he didn't bother to throw enough punches.

Don King tried to put a positive spin on things at the post-fight press conference. He praised Wright's "masterful virtuoso performance" (which he likened to Beethoven, Brahms, and Mozart) and said that fight fans everywhere were clamoring "Encore! Encore!"

For the uninitiated, that means King wants to exercise the rematch clause in the Trinidad-Wright contracts. But the fight was so one-sided that a rematch would be unlikely to generate big dollars. And worse, unlike Trinidad's previous fights, this one was largely lacking in passion. Moreover, the current word out of Puerto Rico is that Tito will retire.

Trinidad was King's flagship fighter. And DK has limited rights to Wright (who is currently with Gary Shaw). Hence, King was smiling his trademark smile for the media late Saturday night. But it was the saddest smile that most of the onlookers had ever seen.

And that was Trinidad-Wright, with one more twist worthy of mention.

Wright appeared at the final pre-fight press conference on Wednesday, May 11th, with a bandage on his neck. When asked about it, he said that he had nicked himself shaving.

Nicks from shaving don't require bandages. In truth, an ingrown hair had led to an infected abscess on Winky's neck. That evening, according to Keith Kizer (chief deputy attorney general for the state of Nevada), Wright went to the emergency room at Valley Hospital, where Dr. Jeff Davidson drained the abscess and put the fighter on an antibiotic. The following day, Wright returned to the hospital and Davidson performed further work.

The problem with these visits was, among his many duties, Davidson is a ringside physician for the Nevada State Athletic Commission. Moreover, he had been assigned to work Trinidad-Wright. And Nevada law states that, absent special circumstances, a ringside physician may not treat or examine a fighter. "The regulation is pretty clear," says Kizer. "It's black and white."

Two members of the Nevada commission knew about the treatment, one of them in advance. However, commission chairman Raymond "Skip" Avansino didn't learn about it until Friday afternoon. Avansino was unhappy, to say the least. This isn't the first time that events of importance have transpired behind his back. There's no reason to believe that Wright gained a competitive advantage from Davidson's treatment or that Davidson had ill intent. Still, as a first step, Avansino removed Davidson from the fight.

The incident brought to mind several comments regarding the Nevada State Athletic Commission that were made on recent HBO telecasts. Last September, when Oscar De La Hoya fought Bernard Hopkins, Jim Lampley spoke of "unusual issues" and Larry Merchant referenced "the appearance of a cave-in to business interests" by the Nevada commission. Then, on March 26th of this year at the close of HBO's telecast of Fernando Vargas versus Raymond Joval and a delayed tape of Manny Pacquiao against Erik Morales, Merchant chastised the NSAC more directly for the manner in which it was appointing officials for fights.

"Once again," Merchant told a national audience, "the chief medical officer of the Nevada commission, Margaret Goodman, was missing in action and missed in action. Once again, her back-up over or underreacted in the heat of battle. This is happening because business and political interests in Las Vegas think she is overprotective of fighters, which can at times be costly. Once you have business and political interests calling the shots, whether it's picking judges or ring physicians, trouble lies ahead. We'll be watching."

Three days later, at a March 29th press conference to promote Castillo-Corrales, Gary Shaw and Bob Arum assailed Merchant. "I thought HBO took an unfair shot at Marc [Ratner] and the commission," Shaw said. "I think it stinks."

"I join Gary in deploring what another network did," Arum added. "A know-it-all analyst for HBO claimed that, through political influence, the person he claimed was the best doctor was banned from working the fight. That's the most yellow journalism I've ever heard. For him to have said that to the nation is absolute demagoguery, a falsehood. Somebody has to bring somebody like that to account. This nonsense has to stop. There is no place in this sport for that type of behavior."

Shaw, fight fans will recall, is the man who told a national television audience that Jay Nady should apologize to Zab Judah after Judah assaulted the referee and threw a stool at him in response to Nady stopping his 2001 fight against Kosta Tszyu.

Twenty months ago, Bob Arum implied that Marc Ratner and Flip Homansky were involved in fixing a fight after Shane Mosley won a unanimous decision over Oscar De La Hoya. More specifically, Arum claimed that Homansky had a vendetta against him and accused Homansky of improperly influencing the selection of judge Stanley Christodoulou as one of the judges for the bout. Then, for good measure, Arum called Ratner a "tool" of Homansky."

Thereafter, the Nevada commission demanded that Arum appear at a hearing to present evidence supporting his allegation. In response, Arum sent a letter to the NSAC stating that he had no evidence and asked to be excused from appearing at the hearing. "My comments," he wrote, "were made in the heat of passion, without thinking about how such comments would be interpreted as both impugning the integrity of the commission and discrediting the sport I love so much."

But let's look at Merchant's comments.

Bob Arum is believed to have been at odds with Dr. Goodman for her role in spearheading mandatory MRIs for fighters (which cost promoters money) and her efforts to place Jorge Paez (formerly a Top Rank fighter) on medical suspension.

According to information made available by the Nevada State Athletic Commission, from the start of 2004 through March 26, 2005 (when Merchant made his comment), there were seventeen major fight cards in Nevada. A "major" fight card is defined by the commission as a card that is on HBO, Showtime, or pay-per-view. Seven of these major cards were promoted by Top Rank. Ten of them involved other promoters. Dr. Goodman was the lead physician for two of the seven major Top Rank fights (29%). She was the lead physician for seven of the ten other major fights (70%).

It's also worth noting that, in April of this year, Paez applied for permanent Social Security disability benefits on grounds that he was unable to perform normal tasks as a consequence of brain damage suffered while boxing.

Shaw's criticism of Dr. Goodman stems in part from her stoppage of the October 4, 2003, fight between Diego Corrales and Joel Casamayor, which made Casamayor a sixth-round TKO victor. But there's a school of thought that Corrales owes his career and more to Goodman. He had suffered a deep laceration on his lower lip, another laceration that went almost completely through his right cheek, and more cuts inside his mouth. Swallowing blood was the least of his problems. Most likely, that would have resulted in nothing more serious than vomiting. Inhaling the blood could have caused temporary choking. But more ominously, if the laceration on Corrales's lip had worsened, it might have resulted in a permanent deformity.

Thus, Corrales himself now says, "I was upset when she stopped the fight. But after seeing it on tape, I've let it go. It was a freakish cut, and Dr. Goodman did her job. She really cares about the fighters, and she was looking after me. What she did was for the best."

As for Merchant's comments regarding judges; on September 13, 2003, Duane Ford, Anek Hongtongkam, and Stanley Christodoulou each scored the rematch between Oscar De La Hoya and Shane Mosley 115-113 in favor of Mosley. Bob Arum's reaction to that decision has been noted above.

Since then, Hongtongkam and Christodoulou have not judged a Top Rank championship fight in Las Vegas. That's understandable. They're from Thailand and South Africa respectively. Ford is another matter. He's a Las Vegas resident and one of the most respected judges in the world. However, according to Fight Fax and boxrec.com, Ford has worked only two of the twenty Top Rank championship fights held in Las Vegas since then. And those two (Jose Luis Castillo versus Juan Lazcano and Juan Manuel Marquez against Orlando Salido) were undercard bouts on the same card as more important championship fights.

By contrast, on June 5, 2004, Paul Smith was one of three judges who scored De La Hoya a 115-113 winner over Felix Sturm. Since then, Smith has been given the lucrative judging assignment in four major Top Rank championship bouts: De La Hoya-Hopkins, Morales-Barrera III, Morales-Pacquiao, and Castillo-Corrales. Dave Moretti (the other Nevada judge who scored De La Hoya-Sturm 115-113 in favor of Oscar) has also been assigned to four Top Rank championship bouts since then including De La Hoya-Hopkins and Morales-Pacquiao.

Coincidence?

I think not. And keep in mind; Ford is obviously still capable of judging big fights. Last year, he was assigned to Jones-Tarver II, Wright-Mosley II, and Vitali Klitschko versus Danny Williams. Last weekend, he judged Trinidad-Wright.

Bob Arum is a promoter. He can, and should, lobby to protect his interests. But the Nevada State Athletic Commission has a responsibility to stand its ground. It also has a responsibility to enforce the law, and that's not always being done. Let another example suffice.

On September 18, 2004, Oscar De La Hoya and Bernard Hopkins fought in Las Vegas for the undisputed middleweight championship in a bout promoted by Top Rank. Hopkins and his attorney have testified under oath in litigation between Hopkins and Don King that Bernard's purse for the De La Hoya fight was $8,000,000 plus seven dollars for each pay-per-view buy above 800,000. De La Hoya-Hopkins engendered one million pay-per-view buys.

Here's the rub. Last September, Top Rank filed an official bout agreement between Top Rank and Hopkins and an official bout agreement between Top Rank and De La Hoya with the Nevada State Athletic Commission.

The Hopkins bout agreement was signed by a representative of Top Rank and Hopkins himself. In relevant part, it read, "The Promoter will pay the Contestant for the Bout and the Contestant agrees to accept in full of all claims and demands for his services and performance by him of the Bout, the sum of $4,000,000."

The De La Hoya contract submitted to the commission was similarly flawed. It stated that De La Hoya's purse was $8,000,000, which was less than half of Oscar's actual minimum guarantee.

It's possible that Top Rank filed the contracts with the Nevada commission to help Hopkins and De La Hoya avoid paying the full sanctioning fees that would otherwise have been due to the world sanctioning organizations that sanctioned the bout. This view is bolstered by a September 8, 2004, letter from Todd duBoef (Arum's son-in-law and now Top Rank's president) to the World Boxing Association and International Boxing Federation. That letter states, "Top Rank has been directed by the representatives of the above-referenced fighters that the purses filed with the Nevada State Athletic Commission for their September 18, 2004, bout will be the following: Oscar De La Hoya $8,000,000; Bernard Hopkins $4,000,000."

The IBF subsequently sued Hopkins and De La Hoya, claiming breach of contract and fraud with regard to the underpayment of sanctioning fees.

One can construct a strong legal and ethical argument for minimizing the fees that are paid to world sanctioning organizations in conjunction with championship bouts. The "alphabet-soup" organizations often engage in the bogus rating of fighters in violation of federal law. It's not uncommon for skilled fighters to be denied championship opportunities, while less-talented (but better-connected) boxers fight for belts. However, filing false documents with a government agency is an improper remedy.

Under Nevada law, a person who knowingly procures or offers a false document for filing in any public office is guilty of a category C felony punishable by a minimum of one year and a maximum of five years in prison.

If the Nevada State Athletic Commission condones the submission of inaccurate bout agreements, where on the slippery slope does other misconduct lie? Will the NSAC look the other way if a fighter gets less than his officially-reported purse rather than more? Will it condone the submission of false medical documents that endanger fighters' lives?

Ignoring the facts doesn't change the facts. In boxing, as with other government-regulated activity, the integrity of public records should be preserved. That isn't being done now in Nevada. Rather, too often when an issue of wrongdoing is brought before the commission, its reaction is to make excuses and paper things over rather address the problem. Laws are in place for a reason, and they should be followed.

Las Vegas has an ad campaign that shows people behaving unwisely in different situations followed by the slogan, "Las Vegas: What happens here stays here." It would be unfortunate if the Nevada State Athletic Commission (which in some respects is the best in the world) chose as a matter of policy to emulate that slogan. When boxing reaches breath-taking heights, as it did earlier this month with the heart shown by Diego Corrales and Jose Luis Castillo and the sublime artistry of Winky Wright, it's a shame to spoil things with "politics".

Castillo-Corrales and Trinidad-Wright were bookends that showcased boxing at its best. They reminded everyone of what the sport is all about. Wright's performance exemplified the sweet science; to hit and not get hit. And Castillo-Corrales was a post-graduate course in courage.

Corrales was getting beaten up badly and came back to turn the tide. "I didn't even know what round it was," he said afterward. "It was just one round after another. There were so many times when either one of us could have said, 'That's it; I'm done,' and no one in the arena could have complained. But our job is to keep fighting."

Corrales paused for a moment before continuing. "It took two of us to make the fight what it was," he said. "Both of us did our job. It takes a great athlete to play basketball, baseball, or some other professional sport. You have to be more than an athlete to be a fighter."

Thomas Hauser can be reached by email at thauser@rcn.com. His most recent book -- "Chaos, Corruption, Courage, and Glory: A Year In Boxing" -- is currently in bookstores and can also be purchased through Amazon.com.

May 21, 2005.