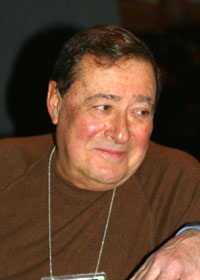 Bob Arum (pic Mr Will)

By Thomas Hauser: Building a boxing superstar is a long arduous process with no easy road to success. Bill Cayton built fighters brilliantly from a manager's perch; most notably, Mike Tyson. Main Events shepherded Evander Holyfield's rise to glory. Lou DiBella is trying to do the same with Jermain Taylor. But nobody has built superstars from scratch more consistently than Bob Arum.

Arum's latest project is WBO junior-welterweight champion Miguel Cotto. A native of Puerto Rico, Cotto turned pro four years ago. He has 23 wins, no losses, and 19 knockouts. This Saturday (June 11th), Cotto will step into the ring at Madison Square Garden to face Mohammad Abdullaev, who defeated him in the first round of the 2000 Olympics en route to 141-pound gold medal.

June 11th is one of the foundation stones in Arum's plan to make Cotto a mega-attraction. The fight will take place hours before New York's Puerto Rican Day Parade. There will be a large pro-Cotto crowd at the Garden. If all goes as planned, the electric atmosphere will be apparent to those watching on television. That, in turn, will create more Cotto fans. For some promoters, this would be the event of a lifetime. For Arum, it's par for the course.

Arum was born on December 8, 1931, in the Crown Heights section of Brooklyn. He graduated from New York University in 1953 and Harvard Law School in 1956. Six years later, he was working as an attorney in the tax division of the United States Attorney's Office in Manhattan when Floyd Patterson defended his title against Sonny Liston. Arum was given the assignment of impounding revenue from the fight's closed-circuit television outlets. He had never seen a fight before, but he could count and the numbers impressed him.

Arum left government service in 1965 and was introduced to Muhammad Ali by football great Jim Brown. Before long, he was promoting Ali's fights under the promotional banner of Main Bouts. Thereafter, he mastered the complexities of closed-circuit television, which was the forerunner of pay-per-view. At one time or another, he has promoted Ali, George Foreman, Joe Frazier, Larry Holmes, Marvin Hagler, Roberto Duran, Thomas Hearns, Ray Leonard, Alexis Arguello, Carlos Monzon, James Toney, Erik Morales, Floyd Mayweather Jr, Bernard Hopkins, and Oscar De La Hoya.

Arum says that his essential strength as a promoter is that he's a good administrator. But his abilities go beyond that. He's a savvy businessman; he's smart; he knows what he's doing in boxing. And he's a real promoter, not just a middle-man money manager.

Building a superstar starts with talent. It's essential to have a special fighter and to know what the fighter is ready for at all points in his career. That means the foundation of building a fighter is matchmaking.

Arum has always had good matchmakers. It's no accident that, during their rise to prominence, Cotto and other Top Rank stars have shared the common denominator of fighting smaller opponents with credible names who were a bit past their prime.

Arum is also good at turning big fights into bigger events. Years ago, fighters were built for a national audience. Now superstars are built largely for boxing fans with disposable income who buy shows on pay-per-view. The key here is planning.

"One of Bob's strengths as a promoter is his insistence on having a longterm plan for his flagship fighters," says HBO senior vice president Mark Taffet. "Bob rarely comes in to discuss just one fight. It's always a 12-to-24-month plan with each fight serving as a building block to the next one. Everything is a progression. And Bob's fighters don't call out other fighters. They wait for other fighters to come to them."

Former HBO Sports president Seth Abraham concurs, noting, "Bob comes in, and he has looked at the competition in his fighter's weight class and also the weight classes above and below. He has analyzed the natural constituency for his fighter as the starting point for building a fan base. He always has a roadmap. Also," adds Abraham, "most promoters promote the same way every time. Bob was the most inventive promoter I dealt with in all my years in boxing."

Once Arum has a plan, he assembles the pieces well. He has the money to finance what has to be done and the staff to implement it. Putting Miguel Cotto in Madison Square Garden the night before the Puerto Rican Day Parade might seem like a no-brainer. But Arum did it where another promoter might have failed.

It's harder to build fighters today than in the past because the broadcast networks have largely abandoned boxing. But for decades, Arum has employed longterm relationships with cable networks to benefit his promotional empire. Top Rank Boxing, which ran on ESPN from 1980 through 1995, was the longest-running weekly boxing series in television history. In recent years, Arum's ties to Telemundo have helped him develop Hispanic fighters.

Moreover, as Richard Schaefer (chief executive officer of Golden Boy Promotions) acknowledges, "Bob knows how to leverage his credibility with the cable networks and the rest of the media as well as anyone in the sport. If Bob says a fighter is a potential superstar, the television networks will take a long look at him."

HBO needs stars; they're at the heart of its programming philosophy. So when Arum comes calling, HBO is often willing to assist him. And strength perpetuates strength. That means Arum can use existing stars to get media exposure for his stars of the future. Almazbek Raiymkulov (now being marketed as "Kid Diamond") is a case in point. Raiymkulov (a 28-year-old lightweight from Kyrgyzstan with a 20-0 record) is fighting Joel Casamayor on HBO's featured undercard bout just prior to Cotto-Abdullaev.

Also, Arum is as good as anyone at the political maneuvering that goes on between promoters and the world sanctioning organizations. He has mastered the art of lobbying compliant state athletic commissions. And he uses every edge possible to extract concessions in television negotiations. He's stubborn, and some say ruthless, in pursuit of his goals. Larry Merchant, whom Arum tried to have fired by HBO, calls him "a brilliant scorpion."

Arum's promotional masterpiece, of course, was Oscar De La Hoya. De La Hoya was ideal clay for a sculptor. Good-looking, charismatic, an Olympic gold-medalist, bilingual, articulate, willing to play the PR game, and a great fighter. But from a commercial point of view, Arum molded the clay perfectly, putting Oscar on display in Los Angeles, Las Vegas, San Antonio, El Paso, Atlantic City, and Madison Square Garden. He promoted him as well as the job could be done; although as Mark Taffet recounts, there were moments of drama.

"We were taping the promos for De La Hoya versus Felix Trinidad in the Valley of Fire, which is in the Nevada desert," Taffet recalls. "It was eleven in the morning. The temperature had already reached 110 degrees. There were snakes slithering around on the ground. Bob had a headdress draped over his head to protect him from the sun. And he was screaming at us, 'This is the dumbest idea in the history of boxing. You're total morons. By two o'clock, we'll all be dead.'

But Arum stayed through the whole shoot because he wanted to make sure the promo was done right. And in the end, De la Hoya versus Trinidad generated $70,000,000 in pay-per-view revenue stemming from 1,400,000 buys.

Meanwhile, rival promoter Dan Goossen says admiringly, "I've always felt that the greatest job Bob did with a fighter wasn't with De La Hoya. It was the way he built Michael Carbajal. Anyone could have made a star out of Oscar. Did Bob do it well? Absolutely. But Carbajal was a sweet kid without much charisma and a junior-flyweight at a time when no one had ever heard of junior-flyweights. And look what Bob did with him."

Not every fighter that Arum touches turns to gold. Philadelphia middleweight Anthony Thompson seems to be fizzling rather than sizzling. It's hard to promote Floyd Mayweather Jr as a mega-attraction because, as talented as Floyd is, he has a Tysonesque rap sheet without Tyson's aura of menace and destruction. And in the end, fighters don't necessarily show loyalty to the people who built them. Tyson left Cayton; Holyfield left Main Events; and ultimately, De La Hoya left Arum.

Erik Morales is now Arum's flagship fighter, but more superstars will come his way. Most promoters are beating the bushes for the next great heavyweight; or in Don King's case, heavyweights with a pulse. Cedric Kushner has waived the pulse requirement for some of his fighters. Since his days with Ali, Arum has flirted with the heavyweight division. Last year, he explored a multi-fight deal with Mike Tyson and might do so again. But in all likelihood, his greatest success will continue to come in the lighter weight division. That's where his magic works best.

2005 has been pencilled in as the breakout year for Miguel Cotto. He won't be able to make 140 pounds much longer, but there are big fights waiting for him at 147. Floyd Mayweather Jr, Arturo Gatti, and Vivian Harris could go up in weight. Zab Judah, Shane Mosley, and Antonio Margarito are possibilities. And then there's Oscar. De La Hoya versus Cotto would bring some interesting emotions to the surface.

Let's not forget, though, it remains to be seen whether Cotto has the talent to meet the demands of stardom. At the end of the day, all a promoter can do is give his fighter an opportunity to live up to the hype. The fighter has to deliver.

Meanwhile, tucked away on the undercard of Cotto-Abdullaev is a young man named John Duddy. Duddy is a 25-year-old Irishman who lives in New York. He's handsome and articulate with movie-star charisma. He's also undefeated with nine knockouts in nine pro fights. To round out the storyline, the man who would have been his uncle (had he lived long enough to see John born) was shot to death by the British Army on "Bloody Sunday" in 1972 during a protest march in Derry, Ireland.

Does anyone see a plan?


Thomas Hauser can be reached by email at thauser@rcn.com.