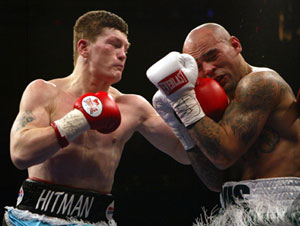 Hatton v Collazo (pic Mr Will)

By Thomas Hauser
Oscar De La Hoya and Ricky Hatton are boxing's poster boys on either side of the Atlantic Ocean. Earlier this month, they were showcased on consecutive weekends in major fights. And to draw them closer in the public mind, HBO televised a rerun of De La Hoya's May 6th fight with Ricardo Mayorga as the lead-in to a live telecast of Hatton's May 13th bout against Luis Collazo.

Technically, De La Hoya and Hatton were challengers. Oscar was fighting for Mayorga's WBC 154-pound belt while Hatton was going up in weight in an attempt to topple WBA welterweight champion Luis Collazo. But make no mistake; De La Hoya and Hatton were the ones defending what they had.

De La Hoya is the last of boxing's crossover superstars and the sport's reigning pay-per-view monarch. There will be a big void after he's gone, and it could be quite a while before someone fills it. Oscar is only 33 and still has a "little-boy" smile. But his face is no longer that of a boy. His hairline is receding. There are lines on his forehead when he furrows his brow.

Oscar has had ten fights since beating Oba Carr in 1999. In those outings, he triumphed over Derrell Coley, Arturo Gatti, Javier Castillejo, Fernando Vargas, Yuri Boy Campas, and Felix Sturm, and lost to Felix Trinidad, Shane Mosley (twice) and Bernard Hopkins. The loss to Hopkins ate at De La Hoya's insides.

"Every fighter wants to win his last fight," Oscar said recently. "I was on the canvas against Hopkins. I got beat. I didn't want that to be my last memory as an active fighter. I pictured myself on the canvas against Hopkins almost every night. I don't think I could live with myself if my last impression of boxing as a fighter was on the canvas, knocked out. I had to fight again."

Thus, De La Hoya versus Mayorga.

The world might love Oscar, but Mayorga expressed dislike and disdain for his golden challenger. "I just don't like him," Ricardo said. "Like when you go to the school yard, there's a kid that you never met in your life. You see him; you've never spoken to the kid, but you just don't like him. I just don't like him. There's really no explanation behind it."

Then, during a four-city promotional tour, Mayorga spewed forth the crude vulgar comments that have become his trademark. Among the tidbits offered via translator Tony Gonzalez were:

* "I'm the champion; you're nobody. You're a queer, just like your Olympic teammate Greg Louganis. I've never had any problem hitting queers."

* "You have no balls, you faggot. I'm going to bring you back to my home and put you in my bed and make you my bitch. You're going to be my bitch in my bed anytime I want you."

* "You remind me of an old lady that's past her prime that should be sitting home in a rocking chair doing nothing. On the night of the fight, I hope you fight like a man. Don't disgrace your people by running like a queer in the ring."

* "My strongest hand is my right hand. See his eye? I'm going to use it to detach his retina. I know you all love Oscar De La Hoya. I love him too. That is why I'm going to bring him to you in a body bag."

Don King (Mayorga's promoter) seemed pleased with the trash-talking since it engendered interest in the fight. "We're not here to go to Sunday school," King said. "It's about which gunslinger has the faster draw and straighter shot. This is truly a hostile atmosphere. Let the word go forth to friend and foe alike; carry the word. This fight is going to be remarkable." For good measure, King called Mayorga "The Nicaraguan Tyson" and proclaimed, "When you get a jewel like this, you have to be able to bring his brilliance out. He's a diamond in the rough. I'm a diamond polisher. I'm looking at Ricardo as the next brilliant star in boxing."

As expected, Team De La Hoya had a contrary view. Richard Schaefer (CEO of Golden Boy Promotions) declared, "I'm not pleased to be associated with a person like Mayorga, but this is boxing so I guess we have to do it."

Oscar's comments were more pointed. "All this anger and hatred," he said, "started when we were shooting the commercial for the fight. That's when we first met. We shook hands and then, all of a sudden, he just flips. I don't know what it was. It was weird. Here we are, shaking hands, and all of a sudden he started talking and revving himself up. 'I'm going to knock you out' and this and that. I was like, 'Whoa; this guy has some problems.'"

"It's not that I don't like him," De La Hoya continued. "I don't even know the guy. It's just, he started disrespecting me; he started disrespecting my wife; he insulted my heritage. I personally think he's bad for boxing. If he were to say a few words and then shut his mouth, he'd be a promoter's dream. Maybe insult the fighter and say I'm going to knock you out. But when you start insulting family and heritage; you don't do things like that. He's crossed the line. When opponents talk like that, you have to defend yourself; and the way I'm going to defend myself is in the ring. My blood is boiling. I'm human, and a few things that he said; yes, they got under my skin. He lit that fire in my belly and I'm full steam ahead. I want to teach this guy a lesson really bad. It's going to be one long night for him."

De La Hoya also had the last word during one of the more humorous pre-fight exchanges.

''You're no fighter," Mayorga told him. "You're pretty like my wife."

"I've seen your wife," Oscar countered. "And she's not that pretty."

Then, bizarrely, Mayorga turned to De La Hoya for help. Three days before the fight, he decided that he wanted more money than his contractually-mandated $2,000,000. So moments before the final pre-fight press conference in Las Vegas, he asked to meet with Oscar.

"He sent word that he wanted to meet with me," De La Hoya explained later. "I said all right. We shook hands. I was ready for anything. I wondered if he was going to throw a punch. He told me that we were two great warriors, and then he started talking about money. I said, 'Hey, that's your problem; not mine,' and walked away from him."

When Richard Schaefer took the podium to begin the press conference, Mayorga wasn't there. Neither was Don King or anyone else from Ricardo's camp.

"We hope that Mr. Mayorga and Mr. King will join us here," Schaefer told the assembled media. "It appears as though they have some issues to sort out. We made a deal with Mr. King and Mr. Mayorga. I'm sure that Mr. King will work things out and the fight will go forward on May 6th."

The press conference proceeded from there. At one point, Schaefer observed, "It's remarkable how fast these things go when Don King isn't here." Finally, thirty minutes after the session began, Mayorga entered with several entourage members. Moments later, a weary-looking Don King followed.

During King's subsequent remarks (which lacked his usual passion), Mayorga tapped the microphone on the table in front of him, making an incessant thumping sound. Later, as the press conference broke up, the fighter reached for the microphone and, through his translator, declared, "I'm thinking about not fighting because I'm not getting the pay I want. I'm not scared of Oscar, but I want my worth."

The general feeling was that Mayorga was crazy enough that there was a solid one-in-a-thousand chance that he might actually pull out of the fight. But the overwhelming view was that he'd be in the ring on Saturday night. "This fight is going to happen," Oscar said. "There's too much at stake. He's trained for three months. He's not going to lose this opportunity. If he walks out now, he'll never have another big fight."

As for King, he voiced frustration with his fighter and declared, "I'm an innocent victim of this shit." The following day, when Mayorga announced that he would in fact fight, the promoter opined, "He ain't changed his mind. He ain't got no mind."

Meanwhile, there was a fight to be fought and it was an entertaining match-up. Mayorga's reputation is based largely on a pair of wins over Vernon Forrest in 2003. Since then, he has won only two of four bouts and been described as a "punching bag to the stars," "the world's easiest target," and a "low-risk high-reward opponent." But Mayorga can whack and he's dangerous early. He also was believed to have trained seriously for De La Hoya, as opposed to some of his past endeavors. And there were questions as to whether Oscar was "still Oscar."

It had been a long time since De La Hoya looked great in a fight. There were no outings in 2005. He wasn't impressive against Bernard Hopkins or Felix Sturm in 2004. A lot of people thought he beat Shane Mosley in 2003 but the judges didn't; and that same year, Yori Boy Campas wasn't much of a test. Fernando Vargas was in 2002; almost four years ago. The opposition in 2001 was Arturo Gatti and Javier Castillejo, hardly major tests. In 2000, he lost to Shane Mosley (a good decision) and beat Derrell Coley. There was a school of thought that one had to go back to 1999 to find a time when Oscar was truly an elite fighter.

"Oscar took this training camp very seriously," Richard Schaefer said two days before the fight. "Usually, we talk about business two or three times a day. But we've talked on the phone only two or three times during the entire last month. That tells me how focussed Oscar is."

De la Hoya, for his part, acknowledged, "Sixteen months without training and twenty months between fights; it was very difficult shaking off the rust the first few weeks in the gym; especially the timing of my punches. They wouldn't come out the way I wanted them to. And I started training at 172 pounds, but it wasn't good weight. I'd lost a lot of muscle."

However, Oscar went on to say that he'd sparred close to 130 rounds in preparation for Mayorga and assured his listeners, "I started training four months in advance to get the rust out. About three weeks ago is when I finally felt it click in me. My speed is there; my power, my timing. And my body feels rested and with energy."

Still, boxing fans have heard the same mantra again and again from once-great fighters after a series of diminished performances . . . "I needed the time off . . . I'm rested . . . This was my best training camp ever." And as often as not, the fighter fails.

Thus, Stacy McKinley (Mayorga's trainer) spoke for many when he said, "Oscar is a better boxer than Ricardo. Ricardo is a better fighter than Oscar. Our strategy is to make this man stand and fight. When it gets tough, Oscar will give it up. I saw him do it with Felix Trinidad and Bernard Hopkins. Mayorga will make him do the same thing. Oscar's a front-runner. Once you catch up to him, you can hunt him down. Ricardo's a gunslinger. He'll unload both guns from the first round. We're training to fight, and I mean fight, for twelve full rounds."

Each fighter weighed in at 153-1/2 pounds. The odds were 3-to-1 in De La Hoya's favor. The over-under was twelve full rounds. Oscar entered the ring first and the crowd roared. Mayorga followed to a chorus of boos.

The prevailing pre-fight wisdom was that De La Hoya wouldn't be able to keep Mayorga off him with power and would have to box. The conventional wisdom was wrong. Mayorga came out aggressively and found himself on the canvas 54 seconds into round one, courtesy of a left hook. He rose, kept coming, and was staggered again; once by another hook and then by a straight right.

In many respects, Oscar fought Mayorga's kind of fight. He was willing to trade, but the transactions were one-sided. He was simply too fast, too accurate, and too powerful for his opponent. Oscar was also rougher than he usually is, using his shoulder to push Mayorga off and hooking below the belt from time to time.

In round three, Mayorga did some good body work. That was the high point of the fight as far as he was concerned. De La Hoya knocked him down again in round six with a left hook. Then, with Ricardo pinned against the ropes, Oscar unleashed a torrent of blows.

There's a sound in boxing that's unlike any other in sports. It's the blood-thirsty roar of the crowd when their favorite is brutalizing his foe. That's the sound that De La Hoya and Mayorga heard. For Oscar, it was a motivating force. For Mayorga, it added to the horror of what he was enduring. Then referee Jay Nady stepped between the fighters to end the carnage and the roar subsided. The icing on the cake came several days later when HBO reported that the fight had exceeded all expectations by generating 875,000 pay-per-view buys.

Then the scene switched to Boston for Ricky Hatton versus Luis Collazo.

In recent years, there has been a bit of a renaissance for British boxing. Lennox Lewis, Naseem Hamed, and Joe Calzaghe have all made their mark. But no fighter is dearer to hearts in the United Kingdom than Ricky Hatton.

Hatton won the lightly-regarded World Boxing Union 140-pound title in 2001 and successfully defended it sixteen times. But he was widely regarded as a paper champion until June 4, 2005, when he fought Kostya Tszyu for the IBF crown.

Tszyu was "the man" at 140 pounds, having knocked out Zab Judah in a title-unification bout and beaten Rafael Rueles, Miguel Angel Gonzalez, Julio Cesar Chavez, Sharmba Mitchell, and Jesse James Leija. Hatton's victory over Tszyu (Kostya failed to come out for the twelfth round) was one of the biggest wins ever for a British boxer. Five months later, Ricky solidified his standing with a ninth-round kayo of Carlos Maussa in an IBF-WBA title-unification bout. That brought his record to forty wins in forty fights with thirty knockouts.

Hatton is a crowd-pleasing non-stop-action fighter. "I fight like a lunatic," he acknowledges. "I'm very aggressive in the ring. I don't fight like a British fighter. I fight more like a Mexican fighter. It's very un-British, the way I fight." But it's his personal qualities that have endeared him to his countrymen.

Hatton is easy-going, unpretentious, and approachable; 27 years old with a baby-pink complexion and round face. His hair is cut short and combed forward in front so it edges down past the top of his brow. "Weight has always been a problem for me," he acknowledges. "I was a fat kid, and I like my food. There are times when I can't get my championship belt around my waist," he jokes before adding, "When it's time to fight, I'm always in shape. Name me another fighter who has the same work rate that I do in a fight."

Hatton's father has Irish roots. "I do look like a Paddy," Ricky says. "If I ever fight in Ireland, I'll change my name to Ricky O'Hatton." His voice is soft with a working-class Manchester accent. He talks easily and is never at a loss for words. There's nothing phony about him. What you see is what you get.

Hatton's life is about basic things: honesty, trust, family, friendship, food, play, and boxing. He grew up being called "Richard" by his family and friends. Then Sky TV started televising his fights, began calling him "Ricky," and the name caught on.

Hatton doesn't have a credit card, doesn't like computers, and struggles with the Internet. He has never been married ("no one will have me") but has a five-year-old son named Campbell and is an involved father. When not in training, he likes to drink. Guinness beer is his beverage of choice.

Ray and Carol Hatton always told their son, "It costs nothing to be nice," and Ricky has heeded their advice. He loves being around people and has a kind word for everyone he meets.

Oscar De La Hoya has the aura of a man who has left his past behind. He still gives back to the East Los Angeles community that he grew up in. But he's fabulously wealthy, wears well-tailored suits, and has a growing business empire that bears his name. He now lives in Puerto Rico with his wife, Millie, who was a successful recording star in her own right prior to their marriage.

Hatton has stayed close to his roots. Two years ago, at age 25, he moved out of his parents' house and into a home of his own. It's a 32-second walk from his parents' front door. He actually timed it.

The center of activity in Ricky's home is the game room. All of his trophies and belts are on display. The same room holds an extensive collection of photographs signed by fighters, movie stars, and other celebrities plus hundreds of fight films and boxing magazines. There's a much-used dartboard. An original poster for the feature film Girls, Girls, Girls signed by Elvis Presley graces the walls. In deference to Ricky''s penchant for rock-and-roll, there's also a Wurlitzer jukebox, a karaoke machine, disco lights, and a smoke machine.

"Usually, it's bollocks when people say that someone successful is still the boy next-door," offers Billy Graham, who has trained Hatton for the fighter's entire career. "But Ricky is happiest when he's with people he grew up with. He has the same friends he went to school with. He goes to the same places he always went to. He doesn't fall out with anyone. He's a regular guy."

Ricky's girlfriend, Jennifer, is bespectacled and attractive with long brown hair. They've been dating for several months but have known each other for years. Jennifer was in Matthew Hatton's class in primary school. Matthew is Ricky's younger brother.

In sum, Hatton evokes many of the same passions in England (and particularly in Manchester) that De La Hoya evokes in the United States. But instead of being a matinee idol, he's thought of as "one of us."

"I'm no different from the man in the crowd," Ricky said recently. "There are no bodyguards. I don't want VIP treatment. When I fight in Manchester, most of the people in the arena have shaken hands with me. The best thing about being a fighter is when people come up to me and say, 'Ricky, you're a world champion and you're just like me.' What the fans think means a lot to me. There's no point in being a great fighter if people think you're a dickhead. And one thing more is very important to me. When I fight, I want to give the fans value for money."

But there's another consideration as well. Hatton wants to be recognized as a great fighter. And not just in England. Yes, he's popular in Manchester, where all of his recent fights have sold out. The entire allotment of 22,000 seats for his bout against Kostya Tszyu was snapped up within two-and-a-half hours of going on sale to the public. But in recent years, he hadn't ventured far from home.

Hatton's second pro fight was in Madison Square Garden, a four-round decision over Robert Alvarez on the undercard of Naseem Hamed versus Kevin Kelley in 1997. He fought again in the colonies in 1998 (KO 1 over Kevin Carter in Atlantic City) and 2000 (KO 2 over Gilbert Quiros in Detroit). But the rest of his fights, other than one bout in Germany early in his career, were in England.

"I had to come to the United States to prove myself," Hatton says. "I had fought for so long in England that a lot of people thought I was a protected fighter."

Hatton's wishes coincided nicely with business developments on this side of the Atlantic. HBO has long been recognized as the most powerful force in boxing. But recently, there was widespread grumbling about the quality of fights on HBO. And a string of entertaining match-ups on Showtime highlighted the problem.

HBO struck back with a vengeance. First, it commited significant sums to bring fights like Jermain Taylor versus Winky Wright to HBO Championship Boxing rather than show them on pay-per-view. And second, it used its deep pockets to lure Hatton and Joe Calzaghe away from Showtime.

In terms of purses and public perception, fighting on HBO is often more valuable to a boxer than having a championship belt. Fighters regard moving to HBO like a baseball player views being called up to the major leagues. In Hatton's case, signing with the network translated into a lucrative three-fight contract with an option in HBO's favor for a fourth bout. The terms change if Ricky loses a fight. But in that instance, the network must pay a substantial license fee for a "comeback" bout.

"I'm coming to America for the money and the respect," Hatton said after his contract with HBO was finalized. "It has been a dream of mine ever since I laced on a pair of gloves to be a headliner in the United States. It's something my heroes and idols have all done. I want people all over the world to know my name."

Thus it was that Team Hatton came to America. The charter members were Ray Hatton (who serves as his son's business manager), Carol Hatton (affectionately referred to in her son's circle as "the boss"), and Matthew Hatton (Ricky's brother). Also on hand were cutman Mick Williamson (a London taxi driver); Kerry Kayes (Ricky's strength coach and nutritionist), Paul Speak (a Manchester police officer who has become a close friend); Gareth Williams (Hatton's attorney); and Alan Stevenson (another friend).

And there was trainer Billy Graham. As a boy, Hatton loved Bruce Lee films. He took up kickboxing at age eight but was short and stocky with stubby legs, not good for a kickboxer. Thus, when Ricky was ten, his father took him to the Louvalite Boxing Club, where his tutelege in conventional fisticuffs began under coaches Ted Peete and Paul Dunne.

Graham recounts the story as it unfolded seven years later. "I had my own gym," he remembers. "And I kept hearing about this fighter, Richard Hatton. He was an amateur, and I was getting conflicting reports. Some said he was fantastic; some said he was just a strong kid. There are lots of kids at seventeen who are strong for their age and can punch but never amount to much. Then, one day, I got a phone call saying he was coming to spar at my gym. He was looking at different gyms to see where he wanted to be. I had more fighters than I wanted but I was curious about him. I let him spar. And what he did, he should not have been able to do at that age. It made my hair stand on end. This kid was the best seventeen-year old I'd ever seen. He could punch; but more important, his balance and anticipation were extraordinary for his age. I told him to have a look around the other gyms, that any trainer in the world would want him and I hoped he'd pick me."

"We're a very close group," Hatton says of the people in his camp. "It's not just a bunch of guys on a payroll. We're family and friends."

Nonetheless, problems galore attended Hatton's journey to America. Like Oscar De La Hoya, Ricky had split from the promoter who'd guided him to prominence. "I went through a period with Frank Warren where there were no real challenges," he explained afterward. "I wasn't being tested the way I wanted to be tested, and there came a time when I wasn't happy with the money either."

Warren, in turn, launched a series of lawsuits against Hatton and his new promoters (Dennis Hobson and Robert Waterman of Fight Academy). Ricky likes to prepare for a fight over the course of three months. He'd planned to begin training for his May 13th bout on February 20th. Instead, he was in New York, meeting with lawyers in preparation for a hearing in federal court.

"I've never been in a courtroom in my life," Hatton said at the time. "I can't believe it's happening now. No fighter needs this when you're trying to start training camp. There was a time when I was fond of Frank Warren, but no more."

The choice of an opponent for May 13th also proved problematic. Naoufel Ben Rabah (the "mandatory" IBF challenger for Hatton's 140-pound title) was unacceptable to HBO. Sky-TV vetoed Vivian Harris. Juan Lazcano was agreed upon, then injured a hand in training and pulled out. Carlos Baldomir opted to face Arturo Gatti. Jose Luis Castillo and Diego Corrales were fighting each other. Kostya Tszyu wasn't interested. Finally, the powers that be worked out a deal with Don King for the services of WBA 147-pound champion Luis Collazo. That meant, in addition to going up in weight, Hatton would be fighting a southpaw for the first time since 2002.

"A lot of people have ignored me in the past," Collazo said after the deal was signed. "It keeps me motivated. Hatton will find out that, at 147 punds, it's a whole different ballgame."

Then the WBA withheld its sanction of the fight until the promotion could work out an arrangement for step-aside money to be paid to its 147-pound "mandatory" challenger, Oktal Urkal. That, in turn, led to the more pressing issue of who would appoint the referee and judges.

Hatton-Collazo had landed in Boston. There's a reason that the last major fight in Boston was twenty-five years ago. It isn't a big fight town. And the Massachusetts State Athletic Commission is not known for competence.

One day before the fight, commission chairman Nick Manzello was insisting that Hatton-Collazo be contested with ten-ounce gloves despite the widelyaccepted requirement that eight-ounce gloves be used in 147-pound championship bouts. Finally, he relented. On fight night, things were worse. Hatton's pre-fight preparation in his dressing room was interrupted four times by commission officials who wanted to pose for photographs with him or get his autograph. One official requested that he sign two boxing gloves. On fight night, a fighter doesn't want someone from the governing commission to be angry with him so, in each instance, Ricky complied. When it was time to begin taping his hands, there was a delay because no one from the commission was present. When an HBO cameraman entered the dressing room to shoot the ritual shot of the fighter warming up, an inspector crossed the room and positioned himself behind Ricky so he would be on camera. An inspector took several photos of Hatton with his cell phone.

Ultimately, local officials were assigned to referee and judge the fight. Meanwhile, it didn't help matters that Banner Promotions (the local promoter) wasn't exactly on top of details.

Still, as Billy Graham says, "Whatever the situation is, Ricky deals with it. A fight gets cancelled; he deals with it. He gets cut; he deals with it. The referee misses a call; he deals with it. Ricky deals with the things that come his way better than any fighter I've ever known."

Hatton, for his part, said simply, "A lot of things have gone on outside the ring that just make me more determined. I am cheesed off."

On the morning of the fight, Ricky had breakfast in the hotel restaurant with the members of Team Hatton. He laughed, joked, and welcomed anyone who came by to chat. At one point, a middle-aged couple left an adjacent table and the man's cell phone dropped to the floor. Ricky rose from his chair, picked it up, and called after the man to give the phone back to him.

As a matter of habit, Hatton's pre-fight breakfast consists of eggs, bacon, sausage, orange juice, and toast. On the afternoon of a fight, he likes MacDonald's cheeseburgers and french fries. "He's not fighting on what he eats on the day of a fight," Ray Hatton offered by way of explanation. "He's fighting on all the good food he's eaten in the weeks coming up to the fight. What he eats on fight day is comfort food for him."

When breakfast was done, instead of going to his room, Hatton relocated in the hotel lobby. He stayed there, sitting on a sofa, playing cards and chatting with members of his camp, friends, fans, and anyone else who happened by. In essence, the hotel lobby had become his living room. Hours before one of the biggest fights of his life, there were no barriers, physical or otherwise, between Ricky and the world.

Hatton sat in the lobby until 4:00 pm. There was little talk about the night to come. Earlier in the month, he'd observed, "From what I can see, Collazo has fast hands. He's a slick boxer who is always on the move. Being a southpaw, he's just that little extra awkward and more tricky than most fighters I've fought. He's a little taller than me. But when I moved up to welterweight, I expected to see much bigger fighters. Collazo didn't seem huge or physically imposing to me when we met at the press conference in Boston. I actually felt bigger than him, even though it was me that was moving up in weight."

Now Hatton's comments regarding his opponent were limited to thinking back to the final pre-fight press conference, when Collazo announced that he had a present for him. "I expected he'd give me a dress or some nonsense like that," Ricky recalled.

Instead, Collazo had given him a six-pack of Guinness. Ricky responded with the thought that they might be enemies at the moment but, after the fight, they'd share it. Collazo said he didn't drink and would opt for a cup of tea.

"That was music to my ears," Hatton told those around him in the hotel lobby. "I thought, 'Now I'll get to drink it all myself.'"

Billy Graham was asked how fighting away from Manchester might affect his fighter. Hatton is used to entering a sold-out arena with lights flashing and the crowd going wild. Every punch he lands elicits a roar, which spurs him on and is heard by the judges. Hatton's entrance music is of particular note. His father played football (known in the United States as "soccer") for Manchester City. Ricky played for the Manchester City junior team. When he fought on Sky for the first time, the network said he should have entrance music so he chose the Manchester City anthem, a jazzed-up version of Blue Moon. Blue Moon has a unique sound when 22,000 rabid fans are singing in unison. Would a lesser entrance and less partisan crowd matter?

"Not at all," Graham answered. "Ricky has enormous confidence and belief in himself." Then the trainer thought back to a moment eight years past. "I brought Ricky to America to fight on the undercard of Naz [Naseem Hamed] against Wayne McCullough. Naz was mouthing off as he was known to do. Ricky looked at him and said to me, 'I'm just as confident as him, you know.'"

On fight night, Hatton arrived at the TD Banknorth Garden Arena at 8:20 pm. His brother Matthew was midway through an eight-round preliminary bout against a club fighter named Jose Medina. Standing in the rear of the arena, Ricky watched, uttering instructions that couldn't be heard more than an arms length away.

"Finish the round strong. Hook. That's it. Hook again. Don't be waiting on him; he'll steal the round. Put the punches together. Come on, Matthew. Work; bang him. That's it; that's it."

The decision was announced. 78-74 Medina; 78-73 Hatton; 77-74 Hatton. Ricky thrust a clenched fist above his head, turned, and walked to his dressing room; a small enclosure with a rubdown table, two wood benches, a half-dozen folding chairs, and several large British flags taped to the walls. As soon as he entered, rock music began to play. He emptied the contents of his gym bag onto one of the benches. Matthew came in and the brothers embraced. "Big night; your first fight in America," Ricky said. "I'm proud of you." Then he moved to the center of the room and began doing stretching exercises, singing the words, "Tonight, I'm a rock-and-roll star."

Hatton likes a loud dressing room with a party atmosphere. As time passed, a stream of friends, camp members, and others came by. People stood against the walls, chatting with one another. His parents weren't there. "Carol and I never go in the dressing room before a fight," Ray Hatton said afterward. "It's not a place for mums and dads. All we'd do is say stupid things like, 'Look after yourself, son.' What else is he going to do."

The center of the room belonged to Ricky, who was in non-stop motion, walking, shuffling, skipping, punching. At nine 'clock, referee John Zablocki came in to give the fighter his pre-fight instructions. When Zablocki was done, he asked if there were any questions.

"We just want a fair shake if Ricky gets cut," Billy Graham said. "We've got a great cutman. Will you give us that chance?"

"I know Ricky fights through cuts," Zablocki told him. "I'll give him and the cutman every opportunity."

Zablocki left. Ricky began warming up again, circling, throwing punches, stopping only to turn the volume of the music higher to a near-deafening decibel level. Graham and the others shouted to each other to be heard above the din. A second from Collazo's camp came in and watched the trainer tape Ricky's hands. Then Ricky pulled on his trunks. Blue, silver, and black, adorned with two British flags and elaborate white fringe. The trunks made the Pope's ceremonial garments look drab.

"John L. Sullivan never wore anything like these," Ricky noted.

At ten o'clock, Hatton gloved up and began hitting the pads with Graham. Then a switch inside his head flipped and a ferocious look crossed his face. A loud grunt accompanied each punch. He was no longer nice Ricky, the boy-next-door. He had become Freddie Krueger, who no one would want living in their neighborhood.

At 10:30, it was time to go to the ring.

Record rains had fallen on Boston for three days which limited the size of the crowd. Those in attendance were overwhelmingly pro-Hatton. Blue Moon was sung loudly if not well.

The asssumption in the Hatton camp was that the early rounds would be difficult for Ricky but that eventually he'd break Collazo down. In reality, the converse was true. Ten seconds into round one, Hatton decked the champion with a sharp left hook. That was followed by damaging body blows through the end of round two. Then Collazo began to use his height and speed more effectively. The first six rounds were all action with the only blood coming from a cut high on Collazo's forehead that resulted from an accidental clash of heads. After that, the pace slowed a bit.

Hatton isn't a one-punch knockout artist. He wears opponents down with constant pressure and an accumulation of punches. But against a natural welterweight, those tactics weren't as effective as they'd been in the past. Also, Hatton is an inside fighter. "In close," he says, "you've got to hold a bit and move the other guy's arms around to get your punches in. It's an art to make room for your shots." But there were times when the referee broke the fighters when he could have told them to punch out. And midway through the fight, a second accidental head butt began the process of closing Ricky's left eye.

Collazo was the one who finished strong, staggering Hatton with a series of blows halfway through the final round. It was a close fight. Hatton outlanded Collazo 259 to 213 with a 254 to 167 differential in power punches. The judges' verdict was unanimous: 115-112, 115-112, 114-113 for Hatton.

After the fight, Hatton's left eye was almost closed and the skin around both eyes was black, blue, pink, purple and swollen. The dressing room was less crowded than before. Ricky, his parents, brother, and Jennifer; Billy Graham, Paul Speak, a few others.

Ricky sat heavily on a chair and held an icepack to his left eye.

"Are you all right?" his mother asked.

"Of course, I'm all right." Ricky smiled and countered with a question of his own. " I don't make things easy, do I?"

Without waiting for an answer, he went on. "I fought Kostya Tszyu. That was a tough fight. Then I fought Maussa. That was a tough fight. And after that, like a fucking lunatic, I go up in weight and fight another champion. Did the fans get value for money?"

They certainly did, he was told.

"This was my toughest fight. I rose to the occasion against Kostya Tszyu, and Collazo did the same tonight. He's a good fighter. He's tricky and he has a style that's hard for me. He took the body shots well. I know they hurt him, but he took them well. The last round, he shook me but I had my faculties about me the whole time. I told myself, 'Stay close; grab a hold.' It was just a matter of riding out the storm. People remember fights like this. I don't want too many of them, but it's important to win a few like tonight."

Ricky stood up to take a shower; then added a final thought. "Show me a fighter who has an easy night every time, and I'll show my ass in Woolworth's window."

So what comes next for Hatton and De La Hoya?

In the wake of Oscar's triumph, HBO personnel were giddy with delight. The goose that lays golden eggs was back again. "Oscar against Floyd Mayweather," said HBO Sports president Ross Greenburg, "would be like the old days."

But no fighter ever needed money less than De La Hoya. And while Oscar's performance against Mayorga served as a reminder that he's an elite fighter, it's worth remembering that, not long ago, Ricardo was outclassed by Cory Spinks. In fact, the last time an elite fighter looked as good as Oscar in a comeback fight was when Felix Trinidad demolished Mayorga. And boxing fans know what happened when Tito took the next step back against Winky Wright.

De La Hoya is driven by ambition and a tremendous competitiveness in everything he does. "Legacy," he says, "is probably the most important thing to a true elite fighter." Right now, Oscar can fight on the terms he wants. The names he throws out most often as potential opponents are Floyd Mayweather Jr. and Felix Trinidad. But Trinidad is retired (for the moment, at least) and a match-up against Mayweather would be problematic since Oscar is trained by Floyd's father. Then again, there's a school of thought that Floyd Sr. could be persuaded to give his blessing to the fight if the money was right.

Before facing Mayorga, De La Hoya told the media, "My plan is to win this fight and have my retirement fight on September 16th. September 16th is the last night that I will lace up a glove, and I'll retire, hopefully, as a champion."

September Song. The days dwindle down to a precious few.

But September has been unkind to Oscar. He has lost three of his last four fights in September (to Trinidad, Shane Mosley, and Bernard Hopkins). And were he to lose again this September, he'd be back where he was after the Hopkins fight.

Much of the media focus during the build-up to De La Hoya versus Mayorga was on Oscar's growing business empire. "It's gratifying to think that little me did all this," he said. It might be that De La Hoya will leverage his latest victory into a few more television dates for Golden Boy Promotions without fighting again and ride off into the sunset like Lennox Lewis.

As for Hatton; he has now won three major belts in three consecutive fights, and HBO considers him ready for bigger and better things. Ricky's preference would be to fight the winner of the June 3rd match-up between Jose Luis Castillo and Diego Corrales at 140 pounds in October. His second choice is the winner of the July 22nd 147-pound WBC title fight between Carlos Baldomir and Arturo Gatti. Down the road, there's Floyd Mayweather Jr.

Hatton met Mayweather at Taylor-Hopkins II in Las Vegas last December. "I was pleasantly surprised at the size of him," Ricky said later. "I knew he wasn't the biggest welterweight, but he looked really tiny. He's got so much boxing ability, but he wasn't a massive puncher at junior-welterweight. And I watched his fight with Judah. His punches bounced off Judah, who's not known to have the greatest chin in the world. He won the fight clearly; but from my point of view, he didn't put shivers up my spine. It was a good performance but not a great one."

"My dream," says Hatton, "would be to fight Mayweather in 2007 in an outdoor event at the Manchester City Football Stadium. I don't think there's anybody in boxing who can outbox Floyd Mayweather. If we fight, I'll have to just jump all over him. But from now on, whoever I fight, I want defining fights and major champions every time."

Billy Graham would prefer that his fighter move back to 140 pounds. "When you have height like Oscar," the trainer says, "it's easier to move up in weight. A fighter can always put on weight, but he can't put on inches."

Hatton concurs, saying, "I still believe that I'm a natural junior-welterweight. At welterweight, I'm giving up pounds. I felt that I was stronger than Collazo, but the difference in strength wasn't as great as when I fight at 140. I asked myself several times during the fight, 'I can still make ten stone; what am I doing this for?'" But then he adds, "They say the fighter makes the belt, but it's always nice to have them. I had to vacate two titles, which I didn't want to do, to make the Collazo fight. That was a shame but it's the way boxing works these days if you want to make money. I'd like to keep the title I have now for a while."

The bottom line is that Hatton is beatable; but so far, no one has done it. He would do as well against Mayweather this October as he would in 2007. Commercially, it would be a bigger fight next year if both men keep winning. But Hatton-Mayweather at 140 pounds or a slightly higher catchweight makes sense now. Forget the belts.

"I'm willing," says Hatton. "I never ever thought things would get this big. I'm living my dreams."

For Ricky Hatton, the blue moon has turned to gold.

But there's one more song to be sung with regard to De La Hoya-Mayorga and Hatton-Collazo. They were the second and third major fights in a row (after Mayweather-Judah on April 8th) in which Don King brought a beltholder to the table as the B-side of the equation and lost.

There was a time when King evoked images of Shakespeare's Caesar ("He doth bestride the narrow world like a Colossus. And we petty men walk under his huge legs and peep about to find ourselves dishonorable graves.").

But King is now the lion in winter. Much of the deference that was accorded to him by television networks and casinos in the past now goes to other promoters. He has lost control of the heavyweight division. The HBO schedule has major pay-per-view shows in May (De la Hoya-Mayorga), June (Tarver-Hopkins), and July (Mosley-Vargas). Golden Boy, not King, has a piece of each one.

King was uncharacteristically absent from the media center during the build-up to De La Hoya versus Mayorga. After the fight, for the first time in memory, he didn't attend the post-fight press conference for a major bout involving one of his fighters.

"Don was disappointed by Ricardo's fight week behavior and personally hurt by the claim that he was somehow at fault," Alan Hopper (director of public relations for Don King Productions) said afterward. "He invested a lot of time and money in getting Ricardo an opportunity to fight for the title and felt that Ricardo had betrayed him. After the fight, he was disgusted with the whole thing and felt no need to defend Ricardo. And he was hungry, so he went to Pearl [a Chinese restaurant in the MGM Grand] for dinner."

King will turn 75 on August 20th of this year. He has recently undergone several medical procedures (including an angioplasty) and his wife is in ill health. Like a great fighter, he has seen the tide shift against him as time goes by. But like all great fighters, he won't go down without a fight.

"The pursuit of monetary reward is enthralling to Don," says Hopper. "And he cares about his place in history; he wants his due in terms of historical perspective. But I also think that Don is motivated by a fear of sorts. He'll keep going and won't retire because, if he did, he'd have to reflect. And in that reflection, he'd be forced to face his own mortality."

Thomas Hauser can be reached by email at thauser@rcn.com.