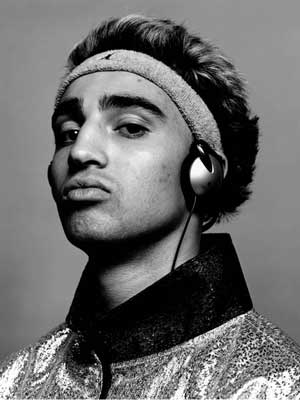 Picture courtesy of Holger Keifel

By Thomas Hauser
Some fighters let their fists do their talking for them. Not Paulie Malignaggi.

Malignaggi is a flashy dresser with a big mouth who's basically a good guy. He's also a walking poster boy for hair gel and wears so many tassels on his boxing shoes that it's like fighting with five-pound weights on his feet. On the night of June 10th, Paulie will enter the ring to face WBO 140-pound champion Miguel Cotto at Madison Square Garden. Cotto is a hero in his native Puerto Rico, a hard puncher with a potent left hook that he uses to perform liver surgery on opponents. June 10th is the eve of New York's Puerto Rican Day Parade. "I know what's coming," says Paulie. "Miguel Cotto, Madison Square Garden, a pro-Cotto crowd. But I've been waiting my whole life for this. June 10th is the opportunity of a lifetime for me."

Malignaggi was born in Brooklyn on November 23, 1980. His parents were Italian immigrants. His father was a professional soccer player. When Paulie was several months old, the family moved back to Italy. Six years later, having had a second child, they returned to the United States. This time, Paulie's father stayed for a few weeks and went back to Italy alone. Twelve years passed before Paulie heard from him again.
"I didn't have a nice growing up," Paulie says. "For a while, my mother, my brother Umberto, and I lived with my mother's parents in Brooklyn. Then my mother found an old Italian couple who let us live with them in a dilapidated old house. We were on welfare. I remember going into stores and getting dirty looks because we paid with food stamps. And I didn't know any English when we moved back to Brooklyn; that was hard."

When Paulie was nine, his mother remarried and moved with her sons to New Jersey. "I went with an open heart," Paulie says, "because I knew my real father wasn't coming back. But my step-father looked at me and Umberto as baggage that came with my mother; that's all. They had two more kids together and my step-father was a father to them, but he treated my brother and me like garbage. So I was a city kid in a suburban school. We didn't have much money, and I wore hand-me-down clothes from my mother's friends. The other kids were always making fun of me. The one thing I was good at was sports, but my mother wouldn't let me play sports in school because she didn't want me to turn out like my father. I'd come home after school every day, shut myself in my room, and listen to music on headphones."

There was also physical abuse. "From the start," Paulie remembers, "our step-father beat us. If Umberto or I looked at him the wrong way -- WHACK! He looked for reasons to beat us. And my mother couldn't defend us because, with four kids, she couldn't go through another divorce. My step-father took advantage of that to be like a dictator with total control over her life. Then, one day, I was fifteen, my step-father took off his belt and was getting ready to beat Umberto and me again. He told me, 'He's first; you're next.' I said, 'Fuck you.' Then me and Umberto jumped him. It was the first time we defended ourselves. He couldn't take us both at the same time. We got him pretty good. After the fighting stopped, he told my mother, 'I want them out now.'"

That night, Paulie's mother took her sons to her parents' home in Brooklyn. For the next two years, they slept on their grandparents' couch. Paulie enrolled in tenth grade at New Utricht High School but he wasn't much of a student.

"I'd go to the first class each morning just to get my attendance in," he acknowledges. "After that, I'd take off for the rest of the day. I had problems; no doubt about it. I acted out. I got into fights with other kids. Sometimes it was my fault; sometimes it wasn't. I'd wait for kids after school and beat them up, grab their beepers and flip them on the street for pocket money. Sometimes I was the kid who got jumped. You give some, you get some. I look back and I was turning into the wrong kind of person. I had this anger in me; I was bitter; I was losing my conscience. Some of the kids I hung out with then are in jail. Some straightened out. One is dead."

"Finally," Paulie recalls, "I got into one fight too many and the school dean said, 'That's it; you're gone.' A couple of days later, Memorial Day weekend 1997, I went to visit my mother in New Jersey, got in a fight with my step-father, and the cops came. When I got back to Brooklyn, my grandfather did two things. First, he had a construction company and started taking me to work with him every day to keep me out of trouble. I was there from seven in the morning till five in the afternoon. For ten hours, he'd pay me ten dollars. And a month later, he told my uncle to take me to Gleason's Gym. He figured I'd get my ass kicked. I remember him telling me, 'This will straighten you out and teach you respect.'"

"I walked into Gleason's Gym for the first time on June 26, 1997," Paulie remembers. "There were all these pictures of great fighters on the walls. People were working out, hitting speed bags and sparring. Someone put me in front of a mirror and started teaching me how to throw a jab. And I said to myself, 'I like this.' For the first time in my life, I wanted to learn."

1997 was a good time to be at Gleason's. Kevin Kelley, Junior Jones, and Zab Judah were all training there. "I felt comfortable in the gym," Paulie says. "I enjoyed being there and it guided me in the right direction. It wasn't long before I said to myself, 'I'm going to have to earn a living somehow. This can be my career.'"

"Boxing," F. X. Toole wrote, "is the risking of everything so you can respect yourself for the rest of your life."

"I had my dreams," Paulie says. "Nobody starts boxing to be a club fighter. I thought of boxing as a way to carve my name in history and show people that I was on this planet. But I'll tell you how green I was. The first time I sparred, I thought the protective cup was headgear. I tried to put it on my head. That was embarrassing. But I went to Gleason's every morning at nine o'clock and stayed until seven at night. I was able to let out what I had to let out; and by the time I got home, I was too tired to do anything else. I took my share of beatings in the gym; all fighters do. But that didn't bother me. I was used to getting hit. And the truth is, boxing saved my life. All of my identity and self-worth come from boxing. Boxing is life to me. Without boxing, I'd be nothing."

In the ring, Malignaggi was a prodigy. His first amateur fight was on March 6, 1998, in the 125-pound novice division of the New York City Golden Gloves. He had four fights in the tournament and won all of them. "By that time," he says, "I was starting to feel good about myself. I had a lot of growing up to do, and I was starting to do it." Three years later, fighting at 132 pounds, he won a national amateur championship. On July 7, 2001, he turned pro.

Paulie's record today is 21 victories in 21 fights; but he has registered only five knockouts, three of which came against undistinguished opponents in his first three professional outings. His last knockout was three years ago. His style is stick and move. Speed is the key to his success.

"My speed discourages everyone I fight," Paulie says. "I've got handspeed and footspeed, but my best weapon is my brain. I know exactly were I am in the ring at all times. I'm always thinking in there, setting my opponent up and keeping him from setting me up. Some people think I've got no heart because I'm not rock 'em sock 'em like Arturo Gatti. Arturo is my favorite fighter; not because he gets hit a lot but because he'll pay any price to win. Sooner or later, all fighters get buzzed. When it happens to me, people will see what I've got inside."

Then there's the matter of Malignaggi's persona. He has, shall we say, flair in and out of the ring.

"A lot of people get the wrong idea about me," Paulie says. "They see this crazy guy on camera and they don't understand that there are other sides to me. Yes, I dress flashy. It's about the things I never had when I was growing up. And I'm a showman. My thing is to show off and stand out. Where boxing is concerned, I want to win so badly that I do what I have to do to get pyschologically ready. Away from boxing, I'm respectful and laid-back. Like everyone else, I need love and I'm vulnerable emotionally. But I'm not quick to show that soft vulnerable side of me."

Malignaggi's most obvious vulnerability has been his hands. His right hand, in particular, has plagued him throughout his career. There have been seven breaks and three surgeries.

"People don't understand what a bad hand means to a fighter," Paulie explains. "You fight the way you train. And for a long time, I couldn't train right because I was afraid of hurting my hand in the gym. I'm a counterpuncher. A fighter counters on instinct, and it's hard to counter if you're worrying about hurting your hand. During a fight, if I felt pain, I had to think twice about punching hard because I was afraid I'd do more damage. And on top of everything else, I had to listen to dumb-ass writers saying things like, 'Paulie's not very good. Paulie is afraid to mix it up. All Paulie does is run around the ring.' Those guys couldn't write with a hand like I had. I had to fight with it."

"The low point for me," Paulie continues, "was when I fought Jeremy Yelton [on August 25, 2005]. I'd had two surgeries before that, and then I broke my hand again. A lot of bad thoughts came into my head after the Yelton fight. I came from nothing. Boxing is all I know how to do. People look at you a certain way when you're a fighter, and I'm used to being looked at that way now. People were trying to boost my spirits, saying things like, 'You'll be fine.' But whether or not I was fine wasn't up to them and it wasn't up to me. It was up to my hand. When it comes to healing, wanting something to be a certain way doesn't necessarily make it happen."

"Boxing gave me everything I have including my self-esteem. Not being good enough to make it to the top in boxing would hurt but I could live with it. To never see how good I can be because of a hand that keeps breaking; that thought was devastating. To live and die and never have the opportunity to make it and have people think that I was a nobody. I've had so much emotional hurt in my life . . ."

Paulie takes a deep breath and gathers his thoughts.

"I had one more surgery. My right hand is basically fused now with pieces from my hip and artificial bone. It doesn't have much flexibility, but you don't need flexibility to punch. When the cast came off, my confidence was zero. When something bad happens to you again and again, you lose confidence; and at first, the hand hurt in the gym. But then it got better, and now it feels fine. When I fought Donald Camarena [on February 10, 2006], there was no problem. I could whack. I can beat anyone now."

Which brings us to Paulie Malignaggi versus Miguel Cotto.

The belief in some circles is that this is a fight between a legitimate world champion and a light-punching club fighter. To make it big, a fighter needs power. Otherwise, sooner or later, he'll fall victim to opponents who force the issue and take two or three punches to land one. Cotto has power. His greatest vulnerability is his chin, which is the weakness that Paulie is least equipped to exploit. Also, the ring at Madison Square Garden is not a conventional ring. Normally, ring posts are on the edge of a ring canvas. But at the Garden, all four posts are recessed. That means, while the ring canvas is 23-feet-6-inches squared, the posts are only 20-feet-3 inches apart and the area enclosed by the ropes is a relatively small 18-feet-3-inches on each side.

But prodigies peak young. Paulie is 25 years old. He has been boxing for nine years. He'll probably never have a better blend of speed and strength than he does today. And his hands dictate that he should reach for the brass ring as soon as possible. His time, and whatever that might bring with it, is now.

"This is a tough fight," Paulie acknowledges. "I know that. But physically, I'm ready. It's a good styles match-up for me. And mentally, I'm ready too. Every fighter has strengths and weaknesses. Cotto's strength is definitely his power. It doesn't surprise me when I see Cotto hurting guys because that's his strength. But it takes more than power to beat me. Cotto can't outbox me. He's too slow, and he'll be giving away rounds if he tries. So he'll come right at me and try to beat me down. His whole fight is setting up the left hook. He gives you a BS right, but he's always looking for the hook. He throws hard and he hurts you if he hits you. He's very good at what he does, but he's a one-dimensional fighter. So who has the edge? Power, it's Cotto. Speed, me. Defense, me. Ring generalship, me."

Now Paulie is on a roll.

"You have to make Cotto think in there. You have to put him in situations where he's forced to make adjustments during the fight. I can adjust; but before I make any adjustments, I want to see if Cotto can deal with my being me. I come in; I come out. I diversify my attack. I've got fast hands. If you have speed, it's easy to hit Cotto. And I'm a smart fighter. I know my way around the ring, and that doesn't mean running the marathon. If Cotto thinks I'll be like a little puppy dog nipping at his heels, he's wrong."

"I'm a showman," Paulie continues. "But I'm not stupid. I'm not getting into a free-for-all brawl with Miguel Cotto. We all know that I'm going to hit Cotto. The question is, can he hit me? And what happens when he does? I've never been hurt as a pro. I was hurt a couple of times in the amateurs. So if Cotto happens to hurt me, all I ask is, please, give me ten seconds. I might be hurt at five and, at ten, I'll be fine. Ten seconds; that's all I ask. And by the way; I have an underrated punch. Someday, in a big fight, I'm going to smoke someone. I won't change my style to do it. I'm not saying that this will be the night. All I'll say is, this fight is going to bring out the best in me. This is what I've been waiting for; the big opponent, the big crowd, all the attention. I love this stuff. I'm undefeated in twenty-one pro fights. I've been ready each time I stepped into the ring, and I'll be ready for Cotto."

Hunger has been a constant theme in Paulie Malignaggi's life. Hunger for attention, hunger for success, and hunger for love. The emotional hurts inflicted upon him have been far more painful than any damage suffered in the ring.

But Paulie says, "I wouldn't change anything that happened to me in the past, because my past is what makes me as hungry as I am today. My past is a driving force for me. I do a lot of thinking about my past before I go to sleep at night. And I promise you; everything I've learned, all the sacrifices and hurt and hope and anger and good and bad will come come together on June 10th. Some of the kids I went to school with who used to make fun of me for the clothes I wore will be watching and they'll say to themselves, 'Hey, Paulie made it to the big-time.' There was a high school teacher, a guy who said in class one day, 'Paulie is going to college; he's going to major in would you like fries with that.' Everyone laughed; and probably the only one who remembers it is me. Maybe that teacher will be watching and he'll say to himself, 'Look at that; Paulie made something of himself, after all.' June 10th is when I tell the whole world, 'This is what I've become; this is who I am."

A lot of people in boxing question whether Paulie Malignaggi is ready to fight Miguel Cotto. They might also ask whether Miguel Cotto is ready for Paulie.

Thomas Hauser can be reached by email at thauser@rcn.com.