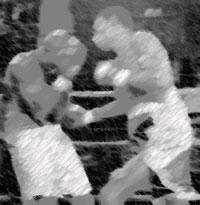 By Thomas Hauser: It's fight night at Madison Square Garden, the most famous arena in the world. From a regulatory point of view, things don't just come together by chance on occasions like this. Someone has to make them happen. It's like getting everything and everyone in order for a circus parade.

An hour before the bell for the start of the first fight, Ron Scott Stevens (chairman of the New York State Athletic Commission) gathers his troops together.

"This is a live event," he tells the NYSAC personnel in attendance. "It's not a play. It happens once and won't come back again tomorrow night, so everything has to be done right the first time."

For the next ten minutes, Stevens addresses his staff with regard to their responsibilities:

To the inspectors: "You're the eyes and ears of the commission at ringside and in the dressing rooms. Make sure the cornermen know they have to wear gloves. Look into the buckets; make sure the stuff they're using is kosher."

To the judges: "Forget about reputations. Forget about the crowd. Concentrate; make sure you're paying attention to every second of every round, and call it the way you see it."

To the referees (after making reference to several undercard fighters): "These guys are coming in as opponents. Give them a fair chance to win. But if they're getting hurt, do what you have to do sooner rather than later. The fans are entitled to see good honest boxing and that includes guys getting hit. But I don't want anyone taking unnecessary punishment."

"Be diligent," he tells the group as a whole. "Be professional. We're a team, and we operate as a team tonight."

Ron Scott Stevens was born in Manhattan on November 24, 1946. There's a school of thought that, in his present job, he has done as much for boxing in New York as anyone in the past thirty years.

Stevens's father was a small businessman who drifted from venture to venture. By the time Ron graduated from high school, his family had lived in Manhattan, Brooklyn, Queens, and Florida. In 1969, Stevens received a BA degree from Hofstra College. Thereafter, lacking career direction, he drove a taxi and worked as a waiter. Then he enrolled at John Marshall Law School but dropped out in 1972. After that, he worked as a carpenter's assistant, a bartender, and drove a cab again. "At one point," he recalls, "I even worked for an employment agency called Forbes Personnel. I couldn't get a decent job for myself, but I was helping other people get jobs."

In 1975, Stevens moved to Woodstock and took a job as a salesman at a clothing store called The Elephant Emporium. One year later, he began working for a local cable-TV station called Hudson Valley Television. He produced sports shows, sold advertising for the shows, and also did on-camera work for them. Among the shows he produced were telecasts of fight cards promoted by Lou Falcigno at the Westchester County Center. Stevens handled the blow-by-blow chores. His color commentator was an unknown pharmacist named Harold Lederman.

Then a radio station called WDST-FM opened in Woodstock. Five times a week at 5:55 pm, Stevens read five minutes of sports news. He began writing a weekly sports column for the Woodstock Times. "And I was waiting on tables in restaurants," he adds, "to supplement my income so I could pay my bills."

That went on for four years. It was during this time that Stevens changed his name.

"My name then was Ron Rabinowitz," he explains. "There was a commentator for another cable network named Ron Rosenberg, and I figured the world didn't need Ron Rabinowitz to follow Ron Rosenberg. I had two brothers. Steven was older than me; Scott was younger. I told myself, 'I'll change my name to Ron Scott Stevens and make it for all three of us."

In 1980, Stevens decided to leave Woodstock and make a play for the big-time. He sent tapes of his work to television and radio stations around the country, pursued jobs in Miami and Denver, and wound up in Brooklyn again, waiting on tables.

"I was very down," he acknowledges. "I was 33 years old. I had no career. I remember very clearly asking myself one day, 'Ronnie, what are you going to do with your life?' And right then, a light flashed on in my head. It was a true epiphany. I said to myself, 'Boxing has always been the sport of the underdog; and I'm an underdog.' The next day, I was at Gleason's Gym, offering myself as a ring announcer, commentator, writer, anything. Every day after that, I was at Gleason's from ten in the morning till three in the afternoon, hustling for work. And at night, I waited on tables."

Slowly, the work dribbled in. Sciacca Promotions hired Stevens as a ring announcer. He began freelancing articles for boxing magazines and eventually became the editor of Boxing Today and Boxing Beat. Meanwhile, in 1982, a promoter named Elizabeth Barnett hired him as matchmaker for a small fight card on Long Island.

"I was born to make fights," Stevens says today. "Nobody taught me; I just knew how. I took to matchmaking like a duck takes to water."

Soon, he was matchmaking for other small promoters. Then Top Rank hired him for some shows in Atlantic City and he put together several cards for Main Events. He also became a substitute English teacher for the New York City school system, which enabled him to stop working as a waiter. And he began writing plays, two of which were performed in Actors Equity showcases.

Stevens's next step in the fight game came in 1987, when Gleason's moved from Manhattan to Brooklyn. Its owners (Ira Becker and Bruce Silvergalde) set up an arena a block from the gym. "And again, a light went off in my head," says Stevens. "I'd been networking in boxing for seven years. I'd seen how badly most club-fight cards were put together. So I decided to form my own promotional company and promote fights at Gleason's Arena."

Thus it was that Powerhouse Enterprises was born. Stevens's first show featured Felix Santiago against Bryan Nitz on May 20, 1988, with Alex Stewart on the undercard. Over the next eighteen months, Powerhouse promoted five fight cards at Gleason's. "But I couldn't make money," Stevens acknowledges. "I started with $25,000 from investors, and we made another $10,000 from a closed-circuit telecast of Mike Tyson against Michael Spinks. That gave us $35,000 to work with, out of which I paid myself a salary of about a thousand dollars a month. But at the end of eighteen months, Powerhouse was broke, so I dissolved the company."

In 1991, Stevens tried his hand at promoting again; this time with Cary Alex as his partner. "SportsChannel wanted to do boxing and offered me $7,500 a show for four shows," he remembers. "So I formed a new company called Stillman's Gym Inc. Over the next five years, we did twenty-five shows in the grand ballroom at the Pennsylvania Hotel, which seated a thousand people. We had some great fights with guys like Louis Del Valle, Kevin Kelley, and Julio Cesar Green. And we had great crowds. The problem was, half the people in the crowd were always there for free. Again, we couldn't make money, so I renewed my hack license and started driving a cab to make ends meet. Finally, in 1996, we dissolved the company."

Two more promotional efforts (Star Bouts and The Dukes of Boxing) followed with similar results. Meanwhile, Stevens started waiting on tables again and kept matchmaking when he could. In 1998, he telephoned Cedric Kushner to see if CKP would put cruiserweight Robert Daniels on one of its cards. Kushner said yes; but more importantly, his company needed another matchmaker and he wanted to know if Stevens was available.

In December 1998, Stevens began working for Cedric Kushner Promotions as a matchmaker, site coordinator, and jack-of-all-trades. It was the first secure job on salary in boxing that he had ever had. "At first, Cedric was doing well," Stevens remembers. "He had Hasim Rahman, Shane Mosley, Chris Byrd, Jameel McCline, Oleg Maskaev, Kirk Johnson. I started at $40,000 a year and, by 2002, was making $72,500. But then things started to get shaky for Cedric and I was approached about a job at the New York State Athletic Commission."

For eight years, beginning in January 1995, the New York State Athletic Commission had been widely viewed as a dumping ground for political patronage employees. Other than a nine-month period when Ray Kelly was chairman, the NYSAC, to put it bluntly, was an embarrassment. Kelly left his post in June 2002 and was succeeded by Bernard Kerik, whose lack of interest in boxing was becoming a national joke. Meanwhile, someone had to do the work. In December 2002, Stevens was brought in as the commission's community coordinator and director of boxing.

But more change was in the air. In March 2000, the Rackets Bureau of the New York County District Attorney's Office had referred allegations of improprieties at the athletic commission to the Office of the Inspector General of the State of New York. The inspector general conducted an extensive investigation and in early 2003 issued a report highlighting no show jobs, bloated expenses, and other forms of corruption. On April 11th, Kerik resigned. On June 10, 2003, Stevens was sworn in as his successor.

Stevens came into his position as chairman with a reputation for being fair-minded, honest, and having common sense. Also, unlike his predecessor, he understood the sport and business of boxing.

"Having been a promoter and matchmaker," Stevens says, "I was aware of the climate at the commission. I also knew that the climate could change but it needed someone to direct that change. My familiarity with boxing was my biggest asset. I wasn't afraid of boxing as a sport or a business. I knew what the commission did and what its parameters were. I also knew that most promoters in boxing struggle and aren't the Big Bad Wolf; that most of the rank-and-file people in boxing are decent people; and that we're all in this struggle together. So the heart of my philosophy was, instead of chasing people away, let's embrace them. I wanted the commission to enforce the law and not compromise its law-enforcement mission, but also to assist."

The New York State Athletic Commission has three commissioners, two of whom are paid on a per diem basis. The chairmanship is a fulltime job, and there are seven other fulltime employees. Beyond that, Stevens can draw as needed from a pool of five deputy commissioners, thirty inspectors, thirty referees, thirty-five judges, eight timekeepers, nine medical advisory board members, and thirty ringside physicians.

"It's a good group," says Stevens. "Despite criticisms that might have been leveled in the past, I found some very talented people when I came to the commission. It was a question of getting them to buy into my team concept, which they readily did. And as time goes by, more and more good people are coming in."

As for the future, Stevens states, "I want to help resurrect boxing in New York. This isn't Little League Baseball. It's a tough hard dangerous sport, and you can't break the rules. That's a recipe for disaster. If a rule needs to be broken, then it should be stricken from the books. So we're going to enforce the law, but we're not bent on punishment. We want to fairly regulate the sport and create an environment in which the boxing community feels welcome and the sport can thrive. And I have to say; the governor's office has been wonderful in allowing me to shape the commission into what it's becoming. There has been no interference. To the contrary, I've gotten full support."

The results bear Stevens out. In 2002, there were no fight cards in the big arena at Madison Square Garden for the first time since the 1994 building renovation. In fact, MSG went 26 months (from October 2001 to December 2003) without a fight in the main arena. In 2003, there were only seventeen fight cards in New York State.

But 2004 (Stevens's first full year in office) witnessed a boxing renaissance. There were three major cards at Madison Square Garden and twenty-four shows throughout the state. 2005 is witnessing more of the same. In the first six months of this year, there have been two fight cards in the big Garden arena and thirteen shows statewide.

"Also," Stevens notes, "When I came in, there were three or four promoters licensed to do business in New York. Now we have fifteen licensed promoters and most of them are running shows here."

It's not all fun and games for Stevens. The nuts-and-bolts work of running a state athletic commission, when done properly, is extremely demanding. And there are times when circumstances require that hard choices be made. Twice, Stevens has felt compelled to place fighters he liked and respected (Evander Holyfield and Al Cole) on medical suspension. And he was responsible for overseeing the process by which James Toney was suspended after testing positive for illegal steroid use subsequent to his victory over John Ruiz. "Those were low points for me," Stevens acknowledges. "But high medical standards go to the heart of boxing."

Medical standards also play a role in Stevens's attitude toward the proposed federal boxing commission. "If all the states were as responsible as the better jurisdictions, a federal commission wouldn't be necessary," he says. "But many states are underfunded and understaffed and it's next to impossible for them to provide a true safety net for fighters. New York is the most generous jurisdiction in the world in terms of subsidizing medical costs for fighters. The promoter pays for the bloodwork and general physical examination and that's about all. New York pays for the MRIs and eye exam. We have an EKG machine and technician in the commission office."

"The variation from state to state on medical issues is unfortunate," Stevens continues. "Medical testing has to be standardized nationwide. Rules and regulations should be uniform and properly enforced throughout the country. If a state can't ensure proper pre-fight testing and have an ambulance and qualified ringside physicians at a show, then that state shouldn't have professional boxing."

"Also," adds Stevens, "another area of reform that has to be addressed is the enforcement of rights as they relate to the business of boxing. Other sports have mechanisms for participants to enforce their rights without spending hundreds of thousands of dollars in court. Boxing needs mechanisms that will enable licensees to enforce their rights in a fair economically-viable manner. A federal commission can succeed in these areas if it's financed properly and headed by the right people."

Meanwhile, the job that Ron Scott Stevens is doing as chairman of the New York State Athletic Commission shows what a huge difference one person can make.

It's more than coincidence that, prior to assuming his current position, Stevens had been a promoter, matchmaker, ring announcer, television commentator, and boxing writer. The people who are appointed to state athletic commissions should know the sport and business of boxing, not as casual fans but from the inside.


Thomas Hauser can be reached by email at thauser@rcn.com.