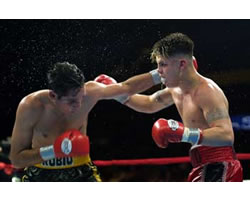 By Thomas Hauser: The business of boxing is generally conducted behind closed doors. But on occasion, the veil of secrecy is lifted and some interesting truths are revealed.

Secondsout has taken a long hard look at the maze of contractual relationships regarding three fighters from the 2000 Olympics and a fourth who was too young to compete in the games. Francisco Bojado (pictured), Rocky Juarez, Jeff Lacy, and Juan Diaz turned pro in early 2001 under the promotional banner of Main Events. Many of their early fights were televised by Showtime.

The four boxers have been successful in the pro ranks, but the primary beneficiary of their careers to date appears to have been Shelly Finkel. Now Finkel has been named as a co-respondent in litigation between Bojado and Joe Hernandez (one of the fighter's former co-managers). Hernandez alleges that, unbeknownst to him, Finkel received at least $1,725,000 from Showtime in violation of a fiduciary duty that Finkel assumed when he too became Bojado's co-manager.

For twenty years, Shelly Finkel has been a survivor in the jungle that is professional boxing. The cornerstone of his career was his role as a manager and advisor to Evander Holyfield, Pernell Whitaker, Mark Breland, and Meldrick Taylor; the best of America's 1984 Olympic boxing team. In recent years, he has been prominent as the primary advisor to Mike Tyson.

Finkel is one of the most knowledgeable people in the world with regard to the business of boxing. He has the ability to relate to television executives, promoters, the media, and fighters. He also stirs passions (both pro and con) in the manner of Bill Clinton and George Bush.

Finkel's supporters say that he's trustworthy, tenacious, and tough. They point to his quiet personality and ability to get most jobs done.

Finkel's detractors say that he's hypocritical and shameless. They talk of "Shelly speak" ("carefully phrased truths that leave a misimpression") and "Ninety-Percent Finkel" ("Shelly tells you ninety percent of the truth, but not the last ten percent, which is what you need to know."). Don King has labeled Finkel "Bob Arum in sheep's clothing." Given King's dislike for his rival promoter, it's unlikely that the remark was intended as a compliment.

Everyone agrees that Finkel is a tireless worker, persistent, and very smart.

On December 4, 2000, Finkel entered into a contract with 17-year-old Francisco Bojado to serve as the fighter's co-manager. Joe Hernandez and Al Marquez were also signatories to the contract as co-managers.

The contract (which was re-executed on May 11, 2001, when Bojado turned eighteen) bound the fighter to his co-managers for a period of five years from his first professional fight (which was on January 13, 2001). In addition, if Bojado were to become a world champion in any weight division under any world sanctioning body, the managers could extend the term of the contract to cover eight title defenses from the date that Bojado won his first championship bout. Bojado received a $75,000 signing bonus. Finkel, Hernandez, and Marquez were to each get ten percent of his purses.

On September 5, 2002, Bojado terminated Hernandez and Marquez as his co-managers while retaining Finkel. On February 24, 2003, Hernandez and Marquez initiated an arbitration proceeding against the fighter for breach of contract. Bojado subsequently settled with Marquez for $157,000. Then, as a consequence of documents produced during discovery, Hernandez amended his claim to add Finkel and Finkel's management company (Shelly Finkel Management) to the proceeding as co-respondents and charge them with breach of contract and fraud.

The Finkel-Hernandez-Bojado arbitration offers a fascinating insight into the complicated, and sometimes questionable, finances of big-time boxing. One network executive likens the case to the masking tape found on the lock of a door at Watergate three decades ago.

The events that led to the dispute began in early 2000, when Finkel met with Showtime executive vice president Mark Greenberg and senior vice president Roy Langbord. Senior vice president Jay Larkin and Showtime attorney Ken Hirschman later became involved. Overall, Finkel had a good relationship with the network. And because of his influence with Mike Tyson, Showtime wanted to keep Shelly happy to maintain the inside track on Iron Mike. "The idea behind the meetings," one Showtime participant later recalled, "was to recreate the 1984 Olympians. We wanted Showtime to get a star."

Ultimately, Showtime sent Finkel shopping with its checkbook at the Sydney Olympics. The original concept was for the network to pay Shelly a set amount of money to sign certain fighters and deliver a series of fights. Finkel would also designate an approved promoter, who he would pay out of a predetermined license fee given to him by Showtime to do the nuts and bolts work on the fights. Main Events and Top Rank were pre-approved as promoters.

The above understanding was reflected in a December 1, 2000, draft contract between Shelly Finkel Management and Showtime that provided:

(1) Showtime would pay Finkel $2,000,000 to be used as signing bonuses for management contracts for Rocky Juarez ( $1,400,000) Jeff Lacy ($250,000), Juan Diaz ($150,000), Francisco Bojado ($100,000), Malik Scott ($50,000), and another fighter to be named later ($50,000).

(2) Finkel would provide the services of these six fighters to Showtime.

(3) Showtime would pay Finkel an additional $250,000 for expenses associated with securing the participation of the fighters under the Finkel-Showtime agreement.

(4) Over a four-year period, Finkel would, as a packager, deliver sixteen shows to Showtime for a total licence fee of $18,950,000. Each of these telecasts would showcase one or more of the designated fighters and involve at least one "headliner" bout (that is, a fight featuring "more established, seasoned, and publically recognized fighters" or (when the designated fighters reached that stage) a world championship bout involving one of them. There would be reductions in the license fees for losses suffered by the fighters.

Main Events had known that Finkel was working with Showtime and would receive some sort of packaging fee. It was not aware that the entire contract might run through Finkel and that Main Events could be reduced to the role of a promoter for hire. That realization came with a crash when Pat English (the attorney for Main Events) saw the December 1st draft contract, which had been preceded by a half-dozen similar drafts.

Main Events refused to go forward with Finkel and Showtime within the structure outlined in the December 1st draft. Also, there were concerns that Finkel would be acting both as manager and de facto promoter for the fighters. That would have constituted a violation of federal law, which states, "It is unlawful for a manager to have a direct or indirect financial interest in the promotion of a boxer."

Thus, the December 1, 2000, draft contract was never signed. Instead, Main Events negotiated contracts directly with Bojado, Juarez, Lacy, and Diaz. Willie Savannah was the primary representative for Diaz (who had been too young to make the Olympic team but was included in the group). Finkel was the lead negotiator for the other three fighters.

Meanwhile, Main Events was conducting parallel negotiations with Showtime on a licensing fee deal, but an omnibus contract proved elusive. Thus, the promoter and network decided to proceed on a show-by-show basis. Bojado, Juarez, and Diaz had their first pro fights on a January 13, 2001, card featuring a championship match between Zab Judah and Reggie Green. Showtime's license fee for the title fight was separately negotiated. The license fee paid to Main Events for the three undercard bouts was $600,000.

Finally, in 2002, a comprehensive contract between Showtime and Main Events was signed. There was no contract between Main Events and Finkel. The only Main Events contracts were with Showtime and the fighters.

How did Finkel get reimbursed for his services? He had signed six fighters (Juarez, Bojado, Lacy, Diaz, Scott, and Dominick Guinn) with the "signing bonus" money he received from Showtime. Ultimately, only the first four of those fighters would be relevant to what followed.

Finkel was contractually entitled to a twenty percent co-managerial share of Juarez's purses and a ten percent share from Bojado, Lacy, and Diaz. That money was compensation for guiding their careers and fulfilling a fiduciary duty to them. But instead of taking his managerial share, Finkel entered into a "packaging fee" deal with Showtime.

There was no reference to Finkel's packaging fee in the final contract between Showtime and Main Events. Nor does there appear to be any final document showing a direct contractual relationship between Shelly Finkel Management and Showtime with regard to the packaging fee. Finkel says that there was never any written contract between Showtime and himself, but rather an oral understanding.

The bottom line was; each time Juarez, Bojado, Lacy, or Diaz fought on Showtime, the network paid Finkel a packaging fee equal to twenty-five percent of the licensing fee that it paid to Main Events.

In other words, Bojado received a $10,000 purse for his pro debut on January 13, 2001. Finkel was entitled to ten percent of that purse. And he was also entitled to a percentage of the purses that Juarez and Diaz earned that night. But he didn't take his managerial share. Instead, he opted for a "packaging fee" of $150,000. That is, Showtime paid Finkel an amount equal to twenty-five percent of the $600,000 license fee that it paid to Main Events.

How much did Finkel make pursuant to this packaging fee arrangement?

In a written answer to interrogatories put to him in his arbitration proceeding against Joe Hernandez, Finkel acknowledged, "Respondent [Shelly Finkel Management, Inc.] received the following payments from Showtime in connection with boxing cards on which Bojado was a participant [date of payment precedes the amount listed]:

January 17, 2001 $150,000
May 21, 2001 $150,000
September 4, 2001 $175,000
February 19, 2002 $175,000
October 21, 2002 $200,000
February 3, 2003 $275,000
October 24, 2003 $200,000

Finkel further acknowledged, "Respondent received the following payments from Showtime in connection with boxing cards on which Bojado was not a participant:

July 12, 2002 $157,500
July 18, 2002 $42,500
July 19, 2003 $200,000

That totals $1,725,000.

According to Finkel's interrogatory answers, he also received a $15,000 co-managerial fee in conjunction with Bojado's January 24, 2004, fight against Emmanuel Clottey on HBO. And all of this is in addition to the $2,200,000 that Showtime advanced Finkel to sign the fighters to boxer-manager contracts and for related "expenses."

Finkel maintains that his conduct was entirely proper. With regard to the current legal arbitration, he says that Bojado, Hernandez, and Marquez all knew about the packaging fees and that Bojado gave him a waiver of fiduciary duty with regard to any possible conflict of interest. He concedes that taking a management fee on the fights for which he received a packaging fee would have been "double-dipping." But he says that no such impropriety occurred (although he acknowledges that, when it came time to make a deal for Bojado with HBO, he took his percentage as Bojado's co-manager). And he argues, "If I hadn't taken a packaging fee, the entire amount of that fee would have been retained by Showtime or paid to Main Events. None of it would have gone to the fighters. There's no merit to any of the claims against me. I got these kids the best deal that anyone could have gotten them at that time."

There's no doubt that Finkel created a significant opportunity for the fighters in question. He constructed the parameters of a deal with Showtime and then (before the TV package was finalized) brought the fighters into the fold. As far as Showtime was concerned, except for Juarez, the boxers were fungible. Lacy was considered an ordinary fighter. Bojado and Diaz weren't even on the United States Olympic team (Bojado fought under the Mexican flag). Without Finkel's involvement, it's unlikely that the fighters would have made as much money as they did.

But (and this is a big "but") according to his interrogatory answers, when Finkel negotiated with Showtime, he represented to the network that he was Bojado's co-manager. And as a co-manager, he had a fiduciary duty to his fighter.

Jim Thomas is one of the most respected men in boxing. A partner in a large Atlanta law firm, he represented Evander Holyfield for years and has counseled numerous other fighters. Thomas declined a request by Finkel to testify as an expert witness on Finkel's behalf in the current arbitration proceeding.

"Without commenting on the specifics of the case," says Thomas, "I can give you my view regarding some general principles that should govern situations of this nature. A manager is supposed to work for the benefit of the fighter at all times. If you're a fighter's representative and have a fiduciary duty to the fighter, all available money should go to the fighter and then you take your share of that. You don't make your own deal on the side. You can't properly separate the fighters' financial interests from your own. The key here is fiduciary duty."

Also, while Finkel says that Bojado, Hernandez, and Marquez all knew about the packaging fees and that Bojado gave him a waiver of fiduciary duty, he is non-commital on the issue of whether Bojado was advised by legal counsel prior to the waiver and whether Bojado, Hernandez, and Marquez were advised of the packaging fee arrangement in writing.

Bojado seems like a nice young man, but one can assume that he's not a world-class economist. Did Finkel sit him down and say, "Francisco; you're only getting $10,000 for your first fight, so I'll waive my managerial fee. You don't have to pay me anything. I've worked it out so Showtime will take care of me." Or did he say, "Francisco; you're only getting $10,000 for this fight so, instead of taking my managerial cut from you and the other fighters, I'll opt for a packaging fee from Showtime that will be $150,000 for this card and ultimately will run well over a million dollars."

Finkel could have avoided this ambiguity by putting a clause in his managerial contract with Bojado clearly stating that he would receive a packaging fee from Showtime. Shelly certainly was aware then that he would be getting the fee, but no such clause was included in the contract. Moreover, there's a public policy issue as to whether a 17-year-old can waive a fiduciary duty that's owed to him.

Then there's Finkel's contention that, if he hadn't taken a packaging fee, the entire amount of that fee would have been retained by Showtime or paid to Main Events and that none of it would have filtered down to the fighters. That claim is questionable at best.

Showtime personnel say that, as a practical matter, they viewed the payments related to this deal as one license fee broken up into two checks; not as a licensing fee plus a packaging fee. Indeed, the attachments to checks sent to Finkel by Showtime bore notations such as "license fee" and "add'l lic fee." And while Main Events negotiated the highest license fee that it could for itself, it was handicapped by the fact that Showtime was holding back a portion of available funds to pay Finkel.

Most likely, if Finkel's twenty-five percent premium had gone to Main Events, some portion of it would have been added to the fighters' purses. The contracts that Main Events negotiated with the fighters were based in significant part on the amount of money that Main Events was receiving from Showtime. One can only begin to imagine Shelly Finkel sitting down at the bargaining table with representatives of Main Events.

"I'd like more money for my fighters," Shelly might have said.

"We'll be happy to give your fighters more money," he might have been told. "Put your million-dollar-plus packaging fee on the table, and we'll divide it equitably between Main Events and the fighters you represent."

The Finkel-Hernandez-Bojado arbitration is scheduled to begin on August 31st. There's no way to know how it will play out.

Hernandez is asking for enforcement of his managerial contract with Bojado and the "disgorgement" of all packaging fees paid to Finkel. Bojado, for the moment, seems more concerned with defending himself against Hernandez than with cross-claiming against Finkel. There are technical issues in the arbitration that might supercede questions regarding the propriety of Finkel's packaging fee arrangement. And litigation is capricious. If Finkel wins, it won't necessarily mean that what he did was right. And if he loses, it won't necessarily mean that his conduct was wrong.

What is clear, however, is that this is another example of the blurred line between promoters and managers and the role that the television networks play in boxing. It points to the need for full disclosure to fighters and government authorities regarding license fee payments and related expenditures. And it leads to questions regarding other issues.

For example, Shelly Finkel is now the person most responsible for Mike Tyson's career. In recent years, he has functioned as Tyson's de facto manager and (by power of designation) de facto promoter. Yet he is not required to be licensed in those capacities. Also, as one of the primary creditors in Tyson's bankruptcy proceeding, he had input into a settlement that envisions keeping Iron Mike in the ring until age forty-one. Finkel says that there has been no conflict of interest with regard to Tyson. "I was not involved with Mike when he declared bankruptcy," he states. "I resigned from the creditors committee when I started working again with Mike. I give no financial advice to Mike other than how much money he can make from a given fight. Other than that, I have nothing to do with Mike's finances or bankruptcy."

August 18, 2004.