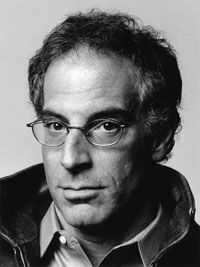 pic by Holger Keifel

By Thomas Hauser
"I was clearly a mistake." Those are Steve Farhood's first words when asked to provide biographical data about himself. "I'm the last of four children," he elaborates. "And my parents were divorced one month before I was born."

Farhood might have been a mistake, but he doesn't make many of them. Over the course of 28 years in boxing, he has fashioned a well-deserved reputation for integrity and competence.

Farhood was born in Brooklyn to Lebanese-American parents in 1957. His father worked as a carpet salesman for a local department store. His childhood hero was Larry Merchant, who at the time was writing for the New York Post. Steve grew up in New York and attended Stuyvesant High School, a public school for gifted students. During his senior year, his English teacher was Frank McCourt, who later rose to prominence as the author of Angela's Ashes. "McCourt was fantastic," Farhood remembers. "He didn't give much homework, which of course we all liked. But more important, he stripped away the boundaries between teacher and student and got the best out of all of us."

Farhood went to college at New York University, majored in journalism, and, while in school, worked as a jack-of-all-trades at a weekly newspaper called Town & Village. He graduated in 1978 and ("after my application for employment was rejected by 125 newspapers") was hired by Stanley Weston at London Publishing Company. London published boxing and wrestling magazines. Farhood was the number-two guy behind editor Randy Gordon in a two-man boxing operation.

"Growing up, I was only a casual boxing fan," Steve acknowledges. "I was more into the major sports. But at London, I realized instantly that boxing is fascinating. There's a lot wrong with it as a sport and business. But I can honestly say that, since I've been in boxing, I've never been bored by my work. I love boxing, I'm not an apologist for it and never will be. It's filthy; it's frustrating. I don't like people who are petty, vindictive, selfish and self-absorbed. Dishonesty and hypocrisy make me angry. And you see a lot of those things in boxing. I've been at six fights where fighters died as a result of injuries they suffered in the ring. But I'll still argue that boxing belongs in our society, and I find it tragic that boxing has lost its once-lofty place in American sports. One of the biggest turn-ons for me is watching a fighter who is getting beaten up turn the tables and come back to win. You don't see displays of will like that in any other sport. And I defy anyone to show me anything more exciting than a great fight between two world-class boxers."

Randy Gordon left London Publishing in 1979, whereupon Farhood became the number-one guy in a one-man operation. One year later, the company launched KO Magazine. "That's the accomplishment I'm proudest of in my professional career," Steve says. "We created an entirely new magazine and developed it to the point where we were competitive with The Ring."

Then, in 1989, Weston bought The Ring and asked Farhood to be its editor. "I was joyous," Steve recalls. "The magazine had taken some hits because its ratings had been rigged in the 1977 ratings scandal; and it wasn't the most profitable publication in the world either. But everyone knew The Ring. It's an important part of boxing history, and there have been only six editors since Nat Fleisher founded the magazine [in 1922]. Being editor of The Ring is like playing centerfield for the New York Yankees. I still remember going through the files after I became editor, seeing Fleischer's handwritten notes on pieces of paper, and getting goosebumps."

Weston sold The Ring in 1993, and the new owner moved its base of operations from Long Island to Ambler (a suburb of Philadelphia). "That was God's way of punishing me for not learning how to drive," Farhood posits. "At least once a week, I'd commute to Ambler and stay overnight. The trip involved taking a taxi from my home in Manhattan to Penn Station, a train to Philadelphia, another train to Ambler, and finally a bus to the office; three-and-a-half hours each way."

Farhood stayed on as editor of The Ring until 1997. Then he and management had a philosophical disagreement about how the income to Farhood from outside employment opportunities should be handled. "I felt that the owner wasn't being fair and that it was time for me to move on," Steve explains. "But I'm very proud of the fact that, during my years at The Ring, the magazine regained its respect in the boxing community and also its financial health. And I should add that The Ring is in good hands with Nigel Collins as its current editor."

Collins, for his part, express great fondness for his predecessor and adds, "One of the things that amazes me about Steve is that he can stuff an entire T-shirt into his mouth."

Be that as it may --

After leaving The Ring, Farhood wrote articles for the HBO Boxing website, freelanced for various magazines, and appeared on television occasionally as a "talking head" before and after big fights. Then his big break came. In the past, he'd worked intermittently as a TV commentator, but always one show at a time. In July 2001, Showtime launched a new boxing series -- ShoBox -- and Steve was paired as the expert analyst with blow-by-blow commentator Nick Charles. Since then, the two have become a seamless team.

"Being a television commentator involves a very different set of skills from writing," Farhood notes. "I'm not Mel-Gibson-handsome; I'm not middle-America; I'm not a natural performer; and I don't try to be what I'm not. I focus on being myself and play to my strengths. I always do my homework; research the fighters, talk with them before the fights, go to the rules meetings. The immediacy of television requires instant editing of your thoughts. You have to be succinct; say what you have to say in a short period of time with very few words. As a writer, if you're so inclined, you can fudge things and get away with being less than completely honest. If you do that on television, the camera will catch you every time."

"Also," Farhood continues, "It's important that a television commentator not show any bias. I'm human. Of course, I care who wins the fights. Any commentator who tells you that he never has a rooting interest is full of it. Almost always, we're rooting for one fighter or the other. But we have to put our biases aside and not let them show."

Farhood is ShoBox's version of Cal Ripken. During the life of the series, he has never missed a fight. "One time," Nick Charles remembers, "we were down in Mississippi. Steve was sick as a dog. He was lying down in the trailer where the roundcard girls were changing before the fight. Beautiful women were all around him in various stages of undress, and I don't think he noticed. That's how sick he was. If you'd seen him, you'd have thought, 'There's no way he can make the show.' I was getting ready to go solo. And right before we went on the air, Steve hobbled out like Willis Reed at Madison Square Garden before the seventh game of the 1970 NBA Championship Series and proceeded to do his usual stellar job."

"Steve is a great on-air partner," Charles continues. "He's knowledgeable, always prepared, probing but not cynical. He's sharp-eyed; nothing escapes him. And unlike some commentators, he understands that the show is about the fighters. He never wants to be larger than the event. People pass in and out of your life all the time in this business, but Steve has become part of the fabric of my life and a cherished friend."

In addition to commentating for ShoBox, Farhood writes for several boxing magazines and websites. He's an associate editor for Boxing Monthly and provides expert commentary for a half-dozen of Lou DiBella's Broadway Boxing shows each year. "I get tired of the traveling," he admits. "The traveling sucks, but I never get tired of being at fights."

He also gives generously of his time to good causes. Over the years, he has been a "big brother" to two different children. He's on the board of directors of FIST (a non-profit corporation founded by Gerry Cooney to help former boxers make the transition to life after boxing). And once a month, he goes to the Cabrini Nursing Home to host a show that consists of residents watching and discussing tapes of old fights. It's a tribute to Farhood that, wherever he goes, his co-workers become friends.

"I'm a rooted person," he says. "I've lived in the same apartment complex since I was twelve years old and in the same apartment for twenty years. I've had the same friends for a long time. I've been married for eighteen years to a wonderful woman who's very understanding and knows what's involved in being in boxing. I feel sorry for people who are always trying to keep up with the Joneses and aren't satisfied with what they have and are always chasing unrealistic dreams. I'm not a materialistic person. Small pleasures make me happy. And I'm very lucky. From the time I was nine years old, I knew I wanted to write for a living and I've been able to do that. I think I'm a good writer. I'll never be great, and I accept that. But if I can spend my entire career writing and talking about boxing, it will be time well-spent."

Thomas Hauser can be reached by email at thauser@rcn.com.