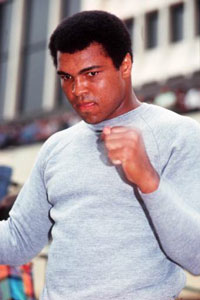 Ali poses for the camera

By Thomas Hauser: Secondsout is pleased to share the following excerpt from Thomas Hauser's new book with our readers. "The Lost Legacy of Muhammad Ali" has just been published in the United States by Sport Classic Books and in the United Kingdom by Robson Books.

* * *

In September 1964, when I was a sophomore at Columbia University, I began hosting a radio show called Personalities In Sports for the student-run radio station. For an 18-year-old sports fan, it was heady stuff. Each week, I'd take a bulky reel-to-reel tape recorder into the field and interview the biggest names I could get. I reached Nirvanah one afternoon when I found myself in the New York Yankees dugout as the Bronx Bombers readied to nail down their fourteenth pennant in sixteen years. The first interview I conducted was with Tom Tresh. Whitey Ford was next. Then Mickey Mantle entered the dugout and, gathering my courage, I approached him.

"Mr. Mantle. My name is Tom Hauser, and I wonder if I could interview you for WKCR."

"Fuck."

That was all Mantle said. Not even "fuck you." Just "fuck," which I assumed meant "no," since he then turned and walked away from me.

Recovering from the rebuff, I moved on to Elston Howard, Jim Bouton, and Johnny Keane. My final interview was with Ralph Terry. I asked who he was planning to vote for in the upcoming presidential election between Lyndon Johnson and Barry Goldwater. Terry told me that his political views were none of my business, and the interview ended on that note.

The following week, I had similar success with New York Mets pitcher Tracy Stallard. Three years earlier, while on the mound for the Boston Red Sox, Stallard had earned a place in baseball history by throwing home run number sixty-one to Roger Maris. I suggested to Stallard that he tell WKCR's listeners all about it, and he responded, "I think you know all about it, and your listeners know all about it, and I don't want to talk about it."

Regardless, over the next thirty months, I taped dozens of interviews. New York Knicks center Walter Bellamy gave me the first great quote I ever got from an athlete, when I asked about reports that he'd had a bad attitude while playing for the Baltimore Bullets. "I've never known an attitude to go up and dunk a basketball," Bellamy told me. Joe Namath, who had just signed a three-year contract with the New York Jets for the unheard-of sum of $427,000 spread over ten years talked at length about the transition from college to pro football. Pete Rozelle and Joe Foss (commissioners of the warring National and American football leagues) gave of their time. Wills Reed, Barry Kramer, Eddie Donovan, Tom Gola, Matt Snell, Weeb Eubank. The list went on . . .

With one particularly memorable moment.

In March 1967, Muhammad Ali was preparing to fight Zora Folley at "the old" Madison Square Garden; that is, the arena on Eighth Avenue between 49th and 50th Streets. The bout was scheduled for March 22nd; forty-four days after Ali's brutalization of Ernie Terrell. At that point in his career, Ali was virtually unbeatable. This would be his seventh championship defense in less than a year. Folley was a decent human being and a respected journeyman, who'd been a professional fighter for fifteen years.

John Condon (the Director of Publicity for Madison Square Garden) arranged the interview for me. Ali-Folley would be the last heavyweight championship fight at the old Garden and also Ali's final bout before a three-and-a-half-year exile from boxing. The war in Vietnam was at its peak. The National Selective Service Presidential Appeal Board had voted unanimously to maintain Muhammad's 1-A classification, and he'd been ordered to report for induction in April. The assumption was that he would refuse induction. Ali himself had hinted as much when he said, "Why should they ask me to put on a uniform and go ten thousand miles from home and drop bombs and bullets on brown people in Vietnam while so-called Negro people in Louisville are treated like dogs?"

At the Garden, I watched Ali go through a series of exercises. Then I stood at the edge of the ring as he sparred with Jimmy Ellis. When that was done, he went into a dressing room and I followed. John Condon introduced us. Ali was wearing a white terrycloth robe. I wasn't from the New York Times or any other news organization of note, but that didn't seem to matter. Ali told me to turn on my tape recorder. We talked mostly about Nation of Islam doctrine with some questions about the military draft, Zora Folley, and boxing in general thrown in. It's a sign of the times that both of us used the word "Negro." Ten minutes after we began, Ali announced, "That's all I'm gonna do," and the interview was over.

But I had one more request. An autograph. Not for me, but for my younger brother, who loved sports and admired Ali every bit as much as I did. Earlier in the year, he'd given me a copy of a book entitled "Black Is Best: The Riddle of Cassius Clay". Now, I wanted to give the book back to him. As I looked on, Ali inscribed the titled page:

To Jim Hauser
From Muhammad Ali
World Heavyweight Champion
Good luck
1967

I still remember the look on Jim's face when I gave it to him.

While Ali took a shower, I taped an interview with Angelo Dundee. Then I returned to the ring, where Zora Folley was finishing his sparring session. Folley told me how he planned to exploit the fact that Ali held his hands too low and backed away from punches instead of slipping them. The interviews aired on the night of the fight. For the first time ever, the New York Times radio listings cited "Personalities In Sports" and yours truly by name.

Years later, I would come in contact with John Condon again. In 1984, I was researching a book entitled "The Black Lights: Inside the World of Professional Boxing". Condon had become president of Madison Square Garden Boxing and, with characteristic generosity, opened doors on my behalf. Our final meeting came in 1989. As fate would have it, Ali and I had also moved full circle by then. I'd been chosen to be his official biographer and was in the process of writing "Muhammad Ali: His Life and Times". Condon was one of two hundred people I wanted to interview for the project. He was dying of cancer and knew it. At the close of our interview, John gave me a copy of "Black Is Best: The Riddle of Cassius Clay" that had been on a shelf in his office for more than twenty years. "Keep it," he told me. "I won't be needing it any longer." That night, I listened to the tape of my WKCR radio interview with Ali for the first time in more than two decades.

Eventually, of course, I played the tape for Ali. One night when he was at my apartment for dinner, I took my old reel-to-reel tape recorder out of the closet and turned it on.

About a minute into the interview, Muhammad reached into the formidable sack of one-liners that he carries with him at all times. "I remember that afternoon," he said. "You were wearing a blue shirt."

"And you were wearing a white terrycloth robe."

We listened to the rest of the tape in silence. Then Ali queried, "Was I really wearing a white terrycloth robe?"

"Yes. Was I really wearing a blue shirt?"

Ali laughed. "You're crazy," he said.