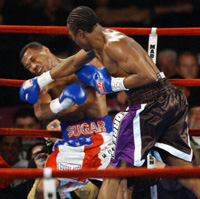 By Thomas Hauser
Boxing is the most basic and most easily understood of all sports. Virtually any person who ever lived in any place at any time could watch a fight for the first time and understand what the combatants were trying to do to one another.

But fans who attend fights on a regular basis tend to become hardened to the reality of what's going on.

I'm not talking about sitting in the mezzanine, watching tiny stick figures in action or viewing a fight on television (which cosmetizes the violence). I'm talking about sitting up close in the first few rows at ringside.

The first time I watched a fight from the press section, I sat transfixed. I could almost feel the punches. The combat was taking place within an enclosure, but I had a sense of violence akin to a street fight spilling out in front of me.

Now there's a disconnect. I can eat a hot dog while someone is getting beaten up before my eyes.

Cognitive dissonance is a phenomenon that refers to the psychological discomfort a person feels because of a discrepancy between what that person knows or believes to be appropriate behavior and new information that supports an opposing view. When such an inconsistency exists, "something's gotta give" to eliminate the conflict. In the case of a discrepancy between attitudes and behavior, usually the attitude changes to accommodate the behavior.

That's why I can now sit at ringside and enjoy a good fight or simply be bored by a bad one. It's why, on two occasions, I've watched a man be literally beaten to death a few feet away from me in the name of "sport" and gone back for more. But sometimes old attitudes surface.

A minority of boxing fans enjoy watching someone get beaten up. The rest of us wrestle with this issue from time to time. We ponder, not only how a fighter will feel the following morning, but also what the condition of his brain will be ten years from now. We're aware of the fact that a "good fight" means that two boxers have engaged in combat with a brutal ebb and flow and been punched in the head and hurt multiple times.

I remember a moment that occurred four years ago at Madison Square Garden, when Shane Mosley defended his WBC welterweight title against Antonio Diaz. Mosley was 35-0 with 33 knockouts. He was coming off a win over Oscar De La Hoya that put him at or near the top of most pound-for-pound rankings.

Shane was too good for Diaz. He stopped him in six rounds. I sat there, watching him dismantle his opponent in the manner of a great performing artist at work. There was one punch; a perfect left hook that landed flush on Diaz's cheek and spun his head around, wobbling his knees and sending a shower of spray into the air. In that moment, I said to myself, "I don't know if I'll be able to watch people do things like this to one another forever."

Fourteen months later in the same arena, Mosley was on the receiving end of the punishment. Midway through round two, Vernon Forrest (pictured) staggered him with an overhand right; backed him against the ropes; and followed with a barrage of six punches, all of which landed flush and put Shane on the canvas. He survived the round, but not before Forrest administered a fierce beating, culminating in a second knockdown just before the bell that ended the stanza.

Mosley showed enormous heart and courage that night and worked his way back into the fight. Then, in round ten, Forrest blasted him with a hellacious hook to the body.

An involuntary scream escaped Shane's lips. I'll always remember that scream.

Forrest followed with a right uppercut and an overhand right that sent Mosley's mouthpiece flying.

And right then, the man sitting next to me muttered, "Shit; there's blood in my coffee."

Thomas Hauser can be reached by email at thauser@rcn.com.

December 6, 2004.