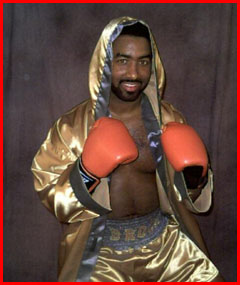 Calvin Brock - features on ESPN's first pay-per-view v Jameel McCline

By Thomas Hauser
On October 20, 2004, ESPN and Main Events announced a ten-month partnership that calls for Main Events to promote seven regular Friday Night Fights telecasts, three fight cards on "special" dates, and two pay-per-view shows.

The deal is central to a two-part ESPN strategy. Part one is to maintain its Friday Night Fights franchise. As such, boxing will be seen weekly on ESPN2 from January through August of this year with occasional nights off for events such as the women's NCAA basketball championship tournament. Then, in deference to college football, the sweet science will disappear from the screen until January 2006. ESPN is also planning a ten-fight Tuesday night package for summer 2005.

Part two of the strategy is potentially more significant. ESPN views its deal with Main Events as an investment in building a pay-per-view boxing program. The network will start with two PPV shows this year. The ten "free" Main Events cards are intended to build a fan base for the pay-per-view telecasts.

ESPN is the sleeping giant in boxing. One reason the sport has failed to attract corporate support (i.e. advertising for broadcast television) is its unsavory image. But another is the make-up of its fans. Young men and women between the ages of 18 and 34 are a key advertising demographic. But boxing attracts mostly male viewers over the age of 40.

ESPN is hoping that it can do for boxing what it did for Extreme Sports. The theory is, if television can turn poker into a significant viewing attraction, it should be able to the same for fisticuffs.

Can ESPN make boxing "cool"? For starters, it has a direct pipeline to young sports fans, many of whom don't think an event is important unless they've seen it on SportsCenter. But more to the point, ESPN has:

(1) Basic cable with a wide reach -- Right now, ESPN and ESPN2 are in 86,000,000 homes. By contrast, HBO is in 28,000,000 homes and Showtime is in 14,000,000.

(2) Additional cable channels in the form of ESPN News, ESPN Desportes, and ESPN Classic.

(3) A sophisticated international distribution network.

(4) A national radio network, ESPN Radio, with more than 500 affiliates.

(5) A major print outlet, ESPN The Magazine.

(6) A go-to sports website, ESPN.com.

As a subsidiary of Disney, ESPN also has synergy with ABC, a broadcast television network.

HBO and Showtime have most of the same elements in place. TimeWarner and Viacom (their respective parent corporations) are diversified entertainment conglomerates. But sports is a small part of what HBO and Showtime are about. ESPN, by contrast, has sports in its DNA. It's a network with a dedicated mandate for sports.

In sum, ESPN has the potential to become a dominant player in boxing. HBO Sports president Ross Greenburg acknowledges as much when he says, "ESPN has a lot of marketing muscle. They'll be a force if they want to."

A rising tide lifts all boats. Thus, a major commitment to boxing by ESPN is potentially the best thing that could happen to the sport. HBO and Showtime preach to the converted with their boxing telecasts. ESPN has the power create new fans.

However, early indications are that things might not go smoothly. One reason for that is the feast or famine license-fee structure that ESPN has implemented.

ESPN is paying a huge amount of money to Main Events. Network executives won't reveal the price tag for the twelve-fight package. But reliable sources say there's a $6,000,000 floor, and the rumor-mill has license fees running considerably higher. Either way, one would expect ESPN to get competitive fights between world-class boxers for its investment. Instead, there have been too many match-ups between shot fighters and Main Events "stars."

The key fighters in the ESPN-Main Events package when it was announced last October were Rocky Juarez, Juan Diaz, Dominick Guinn, and Kermit Cintron. Juarez, Diaz, and Guinn (along with Jeff Lacy, Francisco Bojado, and Malik Scott) were part of a deal that was struck between Main Events and Showtime after the 2000 Olympics. That deal turned out so poorly for Showtime that the network walked away from it when it could.

To date, the Main Events shows on ESPN have been:

November 5, 2004 -- Juan Diaz versus Julian Lorcy (a shot fighter) and Jorge Lacierva versus Armando Guerrero (Guerrero, the house fighter, got a gift draw).

December 3, 2004 -- Rocky Juarez versus Guty Espadas (a shot fighter) and Dominick Guinn versus Sergei Lyakovich (Guinn barely extended himself and lost).

January 21, 2005 -- Juan Diaz versus Billy Irwin (a shot fighter) and Calvin Brock versus Clifford Etienne (a shot fighter).

February 18, 2005 -- Antonio Margarito vs. Sebastian Lujan (a ten-round infomercial for ESPN's upcoming pay-per-view telecast; more on that later) and Joshua Clottey vs. Steven Martinez (a two-round "no contest" terminated by an accidental head butt).

March 4, 2005 -- Rocky Juarez vs. Juan Carlos Ramirez (now a loser in three of his last four fights) and Jorge Lacierva vs. Cruz Carbajal (this time, Lacierva's corner threw in the towel after six rounds).

Kudos to Main Events for getting the deal. The promoter pulled off another (albeit less profitable) coup when it closed a deal with NBC for three shows in 2003 and five in 2004. But there's an uncomfortable suspicion in some circles that ESPN could have gotten twice the product for half the price.

The key people at ESPN in structuring, approving, and implementing boxing programming are John Wildhack (senior vice president, programming), Jim Noel (vice president, business affairs and programming), Matt Murphy (senior vice president, broadband and interactive sales), Radame Rodriguez (sports director for boxing), and Doug Loughery (a program planner with primary responsibility for greenlighting specific match-ups).

Murphy and Noel say that they talked with many people in the industry before finalizing their deal with Main Events but that ESPN didn't negotiate with other prospective promoters.

"We sat down with a clean slate in our discussions with Main Events," says Murphy. "And we recognized quickly that they shared a similar vision. Main Events was willing to be flexible, and together we created a new business model."

"The plan," Noel adds, "is for Friday Night Fights to build awareness of the new generation of stars that we expect to emerge in the sport. What comes next flows from there."

But are Rocky Juarez, Juan Diaz, Kermit Cintron, and Dominick Guinn really the new generation of stars? Juarez isn't the next Julio Cesar Chavez; Diaz isn't the next Pernell Whitaker; Cintron isn't the next Oscar De La Hoya; and Guinn isn't the next Evander Holyfield.

"This is a shortterm deal," says Main Events CEO Kathy Duva. "It ends in August. If we don't deliver what ESPN wants, they won't make another deal with us, so we have every intention of giving them good value and good fights.

Still, it's a truism in boxing that promoters react to television executives who have money the way a shark responds to blood. And Main Events has taken a gargantuan-sized bite out of ESPN's boxing budget. The result is that, while Main Events is being well-compensated, ESPN is paying a woefully inadequate $15,000 license fee for most of its other Friday Night Fights cards. And as a consequence, there are times when ESPN accepts horrible fights.

The February 4, 2005, show is a case in point. The first of two co-featured bouts that night was Dale Brown versus Shelby Gross. Brown is a competent cruiserweight. Gross, a former toughman competitor, isn't. The first words that ESPN commentator Teddy Atlas spoke on the telecast were, "We have a responsibility here to bring the most competitive fights to our fans. And we also have the responsibility -- and I was hired for that -- to tell the truth when we don't think that's happening. I don't think that's happening right now. I do not think this is the most competitive match we can put out there."

Atlas is one of the best things that ESPN has going for it. And as Brown versus Gross unfolded, his candor served viewers well. "Right now," Atlas acknowledged, "although I'm trying my best not to use this word -- 'carrying' -- there, I used it; I get the feeling that Brown is playing a bit with an overmatched opponent. I don't see full force on all those punches by Brown. Watch! Just watch and see if Brown is following through on punches or maybe he's taking something off the fastball."

Finally, at the bell ending round three, Brown knocked Gross down. "You know what," Atlas exclaimed. "I got to say this. It was almost like Brown did it by accident."

The commentary continued at the start of round four: "If Brown wants this to be the last round, this will be the last round. It's totally in the hands of Brown. I respect the heart of Gross, but I recognize the incompetence."

There were two knockdowns in round four. In round five, Atlas observed, "Brown's throwing hard punches now. I would be shocked if this fight goes beyond this round."

Two seconds later, a left hook put Gross down for the fourth time.

"Those were the first punches that I really saw thrown with bad intentions," Atlas noted.

Seconds later, there was a fifth-knockdown and the fight was over.

The issue here isn't whether or not Dale Brown carried Shelby Gross. It's why ESPN chose to televise the bout to begin with. What is the logic behind establishing a pool of at least $6,000,000 for twelve shows and then starving everyone else with a $15,000 license fee?

The weekly Friday Night Fights cards are the lifeblood of boxing at ESPN. They're also where the initial pool of buyers for ESPN's pay-per-view telecasts will come from. In today's market, ESPN could take $6,000,000 and televise forty shows with world-class fighters in competitive fights. And the irony of it is that the first four Main Events telecasts have drawn lower ratings than ESPN's other fights during the same period. The Main Events shows have been Juan Diaz versus Julian Lorcy (.38 rating), Rocky Juarez versus Guty Espadas (.59), Juan Diaz versus Billy Irwin (.59), and Antonio Margarito vs. Sebastian Lujan (.58). That's a .54 average.

The non-Main-Events shows have been Teddy Reid vs. Eddie Sanchez (.55), Edner Cherry vs. Ricky Quiles (.61), Laila Ali vs. Cassandra Geigger (.79), and Terry Smith vs. Fernely Feliz (.71). That's an average .67 rating.

All of this, of course, is a lead-in to the April 23rd pay-per-view telecast that ESPN is planning with Main Events. The first thing to be said about that show is that it features four interesting fights: Antonio Margarito versus Kermit Cintron for the WBO 147-pound title; Juan Diaz against Ebo Elder for the WBA 135-pound title; Shane Mosley at welterweight versus David Estrada; and a heavyweight match-up between Jameel McCline and Calvin Brock.

ESPN won't make a prediction regarding the number of buys it expects. But Jim Noel says, "The Main Events deal has a longterm strategy of building story lines that we believe will pay off in the pay-per-view arena." And Matt Murphy promises, "When we do these fights, we're going to put all of the resources of ESPN behind them.

But will that be enough for success?

ESPN's pay-per-view programming to date has consisted largely of two college sports packages: Game Plan (football) and Full Court (basketball). Neither of these endeavors is anything like pay-per-view boxing. Moreover, a word of caution is in order for anyone who thinks that pay-per-view boxing is a pot of gold within easy reach. It's not. Sometimes a lot of revenue is generated; but most of it goes to local cable-system operators, the fighters, and promoters. There's a reason that Showtime has largely abandoned the pay-per-view boxing business.

Also, the prevailing logic in boxing is that a strong undercard might sell tickets on site, but does little to engender pay-per-view buys. For that, a strong main event is necessary. Antonio Margarito versus Kermit Cintron is a very good fight, but it's not a strong pay-per-view main event. And keep in mind; Margarito-Cintron is for the WBO welterweight title. The real welterweight champion is Zab Judah. Diaz-Elder is for the WBA lightweight belt. But the best 135-pound fighter in the world is WBO champ Diego Corrales.

Nor is ESPN a magic bullet for engendering pay-per-view buys. People won't shell out big bucks for a fight just because it's promoted on SportsCenter. HBO buys ads and gets editorial coverage for fights on SportsCenter. Weigh-ins for major bouts are timed for live coverage on ESPN. Over the years, there have been tremendous promotional plans for pay-per-view fights that have fared poorly. That's because good marketing can make a big fight bigger, but it can't make a small fight big.

Pay-per-view buys are engendered city by city, market by market, publicity event by publicity event. When Don King promotes a pay-per-view card, he's on the telephone with dozens of radio stations every day in the days leading up to the fight. Who will work the phones for ESPN's April 23rd pay-per-view telecast?

Mark Taffet (HBO's pay-per-view boxing expert and probably the most knowledgeable person in the business) tells a tale that's instructive. When HBO launched TVKO, its first pay-per-view show featured Evander Holyfield against George Foreman. That fight, on April 19, 1991, engendered 1,400,000 buys. Three weeks later, TVKO televised its second show; a middleweight championship bout pitting Michael Nunn against James Toney. HBO knew that there would be a substantial decline in buys, but even the most pessimistic prognosticators were stunned. Nunn-Toney did a meager 19,000 buys.

The lesson that TVKO learned was simple. Fight fans can be very discriminating when asked to pay for a product. In Taffet's words, "Pay-per-view can be a very unforgiving business. A handful of fights are major attractions. Most aren't. There are fights that are worth the consumer's time, and there are events that are worthy of the consumer's money. The difference at the cash register, as we learned, is not subtle."

When ESPN decided that it wanted to be a player in the National Football League, it went out and bought an NFL package. It did the same thing with Major League Baseball and every other sport it has coveted. If the network wants to become a major player in boxing, it will.

But April 23rd could be a humbling experience for ESPN with regard to its ability (or lack thereof) to drive pay-per-view buys. Right now, the network is spending a lot of money on boxing. Whether it's doing so wisely or not is another matter.

Thomas Hauser can be reached by email at thauser@rcn.com.