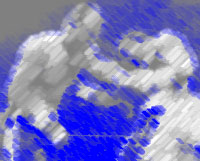 By Thomas Hauser: The horror of Sam Kellerman's murder is almost too great to grasp. We know these things happen, but not to us or to anyone in our family. Not if we live in a safe world and come from a comfortable upper-middle class home. But the reality of life is that no one is completely safe.

The initial report came in the form of a press release issued by the Los Angeles Police Department:

"On Sunday, October 17, 2004, at about 7:45 p.m., officers from Hollywood Division responded to a radio call from a citizen who had found a dead body inside an apartment in the 1400 block of Vista Street. The citizen directed the officers to where the body was lying on the floor of the apartment. Paramedics from the Los Angeles City Fire Department responded to the location and pronounced the victim dead. Detectives from the Hollywood Area Homicide Unit responded and assumed responsibility for the investigation. The detectives learned that the victim was renting the apartment and had recently allowed a guest to stay with him. Since the discovery of the crime, the guest and the victim's car are missing. The car is a bluish-green 1993 Cadillac Seville with Texas license plate number J04GHX. The motive for the crime is under investigation. The victim has been identified as Sam Kellerman, 29 years of age."

Sam Kellerman was born on November 24, 1974. He grew up in Manhattan, attended Stuyvesant High School (a public school for academically-gifted students), and took courses at Columbia College. His older brother, Max, is wellknown in boxing circles for the years he spent as studio commentator on ESPN2 Friday Night Fights.

Max was fifteen months older than Sam. Two other brothers, Harry and Jack, turn 28 and 26 later this month. Their lives will never be whole again.

"To understand what Sam meant to me," Max says, "picture the smartest person you know. Next, think of the most talented person you know. Now think of someone you grew up with. And last, think of the person you're closest to in the world. For most people, that would mean naming three or four different people. For me, it was one. Sam and I were so close, sometimes it seemed as though we shared a consciousness."

Sam did many things in his brief career. He wrote a play called The Man Who Hated Shakespeare and hosted a public-access cable-television show. He worked at a publishing house and wrote rap lyrics that, in Max's words, "came at you like a machine-gun."

"He was a creative genius," Max recalls. "He was the best writer for his age I've ever read. I used to tell him, 'I'll always be able to get someone to pay me for talking, and you'll always be able to get someone to pay you for writing.' When it came to writing, I felt like Salieri to Sam's Mozart. Sam wanted to direct film, but I think he was fated to write and be in front of the camera. He was starting to get work as an actor. He was in several national commercials. And acting wasn't even what he did best. Sam was a sure thing. It was just a matter of time before he made it big."

James Butler was at the other end of the spectrum. Born in Harlem, 31 years old, Butler was once regarded as a ring prospect. Fighting as a super-middleweight, he won 18 of his first 19 fights, scoring 12 knockouts in the process. The sole blot on his record was a four-round decision loss to Richard Grant in his third pro fight.

On November 23, 2001, Butler and Grant met in the ring again; this time at a fundraiser for the families of police officers and firefighters who had died on 9/11. The site was Roseland Ballroom in New York. Two months earlier, Butler had suffered his second loss as a pro in an IBF title fight against Sven Ottke.

Grant beat Butler again; this time on a ten-round decision. As the victor stood in the ring awaiting a post-fight television interview, Butler walked over and sucker-punched him.

It was a horrifying moment. Grant dropped to the canvas. Blood poured from his mouth. His jaw was fractured and he went into convulsions.

Butler was arrested on the spot. He later pled guilty to felony assault, served four months in prison, and was released on five year's probation. He resumed his ring career in February 2004, but the fire was gone.

Sam Kellerman had met Butler in the early 1990s. At the time, Butler was a promising amateur and Sam was training in the same gym with the intention of entering the novice division of the New York City Golden Gloves. Ultimately, Sam put his fistic aspirations aside without entering the ring for a fight. But a bond was forged.

The day before Butler went to prison for assaulting Richard Grant, Max Kellerman took him out to lunch at Sam's request. Then Butler went to Sam's apartment to hang out for the rest of the afternoon. Sam was one of the few people to visit him when he was in prison. In early autumn 2004, Sam was living in Los Angeles when Butler contacted him. He was in LA, trying to get his career back on track. Could he stay with Sam for a few days? Sam said yes.

James Butler did the same thing to Sam Kellerman that he did to Richard Grant. He sucker-punched him. Only he did it with a hammer, and there was no one to stop him from continuing his deadly assault.

Max Kellerman is sitting on a sofa. He feels weak and his head aches. Sixteen weeks after his brother's death, he still gets nauseous when he talks about it.

"It was on a Friday [October 15, 2004]," Max says. "I was on my way to East Hampton with my wife, when I got a call from my brother Harry. Harry was worried. I remember his saying, 'Max; do you know anyone in LA who can check up on Sam? I called him on Tuesday and left a message on voice-mail and I haven't heard back from him. That's not like Sam.'"

Max takes a deep breath to steady himself.

"So I called Sam and got a phone company message saying that his phone had been disconnected. That turned out to be a screw-up by the phone company. It had no bearing at all on the murder. So all Friday afternoon, I was livid at the phone company, but I felt better about not being able to reach Sam. Still, it bothered me enough that, late in the day, I called a friend named Steve Schneider and asked him to check out Sam's house. Steve went over and reported back that the doors were locked, the blinds were down, and the car was gone. I knew Butler was staying with Sam. He'd been supposed to stay for a few days and had been there for two weeks. Sam had been taking him around to the gyms in LA, trying to help him out. I thought maybe Sam had gone to Vegas with Butler to find a fight or some kind of situation for him. Then, on Sunday, Harry called again. 'Max; I emailed Sam and I still haven't heard back from him.'"

There's a long pause as Max fights to control his emotions.

"So I called Sam again. His phone service had been restored, and I left a message on voice-mail. 'Sam; it's Max. This is not good. I know your phone was disconnected, but people worry. Please call.' And as I spoke those words, there was a sickening thought in the back of my mind but I pushed it aside."

Max cradles his head in his hands.

"That night, I was watching the fourth game of the playoff series between the Yankees and Red Sox when Harry called again. He was more worried than before, so I called Steve Schneider and asked him to go over to Sam's house a second time. The car was still gone, the blinds were still down, the door was still locked. But when Steve had gone over on Friday, he'd left a note on the door, and the note was gone. Steve asked me if I wanted him to break into the house. I told him no. Then Steve's girlfriend crawled in through a window, and the world was forever changed."

The woman who entered Sam's apartment was confronted by a scene akin to the nether regions of hell. The room was dark. It was stifling hot and the stove burners were on. Sam's body was on the floor beneath a sheet. His computer was on. He had been bludgeoned to death by multiple blows to the back of his head. Physical evidence suggests that he'd been facing his computer monitor when he was struck down from behind. The murder weapon, a hammer, was found near his body.

According to the police, Sam was killed on Tuesday, October 12th. One day earlier, he had told a friend that he was kicking Butler out. "I'm not looking forward to telling him," Sam had said, "but I'm doing it tonight."

"The reason Sam hadn't kicked Butler out earlier," says Max, "was that he felt sorry for him. Everyone else had abandoned him, and Sam was an incredibly loyal person. Probably, Sam told Butler on Monday, 'Look, you have to go.' Then, on Tuesday, he said, 'Leave now.'"

Butler was arrested on Wednesday, October 20th. Two days later, he was charged with first-degree murder and arson. The punishment for first-degree murder in California is death, life imprisonment without the possibility of parole, or imprisonment for a term of 25 years to life. The arson count alleges that Butler set a fire in Sam's apartment between the time he killed him and the time when the body was found. Bail has been set at $1,250,000.

Nothing recounted above can come close to describing the pain that Sam Kellerman's family has endured.

"You grow up believing as a kid that the world is here for you," Max says. "And the fact that the world is still here and Sam isn't, that there are six billion people alive and Sam's not one of them, is unbearably hard to accept. Sam never gets to have a family, have a career, grow old. It isn't supposed to be that way. Luke Skywalker doesn't die in the first half of the movie."

"I feel like half a person now," Max continues. "For two or three weeks afterward, I couldn't function. I couldn't stop crying. You know how sometimes you have a nightmare and wake up and say to yourself, 'Thank God; it was only a nightmare.' Well, each day, I woke up into the nightmare. My first and last thought each day was Sam. I couldn't talk. I still haven't been able to write thank you notes for all the condolence letters I got; and those letters meant a lot to me. Now, for the most part, I don't cry unless I'm alone."

"How do I deal with it? I don't. Not really. There's medication, distraction, pain, compartmentalization. I'm on four different medications now. And I'm thinking all these crazy thoughts. It's like a struggle with my own sanity. Fifteen billion years from now, if time reverses, I'll see Sam again before the big crunch. Once you're dead, a million years is no different from a second. So Sam and I will be separated for fifty years or so. Then there will be nothing. And after that, billions of years later, I'll see him. Or I think about string theory and maybe, if I concentrate hard enough, I can get to a parallel universe and Sam will be there. But it's all a charade, mental gymnastics to make me feel better. The arrow of time goes forward. Sam exists now only in memory. I smile sometimes when I think of him. But we'll never see each other again, and that thought alone is enough to keep me crying for the rest of my life."

James Butler's next scheduled court appearance is a preliminary hearing set for March 14th. There has been relatively little interaction so far between the criminal authorities and the Kellerman family.

"I'm not really interested," says Max. "Nothing that happens to Butler will bring Sam back. Butler is meaningless to me. I hate him. I don't care about his life. I wish he had never been born. He had murderous intent; he used a hammer. Why did he have to take a hammer and kill my brother? Why couldn't he have punched him in the face, beaten him up, put him in the hospital? Do anything, but don't put a hammer through the back of his head. My brother was the last person to help James Butler; and for that, he was killed."

Thomas Hauser can be reached by email at thauser@rcn.com. The family of Sam Kellerman requests that anyone interested in making a charitable contribution in his name send their donation to the National Yiddish Book Center, 1021 West Street, Amherst, MA 01002.