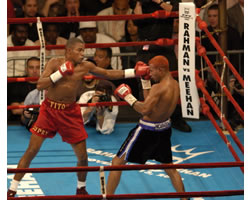 By Thomas Hauser: Felix Trinidad is one of the few fighters in boxing today who inspires true passion among his followers. "Tito" is a hero in his homeland of Puerto Rico. When he fights in New York, it's like carnival time and the Puerto Rican Day Parade rolled into one.

Twenty-nine months ago, Trinidad retired at age 29 with a record of 41 wins against a single loss. On Saturday night at Madison Square Garden, he returned to the ring against Ricardo Mayorga, whose signature victory was a 2003 knockout of Vernon Forrest for the WBC and WBA welterweight titles.

There were times when it looked as though the fight might not happen. Mayorga missed the kick-off press conference in New York, and news agencies in Nicaragua reported that he had been arrested on a charge of punching a man in the face and threatening him with a pistol. Ricardo denied the accusations. "I did no harm," he told the local press. "Actually I was the victim."

Next, in mid-August, Mayorga halted training for an undisclosed period of time due to (choose one) flu-like symptoms or injuries suffered in an automobile accident in which he (did or didn't) drive his red BMW into a ditch. "It wasn't me" Mayorga said of the accident. "Yes, there was an accident; and yes, it was my car. But I was not the driver. I loaned the car to a friend and he was in the accident."

Then, on September 2nd, an arrest warrant was issued for Mayorga in Nicaragua after he was accused of raping a 22-year-old woman in a hotel room in Managua. That day, police searched for the fighter at his house, his parents' home, and the homes of several family members without success. The alleged victim told police that Mayorga had asked her out to dinner, taken her to several night-spots, invited her back to a hotel room, and raped her. Hotel employees confirmed to police that Mayorga was a regular patron and had taken a room with the woman. A hospital examination revealed that she had bruising inflicted by punches on her ribs and chest. In response, Mayorga issued a statement saying, "I had normal sexual relations with her, and the hotel employees can testify on my behalf that she left the hotel very happy. I gave her two 500 córdobas bills (about 30 dollars) and we said goodbye."

That led some observers to question why the New York State Athletic Commission would license Mayorga after signalling its intention earlier this year to deny licenses to Floyd Mayweather Jr and Paul Spadafora because of criminal charges pending against them. More than one cynic suggested that Don King's extensive campaigning on behalf of George Bush was a factor in earning Governor George Pataki's favor.

Meanwhile, as is his custom, Mayorga was shooting off his mouth. "Trinidad is scared to fight me," he told the media. "Trinidad's father will have to throw him in the ring or else he will not enter to fight. If I have to, I will go to the back and drag him out myself. His corner will have to push him out after every round because that sissy will try to run back to his hotel room. The minute he plants his feet on the ground is the minute that I send him back to retirement. Tito has been knocked out since the day he signed the contract to fight me."

"I like that he talks," Trinidad responded. "It just makes me want to hit him harder. His chin might be made out of granite, but I will chisel it. Mayorga is a good actor. But when he hits the canvas, he won't be acting. It will be real."

The prognosis was for an exciting fight. Mayorga is a non-stop brawler who throws punches from all angles. And Trinidad is a happy warrior, who is more of a puncher than a boxer. But there were other ingredients in the stew as well.

Trinidad-Mayorga took place in the longterm shadow of 9/11. Three years ago, Tito had been scheduled to meet Bernard Hopkins at Madison Square Garden on September 15th. Then disaster struck; the fight was postponed; and Hopkins went back to Philadelphia to train, while Felix stayed in New York and got emotionally involved in the communal mourning. On September 29, 2001, Bernard dealt Trinidad the only loss of his career by systematically dismantling him en route to a twelfth-round stoppage. The Trinidad camp believes that, but for 9/11, Felix would have prevailed.

Then there was the 2004 presidential campaign, which is of major interest to Don King.

Samuel Johnson once observed, "Patriotism is the last refuge of a scoundrel." Be that as it may, King has raised large sums of money for George Bush and campaigned for him in inner-city neighborhoods.

"I'm supporting George Bush because he believes in human dignity and respect and bringing people of all different colors and religions and creeds together in this great nation of ours," Kimg proclaimed on the day of the fight. "And I understand what George Bush is going through now with all the terrible things people are saying about him, because people have been unfairly attacking me and vilifying me for years."

One can only begin to imagine the thoughts that run through King's mind on the subject of politics . . . "Why were our military commanders in Iraq so stupid that they authorized eighteen hundred photographs and videotapes of the Abu Ghraib prison torture? In boxing, when someone does something illegal like giving money under the table to a world sanctioning organization, they don't pose for the camera. Bobby Lee taught us that . . . John Kerry and George Bush both suffered injuries that epitomize the spirit of America. Kerry was awarded the Purple Heart for combat wounds suffered in Vietnam. Bush passed out and suffered a bruised lip when he choked on a pretzel while watching a football game on television." And no doubt, King admires the current administration for putting a dyslexic spin on the war in Iraq to convince Americans that the Iraqi people regard us as the Great Santa rather than the Great Satan.

But back to Trinidad-Mayorga. The big question prior to the fight was, "How much does Trinidad have left?"

"Once you retire from boxing, boxing leaves your heart," said Mayorga. "That's something a fighter never gets back again."

The bout was scheduled for twelve rounds. Trinidad was a 12-to-5 favorite. Each man weighed-in comfortably below the middleweight limit; Tito at 157-3/4 pounds, Mayorga at 158.

The crowd of 17,406 was heavily pro-Trinidad. It booed the Nicaraguan national anthem; joined in singing the Puerto Rican anthem; and was largely indifferent to "The Star-Spangled Banner." They weren't just fight fans; they were idolators.

The night belonged to Trinidad. "I want to hear the crowd roaring and chanting my name," he said several months ago in explaining his comeback. "'Tito, Tito, Tito.' I want that moment again."

He got it.

Mayorga was the aggressor in the first two minutes of the fight, with Trinidad throwing next-to-nothing. Then Felix landed a big left hook and Mayorga stuck out his chin, daring him to do it again. So Tito did it again and followed with a straight right hand that wobbled his foe.

Thereafter, fans were treated to a marvelously entertaining, action-packed brawl. Trinidad's best weapon was a straight right hand, but he scored with a variety of blows. Mayorga's primary weapon was his left hook; but when it landed, Felix stood up to it.

There was a fluke knockdown in round three, when Mayorga landed a clubbing right to the top of Trinidad's head and Felix's glove touched the canvas. That created a quandry for the judges. As a general rule, when a fighter scores a knockdown, it's a 10-8 round in his favor. But here, except for the "knockdown," Trinidad dominated the round. One could have scored the stanza even (as this observer did) or 10-9 in Mayorga's favor. What one should not have done was score it 10-8 for Mayorga, which was what each of the three judges did.

Other than that, Trinidad won every round, systematically and brutally beating Mayorga down. Mayorga is tough. He took blow after blow and stayed on his feet despite being battered, literally, from post to post. By round eight, his left cheek was split open and the eye above it was a bloody mess. Then Trinidad put him down with a horrific left hook to the body. Two more knockdowns followed; and at 2:39 of the stanza, referee Steve Smoger stopped the fight.

Trinidad landed twice as many punches as Mayorga (290 to 141). And he connected on an extraordinary 63 percent of his punches thrown.

As for what comes next; Trinidad has myriad options. One possibility is a rematch against Oscar De La Hoya, whom Felix defeated on a questionable decision five years ago. Trinidad versus the winner of the November 20th match-up between Winky Wright and Shane Mosley would also be attractive. But the fight that most fans want to see is a rematch between Felix and Bernard Hopkins.

Hopkins will be forty years old in January. And Trinidad appears to have been rejuvenated by his time away from boxing. Hopkins-Trinidad II would be an intensely interesting fight.


Thomas Hauser can be contacted by email at thauser@rcn.com.