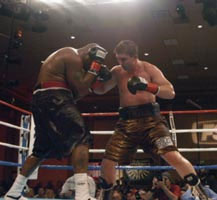 Jirov in action against Michael Moorer (pic by Harry Rosenbluth)

By Thomas Hauser: On March 13, 2004, Joe Mesi fought Vassiliy Jirov in Las Vegas. Mesi won, but was hit so hard and so often that his brain bled in three places.

On May 17, 2004, former heavyweight champion Riddick Bowe was released from prison after serving 17 months for kidnapping his first wife and their children. At Bowe's sentencing, his lawyer called the boxer's actions a misguided attempt to reunite his family and asked the court for leniency on grounds that Bowe's judgment had been impaired due to brain damage from boxing.

On November 13, 2004, the legendary Evander Holyfield lost eleven of twelve rounds to a journeyman fighter named Larry Donald. Holyfield has won two of his last nine fights and has three victories in the past seven years.

Mesi and Holyfield are currently under national medical suspension thanks to action taken by state athletic commissions in Nevada and New York. Bowe would not be allowed to fight in either of those states but, due to the chaotic condition of boxing regulation, has been licensed to fight in California.

This article is not about whether Mesi, Holyfield, and Bowe are fit to fight. There's an issue of broader significance that's not limited to any one boxer: "Should a fighter who is at increased risk of physical injury due to brain damage, diminished physical skills, or other impairment be allowed to fight?"

Critics of boxing maintain that there's hypocrisy in refusing to let fighters fight once they're found to be suffering from a deteriorating physical condition. After all, boxing at its core involves punching people in the head. It accepts the premise that, on occasion, a participant will die within the rules of the sport. Each time a fighter steps into the ring, he's risking physical injury and death.

Conversely, at the libertarian end of the spectrum, one finds boxing maven Charles Jay, who opines, "One of the things that makes me chuckle is the notion that there is always someone out there who knows what's best for me and knows it better than me. I've often marveled at the proposition that there are total strangers who might actually feel more of a proprietary interest in my wellbeing than I would. Don't preclude the fighter from making his own choices because you believe you know what's better for his life than he does."

In other words: It's my risk, my body, and my life.

But the argument in favor of precluding fighters at increased risk from entering the ring is a strong one.

First, boxing is regulated. Other sports aren't. That's because boxing is legalized assault. It consists of conduct that would be a crime had it not been legalized. But this assault is subject to restrictions imposed by the state. It can only take place under rules and regulations that dictate the length of each round, the conduct of fighters in the ring, and hundreds of other guidelines. One of these guidelines is that a boxer must prove his fitness in order to compete. A license to box is a privilege, not a right.

Second, one of the underpinnings of a civilized society is that, in certain instances, it protects people from themselves. That's why there are laws against certain forms of drug abuse and other "victimless" crimes. It's why passengers are required to wear seatbelts in automobiles and helmets while riding motorcycles. People aren't allowed to make all of the rules for themselves.

Part of being a boxer is the belief that, if something horrible happens, it will happen to the other guy. But that's not the way life works. All professional athletes know they won't be able to compete past a certain point in their lives. And if that point comes sooner rather than later for a fighter; well, that's life.

And last, the rules and regulations of boxing exist for the protection of fighters, but they're also for the good of the sport. State athletic commissions don't exist only to protect fighters. They're also guardians of boxing.

Letting physically-impaired fighters fight is bad for boxing. More than simply hurt the sport's image, it debases the sport.

In sum, it's not just the right; it's the obligation of a state athletic commission to deny a physically-impaired fighter a license to fight.

Muhammad Ali is a prime example. For years, Ali enobled boxing. But there came a time when he shouldn't have been licensed to fight anymore. He was slurring his words like Riddick Bowe. His skills deteriorated as have Evander Holyfield's. Ali's brain, like Joe Mesi's, had bounced around the inside of his skull too often. The last two fights of Ali's career (against Larry Holmes and Trevor Berbick) did nothing to enhance his legacy. Now, when people look at Ali, they say, "Boxing did this to him."

The regulators who allowed Ali to fight those last two fights failed to fulfill their obligation to him and they betrayed boxing.

At various times and in varying ways -- in terms of personality, skill, and courage -- Joe Mesi, Riddick Bowe, and Evander Holyfield have been likened to Muhammad Ali. It would be a shame if, from a medical standpoint, that comparison turned out to be right.


Thomas Hauser can be reached by email at thauser@rcn.com. His most recent book -- "Chaos, Corruption, Courage, and Glory: A Year In Boxing" -- is currently in bookstores and can also be purchased through Amazon.com.