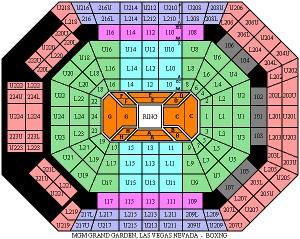 MGM Grand Garden Arena, Las Vegas

By Thomas Hauser

There's a time-honored promotional tactic in the entertainment industry. Create a buzz that an event is where everyone wants to be; and suddenly, because of the buzz, everyone wants to be there.

When Floyd Mayweather Jr fought Ricky Hatton in Las Vegas on December 8th, tickets for the fight had a face value of $1,000, $750, $600, $300 and $150. Golden Boy (which promoted the fight) announced prior to the public sale that there would be a limit of two tickets per customer. On September 17th, it proudly proclaimed that tickets had sold out within thirty minutes of their being made available to the public and that the live gate would be $10,500,000.

But a key fact was left out of the PR blitz. More specifically, Mayweather-Hatton was the first fight (and possibly the first major sports event ever) for which the primary means of ticket distribution was "scalping". Well over half the tickets for the fight were sold to a select few individuals, who resold them at a significant premium (often to brokers, who sold them yet again to the public).

Ticket scalping has long been part of the culture of boxing. But for the most part, it has been limited to ringside seats and implemented largely through personal contacts. The magnitude of the scalping for Mayweather-Hatton was unparalleled in its scope and, in some instances, implemented in a far more sophisticated manner than in the past.

Richard Schaefer (the CEO of Golden Boy) says that the MGM Grand (which hosted the fight) wanted to buy 8,000 tickets but was limited to 5,000. Most of these were distributed within the MGM-Mirage empire and given to high-rollers.

Golden Boy (depending on whom one talks with) retained between 1,500 and 1,800 tickets, which were divided among sponsors, HBO, other business associates, and the like. Between 200 and 500 tickets went on direct sale to the public.

That leaves roughly 9,000 tickets. Schaefer says that these were divided evenly between the Mayweather and Hatton camps, which were entitled by contract to purchase 4,500 tickets each at face value. Nevada State Athletic Commission records show that, in addition to whatever other sum might have been paid by the Hatton camp to Golden Boy, $3,100,000 was deducted from Hatton's purse for the purchase of tickets.

Bob Arum describes what happened next as "creative marketing that allowed certain people to sell thousand-dollar tickets to morons for ten thousand dollars." Or phrased differently; large blocks of tickets were sold at a premium to brokers, who in turn resold them to the buying public.

The Hatton camp is believed to have sold many of its tickets at a 30 percent mark-up. The Mayweather camp is thought to have had a more sophisticated and more profitable resale operation.

Ken Sulkey of Las Vegas is vice president of the National Association of Ticket Brokers. "The difference between this and other fights," says Sulkey, "was the British invasion. There were a few people with a lot of tickets who capitalized on the opportunity. Brokers paid between $3,000 and $5,000 for ringside seats depending on location. Generally, we work on a 25-to-30-percent mark-up, so a choice ringside seat might have sold to the public for as much as $6,500. I heard stories about tickets selling for $10,000," Sulkey notes. "But I doubt that more than ten or twenty tickets sold in that price range."

Ticket scalping with front-office complicity is common in sports. Brokers have arrangements with team personnel in each of the major sports leagues. The most-coveted and most feverishly-scalped tickets are for the Super Bowl.

A small percentage of Super Bowl tickets (slightly more than one percent) are sold directly to the public. Generally, the NFL retains about 25 percent of the seats (largely for corporate sponsors and other business partners). The two teams competing in the game split about one-third of the tickets. The host franchise gets roughly five percent. The other NFL teams divide approximately one-third of the tickets between them. Each team determines for itself how its tickets will be allocated. The remaining tickets are distributed to league executives, players, coaches, and a few lucky others.

The first Super Bowl was played in the Los Angeles Coliseum in 1967 before 61,046 fans and 32,000 empty seats. Times have changed. Choice seats for the Super Bowl now sell on the open market for between $7,500 and $10,000. Scalped tickets often find their way into travel packages. It's easy to include a ticket with the package and overcharge for everything else.

The NFL requires all players, coaches, and club personnel who receive Super Bowl tickets to sign a release stating they will not sell the tickets at a profit. In March 2005, Minnesota Vikings head coach Mike Tice admitted to league security investigators that he had scalped part of his ticket allotment for the February 2005 Super Bowl and was fined $100,000. However, it's widely believed that some NFL owners also sell Super Bowl tickets at a premium. "Mike Tice got hit because he was a coach," says one person with in-depth knowledge of ticket-brokering. "There are two sets of rules. Coaches and players can't do that sort of thing. Owners can."

However, let's draw two distinctions between tickets for the Super Bowl and tickets for Mayweather-Hatton. First, scalping was the PRIMARY means of ticket distribution for Mayweather-Hatton. And second, the Super Bowl (unlike boxing's big events) is available free of charge on television. Anyone who wants to can watch it. Fans who didn't have tickets for Mayweather-Hatton had to pay a suggested retail price of $54.95 to see the action.

Keep in mind; ticket-scalping plans can implode. When Lennox Lewis and Mike Tyson fought in Memphis in 2002, it was announced that all 19,185 tickets had been sold. Then brokers who had been shut out of the initial ticket distribution were approached by other brokers with tickets to sell. Some brokers even forfeited deposit money rather than pay full price for tickets that had been assigned to them. Then it was announced that one thousand previously unavailable tickets would go on sale to the public. The official explanation was that additional seats were freed up once the television production set-up in the arena was finalized. Ten days before the fight, the sellout fantasy bubble burst when 3,500 newly-released tickets went on sale to the public. On fight night, $1,400 seats were available on the streets of Memphis for $500, and $900 tickets could be bought for $300.

Mayweather-Hatton had no such problems. But the manner in which tickets were distributed for the fight raises some interesting issues.

For starters; there's a four-percent ticket tax in Nevada. Thus, Bob Arum observes, "What's really going on here is that the state is being paid a ticket tax on a substantial number of tickets that is significantly below the real value of the tickets. The state tax authorities should look into this situation very carefully. The face value of the tickets is a charade."

Moreover, let's assume that, pursuant to contract, a fighter's camp pays $3,000,000 for tickets with a face value of $3,000,000 but the real value of the tickets is $9,000,000. Should the $6,000,000 differential be treated as part of the fighter's purse for tax purposes? And if not, isn't any resale profit on the tickets at every level fully taxable as ordinary income?

Also, there are strong public-policy arguments to be made against the way in which Mayweather-Hatton tickets were distributed. It's understandable that the MGM Grand would buy a large number of tickets to give away to high-rollers. Golden Boy obviously needs tickets for sponsors and other business partners. And a fighter's camp is entitled to a certain number of tickets for personal use.

But let's start with the obvious. Neither Floyd Mayweather or Ricky Hatton invited 4,500 friends and business associates to the fight at a cost in excess of $3,000,000. And to anyone who heard the crowd singing, "There's only one Ricky Hatton," it didn't sound as though the Mayweather camp bought tickets to ensure that Floyd's fans would be there.

Something is very wrong when scalping becomes the primary method of ticket distribution for a fight. A boxing match is a public event, and tickets should be available to the public at face value. The sport's current economic model is bad enough without making ticket scalping an integral part of it. This is one more example of boxing treating its fans badly.

Nevada already has a prohibition against more than four percent of the tickets for a boxing match being given away without the approval of the state athletic commission unless the promoter pays what otherwise would have been the ticket tax on the extra complimentary tickets. Perhaps the commission can also place limits on the resale of fight tickets by licensees or mandate that a certain percentage of tickets for each event go on sale to the general public.

A regulatory body shouldn't set ticket prices. But it does have a responsibility to the public to see that ticket distribution is transparent and fair. And in the case of Mayweather-Hatton, it wasn't. Also, tax collection is one of the main functions of the Nevada State Athletic Commission. And in the case of Mayweather-Hatton, there's a question as to whether all appropriate taxes were collected.

It's possible that nothing improper was done here. But the NSAC should have a full understanding of "who, what, how, when, where, and why?" The commission should conduct a thorough review of ticket distribution for Mayweather-Hatton with anyone who received a large block of tickets being called to testify.

Big fights should be a time when boxing is more fan-friendly, not less. It's not in the public interest or the best interests of boxing to perpetuate this situation.


Thomas Hauser can be reached by email at thauser@rcn.com