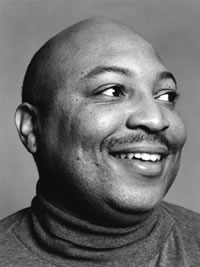 Photo by Holger Keifel

By Thomas Hauser
Sara Lee cakes once had a promotional jingle that went, "Everybody doesn't like something; but nobody doesn't like Sara Lee."

Similarly, everybody doesn't like someone; but nobody doesn't like Tim Smith. Smith is the boxing writer for the New York Daily News. Over the years, he has managed to avoid the back-biting and back-stabbing that mark the sweet science. As for his writing ability, earlier this year, the Boxing Writers Association of America honored him with the Nat Fleischer Award for career excellence in boxing journalism.

Smith was born in Macon, Georgia, on January 21, 1960. The formative event in his life occurred when he was four years old. His mother was killed in a car accident.

"That colored my life forever," Tim says. "She was a nurse who worked the 7:00 AM shift at a local hospital. I have a memory of the police knocking on our door and my grandmother screaming and almost fainting. I knew my mother was gone, but that had no meaning to me. Four is very young. In my mind, I equated leaving with coming back. Conceptually, death doesn't mean much to you at that age. After my mother's death, I'd always look for her in a crowd. I was seven or eight years old before I stopped doing that."

"My grandmother and great-grandmother raised my older brother and sister and me," Tim continues. "My father was a big drinker and partier, a pretty irresponsible person. At one time, he'd been a driver for Little Richard, who also came from Macon. My father's lifestyle wasn't conducive to raising three children as a single parent. When I was six, he moved to Chattanooga and married a woman who had four or five kids of her own. There was no way my grandmother and great-grandmother would let us go with him, so they kept right on raising us."

As for the rest of his family, Tim says, "My great-grandfather was a wonderful male role model for me. He was retired, before that, he'd worked in a lumber-yard. He was an industrious man who taught us to work for what we wanted. My brother took after my father. He's very smart but he fell in with a bad crowd. When he was sixteen, he joined the Navy much to my grandmother's great dismay. After the Navy, he fell in with a really bad crowd and got into drugs and alcohol. He's fifty-two now and still lives with my grandmother. He lives off her and he has some health issues so he gets benefits from the Veterans Administration."

In his parents' absence, Smith's values were shaped by older generations. "Growing up, there was never anything I wanted that I didn't have," he remembers. "We were poor, but I wasn't a materialistic kid. Religion was a big factor in shaping my life. My grandmother and great-grandmother were good Christian women. They were church-going people, and we went to church every Sunday. Later on, when I was old enough to think about doing things that maybe I shouldn't do, I'd hear my grandmother's voice saying, 'You'll have to live with the consequences of what you do, so think carefully about what's right and what's wrong.' And I blame my great-grandmother for the weight problem I've had for most of my life. She thought love was food, and she loved me a lot."

Meanwhile, the seeds of Smith's future in journalism were being sown. "I knew early on that I didn't want to end up like my brother," he says. "And I was never intimidated by the ghetto mentality that said I shouldn't be a good student. I wanted to be a good student and, along the way, I had some teachers that encouraged me and made a difference. There were a few bumps in the road. In my sophomore year of high school, I wanted to join the school newspaper. But the advisor to the paper, an English teacher named Mrs. Taylor, told me I couldn't write and would never be a journalist and wouldn't let me join the paper. Some people might have given up; but I liked writing and I'm very hard to discourage. I wasn't going to stop because of what she said. I just told myself that she was wrong. The next year, Mrs. Taylor got sick of my asking and let me join the paper, although she kept on telling me that I had no future as a writer."

In Smith's senior year at Southwest Macon High School, his life took another turn when he was chosen for a six-week internship at a local radio station. "They liked my writing and had me rewrite wire news copy to meet their needs," he recalls. "Then they let me write advertising copy and gave me some on-air shifts. Basically, they were getting free labor out of some kids but I loved it. After the internship ended, they hired me parttime. But the most important thing they did at the radio station was encourage me to go to college. Before that, I had no concept of going to college."

Thus, it was that Smith enrolled in Macon Junior College. "That's when I really got into education and journalism," he says. "They didn't have a school newspaper so we started one. Then, after two years, I transferred to the University of Georgia, where I majored in journalism and was on the staff of The Red and Black [the University of Georgia newspaper].

Smith graduated from the University of Georgia in 1982. He wanted to work for the Atlanta Journal-Constitution but a hiring freeze was in effect at the newspaper, so he moved back to Macon and took a job with WMAZ radio. There he wrote news copy, cut tapes, did some on-air reading, and traversed the city as a reporter. In September 1983, the freeze at the Journal-Constitution ended and he began work for the paper as a reporter in the sports department. Four years later, he left Georgia.

"I was married by then," Tim explains. "And my wife was offered a job as a features editor at the Cincinnati Enquirer. They wanted her. They didn't really want me, but they took us as a couple."

Cincinnati is 71 miles from Lexington and sixty miles from Columbus. At the Enquirer, Smith covered Kentucky basketball, Ohio State football, and boxing. Then his wife retired to devote fulltime to parenting. In 1991, there was an opening at the New York Times. Smith got the job and moved with his family to New York. In 2000, he shifted to the New York Daily News. He now covers boxing and pro football for the paper and writes three columns per month for SecondsOut.

"Journalists are chronicling history," Tim says. "That's a big responsibility. People who come after us are going to read what we've written, and I want to be as good a journalist as an imperfect man can be. That means being objective, being accurate, and being fair. Beyond that, I try to be informative and entertaining. I see myself as an extension of the fan. I ask myself, 'What questions would a fan ask if he had the access that I have to participants?'"

"Writing columns is harder for me than reporting," Smith continues, "because it requires me to defend what I write. Having an opinion is useless unless you can back it up. And almost always, I try to take myself out of the equation. It's a struggle for me to be emotionally enjoined in what I write. I don't want to lay that kind of intimacy out there."

As for the sweet science, Tim acknowledges, "I'm conflicted about boxing. Boxers are some of the most courageous people you could possibly encounter in life. I love the stories of guys like Kassim Ouma. And the sport demands truth. But you can't get around the brutality and violence of boxing. It takes a heavy toll on the participants, and that's the part I don't like. I'm not a violent person. I don't find violence entertaining. I abhor violence. I don't watch violent movies. I don't watch The Sopranos. Boxing goes against my nature and my moral values, and that's something I struggle with. I tell myself that I'm a detached observer and that it's like being a war correspondent. I'm covering the conflict but I'm not involved in the conflict. But part of the dilemma is that, by my writing, I'm helping to promote boxing. I've been at four fights where a fighter died as a result of injuries that were inflicted upon him while I sat there watching. You rationalize what happened. It's the nature of the sport. They died doing what they wanted to do. But every time a fighter dies, I ask myself how much longer I'll want to do this. I don't think I can watch another person die and keep doing what I do. This is my job; but if I see another fighter die, I might have to give it up."

And then there's the subject of boxing writing in general.

"Almost no one covers the sport properly anymore," Smith says. "It's ridiculous to have an industry as big as boxing and not have a lot of eyes on it. But there are major papers that don't have a single person on staff with intimate knowledge of the sport that the paper as a whole can draw upon. Sports editors have turned a blind eye to boxing. They blame corruption and say that no one cares about it, but how many readers care about horse racing or tennis? And in many ways, the Internet is worse. There's more coverage of boxing on the Internet, but no real oversight or accountability. No editor screams at a writer for getting something wrong. With a few exceptions, editorial content on the Internet is governed by a website's dependence on promoters and managers for advertisings. That need colors everything that's written. The truth is, there are only a few boxing writers who I really respect. There just aren't many people who are knowledgeable about the sport and good writers with good journalistic values, and that's a problem."

Given those views, how does Smith get along with virtually everyone in boxing?

"Maybe it's naiveté," he answers. "I don't ascribe bad motives to anyone unless proven otherwise. I genuinely like everyone when I meet them for the first time. And if they give me a reason to not like them, I just don't associate with them."

And how else would he define himself?

"Being a husband and father defines me more than anything," Smith says in closing. "I always want to provide for my family and set an example for my children. That drives me to be the best person I can be. And my beliefs as a Christian define me. I don't talk a lot publicly about my religious beliefs. But when I look at where I came from and where I am and where I could have been, I believe that God had a hand in guiding me."

* * *
A note on another matter -

Former HBO Sports president Seth Abraham and Don King share the same birthday (August 20th). And to round out the parallel, Abraham and Bob Arum were born, literally in the same room, at Brooklyn Jewish Hospital in Crown Heights.

Want more? Jay Larkin (the former head of Showtime boxing) was born in the same birthing room at the same hospital.

"I'm devastated," said Larkin on hearing the news. "This is terrible. It's like learning that I'm one of the Boys From Brazil."

Thomas Hauser can be reached by email at thauser@rcn.com.