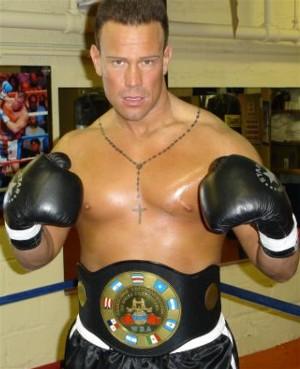 By Thomas Hauser

Vinny Maddalone is a club fighter with the heart of a champion. Boxrec.com lists him as the 206th-ranked heavyweight in the world. His records stands at 28 wins and 4 losses with 19 knockouts. There was a fifth loss, but the verdict was changed to "no contest" after his opponent tested positive for marijuana.

Maddalone's fights have the look of a slugfest from a 1940s movie. There's nothing subtle about the way he fights. He comes straight forward. He throws punches. He gets hit. Then he throws more punches. "Vinny could be dead," says matchmaker Ron Katz, "and he'd still keep coming forward, throwing punches."

Boxing is a back-stabbing world, but Maddalone is popular in boxing circles and well-liked by other fighters. He's friendly and outgoing with a ready smile and fights his heart out every time he steps between the ropes.

"In the ring," says IBF 140-pound champion Paulie Malignaggi, "Vinny is one of the toughest SOBs you'll ever meet. Outside it, he's a big teddy bear. He's always smiling. He's a big-hearted guy with a word of encouragement for everyone he meets. When I see him fighting, it's like, "Whoah! What got into him tonight?"

If boxing was fun, everyone would do it. It's a hurting business. But boxing is a joy in Maddalone's life. He loves to train; he loves to fight. He's always willing to pay the price, no matter how expensive it is. "I might not win every time," he acknowledges. "But I never quit."

"If you were going to war," says rival promoter Lou DiBella, "Vinny is one of the guys you'd want fighting beside you. He's the guy who would risk his own life to pick you up and carry you out if you got hit."

Maddalone was born in Queens (one New York's five boroughs). He's the youngest of three brothers. His father died when Vinny was seven. His mother worked in a school cafeteria and never remarried.

"I didn't have a father figure in my life," Vinny says, reflecting back on his childhood. "My mother was my mother and my father. If I could have my father back for a couple of hours now, I'd want to talk boxing with him. I don't remember him well, but I know he liked boxing. And I'd tell him what a great job mom did with the three of us; how she looked after us so we'd grow up to be the kind of people he wanted us to be. One of the reasons I'm boxing now is, I'd love to be able to give my mother a better life for everything she gave to me."

Maddalone graduated from Holy Cross High School in 1992 and Pfeiffer University in North Carolina in 1996. He put boxing gloves on for the first time when he was in college.

"I was in a convenience store and saw a sign for a toughman contest," he remembers. "I was a fight fan and I was in pretty good shape, so I figured, 'Let me try this.' I went in for the physical on a Friday night. It was like, 'Touch your toes. Okay, you're good to fight. Go in back and glove up.' So I'm in back. I'm an 18-year-old kid and the other guys are grown men; truck-drivers, construction workers, 280 pounds. I felt like a soldier going to war."

"There were three one-minute rounds," Vinny continues. "First fight, this big guy came right at me; but after forty seconds, he was dead tired. Second round, I went back at him and knocked him out. It was best feeling I'd ever had, the highlight of my life. I can't put into words how great it felt. The next night, I went back, fought three more guys – knockout, decision, knockout - and won the tournament. They gave me a thousand dollars. My friends and I bought a couple of kegs of beer, went back to campus, and celebrated."

But Maddalone wasn't thinking about a career in boxing. Baseball was his first love. He was good enough in college that, after graduation, he pitched for two seasons with the Adirondack Lumberjacks (a minor league team in the independent Northern League). Dave LaPoint, who had pitched in the major leagues for twelve seasons, was his manager. On one occasion, Vinny matched skills on the mound against former Boston Red Sox hurler Dennis "Oil Can" Boyd.

"They tried me as a starter and middle-reliever," Maddalone recalls. "But temperamentally, I was a closer, and that's how they used me most of the time. I had an 89-mile-an-hour fastball. Five miles more and maybe I'd have made it to the major leagues. But I didn't have that little extra. Near the end of the '97 season, I got tendonitis in my shoulder and they released me."

Then Maddalone turned to boxing. The night he won the toughman contest, the owner of a gym near Pfeiffer University had been one of the fans in attendance. After the fights, he'd invited Vinny to his gym and taught him some fundamentals.

"There are similarities between pitching and boxing," Vinny says. "When you're pitching, you can't just go fastball, fastball, fastball. You have to hit the corners and think. It's the same way with boxing. You have to think and place your punches. The biggest difference is, when you're pitching, you initiate the action. And in boxing, the other guy does that too. Also, in baseball, someone is trying to hit a home run off you. In boxing, someone is trying to punch your face."

Following his release by the Lumberjacks, Maddalone decided to dedicate himself to boxing. He turned pro in 1999 and, with virtually no amateur background, won his first fifteen fights. The record was deceiving.

No fighter travels a easy road; but in some respects, Vinny's was less difficult than most. He was a ticket-seller, so his promoter (Joe DeGuardia, who has built Star Boxing into a force to be reckoned with) put him in fights that he was expected to win. The word was, "Don't match Vinny against guys who can punch because he's going to get hit a lot. Don't put him in with guys who can stick and move because he might not catch up to them."

Vinny was aware of his limitations, but that didn't keep him from enjoying the ride. "The early fights I had in Yonkers were fantastic," he says. "It was such a great feeling to know that so many people were there for me and to hear them cheering."

The first bump in the road came in 2002, when Vinny lost a six-round decision to Al Cole. He rebounded with six consecutive victories, which brought his record to 21-and-1. Then he was stopped in the tenth round by Brian Minto in a fight marked by the only knockdown he has suffered as a pro. That was followed by three more wins, and a fight on ESPN2 against Shannon Miller.

"The best I ever felt after a fight was when I fought Shannon Miller," Maddalone recalls. "He was 11-and-0. I knocked him down twice in the first round and stopped him in five. At that point, I figured, finally, I'm on my way. Then I lost again to Minto."

The die was cast. Vinny was sturdy and durable. He fought with the stubborn determination of a snowplough clearing twelve inches of snow on a wintery day. He would take whatever punches an opponent threw and come back for more. If he fought Godzilla, he'd go toe-to-toe with him. But given his propensity for getting hit and cut, if he fought Bambi, he'd win but wind up looking like he'd fought Godzilla.

As 2007 began, Maddalone's record was 27-and-3. He had never been matched against a world-class fighter. Meanwhile, the power brokers behind Evander Holyfield were trying to rehabilitate their man for a world title fight. Vinny was a building block in that process. On March 17th, he entered the ring in Corpus Christi, Texas, to face the former champion. For the first time in his career, Vinny was "the opponent."

"I grew up watching Evander," he says. "His fights against Qawi, Bowe, and Tyson were incredible. And I met him once at a WBA convention after I'd been fighting for a year or two. He posed for a picture with me. But when the opportunity to fight Evander came, there was no doubt in my mind. Right away, I said 'definitely'."

Vinny likes to talk in the dressing room before a fight. It calms his nerves. "That's the worst part of the game," he says. "A million things are going through my mind. Any guy who says he's not nervous before a fight is lying. When I'm getting my hands wrapped, my stomach is turning. I've had a lot of fights now; and in the dressing room, they all feel like the first. I tell myself again and again, 'Throw punches; stay focussed. Throw punches; stay focussed.' It wasn't any different before Evander. All I was thinking about was staying focussed and putting my fist through his face. When we got in the ring, I said to myself, 'Hey, that's Evander.' But it was no big thing. Then the bell rang and the fighter in me took over."

Holyfield-Maddalone was a bloody one-sided war. Midway through round one, a clash of heads opened up an ugly gash on Vinny's forehead. "I could have told the doctor, 'I can't see,' he says. "They would have called it a 'no contest' and I would have walked out with my paycheck. But what would that prove? In my mind, this was my fight for the heavyweight championship of the world."

In round two, Maddalone went right at Holyfield, trying to pressure the former champion and turn the contest into a brawl. "I took some shots, but I was okay," he recalls. "Evander is a sharp puncher, but he's not a big puncher. Every punch you take hurts. But when you're in a fight, you don't feel the pain. It's tougher for the people that care about you that are watching."

In round three, Holyfield intensified his assault. Vinny stayed on his feet, but was bleeding profusely and getting pummeled. "Evander caught me with some good shots," he acknowledges. With twelve seconds left in the round, Al Certo (who trained Maddalone for the fight) jumped onto the ring apron and stopped the beating. "I was upset," Vinny says. "It was like, 'This is the biggest fight of my life. How could you do that to me?' But Al was looking after me; I know that. He did what he thought was right."

Maddalone's moment in the spotlight of bigtime boxing was gone. The reach for the brass ring had come up short. "I can never accept losing," Vinny says. "But it happens sometimes and I have to deal with it. Without a doubt, I'm glad I fought Evander. The only thing is; I wish I'd won. And if I had to lose, I would have liked to go out on my own terms."

Seven months passed before Maddalone entered the ring again. When he did, the opponent was Jason Barnett. The fight (an eight-rounder at the Manhattan Center in New York on October 18th) was made for Vinny to win. All but one of Barnett's bouts had been in Florida. He had 9 wins and 5 losses against undistinguished foes.

Maddalone entered the arena to the theme music from Rocky and the roar of the crowd, which was solidly behind him. The bell rang and Barnett began throwing jabs, landing with ease. Vinny plodded methodically forward, telegraphing his blows. Barnett was too quick for him. Vinny's face reddened and began to puff up. The fight was one minute old. A flurry of punches punctuated by a right hand opened a nasty cut beneath Maddalone's left eye and sent him reeling backward just before the bell.

"All my fights; I get hit in the first round," Vinny said afterward. "Maybe I stumbled back a bit, but I wasn't hurt. That was a wake-up call."

And the cut?

"I know going into every fight that I'll probably get cut. If I get cut, it's Danny's [cutman Danny Milano's] job to stop it."

Round two began with more of the same. Then Vinny fired a left hook that appeared to land below the belt followed by an overhand right that put Barnett down. Referee Eddie Cotton called it a knockdown. Barnett rose and began working his jab again. He couldn't miss; but the knockdown made it a 10-8 round for Maddalone.

Round three: Barnett was still jabbing. Vinny kept coming forward, winging punches, pounding away, hitting anything he could hit. "I take their best shots and keep coming," he said later. "It wears the other guy down, physically and mentally."

Round four: More jabs from Barnett. Another cut opened; this one above Vinny's left eye. Blood streamed down his cheek, staining both fighters' trunks. But Barnett was tiring. He could outbox Vinny; he could never out-tough him. Vinny had begun the process of chopping him down.

Round five: Barnett was losing form. Vinny kept coming forward. A lot of his blows went low and to Barnett's kidneys. Vinny isn't a dirty fighter. But he hasn't mastered the art of pinpoint accuracy and often throws punches without being certain where they'll go. The referee seemed oblivious to the fouls.

Round six: Vinnie now had control of the fight. The biggest danger he faced was the possibility of a stoppage by the ring doctor because of the cuts above and below his left eye. The low blows and kidney punches continued. Then, strangely, Cotton took two points away from Barnett; one for what he called a head-butt and the other for pushing his glove in Vinny's face.

In round seven, the scorecards became academic. Barnett raked the laces of his glove against Vinny's cut and Cotton disqualified him. It was an unsatisfying ending to a good fight. Vinny didn't need the referee's help. He was winning on his own. And more to the point, Cotton had called the fight one way. Vinny was given carte blanche to do what he wanted, while Barnett had been held to a stricter standard of conduct.

"Who wants a DQ?" Vinny said afterward. "I wish the ref had let it go. I'd have won a unanimous decision or knocked him."

So where does Maddalone go from here? The cuts he suffered against Barnett put him on a 60-day suspension list. Eventually, they'll heal and he'll be in the ring again. He hopes to step up in class once more and, this time, get lucky against a name fighter. Or maybe it won't be luck. Maybe this will be the night that Vinny puts it all together and lands the big punch and gets the "W". Then maybe he'd get a shot at one of the belts, and who knows?

"There are four titles out there," Vinny says. "I'd like a shot at one of them. Maybe it will come; maybe it won't. I'm not the most skilled guy in the world. I'm not gonna tell you I'm Muhammad Ali or Lennox Lewis. I get hit with too many punches. I don't move my head enough, and I let other guy get off on me. I say, 'Okay, your turn now; then it's my turn and we'll see what happens.' I make every fight a war. But I work hard; I want it more than most guys. Anyone who comes to see me fight gets their money's worth. And I'm more than just tough. I'm more than just heart. I've got some skills. Guys sit on the couch and watch a fight on TV and say things like, 'This guy's a bum.' They have no idea what fighting is like."

"There's millions of people out there who have dreams and never try to fulfill them," Vinny says, putting his career in perspective. "I'm pursuing my dream. I'm thirty-three years old. I feel good; I'm still learning. Right now, I'm doing what I love to do. There's a burning desire inside me to fight. When the candle burns out, I'll walk away from boxing."


Thomas Hauser can be reached by email at thauser@rcn.com.