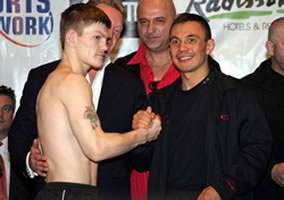 Hatton and Tszyu show mutual respect before the IBF title showdown

By Thomas Hauser: On June 25, 2005, Carlos Maussa knocked out Vivian Harris to earn the right to be called the WBA junior-welterweight champion. Note that I didn't say Maussa won the WBA title (although, like others in the industry, I frequently use that terminology). That's because the title stayed with Main Events.

Main Events was Harris's promoter. In order to get a shot at the title, the Maussa camp had to give Main Events options on its fighter. Now Maussa is scheduled to fight Ricky Hatton in a November 26th title-unification bout. Vivian Harris will be watching on television and Main Events will make a nice profit.

The history of boxing is the history of promoters controlling titles. Tex Rickard, Jim Jacobs, James Norris, Bob Arum, and Don King are prime examples. The people at Main Events didn't break any law or do anything immoral. They simply availed themselves of the way the business is structured and the system works. The money a promoter puts into developing a fighter is like the money that goes into grooming a racehorse. Often, a fighter is simply the promoter's vehicle for capturing a title. And once a belt is won by the promoter, it isn't lost until (a) the promoter's contract with the champion expires; (b) the champion loses a purse-bid title fight to a mandatory challenger; or (c) the champion loses a title fight for which the promoter receives sufficiently lucrative trade-offs that he allows it to take place without requiring options on the challenger.

Defenders of the status quo make the following arguments:

(1) Promoters put a lot of time and money into developing fighters and are entitled to a generous return on their investment should one of them win a title.

(2) If a promoter has other fighters under contract, he has an obligation to do the best job possible to secure title fights for them, which is best done by controlling championships. As Don King reasons, "You can't help the loser if you don't have the winner."

(3) Without the current system of options, there would be fewer competitive title fights because promoters would be unwilling to put their champions in risky match-ups.

The promoters also say, "This is a matter of contract law and a business right."

But should it be that way? Opponents of the present system maintain:

(1) A promoter's interest should be in the fighter he has developed; not the title and not in a fighter whose success is the result of another promoter's work.

(2) A champion puts far more time and effort into his career than anyone else and risks his title every time he steps into the ring. Why shouldn't his promoter take the same risk?

(3) Suppose, prior to the 2005 NBA Championship finals, Detroit Pistons general manager Joe Dumars had said that his team wouldn't defend its title against San Antonio unless it got options on Spurs superstar Tim Duncan? Absurd? Absolutely. But that's what happens in boxing. Too often, the public doesn't see the fights it wants to see (and fighters who want to fight each other can't) because of a promoter's refusal to proceed without options.

The current heavyweight title mess is a classic example. Don King controls three of the four belts and wants a fourth. Meanwhile, the public is stuck with an endless stream of unsatisying match-ups as promoters lobby the world sanctioning bodies to further protect their interests and mandatory challengers are manufactured to maintain the power of favored promoters.

All of this, of course, leads to the larger issue of the validity of today's titles. "The whole thing is a scam," says boxing historian Mike Silver. "Boxing fans are the dumbest fans in the world to accept it. The titles only have meaning because people say they do. The emperor has no clothes. The sanctioning bodies and their titles are fraudulent."

The sanctioning bodies, in turn, take the position, "They're our titles. We created them and we can do what we want with them. If you don't like it, start your own sanctioning organization."

That mantra was most recently on display in the IBF's treatment of Juan Manuel Marquez (the WBA-IBF featherweight champion) who, in August, was stripped of his belt by a ludicrous slight-of-hand. Marquez was ordered by the IBF to make a mandatory defense against Phafrakorb Rakkietgym of Thailand. It was a fight that virtually no one wanted to see and no one wanted to promote. The bout went to a purse bid, and no promoter stepped forward with the required $50,000 minimum offering. The IBF then stripped Marquez of his title for failing to fulfill his mandatory obligation and ordered a box-off between Rakkiatgym and the next-highest-rated available challenger.

Where was Marquez's promoter in all of this? Top Rank declined to bid on the fight or lobby aggressively to protect Marquez's rights because it had only one option left on Marquez's services and was at odds with his manager, Nacho Beristain.

If there were a legitimate poll (and not just one person making rankings for ESPN/USA Today or the many Internet-site efforts), the importance of titles would disappear and be replaced by the issue of "who's number one" in each weight division. But for the moment, boxing still relies on titles to spur interest in the sport and belts translate into dollars.

Meanwhile, champions lose their belts on a regular basis and promoters roll on without missing a beat. On a gut level, it's troubling. Titles are controlled by the world sanctioning organizations and promoters. They should belong to fighters and the public. But very few people in positions of power want the system to change, so it won't.


Thomas Hauser can be reached by email at thauser@rcn.com.