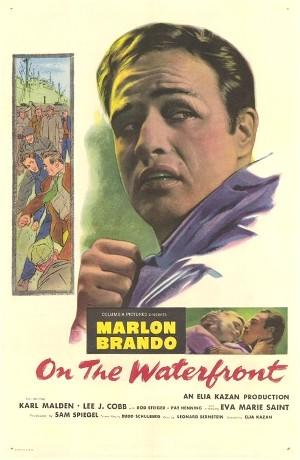 Budd Schulberg died this week at the age of 95. To honor his memory,
Secondsout is re-posting Thomas Hauser's profile of this remarkable
man. The profile first appeared on January 3, 2005.

By Thomas Hauser: The press section at ringside these days bears little resemblance to the way it looked fifty years ago. The men no longer wear hats, suits, and ties. There are a significant number of women and a smaller contingent of newspaper writers. Computers have replaced typewriters.

But at big fights, there's one constant. Budd Schulberg is there, practicing his art.

Schulberg turned ninety on March 27, 2004. If he'd never written another line, he'd still be immortalized in boxing circles for the words spoken by Marlon Brando in On The Waterfront: "You don't understand. I could've had class. I could've been a contender. I could've been somebody, instead of a bum, which is what I am."

Schulberg, who authored those lines in his Academy-Award-winning screenplay, was born in New York and raised in Hollywood. After graduating from Dartmouth in 1936, he became a screenwriter at Paramount, where his father was head of production. In 1939, he returned to the east coast and wrote his first novel, What Makes Sammy Run?, which was the National Critics' Choice in 1941 as "Best First Novel of the Year."

Six years later, the most controversial period of Schulberg's life erupted. From 1937 through 1940, he had been a member of the Communist Party. In 1947, the Un-American Activities Committee of the United States House of Representatives began an investigation into Communist influence within the motion picture industry. During the investigation, ten men -- Herbert Biberman, Lester Cole, Albert Maltz, Adrian Scott, Samuel Ornitz, Dalton Trumbo, Edward Dmytryk, Ring Lardner Jr., John Howard Lawson, and Alvah Bessie -- were subpoenaed and refused to testify. Each was found guilty of contempt and imprisoned. Thereafter, screenwriter Richard Collins testified before the committee and named Schulberg as a former member of the Communist Party. Schulberg then sent a telegram to the committee offering to provide evidence as a cooperating witness. When that time came, he named fifteen former party members and testified that several of them had sought to influence the content of his work along political lines.

Schulberg's cooperation with the House Un-American Activities Committee allowed him to continue his screenwriting career. His best-known work, On the Waterfront, followed. Directed by Elia Kazan (another former Communist Party member who "named names"), it was a scalding exposé of trade union corruption that won Academy Awards for Best Picture, Best Actor (Marlon Brando), Best Supporting Actress (Eva Marie Saint), Best Director (Kazan), and Best Cinematography in addition to Schulberg's Best Screenplay honor.

Topping the list of his other screenplays are A Face in the Crowd (which starred Andy Griffith, Walter Matthau, and Patricia Neal) and The Harder They Fall (based on Schulberg's novel about racketeering in boxing), featuring Humphrey Bogart in his final role.

Schulberg's work begs the question: What are the origins of his interest in the sweet science?

"My love of boxing began with my father," he explains. "My father was a big fight fan. He went to the fights every week and started taking me when I was ten. And my father was a big shot at Paramount, so he brought all the important fighters to the studio and I got to know them pretty well. In fact, my mother introduced Jack Dempsey (pictured) to Estelle Taylor [Dempsey's second wife]."

"It almost a cliche now," Schulberg continues, "but the best fighter I ever saw was Sugar Ray Robinson. Henry Armstrong came close, and I'd put the young Muhammad Ali near the top. The best fight I ever saw was the first fight between Joe Louis and Billy Conn. Over the years, I've met most of the legendary heavyweight champions; Jack Dempsey, Joe Louis, Rocky Marciano, Muhammad Ali. And one thing that strikes me about all of them is, they've all been remarkably gentle and kind outside the ring."

As for Marlon Brando's immortal words -- "I could've been a contender" -- Schulberg recalls, "I remember writing that scene [with Brando and Rod Steiger]. The whole scene in the taxi was in the first draft of the screenplay, and that line remained unchanged. It came out of the fight game. I'd known boxers all my life, and seen that feeling in so many of them. The line itself, I made up; but the feeling was almost always there. 'It could have been different for me if just that one night had been different . . . That one wrong move; if it hadn't happened, my whole life would have changed . . . If I hadn't been overmatched . . . If I'd been advised differently . . . If he hadn't hit me with that lucky punch.' I had a friend named Roger Donoghue; a middleweight who I brought in to show Marlon Brando how to walk like a fighter, how to gesture like a fighter, how a fighter moves. Roger had been involved in a tragedy in the ring. He'd fought an opponent who died, and it had stopped his own progress as a fighter, so Roger had that feeling too. If. . . If. . . If. . ."

Schulberg remains active as a writer, authoring articles about boxing and other subjects close to his heart. He's also working with Spike Lee to develop a feature film about Joe Louis. But the best way to acknowledge his contribution to the sweet science is to repeat some of what he has written in the past. So herewith, a sampler of quotes from Budd Schulberg on boxing:

* "I know a good thing when I see it. Fistfighting is a good thing. Every great fight is a rare nugget. If our civilization is indeed declining and if it finally falls, it will not be because Joe Louis clobbered Max Schmeling or took the measure of Billy Conn."

* "Boxing is a mental sport. Think of a prizefight as a chess game of mind and body, and you are a little closer to it than if you compare it to a bloody brawl in an alley."

* "[Recalling Archie Moore slumped on the canvas at the close of his 1955 title fight against Rocky Marciano]: There was tragedy in the way he sprawled there with the fight and the will beaten out of him; a very old man of forty-two who, some thirty minutes earlier, had been such an astonishingly young man of forty-two."

* "Fights can be dumped in a dozen ways. Sometimes everybody but the fighter knows. Sometimes only the fighter knows."

* "Boxing doesn't need politicians to abolish it. It will abolish itself if it persists in its program of anarchy, chaos, and criminal neglect of the thousands who turn to it from the dark corner of discrimination and want. I hope for selfish reasons that boxing is not abolished. I'd miss it. But I would rather see it abolished than have it continue down the path to Beau Jack's shoeshine stand or the asylum where Billy Fox sleeps his troubled empty dreams."

* "Very few fighters get the consideration of racehorses, which are put out to pasture to grow old with dignity and comfort when they haven't got it anymore."

* "As much as I love boxing, I hate it. And as much as I hate it, I love it."

* "I've never lost that feeling about going to the big fights. There aren't as many magic matches now as there used to be. But every once a while, there is a feeling just before a fight starts that it will change the fighters' lives and define them for the rest of their lives; that it has the potential to destroy either man or make him a legend."