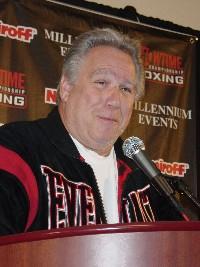 Gary Shaw

Jerry Glick reporting: HBO had a great show on Saturday night that was marred by yet another bad decision. This time it was a draw between unbeaten former two division champion Joan Guzman and Ali Funeka at the Pepsi Coliseum in Québec City, Québec, Canada. While a draw may sound fair enough it clearly was not as Funeka, looking like a cross between Tommy Hearns and Paul Williams appeared to control the ring almost completely after the first two or three rounds.

After a few rounds Guzman's face was a mask of blood that came from his nose and a cut. Once the long and lean Funeka got untracked it was almost all his fight to dominate.

I spoke to Funeka's promoter Gary Shaw the next day and he was ready to fight everyone in sight who he believed screwed his charge.

The first thing I ask Shaw was how did he think such a decision could be rendered?

"The two French Judges are in question," said a distressed Shaw. "We want to find out whether they were appointed by the IBF or by the Canadian Commission, but there should be neutral judges. Interbox was the promoter with Golden Boy of the card and there is no way that there should have been two French judges."

Shaw pointed out that Interbox is a French company co-promoting with Golden Boy. Joan Guzman is a Golden Boy signed fighter.

"I don't blame interbox," said Gary, "or Golden Boy. I want to make that very clear. I don't think they had anything to do with the decision."

"It was beyond incompetent judges," said Shaw. "The world saw the fight. No one saw Guzman winning. Guzman, at the press conference didn't even think he won the fight. He admitted that his corner, and Golden Boy wanted to stop the fight

"This is one of the worst jobs I've ever seen in my history in boxing since 1971," he added. "IT ranks right up there with Holyfield and Lennox Lewis in Madison Square Garden."

While Shaw agreed that Funeka got off to a slow start, the promoter reminds that didn't think that Guzman earned more than 4 rounds.

"Funeka started slow but he came on," said Shaw. "He beat on Guzman bad, broke his nose, the fight was not a competitive fight."

Shaw wants to see boxing groups such as The Boxing Promoters Association step in and take a stand against this sort of unfair judging. The fact this reporter had Funeka way ahead as did one of the judges who scored it 116-112. The other two judges agreed at 114-114.

According to Shaw the HBO people were congratulating him for being on the winner's side before the decision was announced.

While Shaw pointed out how unfair it is for the fans, it is even more important to realize how hurtful it can be for a young man to trade punches after training hard and earning the win only to be told that he must go home empty handed.

"Exactly," Shaw agreed. "I'm a good loser. If my fighter goes down in flames, if we lose fairly, we lost. We did our best; but go there and just get jobbed like that, it's disgusting for boxing. It's just terrible.

It has not happened too often, but there are cases where a manger or promoter has gone to court after a questionable loss, the most notable occurred in 1952 between Joey Giardello and Billy Graham. After Giardello was awarded the split decision the win the commission in New York changed it to Graham, so Giardello sued and won his victory for a second time. Shaw does not expect to go that route.

He wants the IBF to make Funeka the interim champ and if he fights Guzman again, a 50-50 split will not be accepted.

"Why should it be a 50-50 split?" asked the fiery promoter. "He won the fight clearly in the eyes of the world."

Whenever there is a fight that leaves a bad taste in the mouth of fans boxing takes it in the gut once again. All judges need to qualify as to judgment, boxing knowledge, and experience gained in amateur competition before being placed in a position of authority in a big professional fight scenario.