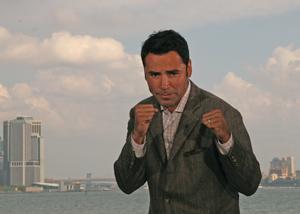 Oscar De La Hoya

By Matthew Hurley: As the opening bell for the Oscar De La Hoya vs. Manny Pacquiao fight approaches and the publicity machine ratchets it up another notch Oscar, the savvy veteran with dozens of these media blitzes under his belt, has metamorphosed into the confidently contained sound-bite machine he has perfected over the years. Despite a record of 3-3 in his last six bouts and fighting basically once a year De La Hoya remains the undisputed king of the boxing box office. No matter how marginalized boxing has become in the mainstream the sport peeks out from the shadows when Oscar takes center stage. He remains oddly compelling to the glitterati, perhaps because he long ago became one of them, and yet in boxing circles his act has slowly worn thin with each successive event he headlines. Not because he can't fight at a high level anymore, but because his shtick has all the redundancy of Newton's Cradle – the five ball office toy Oscar probably has on his corporate desk at Golden Boy Promotions.

When it comes to pre-fight histrionics every De La Hoya smile, every pose and every utterance looks and sounds rehearsed. Even when Oscar grits his teeth and tries to come off as angry and intense, as seen on HBO's marvelous 24/7 series, you can't entirely take him seriously. So long ago did this man step into the Hollywood fold that his presentation to the public and the media is immaculately calculated and ultimately hollow. No matter how well packaged the image there is a residue of phoniness encapsulating it.

The litany of Oscarisms over the years makes each archived interview interchangeable from year to year and fight to fight.

"This is the hardest I've ever trained in my life."

"This is my life. This is what I do. This is who I am."

"Now I'm actually really focused because this fight is so important to my career."

"This trainer is the greatest trainer I've ever worked with. I've learned so much." Oscar has said this one about a dozen times.

Still, despite his somewhat disingenuous approach, there remains much to appreciate about Oscar. As a promoter he has made a concerted effort to create the best match-ups possible by entering into a shaky truce with Top Rank promoter, and former enemy, Bob Arum. Without a stellar heavyweight on the scene even this diminished De La Hoya can step into the fold once a year and put boxing back into the mindset of a fickle and often disinterested public. His celebrity affords him the luxury of picking and choosing opponents and commanding astronomical pay days – a source of irritation for many in the latter stages of his career. Boxing still needs this guy, and Oscar knows it. That smile of his always looks a little too perfect for a prizefighter but 'The Golden Boy' always seems to have something to smile about whether or not he wins or loses in the ring. Yet he is more a promoter and a salesman than a stellar pugilist and it has been that way for years.

There's a reason why he and his contingent are all decked out in Ring Magazine tee shirts and hats and the canvas of the ring he spars in has the magazine's logo emblazoned on it – Golden Boy Promotions purchased the legendary publication back in 2007. Oscar maintained upon closing the deal that the editorial content of the magazine would not be influenced by him or by anyone in his company. With editor-in-chief Nigel Collins still manning the ship that has been the case. The salesman in Oscar, though, was again evident, as the Ring Magazine logo became an omnipotent image in each 24/7 episode. Why not use the HBO platform to help market some merchandise during the holiday season? Even Pacquiao's trainer Freddie Roach, now persona non grata in Oscar's world, admitted to the marketing genius De La Hoya has fostered over the years. You can even read Oscar's daily blog at thering-online.com, which basically consists of the usual rhetoric.

"I'm going to win because I'm in great shape. I'm going to win because I feel young. I'm going to win because I'm hungry." (Nov. 29, 2008) {Note, Freddie Roach has also made blog entries.}

Surprisingly, Oscar's performance on 24/7 has been completely overshadowed by the reticent and refreshingly shy Manny Pacquiao. The pound-for-pound king is devoid of pretensions and seems to inhabit the enormity of his world with astonishing humility. Roach himself worries only about Manny's unceasing generosity, but there is little to worry about once the whirling dervish from the Philippines enters the ring. With Roach at his side he has evolved into a more complete fighting machine than the beast who ravaged Marco Antonio Barrera back in 2003.

Pacquiao is an iconic figure in his homeland but a win over the naturally bigger De La Hoya on December 6th at the MGM Grand in Las Vegas would do wonders in crossing over this perpetually exciting fighter to casual boxing fans in the US. A Pacquiao win would be great for boxing because it can come only in a bout of dramatic proportions and that is what boxing needs – not simply another De La Hoya event but a fight that exceeds the pomposity of the event itself. Pacquiao delivers excitement on a consistent basis. He knows no other way to fight.

De La Hoya, on the other hand, has often been lackluster. His loss to Floyd Mayweather in 2007 in the biggest money fight in boxing history was a dull affair, although he can certainly bring the fire into the ring even at this late stage of career (Witness his blowout of overmatched Ricardo Mayorga in 2006). But his unfettered ability to fight whomever he wants whenever he wants and his polished to a glossy sheen image has grown tiresome.

Boxing may still need Oscar as a representative, more outside the ring than in, but what it really needs is an exciting new generation of fighters to escape from behind the enormity of Oscar's shadow rather than constantly spinning the oldies. A win by Pacquiao would help shake things up. A win by De La Hoya will lead to another long spell of inactivity, another 24/7, this time probably with Ricky Hatton, and more of the same.

December 3, 2008