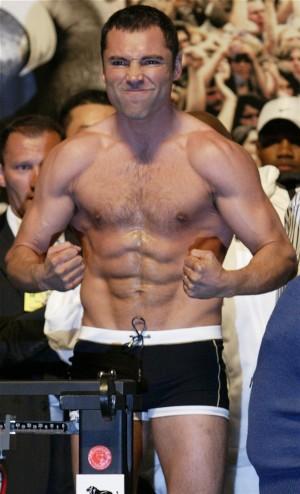 Oscar De La Hoya weighs in

By Clive Bernath: No matter how much I try I cannot understand why Oscar De La Hoya would want to face the much smaller pound for pound king Manny Pacquiao in a welterweight bout at the MGM Grand in Las Vegas on December 12.

I'm all for boxers making as much money as they possibly can during their short and often brutal careers but there are limits and I believe this time everyone involved in this promotion has exceeded that boundary. At 5ft 10 and a solid 154lb the 35 year-old 'Golden Boy' will hold all the physical advantages against the 5ft 6 blown up lightweight that is Manny Pacquiao.

Without going too far back let's take a look at the last 12 months and scrutinise both men's records. In May, 2007 Oscar dropped a split decision to a peak Floyd Mayweather jr for the WBC junior-middleweight crown. For that bout he weighed 154lb at the weigh-in the day before. In his last bout against Stevie Forbes he weighed 150lbs. In comparison Pacquiao fought three times over the last year and weighed 130lbs(Oct 07),129lbs(Mar 08) and lastly, in stopping David Diaz to claim the WBC lightweight crown, 134 1/2lbs. Where talking an enormous 15lb weight differential here.

De La Hoya vs Pacquiao has been made at 147lbs but at age 35 Oscar is now a solid junior-middleweight and Pacquiao you could argue a big super-feather, it does not take much working out that 'Pac Man' is undertaking a huge task by jumping up three weight divisions.

I can fully understand Pacquiao wanting to prove beyond doubt that he is the pound for pound king by pulling off a famous victory against a much bigger, stronger man but what will De La Hoya gain? Regardless of whether or not Oscar wins via spectacular knockout or points decision, the result will mean nothing and worse still,could tarnish a legacy that has already been dented for failing to face some of the more dangerous welterweights of his era, such as Antonio Margarito and Miguel Cotto.

Lastly, there is another school of thought here. Oscar, being a solid 154 pounder could well be weakened by having to make 147lbs and at 35 he will have lost a bit of sharpness, allowing the smaller Pacquiao to possibly take advantage in speed.

Am I alone in my opinion of this bout or do you agree? Is De La Hoya vs Pacquiao a match made in heaven or a mismatch?

September 2, 2008