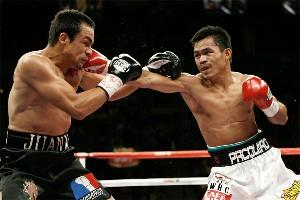 By Matthew Hurley: After losing a split decision to Manny Pacquiao in a spirited rematch of their 2004 draw Juan Manuel Marquez was understandably livid. Once again the master boxer proved a near unsolvable puzzle for the Filipino whirlwind. But once again it would prove to be a knockdown, scored by Pacquiao in the third round that would prove to be the deciding factor.

Pacquiao, determined to add the lightweight title to his ever-growing collection of belts, moved up from super featherweight to 135 pounds and dominated WBC champion David Diaz, stopping him after nine frightfully one-sided rounds. The Pac Man seemingly reaffirmed his status as the number one pound-for-pound fighter in the sport. But Marquez was having none of it. Still seething over the decision loss to Pacquiao he felt he deserved 'Dinamita' followed his rival up to lightweight and took on the linear champion Joel Casamayor. In a highly anticipated battle of two slick counter punchers Marquez pulled ahead in the later rounds, finally knocking out the Cuban in the 11th round with a terrific right hand.

But if Marquez thought the impressive victory over the slick Casamayor would set up a third Pacquiao fight for all the lightweight marbles he was mistaken. After only one fight at 135 pounds Pacquiao jumped up to welterweight to take on Oscar De La Hoya in 2008's biggest match up. Although disappointed Marquez conceded that the fight with De La Hoya was a no-brainer for his rival considering all the money involved fighting the 'Golden Boy'.

"The third fight will probably not happen," he said after defeating Casamayor at the post fight press conference. "But I've already proved I can beat Manny Pacquiao." Once again reiterating his belief that he didn't just deserve the decision in the rematch but in the first fight as well.

After Pacquiao demolished De La Hoya, Marquez may have been crossing all his fingers and toes in hopes of getting the coveted rubber match but Manny will first dip down to the junior welterweight division to take on Ricky Hatton in another mega-fight. As Pacquiao's agenda for the final stages of his career dictate only huge money fights Marquez may indeed be left out in the cold.

However, that doesn't mean he cannot further his cause as the best fighter in the world by taking on one tough opponent after another. After dismantling Casamayor in such exciting fashion he will now take on Juan 'Baby Bull' Diaz at the Toyota Center in Houston, Texas on February 28th. The fight, matching the technical grace and counter punching firepower of Marquez and the defensively improved buzz saw Diaz, has excitement written all over it.

After losing to Nate Campbell, amidst endless headaches concerning his contract with Don King, Diaz rebounded with a dominant performance over the hard-hitting Michael Katsidis. (Diaz was awarded a split decision as judge Glen Hamada inexplicably scored the bout 115-113 for Katsidis.)

The fight with Diaz represents another stern challenge for a fighter willing to step into the ring with anyone. Despite this warrior spirit, albeit wrapped up inside supreme technical proficiency, it is only in recent years that Marquez has stepped out of the shadows cast by the two biggest Mexican stars of his time – Erik Morales and Marco Antonio Barrera. Although he would eventually get Barrera in the ring, winning by decision, he was always the third wheel in that Mexican triumvirate and that slight only further added to both his bitterness and desire to prove his worth.



After signing with Golden Boy Promotions, Marquez believes his career trajectory was turned around and the respect he felt he always deserved started to come his way.

"When I signed with Golden Boy my career changed dramatically," he said recently in a Ring Magazine interview with Brent Matteo Alderson. "It made a 180 degree turn."

In fact there are many who now view Marquez as the best of the three Mexican fighters now that Morales is on the shelf and Barrera, who continues to fight, is a pale version of the boxer he once was.

Still, despite all the recent successes and his elevation in status and respect Pacquiao is generally considered to be the top pound-for-pound fighter in the sport and because of this Marquez remains zeroed in on his rival. Although not a fighter to underestimate or overlook an opponent, particularly one as fiery and talented as Juan Diaz, those two fights with Pacquiao in which he didn't receive the 'W' on his ring ledger he felt he deserved continues to haunt him.

Manny Pacquiao, with his defeat of De La Hoya now the stuff of legend, will probably discover that beating the man doesn't make you the man in terms of popularity and monetary clout but he is the current go-to-guy. Everyone wants to fight Pacquiao even though it could potentially be hazardous to his health. Juan Marquez doesn't see it that way. Pacquiao doesn't scare him in the least. After all he's proven to be his ring equal and he believes that he is his better. But until he gets that 'W' over the one fighter who truly is his nemesis and who he can't seem to shake from his mind, he will forever be chasing a ghost.

When asked whom he would want to fight if it were completely up to him Marquez doesn't hesitate with his answer.

"Manny Pacquiao."

February 24. 2009