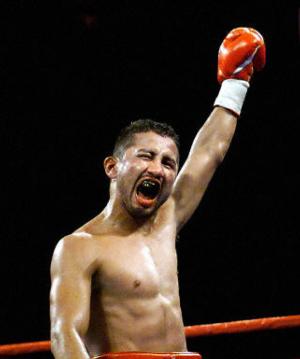 By Dave McKee: Paulie Ayala was a champion in the ring. He won titles and lost to only the very best the sport had to offer. Having decided to retire, Ayala has done what very few boxers are able to accomplish: stay retired. This is due to re-channeling his energies into other meaningful avenues. He operates a gym in his native Fort Worth. He promotes young fighters as they set out from the tough streets of Texas' foremost cow town. And once a year, Ayala Productions hosts a gala charity boxing event to raise money for the Boys & Girls club of Greater Fort Worth. This past weekend Ayala hosted Boxing in the Ballroom for the 12th time.

Paulie Ayala made a meaningful mark on boxing with a career that included world championships in two weight classes. He won the WBA bantamweight title with a close decision over then undefeated Johnny Tapia in 1999. In 2001 he abandoned this belt to move up in class after three defenses.

In his first contest at the super bantamweight limit Ayala defeated Clarence Adams for the vacant IBO belt. After one defense Ayala again put on a few pounds to challenge a heavier division. In 2002 he met 'El Terrible' himself, Erik Morales.

Morales came to the fight with forty-six wins and only one loss to his name. The only man to have beaten him was Marco Antonio Barrera, but Morales had earlier won a split decision over Barrera for the WBC and WBO super bantamweight titles. Morales was formidable, and Ayala's decision to fight him in his first foray at the 126 pound limit was questionable. Ayala lost this fight. It was a setback, but as the loss came against such a well-regarded fighter it was certainly not a career ending defeat.

Ayala defeated Edel Ruiz then stepped into the ring with Barrera in 2004. Though Barrera was a beast, he had been completely dismantled by upstart Manny Pacquiao just seven months earlier. If ever there was a time to slay a giant, this was it. Unfortunately, Ayala lost by technical knockout in the tenth of 12th rounder.



Ayala chose this moment to take off the gloves for good. He had achieved a great deal. While his fans may have wanted to see more of him, he had great success to look back on and big plans for the future.

Growing up in Fort Worth, Ayala benefited from the good work of the Boys & Girls Club. The organization has in turn profited from the determination he brought to his professional boxing career. Upon retiring Ayala opened the University of Hard Knocks gym and founded Paulie Ayala Productions, his promotional organization. Recently one of Ayala's fighters, Casey "The Wizard" Ramos (14-0), signed a four-year deal with Top rank.

The Paulie Ayala Foundation further extended his reach into the community. According to the mission statement on Ayala's website, "The ultimate goal of the foundation is to prepare high school seniors for boxing scholarships to accredited colleges and universities around the country."

Ayala's Boxing at the Ballroom has been a gem in the crown of the Dallas/Fort Worth fight scene for 12 years, and it includes a lavish dinner, fine drinks and an excellent display of some the most promising young boxing talent in north Texas. A raffle, silent auctions and a live auction that raises thousands of dollars benefits the Boys and Girls Club of Greater Fort Worth.

The Renaissance Worthington Hotel in Fort Worth was the scene this past Friday, August 19th, as fight fans and boosters gathered to enjoy a grand atmosphere, food and drinks and great boxing.

The fighting opened with the pro debuts of middleweights Angel Solorzano of Denton, Texas and Obaldo Torres of El Paso. Solorzano won by unanimous decision.

In the second bout of the night super middleweight Samuel Clarkson of Dallas knocked out Cody Perez of Fort Worth at the 1:06 mark of round one. Both fighters were making their debuts.

Dallas bantamweight, Ray Ximenez (3-0), knocked out Robert Ledesma of San Antonio in his pro debut.

In a very exciting women's bout, El Paso super featherweight, Jennifer Han (2-1-1), dismantled Lisa Lamb of Fort Worth. In a gutsy performance, Lamb held on to lose by unanimous decision. Han has an extensive amateur and martial arts background, and her skill and composure were clearly evident.
In the night's main event, two time Fort Worth Golden Gloves champion, lightweight Miguel Buendia, defeated El Paso's Raul Carrillo (1-1) via technical knockout at 1:47 of the third period.

These young boxers were provided an amazing opportunity to showcase their talents in a venue of the sort usually reserved for far more accomplished fighters. The evening was a testament to Ayala's generosity.
Paulie Ayala has made his championship character known both in and out of the ring. He has also demonstrated qualities of mind and heart that serve both him and his community well. Whether in his role as former champion, role model, promoter or community activist he is a credit to boxing.

August 25, 2011