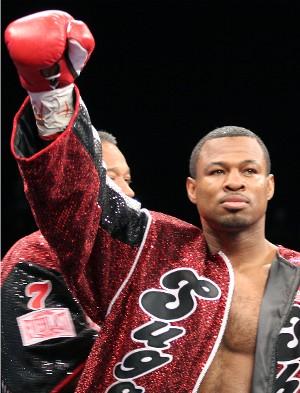 Sugar Shane Mosley: HoganPhotos.com

By Matthew Hurley: When last we saw Shane Mosley he was capping off a sloppy fight against unorthodox Ricardo Mayorga with a wicked last ditch assault that saw him knock out the wild swinging Nicaraguan with a vicious left hook at the one second mark of the final round.

The eleven rounds that preceded that picture perfect shot, however, were not vintage Shane Mosley. Mayorga's awkward style and size, (he outweighed Shane by nearly fifteen pounds), completely disrupted Shane's rhythm and left him struggling to establish any sort of concentrated attack. But just when the fight looked as though it would go to the scorecards, the intensity that boils to a fever pitch within Shane's fighting heart exploded and for a brief moment Mosley became 'Sugar' Shane once again.

The end result, so unexpected after such a messy affair led HBO broadcaster Larry Merchant to gush, "I love you Shane Mosley!" That sentiment was felt by anyone who has followed Shane's career because once again Mosley showed us why he is, and has long been, a special fighter. Although he has fallen short, in terms of ring accomplishments, of the other two 'Sugars' – Robinson and Leonard – he shares with both of those all time great fighters a ruthless killer instinct and a willingness to fight in the trenches which in turn has made him an utterly compelling fighter to watch.

However, on a more complicated note, Mosley has also had to deal with the sting of steroid accusations now proved founded as his testimony during the BALCO hearings in 2003 find him admitting to using the doping agent EPO during preparations for his rematch with Oscar De La Hoya. EPO increases the number of oxygen-rich red blood cells, which subsequently boosts physical endurance. In a recent article published by the Daily News, Mosley is quoted through newly released court transcripts admitting being injected with EPO multiple times. During his testimony Mosley also admits to using the steroids knows as "the cream" (testosterone and epitestosterone) and "the clear" (THG), though he maintains he didn't know they were steroids. [Teri Thompson, Nathaniel Vinton, reporters. 12/2/2008]

It speaks to Mosley's "nice guy" personae that he has not suffered the slings and arrows that others have in light of his transgressions. He seems a much more believable person in regards to his ignorance than, say, Barry Bonds who testified to the same grand jury in which he allegedly perjured himself. Or, he at least seems genuinely regretful. But is ignorance a reasonable excuse when others are injecting or applying foreign substances into your body? Apparently forgiveness from the media and the fans is all wrapped up in likeability, something Mosley exudes. Still, this stain on his record will always hold some significance and Shane, though tight lipped on the subject, appears to be resigned to the fact whenever it is brought up.

In a statement released after his testimony Mosley said, "I know in my heart that I'm a clean guy and a good guy." He concluded, somewhat ambiguously, by stating, "that one little hiccup should never have happened, and it won't happen again." [Retrieved from Daily News, Tim Smith 9/28/2007]

One wonders if De La Hoya has had words with his rival and now business partner in regards to that oh-so-close decision victory for Mosley in their return bout back in September of 2003. At the time Oscar, so bitterly disappointed at another loss to his cross-town rival, wanted to launch an investigation into the judges' decision. Nothing came of it. Any misgivings between the two fighters will surely remain off the record while they remain business partners in Golden Boy Promotions.

His failings aside, Mosley is rarely in a dull fight and his willingness to take on anyone has endeared him to the hardcore boxing fan. He never became a superstar, despite two victories over boxing's biggest attraction De La Hoya, but he established himself as one of the premier fighters of his time and will one day be inducted into the boxing hall of fame; unless the whole steroid mess alienates him with a significant number of voters. Don't bet on that.

At 37 years of age Shane Mosley is now at the tail end of his career, although he insists he feels better than ever – an assertion his graybeard brother in arms De La Hoya claimed before being thrashed by the so-called "undersized" Manny Pacquiao this past December. Though the two aging pugilists may often soft soap the public and the media with the same spiel they have always gone about their business in the ring differently – at least in recent years. Where Oscar would pick and choose opponents to satisfy his ego and bank account, Mosley, to this day, continues to seek out the toughest opponents available. Where Oscar had no interest in fighting either Miguel Cotto or Antonio Margarito, Shane did everything he could to secure matches against the two most dangerous welterweights in the division. He fought then WBA champion Cotto to a near standstill in November of 2007, dropping a spirited, close unanimous decision to the Puerto Rican in front of a rowdy, appreciative audience at Madison Square Garden.

It was a somewhat unexpected performance. Cotto, the rising star, was looking to further his cause against an aging legend who was becoming slow of foot. Instead it was Mosley chasing down the younger champion in the final rounds. Although the always-gracious Mosley deferred to Cotto and the judges when the decision was announced, many thought his late round surge should have secured him the victory. Mosley now says that he believes he won the fight. Nevertheless, the performance once again put Shane right back in the thick of things.

After dispatching Ricardo Mayorga in stunning fashion Mosley scanned the welterweight landscape and saw two gunslingers holding markedly different ammunition. There was Andre Berto, the current WBC 147 pound champion, still a work in progress, and the 'Tijuana Tornado' WBA champion Antonio Margarito. The difference between the two is akin to a starters pistol squaring off against a bazooka. So, in keeping with his warrior's code, Mosley sized both men up, waved away the smaller, less accomplished, less imposing Berto and targeted the Mexican assassin Margarito. Always determined to be the best in the division in which he plies his craft, Mosley will once again take on the preeminent fighter in his weight class. That desire, actually an absolute willingness, to lay it all on the line is what has truly earned Shane Mosley the 'Sugar' moniker.

But it has also gotten him into trouble in the past. He suffered back-to-back losses to Vernon Forrest and Winky Wright in 2002 and 2004, respectively. In both cases Shane jumped right back into the ring with his nemesis after being soundly beaten in the first go round. His courage proved to be hubris and, incidentally, both men were physically bigger than him, as is Margarito. Size has proven to be something of an Achilles heel for the stout Mosley, but it was ultimately the boxing skills and educated jabs of Forrest and Wright that led to his downfall. Margarito is a different beast entirely and he fights only in forward gear. He is there to be hit, but with a head seemingly filled with concrete, is not there to be hurt. It was that imperviousness to pain and his relentless forward aggression that slowly broke Miguel Cotto apart in Margarito's signature victory in July of 2008. Logic would dictate that at such an advanced stage of his career Mosley will wilt at some point under the 'Tornado's' constant pressure.

But Mosley is not Cotto and one thing he won't do which Cotto did is neglect the body. Shane is a wicked body puncher, particularly with the left hook. It has been established that Margarito can take it on the chin and laugh at the pain but against Mosley we will see if his rib cage is encased in cement as well.

Whatever the end result on January 24th at the Staples Center in Los Angeles, California, one can confidently assume that Shane Mosley will leave everything he has left in the ring. His mental makeup dictates that should he find himself overwhelmed as Cotto did against that relentless Margarito pressure, Mosley will grit his teeth, plant his feet and swing for the fences. That's why his fans adore him and it is why he has remained at or near the top of the boxing elite for over ten years.

It's been a bumpy ride at times, and his career has probably not panned out quite the way he would have liked, but Shane Mosley earned every cent of every paycheck he made for his ring performances with a unique blend of skill, style, tenacity and desire and in turn earned the right to call himself 'Sugar.'