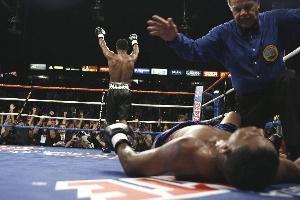 Mosley gets the job done with a second to spare

By Jason Pribila: "Sugar" Shane Mosley returned to the ring on Saturday Night, 11 months since his hard fought loss to Miguel Cotto. Mosley was the favorite to return to his winning ways when he took on Nicaraguan Wildman, Ricardo Mayorga. Mosley needed every second to finally score a sensational knockout at 2:59 of the 12th and final round, which caused HBO ringside announcer, Larry Merchant to confess, "Shane Mosley, I love you".

I have long held the same sentiments for Shane, and named my pet Mosley (a pound for pound pug) after him. His first victory over Oscar De La Hoya in June of 2000 is one of my favorite moments in sports; while his first defeat at the hands of Vernon Forrest kicked off one of my worst weekends as a sports fan (Patriots victory over the Steelers in the AFC Championship game took place the next afternoon). However, after his performance on Saturday night, it may be time for some "tough love".

My first request would be for Shane to abandon the 154 lb division. Other than his victories over a shot Fernando Vargas, he's yet to look impressive in that division. He's simply not big enough to fight guys that rehydrate up to middleweights or super middleweights. He rarely throws a combination at that weight, and seems to fall in love with throwing single power shots. Fortunately for his fans, he landed one on Saturday Night. I also would not want to see him face Vernon Forrest for a third time. The "Viper" has always been a bad match-up for him, and always will be. A third fight with De La Hoya would seem like a natural way for both guys to go out, however their business partnership would make the fight a tough sell to fans and especially the media. And fighting one of the young guns in the division (Kirkland, Angulo, Julio) do not make sense for a 37 year-old with nothing left to prove.

I would also ask that Shane passes on a match-up with Antonio Margarito. I would hope Jack Mosley would pull out his inner Burgess Meredith and tell his son, "No, he ain't just another fighter! This Guy is a wrecking machine!" A year ago I would have thought that Mosley would be able to out-box the "Tijuana Tornado", but if Shane couldn't avoid the Mayorga roundhouse punches; he won't be able to avoid the offensive output that Margarito dishes out.

If I would have one wish it would that Floyd Mayweather Jr. would look at Mosley's performance against Mayorga and decide it is time to return to the ring and set up a 'Superfight' with Shane. I feel Mosley would be competitive, and it would be against someone his own size. A fight between two former pound for pound kings, especially one in which the old lion would have the power advantage, would make for great drama. It would also be a career highlight for whomever came out victorious. What's not to love?

October 3, 2008