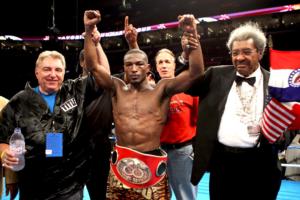 Cloud raise arms in vicotry (pic David Martin Warr)

SecondsOut's Mike Coppinger analyses last weekend's massive fight card in St Louis in which three major world title fights were staged by legendry promoter Don King. Devon Alexander defended his WBC and IBF junior-welterweight crowns against Andriy Kotelnik, Tavoris Cloud made the first defence of his IBF light-heavyweight title against Glen Johnson and Cory Spinks put his IBF junior-middleweight belt on the line against Cornelius Bundrage.

Stock Up

Andriy Kotelnik
The 32-year-old from Ukraine was outright robbed.
He beat Alexander to the punch every time, landed the harder shots and was far more accurate. Kotelnik also sported the better defense and was in total control of the fight from the opening bell to the end of the contest.

How HBO unofficial judge Harold Lederman scored it 117-111 for Alexander is beyond this reporter. Kotelnik definitely improved his standing with the "loss" and should get some more big fights.

Tavoris Cloud
Cloud looked pretty good coming off nearly a year's layoff. He strings his punches together well and showed great power. The Florida native had Johnson hurt a few times, but couldn't put him away. Not surprising since Johnson sports a great set of whiskers.

Cloud is clearly in line to fight the winner of this Saturday's big showdown between Chad Dawson and Jean Pascal, which will crown a new Ring light heavyweight champion. If Cloud is to be successful against this Saturday's winner, he needs to improve on a few things: Too often he punched himself out after hurting Johnson. He needs to conserve energy and know when to release his offensive outbursts.

He also needs to be careful with loading up on his punches. Yes, Cloud has great speed and power, but a fast, athletic fighter such as Dawson or Pascal is not going to be there when Cloud is loading up.

Cloud needs to tighten his defense and show some better head movement. That said it was an impressive performance against a tough, wily veteran in Glen Johnson. Cloud has great physical tools and youth on his side. He has a bright future ahead of him.


Don King
Don King had been the forgotten man for a while now in boxing circles. No more, as once again King was where he likes it best – front and center.

Both of King's fighters won and more importantly, the fight drew well, attracting 9,000-plus fans to the Scotttrade Center in St. Louis.

But the talk of the night (and the boxing world for that matter) was King's courtship of one Floyd "Money" Mayweather.
Mayweather, a promotional free agent for some time now, was King's ringside guest at the fight on Saturday. Mayweather sat aside King, clad in all-black with a hat to match. If King is able to sign Mayweather to his stable and make the Pacquiao fight a reality, boxing fans will have a new-found love for "TheShock Haired One".




Stock Down

Devon Alexander
Devon Alexander looked awful. He was the much busier fighter, but landed very little. In fact, he landed a dismal 18% of his punches against Kotelnik.

His legs looked tired and he was clinching throughout much of the later rounds.

Alexander got much credit for throwing 1,000-plus punches, but he didn't make his punches count. Kotenlik's tight guard gobbled up almost every combination and Alexander never landed a punch of consequence. Kotenlik's face was unscathed as the atrocious scores were announced.

Furthermore, he allowed Kotelnik to dictate the pace of the bout and was content to get bullied towards the ropes. He was very lucky to escape with the victory.

Alas, Alexander will most likely move on to a high-profile fight with Timothy Bradley on Jan. 29.

Cory Spinks
Spinks was knocked out by Cornelius Bundrage in the fifth round of a junior middleweight bout on the un-televised undercard, effectively ending his career at the top level.

Spinks hasn't been in the mix for a while, but not many had foreseen this outcome.
The St. Louis native used to be the big draw in his hometown, once drawing 22,000-plus for a welterweight title defense against Zab "Super" Judah. This time he was nothing more than an afterthought. How times have changed.

Spinks also saw a proposed Jan. 29 fight with 154-pound contender Alfredo Angulo go down the drain.

If "The Next Generation" calls it quits, he has a lot to be proud of. While he had many detractors for his boring, safety-first style, he had many accomplishments, chief among them his claim to the undisputed welterweight crown, after his upset victory over Ricardo Mayorga.

He made one defense of that championship, defeating Judah in a pretty good scrap. Judah then evened the score and lifted the title with a ninth round knockout of Spinks.
Spinks also had a nice run at 154 and gave a great effort in a bid to become the middleweight champion, losing by split decision to Jermain Taylor in 2007.


Quick Jabs
I am currently in Montreal for the Chad Dawson-Jean Pascal fight on Saturday at the Bell Centre. Montreal is a great fight town. Posters of the fight can be seen everywhere around the city. Should be a great scrap. I'll be tweeting live from the fight.
According to ring announcer Michael Buffer, Glen Johnson is legendary. Now I like Glen Johnson as much as the next guy, but let's not get carried away.

For the record, I scored the Cloud-Johnson fight 115-114 in favor of Cloud. Cloud landed the better shots and controlled the pace. Johnson has nothing to be ashamed of though. He can still beat most of the fighters at 175.

A first. Tavoris Cloud interrupted Steve Smoger's pre-fight instructions with an angry roar in anticipation of the fight. Smoger had to start the instructions over. High comedy.

Tavoris Cloud grunted with every punch, much like a women tennis player returning a hard serve. Shades of Oscar de la Hoya, who is also known for grunting with each shot.

Like the way Cloud doubled and tripled up on the hook. That will serve him well against either Dawson or Pascal.

Thought the post-fight banter between Cloud and Johnson, mediated by Max Kellerman, was amusing. Both fighters argued that they won the fight, but neither ever raised their voice.

Throughout the main event, Alexander kept throwing and hitting air or Kotelnik's gloves, much to the delight of the partisan St. Louis crowd. The crowd no doubt had an influence on the judges.

This was reminiscent of the second Ricardo Mayorga-Vernon Forrest fight, in which Mayorga eked out a decision but was rewarded for often throwing punches that were blocked. Mayorga would throw these wild punches, but if your punches aren't landing, you aren't scoring. As simple as that.

I scored the bout 118-110 in favor of Kotenik. Kotelnik inflicted much more damage, landed the more accurate, effective shots and controlled the fight. Throwing more punches does not earn you a round.

Write to Mike Coppinger at mike.coppinger@gmail.com. Follow him on Twitter: @MikeCoppinger


August 10, 2010