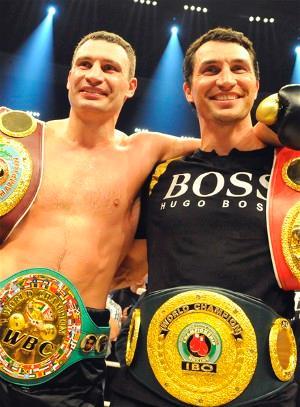 Vitali & Wladimir Klitschko

By Matthew Hurley

There was a dichotomy at play when Wladimir Klitschko pounded out an impressive victory over perennial contender and former heavyweight boxing champion Hasim Rahman. At first glance, Dr Steelhammer's many detractors had to nod in approval at the systematic way the hulking Ukrainian went about his business. He simply did what he had to do against a fighter who has been an omnipresent presence on the heavyweight scene for nearly a decade. His potent jab was a thing of beauty and the right hand behind it was straight as an arrow. It was a performance the oft criticized IBF/WBO/IBO champion wanted and needed to further secure his claim as the best big man in the game. What more could a fan ask for?

Clarity.

There remains a huge problem when it comes to this very talented, sometimes overly cautious heavyweight champion, and it stands six-feet-seven and one half inches tall, one higher than he – his big brother Vitali, Dr Ironfist himself and the current WBC heavyweight champion. There are many out there who think that despite baby brother's technical proficiency older brother Vitali is the better, or tougher fighter. And both men seem perfectly content to rule the roost together. In fact it was a dream the two have shared ever since they entered the professional ranks. That dream has been realized and it is an utter nightmare for an already diminished heavyweight division.

Basically what we are faced with, now that we have Brothers Grim ruling the heavyweights, is a situation equivalent to Roger Federer and Rafael Nadal laying down their tennis racquets at Wimbledon and deciding that two champs are better than one. You see, both Wladimir and Vitali promised their mum that they would never enter a ring together with the intention of knocking the other out.

"I share with my brother jointly the heavyweight division," Wladimir said, after stopping Rahman in the seventh round of their bout at the SAP-Arena in Mannheim, Germany. "I think it is more exciting to do it with my brother than to do it alone."

Wladdy may say that with all the conviction of a wily politician, but beneath the surface he must be wondering just when it will be that he can fully step out of Vitali's shadow. After three successive unimpressive performances and public ridicule, at least outside of Germany, Wladimir needed an inspiring performance to silence his naysayers. But before he could do that big brother stepped back into the fold after four years of injury plagued inactivity and blew away WBC interim champion Samuel Peter in unexpected fashion. Once again mother's first-born son was the big man on campus and the second son had to grin and bear it. Now with Vitali tentatively scheduled to take on former cruiserweight champion David Haye in June in an intriguing match-up Wladimir's latest victory, despite its calculated brilliance, seems diminished.

Emanuel Steward may profess that Wladimir is the most talented heavyweight he's ever seen, and Manny is often prone to hyperbole when it comes to his fighters, but the general public couldn't care less because not only is there not a Tysonesque figure dominating the division, there are two champions with the same damned name who will never fight one another. As charming and athletically gifted as both men are, you can't help but hope that one of them loses, and soon. This current situation isn't just wrong, it is ridiculously annoying.

Clarity, it's what the division needs, and as long as the brothers Klitschko rule in tandem the division will not have it, and all those who say boxing is a dying sport (uniformed as they may be) will point to this odd and frustrating situation as proof positive. The heavyweight division is not about brotherly love; it's about violence and the artful beauty and primal excitement within that violence. As long as a truce remains between two fighters vying for what was once the most coveted prize in all of sports will anyone really care? And if this amnesty carries on for a prolonged period of time should we even care at all?