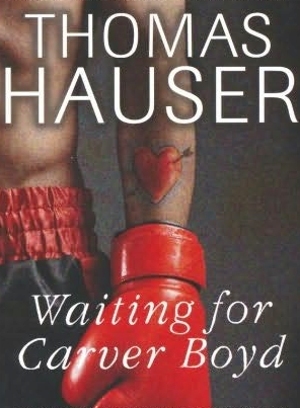 By Jerry Izenberg

Thomas Hauser has done it. Better than anything he has written before, no matter how well he wrote it. More incisive than anyone since Bill Heinz first planted the flag of sensitivity and insight for all boxing literati in a marvelous novel called The Professional a half-century ago.

Hauser has given us a look into a world we thought we had seen through the eyes of Muhammad Ali and Joe Frazier and Larry Holmes. But we never saw it at ground level, where people bleed and hurt but still strive to scale a mountain so steep we can only imagine it.

In his latest novel, Waiting for Carver Boyd, Hauser strips the sport bare of all of Hollywood's impossible fantasies. He gives us the violent ballet, the raw courage, the beauty, the pain, and the love for a woman that fills the life of a young man off the streets of Newark, New Jersey. A boxer chasing a dream that almost nobody in the arena can ever really understand.

For writers, either at ringside or between hard covers, boxing is the easiest sport to fake, because the audience enjoys it so much and understands it so little. But Hauser's hero is no cardboard figure. He has struggled for everything he has achieved in life. Struggled to find love, to find goals, to find respect. And at the end of this long tough journey, the giant shadow of Carver Boyd looms over everything for which he has struggled.

Carver Boyd is the heavyweight champion of the world. He is what arouses the emotions of fans who will never really understand the nuances, the courage, or the discipline that make a world class boxer. He is a killing machine, a bomb-thrower. What he represents is BOOM !!! . . . 8-9-10 and out . . . Take young Mike Tyson saying "I want to drive his nose bone into his brain'' and multiply that by ten.

Against this, the kid from Newark musters all of the intangible qualities that are good and rarely noticed in boxing. One of them is called "pride."

Hauser's hero has pride. And Hauser takes him to a level against Carver Boyd that few authors have ever conveyed.

I will not spoil this for you. But let me tell you this about the climactic fight. It is real. It is a deliberate head butt, a hook to the groin; pain shared by the fighter's trainer and his cutman who hold him together. A brutal test for the kid from Newark, who, despite the pain and weariness, never steps back from the qualities that keep him alive in this fight. The ability to think coupled with the ability to put strength on strength and let weakness go to hell.

Hauser, always a skilled writer, outdoes himself here. He puts you in this fight. And as you continue to read, he makes you understand in a way that will jolt your psyche.

He will challenge you not to put this book down.

And you will lose.

He will open your mind to look into what we call the "sweet science." But beyond that, he will tear away the tinsel of a title fight and cut into the scab of its brutality. He will expose it all here. It is raw, painful, beautiful and, above all, real.

This is one hell of a book.