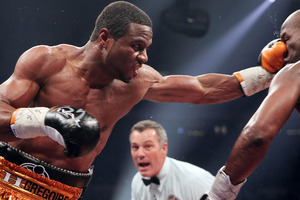 all pics Tom Casino

By Michael Norby: Just one month shy of his 46th birthday, the seemingly indomitable Philadelphian Bernard Hopkins lifted himself off the canvas twice to force a 12-round majority draw against WBC and IBO light heavyweight world champion Jean Pascal on Saturday night at The Pepsi Coliseum in Quebec City, Quebec, Canada.

Hopkins 51-5-1 (32) faced the handicapping of age, odds makers and a furiously partisan 16,000 strong crowd as he entered the ring for his 26th world title contest in a hall-of-fame professional boxing career spanning 58-fights and 22-years. That scenario, the veteran was well used to.

What he wasn't accustomed to was being floored twice in the first trio of rounds and having to then blueprint his way back into a fight in such a dramatic fashion that he could force a decision in a fiercely hostile environment.

In other words, after nine of the worst minutes of his career, the specters of age and the sound of that furiously partisan crowd roaring loudly at everything his opponent landed, seemed to set the stage that would validate the odds makers' faith in the much younger Pascal 26-1-1 (16).

From the moment Hopkins stood up from his second trip to the canvas, however, the aging legend drew a line in the sand and dominated the majority of the ensuing action, narrowly missing his goal by way of a majority draw that allowed the champion to hold onto his belts.

Hopkins threw his jab often in the first half of the opening round and connected with a decent right hand upstairs and a hook to the body in the same time period. Pascal, with an 18-year age advantage, used his younger legs well and landed a beautiful left hand counter at the two-minute mark and creamed Hopkins with a right hand seconds that provided his already high confidence with further nutrition.


With ten seconds to go, Hopkins caught a glancing right hand on the top of the head as he worked on the inside and was knocked down for the first time in 16-years. The veteran complained to referee Michael Griffin that he was felled by a punch to the back of the head but the umpire, who was brilliant throughout the evening, was having none of it, giving Pascal a 10-8 score in an otherwise tight round.

Hopkins regained his focus quickly and rebounded relatively well in a second round that, nevertheless, saw his opponent score with the more eye-catching punches. Indeed, the deftly quick hometown favorite, Pascal, looked extremely comfortable and scored a clean second knockdown with 30 seconds left in the third with an excellent short left hook to widen his lead in the fight.

Hopkins was unhurt, though, and he traded with Pascal for the remainder of the round and landed a trio of punches against his surging foe after the bell, sending a solid message, albeit an illegal one, that he was far from done.

Steely and poised, Hopkins rallied behind his left hook and an honest body attack in the fourth in a terrific round for the former champion. Although Pascal knocked his foe to the ground for a third time in the center of the ring late in the round, Griffin this time ruled that it was an illegal punch, cementing a much-needed winning frame for Hopkins.

The on-the-toes, wide-eyed confidence that was painted on the animated dial of Pascal in the early rounds had disappeared by the fifth. Although he connected with a scattering of punches in moments of terrific speed, Hopkins was beginning to make him uncomfortable with an increasingly effective body attack and typically sound and deliberate ring generalship that saw him claw his way undoubtedly back into the contest.

Apart from having to absorb a late counter left hand to the face, Hopkins dominated the sixth and thumped the Canadian in the seventh with a stunning arsenal of punches to the body (mostly with his left hook) and head as Pascal's work-rate dropped to a worryingly meek level, allowing Hopkins to pocket both rounds with ease and conviction.

A badly fading Pascal staged a comeback in the eighth and landed a solid left hook and a pair of right hands in the first half of the round. Still, though, Hopkins answered with accuracy and scored in volume with both hands to resume his control of the contest.

Hopkins continued to press forward in the ninth and deepened the worry lines on Pascal's forehead with stinging shots – momentarily stunning the champion midway through the round with a huge, sweat hurling right hand to the head. Pascal regrouped and found Hopkins with a late combination but the fight, and the championship belts that he, and all of Canada, held dear, seemed to be slipping away despite his enormously effective start.

Hopkins was continuously more aggressive and effective in the later rounds as he steered his right and left hands to scoring areas in a fashion authored and deployed by a boxing brain crafted in battles against every style, shape, and level of opponent over two remarkable decades at the top of his craft.

In a last ditch effort of a deflated fighter to catch the judge's attention in his own backyard, Pascal bit down and kept things interesting with sporadic success in the tenth and a late series of uppercuts in the eleventh. His efforts were soiled, so it seemed, by a sapping body attack and typically supreme display of inside fighting by Hopkins through the 12th – a round that ended with both boxers trading to the finish.

After the final bell sounded, with all that took place in the previous 36 minutes of action, it was high drama as Hopkins waited to hear if he would be announced as the oldest man in boxing history to win a major world title. For his part, Pascal, with his two knockdown cushion apparently ripped to shreds by Hopkins, looked sheepish.

The punch stats and the dynamic of the fight from the fourth round onwards seemed to favor the American fighter. Records showed that Hopkins landed 141 of his 270 attempted power shots and 30 of his 175 jab efforts for an aggregate sum equaling 171 total punches landed out of 445 attempts.

Pascal, on the other hand, was reported to have landed 85 of his 196 attempted power shots and 20 of 157 jabs thrown for a grand total of 105 punches landed from 353 attempts.

It was a pair of those Pascal power shots that ultimately made the difference – one in the first frame and one in the third. Those punches immediately doubled Hopkins' career number of knockdowns suffered and, more importantly, derailed his attempt to make history by a wafer thin margin.

Scores: 114-112 (Hopkins); 113-113; 114-114