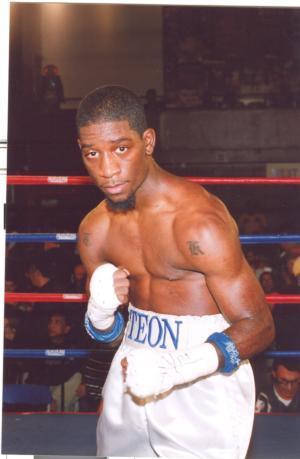 Teon Kennedy in classic matchup

By Jason Pribila: Before the lights of HBO shine in the Ballroom of Atlantic City's Boardwalk Hall, many of the paying customers will have already been treated to a classic matchup when boxer Teon Kennedy faces off against puncher Jorge Diaz. Each man has previously headlined shows at the Shore but their teams decided that the time was now for their paths to cross; and only those with a ticket will be able to see it.

Top Rank Inc. is the promotional muscle behind bringing the televised matches featuring Yuriorkis Gamboa vs Jorge Solis and Matt Remillard vs Miguel Angel Garcia, but it will be the turf war between Philadelphia's Kennedy and New Jersey's Diaz that will fill the seats.

Kennedy, 24, is 16-0-1, 7 Kos. He turned pro in 2007 following a decorated amateur career highlighted by the 2004 National Golden Gloves flyweight championship. He is a stable mate of unbeaten welterweight Mike Jones, and is promoted by Hall of Famer, J. Russell Peltz.

I first saw Kennedy from ringside during a March 2007 decision win over Castulo Gonzalez. It was the first time I spent the majority of a bout watching a fighter's feet. Kennedy moved with grace and boxed in a style worthy of his nickname, "The Technician".

Kennedy went on a 5-0-1 stretch over the next 18 months advancing from six to eight to ten round fights. There were some questions about whether or not he was putting in the maximum effort needed to advance to the next level. Kennedy entered the ring on November 20, 2008 to face Francisco Rodriguez of Chicago for a regional title.

The perfect storm of events that took place that night reminded everyone what these men put on the line every time they enter a prize fight. Kennedy appeared loose and eager to remove the sour taste in his mouth from his previous outing, when he was held to a questionable majority draw against Lante Addy at Bally's Atlantic City. Rodriguez entered the ring on a three fight winning streak, and seemed more energized than intimidated by the partisan crowd.



Near the end of the opening round, Kennedy unleashed a counter left hook that rocked and robbed Rodriguez of his equilibrium. Rodriguez seemed to reach toward the ropes to steady himself, when referee Benjy Esteves began to count. A confused press row felt as if Estevez was administering a standing eight-count, and Kennedy was sent to a neutral corner. Kennedy rushed across the ring in an attempt to finish his foe before the bell sounded. He was unable to do so.

Rodriguez weathered the storm, and neutralized Kennedy's speed by launching his own body attack. The middle rounds could have been fought in a phone booth. Kennedy dug deep and regained control by dominating round nine.

The game Rodriguez gave it a go in round ten, but the sharper Kennedy was able to land single shots that prompted the end of the fight. The bout was waved off with Rodriguez on his feet, and he returned to his corner to the sight and sound of the standing ovation he deserved.
The joy turned to tragedy when Rodriguez lost consciousness in his corner. He was rushed to a nearby hospital where he died 48 hours later from brain injuries suffered in this fight.

With the blessing of Rodriguez' family, Kennedy made his ring return six months later. He fought a near flawless six rounds against rugged veteran, Jose Angel Beranza. Again, Kennedy seemed to hit a wall. He became stationary, and absorbed punishment until the final bell. He had enough rounds in the bank to secure the decision, but he looked the worse for wear at the final bell.

While Kennedy's previous few bouts have been thrilling, many feel he will need to return to being a full time technician if he hopes to have his hand raised on Saturday Night.

Diaz (15-0, 9 KO) will be led to the ring by a man that is well aware of the "blood and guts" it took to build Boardwalk Hall. Pat Lynch, the man who guided Arturo "Thunder" Gatti to the status of being considered an Atlantic City sports franchise, also manages Diaz. There has not been a consistent ticket seller in Atlantic City since Gatti, but Diaz' flare for the dramatic seems to fit the mold.

Diaz, 23, possesses power in both hands and is gaining the reputation of fighting (and beating) anyone put in front of him.
Diaz burst on the scene when he scored a knockout over Cuban Olympian, Yan Barthelemy, in New York's Madison Square Garden, on the untelevised portion of a card co-featuring Gamboa and Juan Manuel Lopez in separate bouts.

Diaz took his show on the road to Florida, and he dropped Alejandro Lopez (16-0) twice on his way to a unanimous decision in March of 2010. Diaz returned to New York and fought in another cathedral, Yankee Stadium, on the Miguel Cotto – Yuri Foreman undercard.

In his last fight, Diaz won a unanimous ten-round decision over Emmanuel Lucero (24-5-1) in an all-action bout contested a few doors down from where he will enter the ring against Kennedy.

Each camp is confident that their fighter will be able to use their advantages to keep the zeroes in their loss columns intact. Few will question that Kennedy is the superior boxer; however, opinions vary as to what will happen if/when Diaz could turn it into his kind of fight.

One thing is for sure. This will be one card hosted at a casino that will be filled long before the main event. While those with complimentary tickets remain at the black jack tables, fight fans will be ringside for what promises to be a dramatic conclusion to one young man's undefeated run.
Tickets for "Featherweight Fury" are priced at $50, $100, and $200. They can be purchased online at www.peltzboxing.com and www.Ticketmaster.com

Jason Pribila is a full member of the Boxiing Writers Association of America. He could be reached for questions or comments at pribs2000@yahoo.com, or followed on Twitter.com/PribsBoxing