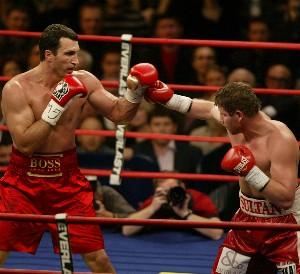 Wladimir Klitschko has promised to punch some respect into Dereck Chisora when the pair clash for the Ukrainian's IBF/WBO and IBO heavyweight titles at the SAP-Arena in Mannheim, Germany on Saturday night.

London based Chisora received a suspended sentence in November after admitting assaulting his ex girlfriend and at a heated pre fight press conference in Germany on Monday Klitschko let the unbeaten British fighter know exactly what he thought of him

"Me, I do not beat up women like you do," said Klitschko. "Those who beat up women are losers. You do not know where one practises boxing. It is in a ring!
"As you are such a horrible person, I am going to show you the road to redemption without a title,"

Klitschko also taunted the 26 year-old challenger by waving his championship belts in his face and inviting him to take them. Chisora, who is undefeated in 14 fights, has has never been one to keep quiet when it comes to playing up press conferences and let Klitschko have it with both barrels.



"You want to be like Muhammad Ali and all the rest, but you will never buy greatness, because you are not that great," countered Chisora. "That's why you're stuck in Germany, that's why the other countries don't want to watch you. You can't get a fight in Las Vegas, no one will pay to watch you in Vegas, because you stink up the joint,"

Chisora went even further with the insults when he accused Klitschko's legendry trainer Emmanuel Steward of be an 'Uncle Tom, '(implying a black trainer is helping a white fighter defeat a black fighter). Steward was visibly furious at the statement but is experienced and cute enough to realise that those comments will only make his job easier when motivating Klitschko

"Chisora is a horrible person, but I don't have to motivate Wladimir," insisted Steward. "Chisora already made him mad and showed no respect towards him."

December 6, 2010