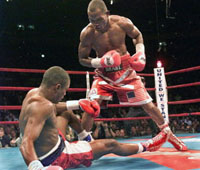 B-Hop butchered former welter Tito, but can he beat a heavy?

Exclusive by Tim Smith: Apparently, retirement doesn't really fit Bernard Hopkins that well. Hopkins is now talking of coming out of his three-month retirement and moving up to heavyweight to challenge WBC champ Oleg Maskaev.

"The state of the heavyweight division in America is dead,'' Hopkins said. "Bernard Hopkins is the only boxer who can bring the title back.''

If Hopkins gets his way, he wants to fight Maskaev in a heavyweight event on HBO Pay-Per-View in June.

Hopkins eyes lit up when he talked about the prospects of fighting for the heavyweight title. I doubt seriously if he gets the same look in his eyes when his wife tells him to take out the garbage or cut the grass.

Hopkins, 41, went out on a high-note, beating Antonio Tarver, who was considered the best light heavyweight in the business back in June. It will be tough to top that. If Hopkins falters against Maskaev or any other heavyweight, it will certainly tarnish that memorable performance against Tarver and his legacy.

Hopkins was struck by the notion after watching Maskaev knockout Hasim Rahman last month. With the victory Maskaev became the fourth heavyweight champion from the former Soviet Union. All four of the major titles are now held by non-American boxers.

"I was watching that fight and it when it was over, it hit me,'' Hopkins said. "Rahman was supposed to be the last line of defense for the America heavyweights. He couldn't do it. But I was inspired to comeback and do it. It's not something that is unheard of. Michael Spinks did it. Roy Jones did it. I can do it.''

It is a risk that Hopkins is certainly willing to take, if the price is right. And from listening to Hopkins the price has to be in the double-digit millions.

Hopkins has been struggling with the thought of coming out of retirement for a while. But he didn't want to come out of retirement for just any old fight. He couldn't see doing it to fight Joe Calzaghe or Roy Jones, Jr. It had to be something big, something special. And a fight against Maskaev and a chance to add a heavyweight title to his trophy case is certainly something worthwhile.

I'm not usually disposed to 41-year-old men stepping into the ring. But I'll give Hopkins a pass. I think matched against the right heavyweight, and Maskaev would qualify, Hopkins could make an intriguing fight.

He is bracing for the backlash that will occur when he officially announces his return.

"I know people are going to give me a hard time about coming back,'' Hopkins said. "But I think this is a special reason to come back. This is about restoring something back to America. I believe I can be America's heavyweight savior.

"This is like a mouse looking at some cheese in the middle of the room with a trap around it. There's a risk, but that cheese is calling my name.''

Hopkins said he now weighs a solid 185 pounds and is looking at fighting at 200 pounds. That was about the weight that Roy Jones held when he beat John Ruiz for the WBA title three years ago. But Jones made the mistake of coming back down to 175 pounds to fight Tarver and that was the beginning of the end of Jones.

"I know everybody will be saying, "How in the hell will he be able to fight a man that could weigh 230 or 240 pounds'' Hopkins said. "But the weight is not the problem. I'm not worried about that, just like I wasn't worried about it with Tarver.''

Hopkins said he won't take on the challenge of moving up if he can't get Mackie Shilstone to help him. He said he called Shilstone and the sports nutrition guru is studying it to determine whether he thinks it's feasible for Hopkins to take on the challenge.

Hopkins said he would need at least nine months to move up. He said adding the weight would not be a problem, but he wants to maintain the same speed and flexibility he had as a light heavyweight. And that would take time.

The sticky part is whether Maskaev would still have the WBC title by the time Hopkins is ready to fight in June.

The WBC has granted Maskaev the right for a voluntary defense of the title, which he plans to use for a fight against Peter Okhello, a Ugandan heavyweight from Japan, in Moscow on Dec. 23. Then, Maskaev must make a mandatory defense against Samuel Peter after that.

It is not unprecedented for a WBC heavyweight champion to make a string of voluntary defenses before making a mandatory. Vitali Klitschko made two voluntary defenses of the title after he won it and never made his mandatory defense against Rahman. When he was about to fight Rahman, Klitschko injured his knee and then retired.

Hopkins is serious about coming back. He already has his wife on board, if the price is right. And that is the same concern for Richard Schaefer, the CEO of Golden Boy Promotions, Hopkins' promoter, and Mark Taffet, the chief of HBO Pay-Per-View.

In boxing it doesn't make sense if it doesn't make dollars. Consider the upcoming heavyweight title matches, WBO champ Sergei Liahkovich defending his title against Shannon Briggs and IBF champ Wladimir Klitschko defending against Calvin Brock and measure them against the intrigue of Hopkins against Maskaev. I know which one is going to catch my attention.