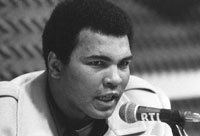 Ronnie Nathanielsz continues his first hand recollections of the Thrilla in Manila, the crowning glory of the Ali-Frazier trilogy.


By Ronnie Nathanielsz: Two days before the "Thrilla in Manila", the Muhammad Ali show wound up at the Folk Arts Theater training site with the champion promising to launch Frazier "right out of the ring", in what he described as "the fight of a lifetime".

Ali went through a "light workout" incorporating shadow boxing, skipping and two rounds on the speedball. He said he was "ready" - not just to beat Frazier - but to end the fighter's career.

Ali said he would like to come in at around 219 pounds at the time of the fight, but was unworried about being a couple of pounds heavier because he said "you must have something to burn".

Ali indicated he would definitely "stand up and fight" Frazier and not resort to the "dancing tactics" of his previous fights. The champion, obviously unconcerned about the vicious left hook of Frazier, said he had "something planned for that punch which would break Frazier's arm".

He disclosed that Dick Sadler, who was in George Foreman's corner when he whipped Frazier, had taught him "a few tricks" which he planned to use.

In his final workout, Ali introduced some of the big name stars who were in town for the fight. Among them was Hugh O"Brian with whom Ali did a short routine with O'Brian playing Frazier.

The atmosphere in Ali's camp appeared a little tense as the fight drew near, but the champion himself was totally relaxed. After his workout, Ali motored to Quezon City where he met with Trade Secretary Troadio Quiazon Jr.

Thousands gathered near the Trade Department building to greet Ali who went on a kissing spree that had the ladies ecstatic. Driving back to his hotel, Ali leaned out of his car and waved to the huge crowds lining the streets despite the heavy rain.

Ali would blow flying kisses and, at times, do some shadow boxing as the roadside crowd cheered. Later, he played around with some kids in his suite before taking a well-deserved rest.