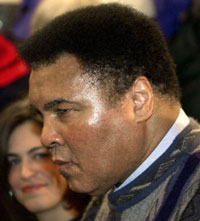 By Ronnie Nathanielsz: Muhammad Ali confessed he was "a little nervous" 24 hours before climbing into the ring at the domed Araneta Coliseum, which was named the Philippine Coliseum for the "Thrilla in Manila".

But in an effort to dispel the butterflies in his stomach, Ali came up with a short verse on the fight:

Joe's gonna come out smokin'
And I ain't gonna be jokin'
I'll be peckin-and-a-pokin'
Pourin' water on his smokin'
This may shock you and amaze you
But I will retire Joe Fraziuh.

At 10:45am, the exact time the fight took place before a sell-out crowd of 27,000, Ali said he would feel even more nervous in his dressing room - like having "butterflies in my stomach".

"Then," he said, "when I see the crowd I will still be nervous. Then I will get into the ring and, when I see Frazier, I will begin to realize he is just a man. No bigger than me. He can be hurt.

"Then I will think about the power of God and what I am doing and thinking about, and Frazier will look so small when I think about that. The nervousness will disappear when I throw the first punch," added Ali.

Ali disclosed he would talk to Frazier during the fight.

"Show me something Joe," he promised to say. "Joe, you are to ugly to be champ. Too ugly to take my title from me. I am going to show you that you are nothing but a bum. Remember what I did to Foreman? I am going to cut you up tonight Joe."

The champion said he would "play with him for about two rounds" and add: "I'm going to start getting you now, Joe."

Ali promised he was "in shape" for the scheduled 15-round title match, stressing that he had "done everything" he had to do. "I'll do what I know how. I have fought him 27 rounds (referring to their two previous bouts where Frazier won the first, Ali the second). He can't change his style. I know I have the hitting power now to knock him out."

Looking extremely relaxed, Ali, leaning back on a sofa, said the fight was "like another day in the Folk Arts Theater gym" to him".

"Just a good workout," he added. "It might be a little rougher than the gym, but I have the power and the experience and I am a warrior. I have been in many big battles. I'll just go there and do what I know how. Be serious and Ill whup him."