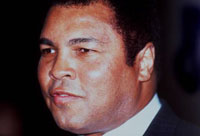 By Ronnie Nathanielsz: On the night before his third showdown with Joe Frazier, Muhammad Ali was in a rather pensive mood. He spoke about the meaning of the Thrilla in Manila, indicating that this fight was "different".

Frazier had decisioned Ali in their first meeting in March 1971 while "The Greatest" comfortably outpointed "Smokin Joe" in their second fight in January 1974, but this contest meant everything said Ali.

"(This fight is) going to settle once and for all who the true champion is," he promised.

"Whatever happens to me in the fight will not really matter" said Ali. "I thank God for the privilege of being able to serve Him. It's not me that is big. God is big. He made me whatever I am."

Ali went on: "This greatness has made me sober and humble. The fame and money is not for me personally, to buy beautiful cars and things for myself. It is for the masses of people for them to use. I give it to people. I feel so supreme in the ring because I am fighting an individual and I know Allah protects me."

Describing the fight as "the least" of his problems, Ali said he was on "such a high mental plain" that he didn't want to talk too much about the bout.

As he peeled a large pomelo fruit with some difficulty, Ali quipped, "If Frazier is this tough, I'm in trouble."

Exuding confidence about the outcome of the fight, which Ali predicted he would win by the short route, the champion said he never thought about defeat. "It's impossible. He who fights for the cause of God secures victory over his enemies," said Ali.

He stressed he did not consider Frazier an enemy in the strictest sense of the word. He merely stood in the way. "He is not a bad guy. He is just trying to take my job," said the champion. Ali then admitted that after the fight, he and Frazier would be friends.

Ali met with his manager Herbert Muhammad for some time in his private room, later on he watched movies in his suite and then rested. He went to bed at 8:00pm.

His schedule for the day of the fight, according to Ali, was "to wake up at 4:00am. Take a B12 shot, three iron tablets, four salt tablets, two potassium pills for my blood".

For breakfast Ali said he would have "four eggs sunnyside up, toast and hot tea with a lot of sugar in it".

The champion, who had gone 15 rounds with European champion Joe Bugner in Kuala Lumpur on July 1,1975 in blistering heat, said: "You lose energy when you perspire, so if it goes the distance I won't be too weak. I won't eat too much in the morning because too much food slows you down."

"Basically, I have my strength because I have been resting and living right," he added.

Ali emphasized that he was now "hitting harder than ever before" and, if he had hit as hard in the second meeting with Frazier, "I could have knocked him out."